Hutchinson Family Singers

Abolitionists, reformers, entertainers.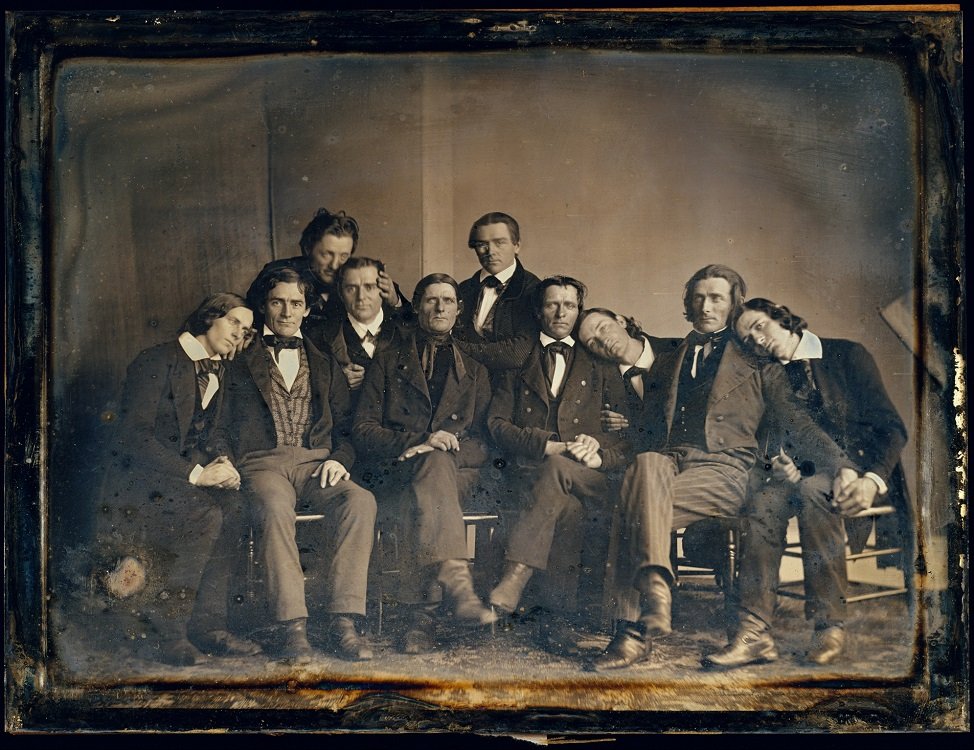 image source
Ten of the brothers, cir. 1845.
(left to right): Asa, Andrew, Jesse, Joshua, David, Caleb, Noah, Judson, Zephaniah, John
Apparently they are still regarded as the biggest celebrities New Hampshire has ever produced; the 'pop stars' of their day.
They used their songs:

as vehicles for their progressive ideas on issues ranging from temperance to women's suffrage, alternative medicine, prison reform and, above all, abolitionism.
source
The four original troupe members, who began it all (cir. 1840), were:
Judson Joseph (b. 1817; d. 1859); sang tenor
John Wallace (b. 1821; d. 1908); a baritone & falsetto singer
Asa Burnham (b. 1823; d. 1884); sang bass
Abigail Jemima (b. 1829; d. 1892); was a contralto singer
You can see a sketch of them on a poster below.
Another brother, Jesse jr. (b. 1813; d. 1853) - who had been an original performer but quit to write material for the group instead, began to invent original lyrics based on those themes they were so passionate to spread the word about, and put them to the music of known hymms and folk songs. This was after they'd met such inspiring people such as Frederick Douglass. They apparently travelled with him to England to spread the word about anti-slavery.

The group proved to be so popular they performed in front of very large crowds up and down the Eastern Seaboard of the USA, and toured the British Isles during 1845.
There were certainly those in the US who did not like their musical brand of social reform and were warned to cease spreading the word, but overall they received warm reviews and approval of the messages they were promoting.

In New York, Walt Whitman wrote often and favorably of them as heralds of a "new and true" American music that was "simple, fresh, and beautiful."
source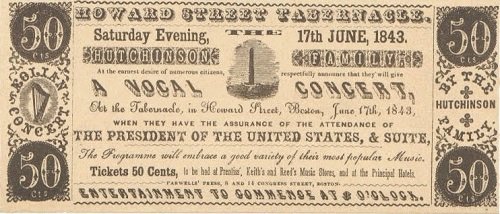 Concert ticket for a perfomance in 1843.
image source
While the troupe were touring overseas during 1845, other family members decided to step up and created the Home Branch of the Hutchinson Family group, and toured the USA; but when the original quartet returned they put a stop to it.
They also went through a bit of a name change, being known as the Tribe of Jesse. Abby had left, presumably to get married (in 1849; but she did begin to write songs after that), and the brothers sometimes squabbled as siblings do, so they also went through a troupe shuffle and by the time the civil war began they'd split into two groups - the Tribe of John and the Tribe of Asa but still under the umbrella of the Hutchinson Family.
Sadly, in 1859 Judson committed suicide. He'd struggled with depression for many years.

Here is a recording of one of their most famous songs, Get Off The Track, from about 1844, I believe.
During an 1845 tour in Manhattan, they let it be known they would be adding the controversial song to their concert play list, which instantly caused an uproar from the pro-slavery factions; and the singers were threatened with violence and feared for their own safety. Poor Abby, the youngest of the group, was only 16 during this turbulent incident which saw them holed up in their hotel room, hiding from possible harm.
"Even our most warm and enthusiastic friends among the abolitionists took alarm," remembered Abby Hutchinson, and "begged that we might omit the song, as they did not wish to see us get killed."
source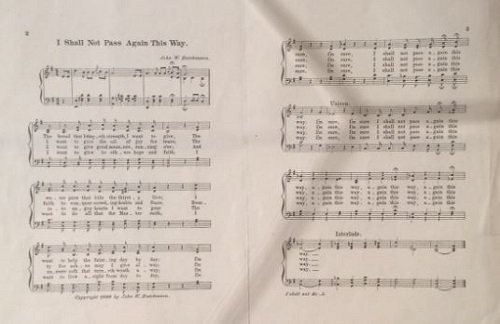 Sheet music, for a song written by John.
image source
This song from 1860, Lincoln & Liberty (reproduced here) played during his political campaign, is acknowledged as having helped Abraham Lincoln get elected! Apparently he was quite a fan of their social messages and how inspiringly useful they could be to the war effort.
The group had to carry documents which allowed them to move around during the civil war, giving concerts to inspire the troups.
This is on display at the Lynn Museum & Historical Society.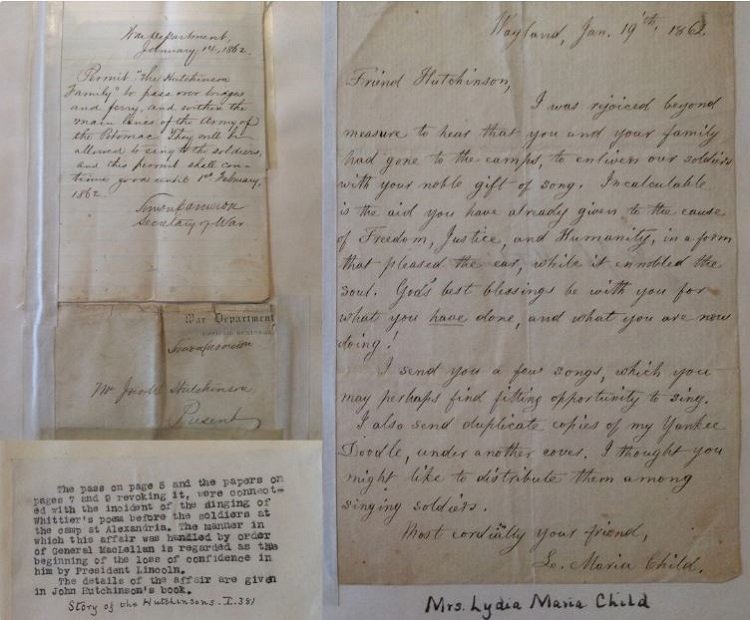 "Civil War free pass and letter from Lydia Maria Child to John Hutchinson, Lynn Museum & Historical Society. The Hutchinson family would sing for the troops, by special permission of the Secretary of War, to cheer and inspire them. The great human rights activist and author Child applauds this in her letter to John of January 19th, 1862."
image source
Also on display in that same museum is another great historical document (along with so many more - if you're lucky enough to be able to visit the museum, why not take a look).
[a] Letter from Susan B. Anthony to John Hutchinson, December 9th 1892, sending condolences for the death of his sister Abby, an especially talented member of the group and also, as Anthony says here, dedicated to the women's rights cause.
Another of their famous hits.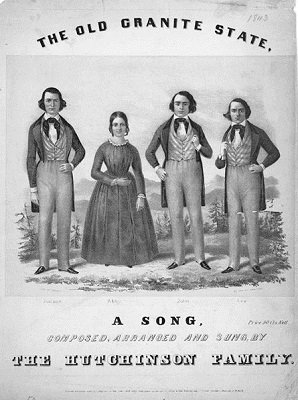 "Written by Jesse in 1843, the group closed each of their concerts with "The Old Granite State," a song about their origins in New Hampshire and their roving lifestyle. Right: Program from a Fourth of July concert in Lowell, Mass. Tickets were 25 cents each."
image source
Family members, including offspring of the original siblings, would continue to perform up into the 1890s.
I am inordinately proud of what this family believed in, and what they achieved & inspired with their music and their passion.
Maybe one day someone will create a film about this extraordinary family.

---
Notes:
Father: Jesse HUTCHINSON
b. 3 Feb 1778, Middleton, Essex, Massachusetts, USA
d. 16 Feb 1851, Milford, Hillsborough, New Hampshire, USA
Mother: Mary LEAVITT
b. 26 Jun 1785, Amherst, Hillsborough, New Hampshire, USA
d. 20 Sep 1868, Milford, Hillsborough, New Hampshire, USA
Other children (for a total of 16), all born in Milford:
Jesse (b. 1802; d. 1811)
David (b. 1803; d. 1881)
Noah Bartlett (b. 1805; d. 1873)
Mary (b. 1806; d. 1809)
Andrew B. (b. 1808; d. 1860)
Zephaniah Kittredge (b. 1810; d. 1853)
Joshua (b. 1811; d. 1883)
Caleb (b. 1811; d. 1854)
Benjamin Pierce (b. 1815; d. 1844)
Sarah Rhoda Jane (b. 1819; d. 1881)
Elizabeth (b. 1824; d. 1828)
This Hutchinson line can be traced directly back to Barnard Hutchinson, esq. (b. 1298, Cowlam, Yorkshire, England; d. 1382, Cowlam); and Bernard's wife Beatrice de Boyvill's family can be traced back even further.
Another famous descendant from Barnard & Beatrice is William Hutchinson (b. 1586, Alford, Lincolnshire, England; d. 1642, Newport, Newport, Rhode Island, USA) - or more precisely, his wife Anne (nee Marbury; b. 20 Jul 1591, Alford; d. 20 Aug 1643, Pelham Bay, Bronx, New York, USA) is the (in)famous one because of her life and then violent death.
The Hutchinson family homestead in Milford (NH), which stands today as an historic landmark. It had been purchased by father Jesse in 1824, from Colonel Joshua Burnham.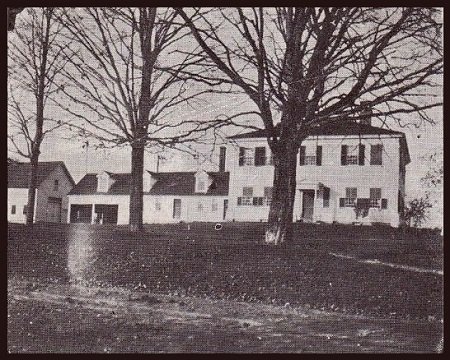 image source
Three of the Hutchinson brothers - John, Asa, and Judson - are credited with founding the town of Hutchinson (McLeod, Minnesota, USA) in 1855.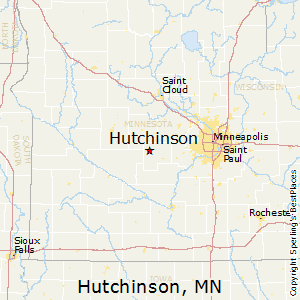 image source
It forbade liquor, bowling alleys, and gambling of all types, and granted that women "shall enjoy equal rights with men and shall have the privilege of voting in all matters not restricted by law."
source
---
Bibliography:
https://www.britannica.com/topic/The-Hutchinson-Family
https://en.wikipedia.org/wiki/Hutchinson_Family_Singers
https://longreads.com/2017/03/07/a-history-of-american-protest-music-how-the-hutchinson-family-singers-achieved-pop-stardom-with-an-anti-slavery-anthem/
http://www.nhmagazine.com/August-2016/The-Famous-NH-Family-Youve-Never-Heard-Of-Probably/
https://www.metmuseum.org/art/collection/search/283176
https://en.wikipedia.org/wiki/Hutchinson,_Minnesota
https://ordinaryphilosophy.com/tag/john-hutchinson/
---
If you are interested in your own family history and want some help, I work for Steem & SBD. Check out my biz post here.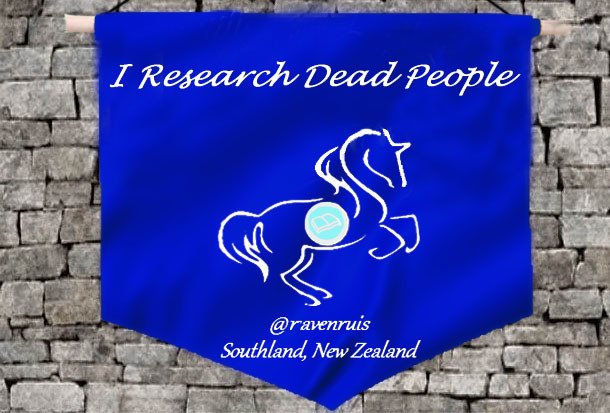 Mannabase UBI - sign up via referral link, and help spread the word:


(extra tags: #music #irdp #americanhistory #lincoln #famous)