X-15 Rocket Powered Plane.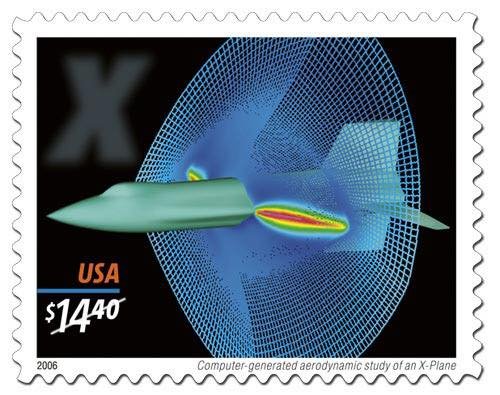 Like little mirrors, stamps from every country around the world chronicle world history, events, and culture. Stamps are more than just a tool to show prepayment for mail delivery service, stamps also tell a story – and each one has a tale of its own.
The X-plane was a series of U.S. aircrafts developed for technological experiments. Featured in the stamp above is a computer-generated image of the X-15 plane from NASA studies. The U.S. Postal Service issued two X-Plane stamps in different denominations in 2006, in NYC, New York. The $4.05 issue was a Priority Mail stamp and $14.40 X-Plane stamp was issued for Express Mail. The stamps were designed by Phil Jordan of Falls Church, Virginia.
On September 17, 1959, the North American X-15 rocket plane was introduced. It was a hypersonic rocket-powered aircraft operated under a joint venture by NASA and the U.S. Air Force. During the 1960's, the aircraft set speed and altitude records, and in October of 1967, logged a world recorc for the highest speed ever recorded by a manned aircraft reaching the speed of Mach 6.72 at a altitude of 102,100 feet (a speed of 4,520 mph at that altitude). The X-15 was built by two manufacturers: North American Aviation built the airframe in November 1955, and Reaction Motors was contracted for building the engines in 1956.
More information about the American X-15 can be found HERE.
Sources: American Philately Society and Wikipedia.