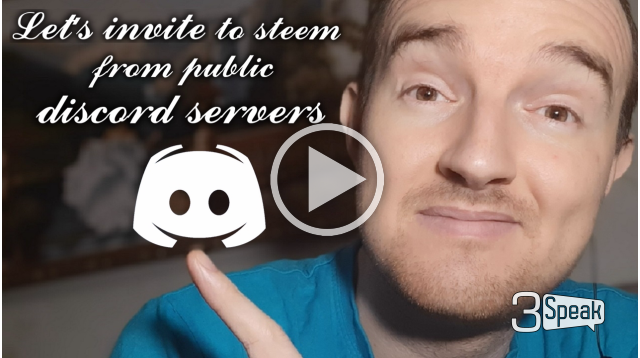 ---
In this video I shared my ideas about promoting steem in other discord server.
Of course I'm not asking to spam their users. You have to learn about those communities first. Build relations with people there and only then promote steem. I wanted to share this idea a long time ago, but I was afraid that users will be spammed with links there what can bring bad reputation to steem.
I'll share 3 websites where you can find public discord servers with a lot of members. If you are interested in inviting people to steem, you can do so :

The first thing that you need to do, is to choose a niche and it's better to choose what you are good at and what you usually post or vlog about. Then find the proper discord server and start inviting people.
You may think that's hard to do so, but I said in the video, what you should say first and what's the best methode to invite people.
Please watch the video to know more.

You can check here what I did and still doing to promote steem.
---
Also this video will be shared in other social media that are not paying me for that. My goal is to grow in all of them to promote steem there.
---
You can follow me in all of them and let me know in the comments, how can I find you to follow :
---
Facebook group , Twitter, Quora, Reddit, Youtube, Instagram, TikTok
---
▶️ 3Speak