Tron was founded by Chinese entrepreneur Justin Sun in the year of 2017. Tron project was always aimed to put multimedia and entertainment service on the blockchain. It also remained controversy's favorite child in the crypto world since the beginning. Tron's whitepaper was accused to be plagiarized from the whitepapers of FileCoin and IPFS. People called it shitcoin! But Tron continued to grow. Tron was marketed as Ethereum alternative. Justin Sun drove the project's marketing by innovative means.
Tron's hard cap was limited to 100 billion as per whitepaper. In 2018, TRON switched its protocol from ERC-20 token and launched mainnet successfully. After launching mainnet, Tron started to run on DPOS (delegated proof of stake) and Genesis Representatives started to have block rewards and voting rewards for Super Representatives and staking TRX holders. As per a recent post by Tron Foundation representative, TRON did not have a hard cap since that time! But Tron Foundation never said that the TRON cap would surpass 100 billion TRX. The matter did not come under public limelight heavily.


On 2nd November, 2019, the committee of Tron Super Representatives proposed and passed a proposal to increase block rewards on the network and to remove the total hard cap. Justin Sun said that it was the decision of TRON Super Representatives and Tron Foundation had no role in it. As per Sun, Tron rewards were increased to incentivize more people to participate in the voting and staking in Tron's network. 90% of the rewards go to the TRX staking holders. Yes, technically these functions are decentralized. But the Github page, hosting the proposal, delivered suspicious links to Tron Foundation. The proposal actually included a bribing agreement to pay a share of 50 million TRX to Super Representatives for voting for the change. Okay! All accusations are denied by Justin Sun and Tron Foundation. But it is a fact that Justin Sun was found to promote the proposal prior to the passing. Yeah, quite fishy!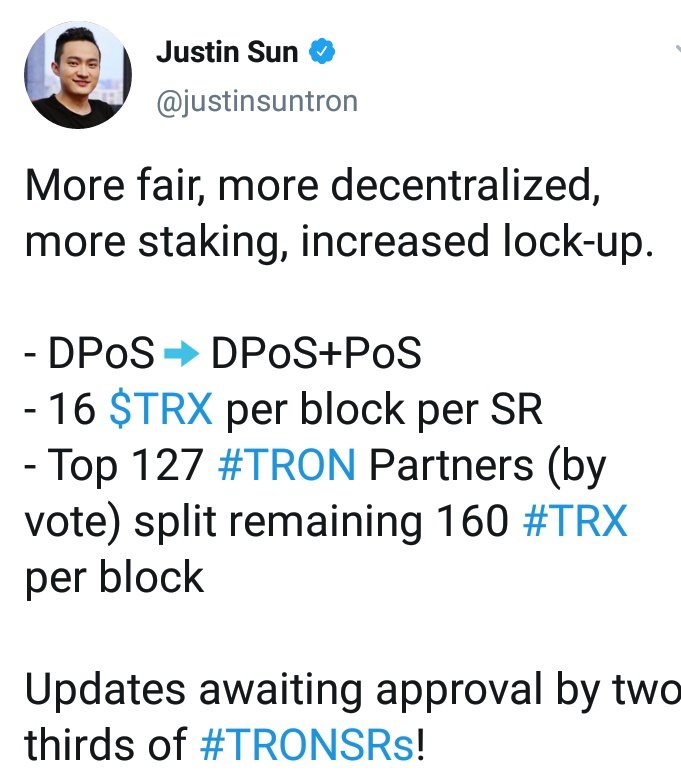 Image Source - Justin Sun tweet on 27th Sept, 2019 – Before passing the proposal
Tron total supply has exceeded 100 billion now. Forget the whitepaper! Crypto community is criticizing the move of abolishing hard cap and increasing block rewards. Tron supporters are demanding burning of additional TRX.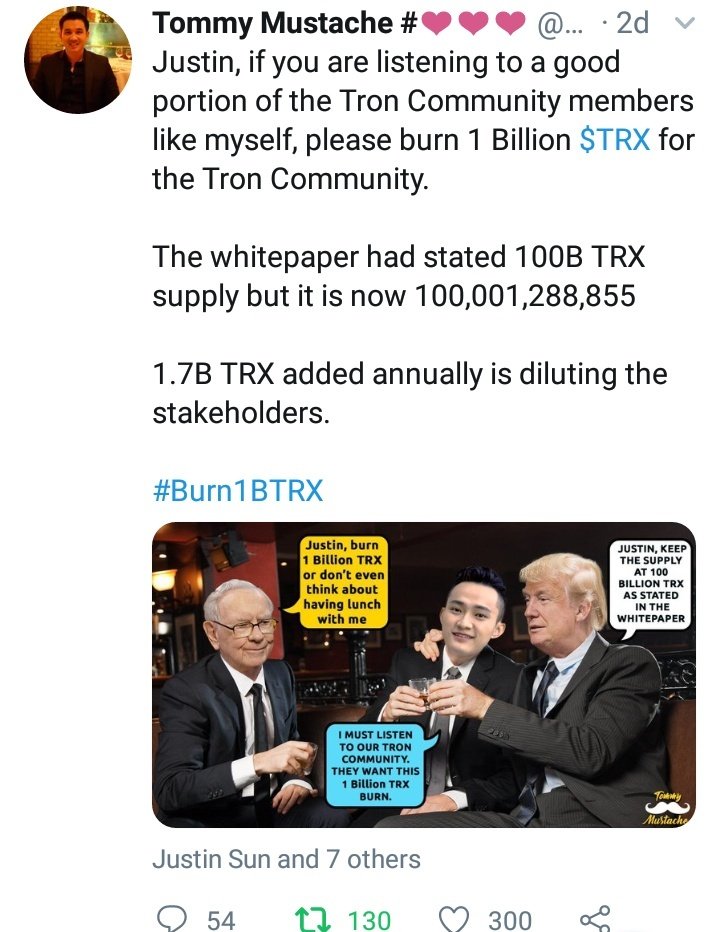 Image Source – A trending tweet to demand TRX burn
It should be remembered that Binance froze 12 billion TRX before the controversial voting to become the top slot of Super Representatives. By freezing 12 billion TRX, Binance actually controlled 18% of Tron's circulating supply of 66.68 billion. It was a cakewalk to pass the proposal. Binance always remained very supportive to Tron and it is generally the top exchange for Tron. The love equation is understood but it also ends the decentralization of Tron network!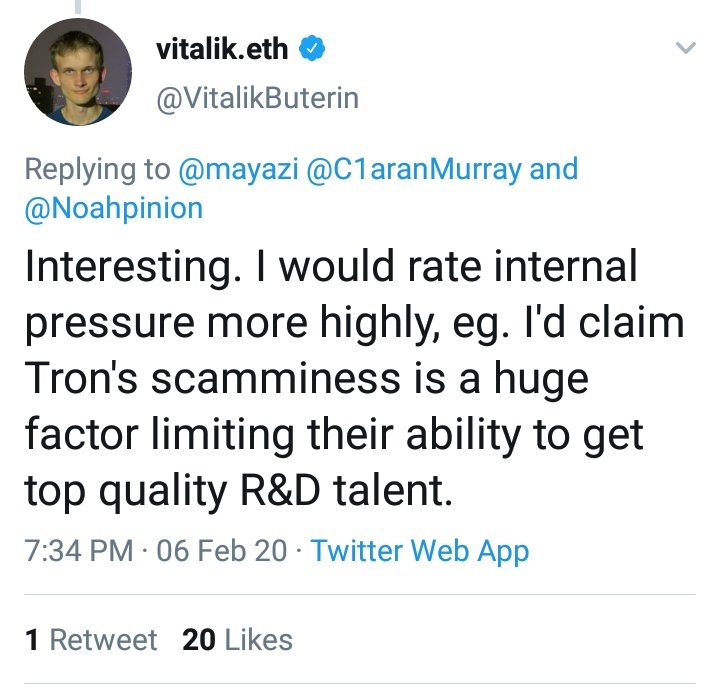 Image Source – Ether co-founder Vitalik Buterin's caustic recent tweet
While I finished writing this post, Tron was doing very well in the market. Justin Sun finally met Warren Buffett for a dramatic charity dinner a few days back, which was supposed to happen in July, 2019. Sun bombarded twitter with flashy posts of dinner and almost made Warren Buffet Tron's brand ambassador. Tron supporters kept on cursing Ethereum co-founder Vitalik Buterin for politics. Will Tron pump more now?