Hello everyone, we would like to inform you a about a charity fundraising initiative, that we will be taking part in, until further notice.
As of this date 14 January 2020, Australian Bushfires have burned an estimated 18.6 million hectares (46 million acres; 186,000 square kilometres; 72,000 square miles), destroyed over 5,900 buildings (including approximately 2,683 homes), and killed at least 29 people. An estimated one billion animals were also killed and some endangered species may be driven to extinction.
Source: https://en.wikipedia.org/wiki/2019%E2%80%9320_Australian_bushfire_season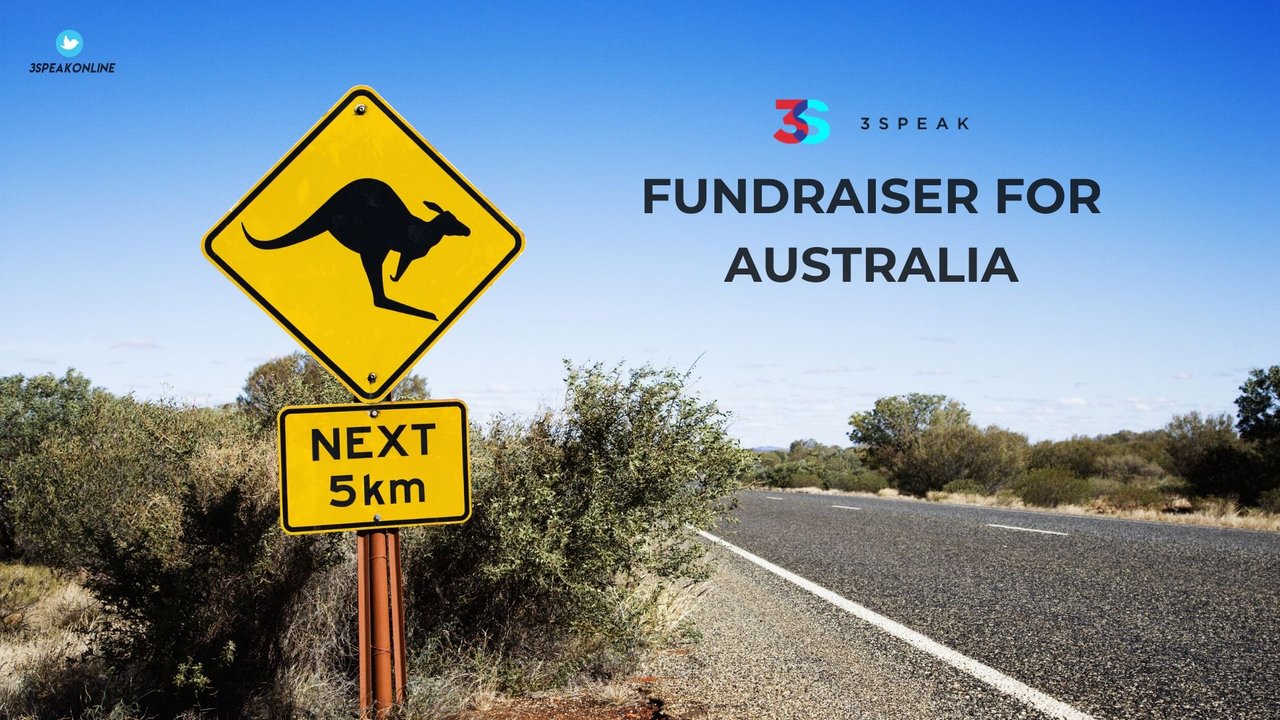 We have made a change to our platform beneficiaries. As of now, 1% of all rewards generated through content created on the 3Speak platform will go to the newly created account @three4australia. This will help us to raise money for two charities: WIRES and the RFS.
Now, anyone can help the wildlife in Australia and all of the brave volunteer firefighters of Australia by simply posting your videos to 3Speak. All creators who participate will receive an exclusive profile badge as shown below:

WIRES
Website: https://www.wires.org.au/
WIRES (NSW Wildlife Information, Rescue and Education Service Inc.) has been rescuing and caring for wildlife for over 30 years and is the largest wildlife rescue organisation in Australia. We are passionate about supporting smaller volunteer organisations in the wildlife sector with the same mission, as well as Universities, Veterinary Associations and other leading scientific and environmental groups. In the last 5 years WIRES has been working with WWF, National Parks Association, Humane Society International, The Wilderness Society, Nature Conservation Council, Birdlife, RSPCA, Animal Welfare League and IFAW and we thank these organisations for their significant ongoing contribution to the wildlife rehabilitation sector.
While WIRES presence is mostly in NSW where we are responding to more than 90,000 rescues each year, we also receive around 170,000 calls to our 1300 WIRES line annually, including thousands of interstate calls where we provide rescue advice.
Source: https://www.wires.org.au/
Many of us have seen the disturbing photographs of burned animals that were on the news lately. The current wildfires in Australias are the most devestaging in history and have already burned over 4.9 million hectares in New South Wales.
RFS (New South Wales Rural Fire Service)
Website: https://www.rfs.nsw.gov.au/
The New South Wales Rural Fire Service (NSW RFS) is a volunteer-based firefighting agency and statutory body of the Government of New South Wales.
The NSW RFS is responsible for fire protection in 95% of the land area of New South Wales and the Jervis Bay Territory, while urban areas are the responsibility of Fire and Rescue NSW. The NSW RFS is the primary agency for responding to bushfires in the state. In addition, they respond to structural fires, vehicle fires, motor vehicle accidents and wide range of other emergencies, as well as providing preventative advice to local communities.
Source: https://en.wikipedia.org/wiki/New_South_Wales_Rural_Fire_Service
The RFS firefigthers do an incredible job, protecting the people and wildlife. That is why we want to thank them for their service.
FAQs
---
Wait. Does this mean more benficiaries?
No. We replaced the 10% Beneficiary from @threespeakwallet to 1% @three4australia and 9% @threespeakwallet. Nothing extra will be taken out from the rewards. The 1% beneficiary to @steem.dao was not changed.
How will the funds be split?
Each organisation will each receive 50% of the received funds.
When does this start?
We have already implemented the benficiary update!
When does the campaign end?
It will be an ongoing campaign until further notice.
Why is the campaign open ended?
It is hard to tell when the fires will be extinguished completely. We want to continuely provide support for WIRES and RFS.
Can I only take part by posting through 3Speak?
You are free to set @three4australia as a beneficiarie to your post. However only 3Speak creators will receive the special profile badge. You can also send STEEM and SBD to @three4australia for further support.
How will you send the funds to WIRESand RFS
The received SP will be powered down and sold together with all Steem and SBD in the account. WIRESand RFS will both receive 50% of the funds. An annoucement will be made as and when the funds are sent to WIRES& RFS.
How do I receive my badge?
The badge is automatically added to your 3Speak Channel when you upload a video while this campaign is active.
Beneficiaries on this post.
99% of the rewards of this post will go to @three4australia. 1% will go to @steem.dao
---
Discord
https://discord.me/3speak
Telegram
https://t.me/threespeak
Rate Us Here
Dapp.com - https://www.dapp.com/dapp/3speak
State of the Dapps - https://www.dapp.com/dapp/3speak
Follow Us On Twitter
https://twitter.com/3speakonline