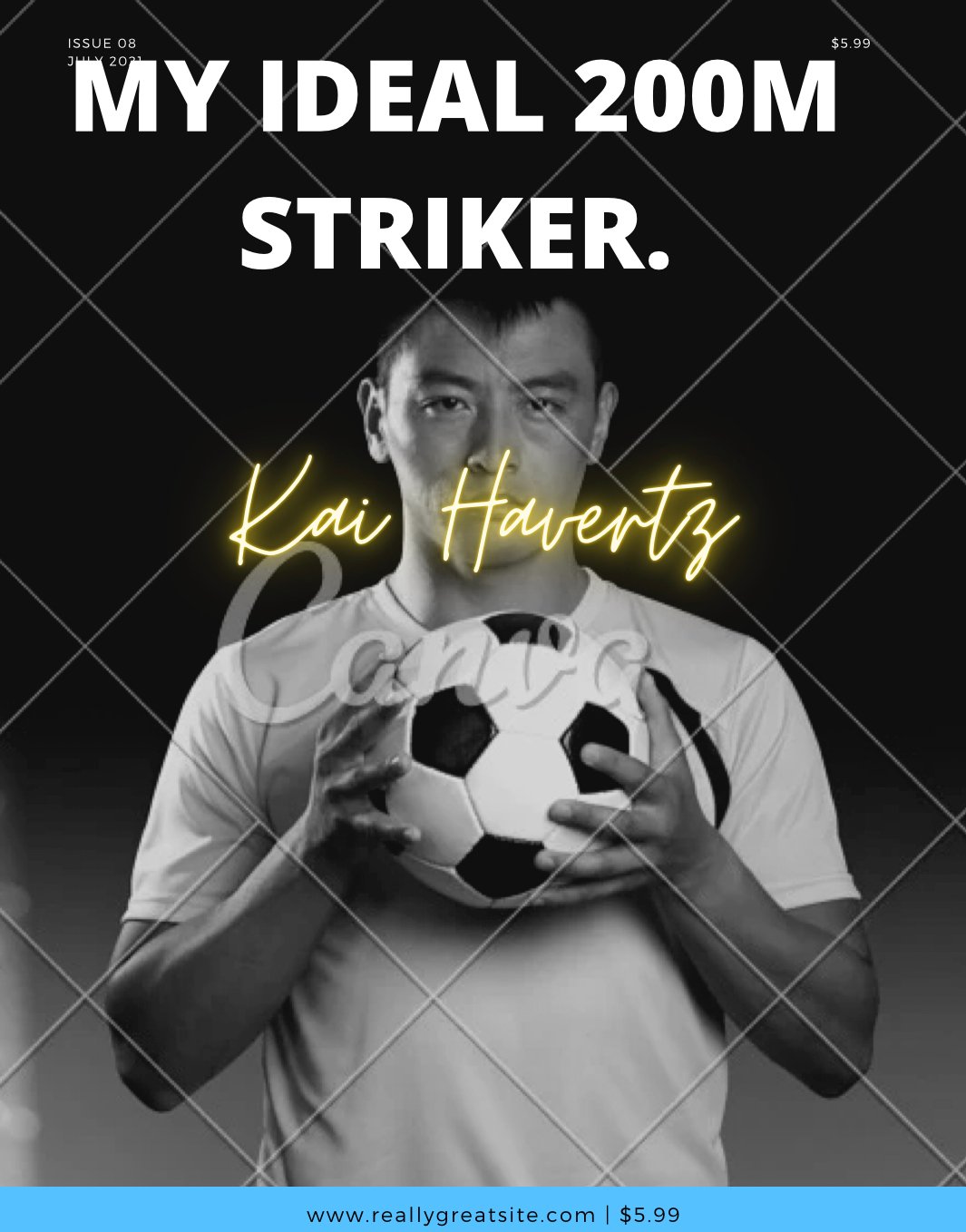 Image designed by me using Canva
.
Hello everyone and thank you to
@frafiomatale
for organizing this contest.
It has become a norm in football for every team to have who we term as a number 9 or an out and out striker. Number 9s are players tasked with the responsibility of putting the ball in the back of the net.
The traditional roles of number 9s have far evolved from the ancient ways of just staying in the opponent's box and managing to score goals. Now, the strikers we have have skills, are mobile and not static, and can step into midfield and make things happen. A notable explain is Tottenham Hotspur's Harry Kane.
There aren't a lot of world strikers in the game right now limiting the options from which scouts choose from. Karim Benzema, Halland, Darwin Nunez, Lukaku, Kane, Suarez, Olivier Giroud are just a few of the very good strikers we have. A lot of teams play now with forwards rather than orthodox number 9s. We even can them "false 9s" nowadays.

With the budget, a lot of people will be swayed to choose the big names, the obvious ones like Lewandowski, Kane or Halland but I want to go for a different name.
He initially started off as a midfielder but since making his big money move to an English side is used as a number 9. He's still very young and with the best training and encouragement, he would turn out to be one of the very best strikers to ever grace the footballing world.
I'm choosing this guy as my 200 million budget striker because he has got some amazing skills, he's calm on the ball, very composed and has quite a good goal scoring form when he's on it. Injuries limit the development of players and he's got quite a good injury record.
He currently plays for Chelsea Football Club and won the blues their second champions league trophy. And with that, I believe everyone knows who I am talking about 😅. I'm probably biased here and using this as an opportunity to tease his doubters but he's "our silky German" as we blue fans like to sing. His name, Kai Havertz.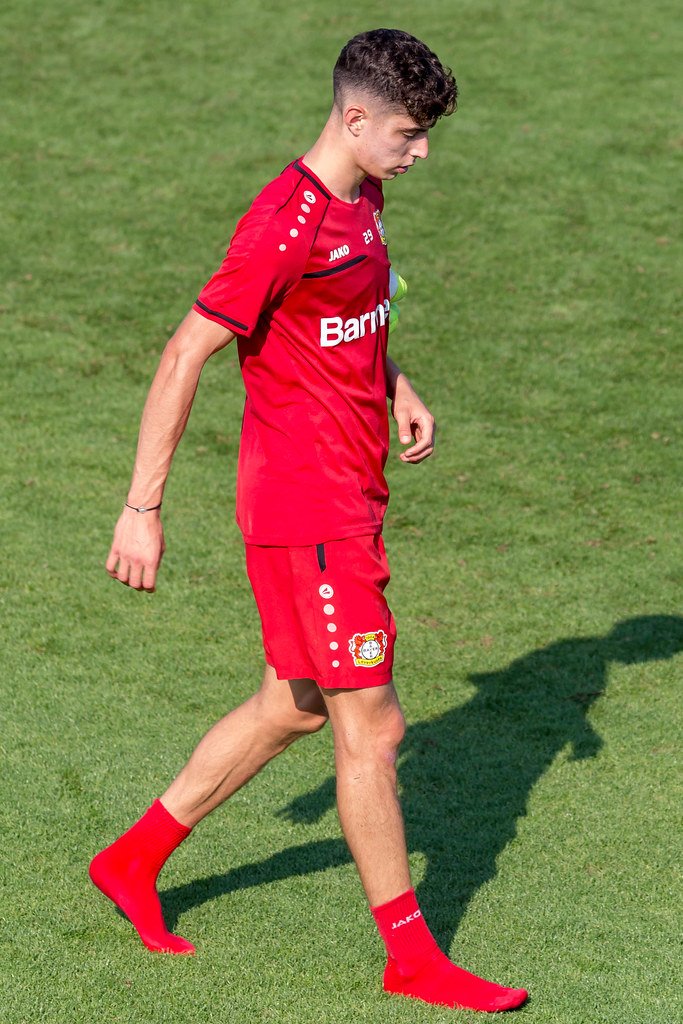 source
Kai Havertz
.

Kai Havertz was the blues record signing before the signing of Romelu Lukaku last season who has proven to be the premier league's worst signing and eventually has been loaned back to his "favorite" club Inter Milan for a year loan worth 8 million pounds.
Kai Havertz aged 23, is a German international who plays for Chelsea and currently plays the number 9 role for both sides. In the 19/20 season before signing for Chelsea, Havertz scored 12 goals and assisted 6 from 30 games played in the Bundesliga. His other goal involvements and good statistics prompted the scouts of Chelsea and the then hierarchy made the decision to sign him for the future at a fee of £75.8m.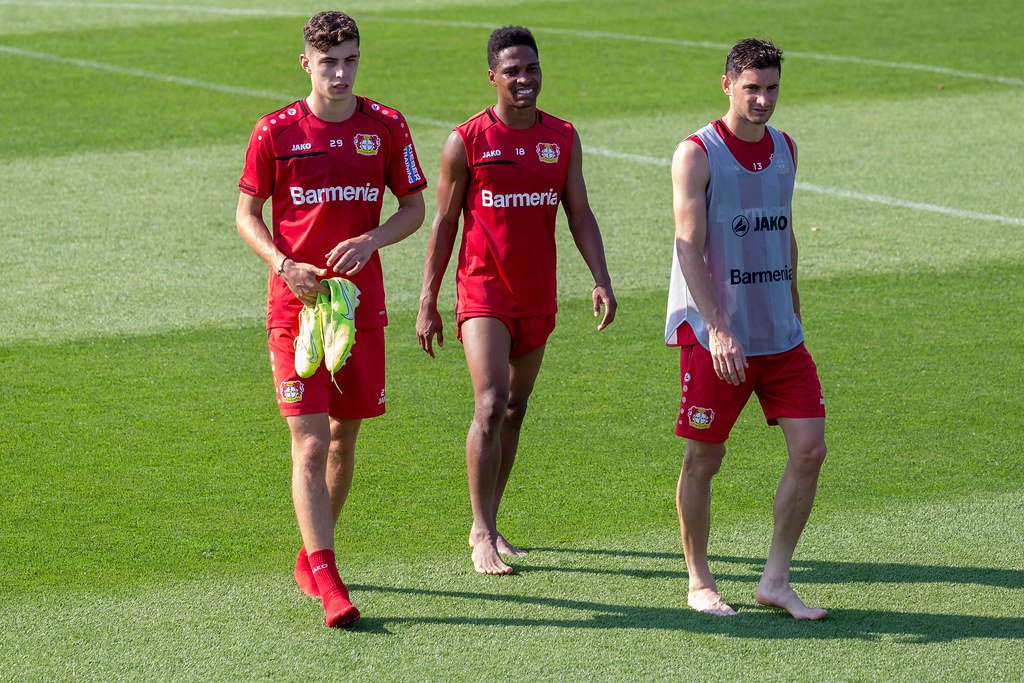 source
Kai Havertz with some teammates at Leverkusen
.
Kai Havertz took a long time to settle to life in London. Covid and injuries also played a big part in the inability of the then 21 year old to make an impression. However, after the appointment of Thomas Tuchel as new manager of Chelsea, he gained more regular game time and eventually ended up giving the blues their second champions league trophy.

I pick Kai Havertz because he has managed to switch his game up and has adopted quite well to the striker role. He is very good in the air with my favorite of his headed goals being the one he scored against Liverpool in the blues 1-1 draw at Anfield in the just ended season.
Havertz is very good with the ball as he's very composed and has got good dribbling skills. Against Crystal Palace in the 20/21 season, he played center forward where he managed to score 2 goals. I particularly liked his first goal because he got the ball in the box of Palace after initially winning the ball back and coolly slot the ball in the back of the net. I like this goal because he just calmly placed it instead of going for power.
My favorite of his goals is his champions league final… nope, you're wrong 😜 is last season's goal against Newcastle. He controlled the ball brilliantly from an inch perfect long ball from Jorghino and as calm as ever, put in the back of the net.
Kai Havertz has 8 goals for the German national team. He had 8 goals in the league for Chelsea in 21/22 and 4 in the 20/21 season. In the champions league he has 3 goals in 21/22 and 1 in 20/21 season.
Kai Havertz is far from a finished product but with more game time and further nursing, he'll be worth 200 million.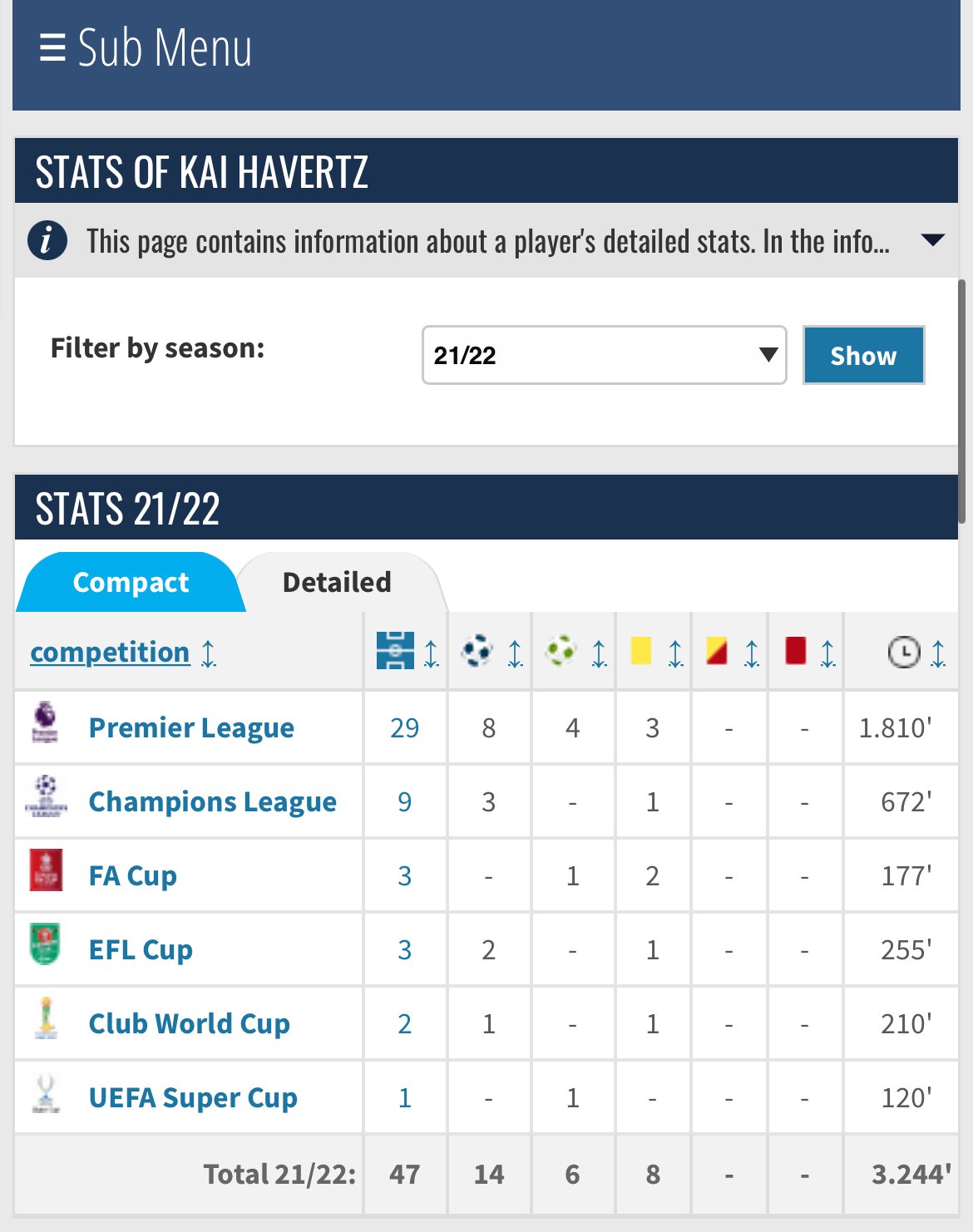 source
Stats for 21/22 season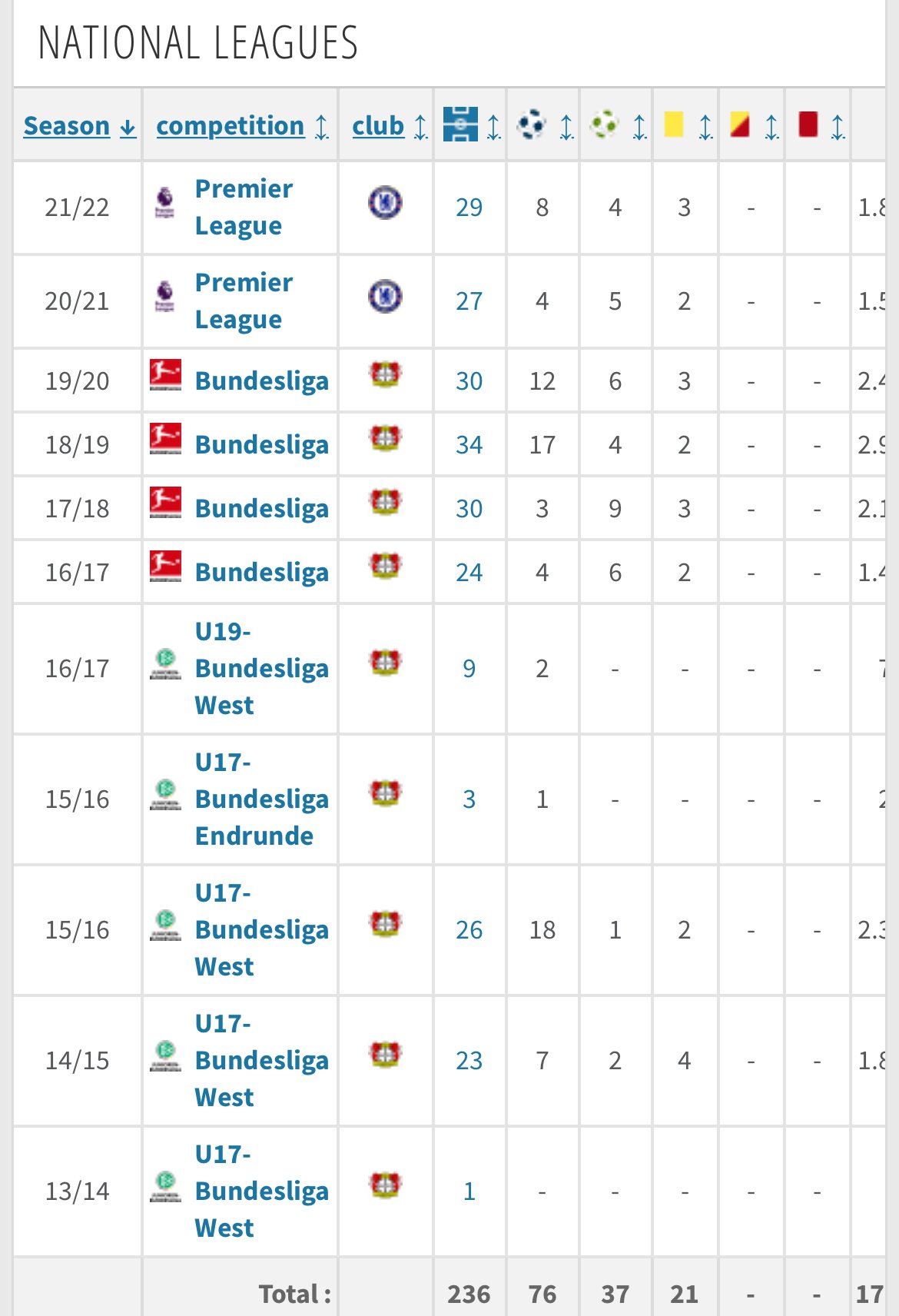 source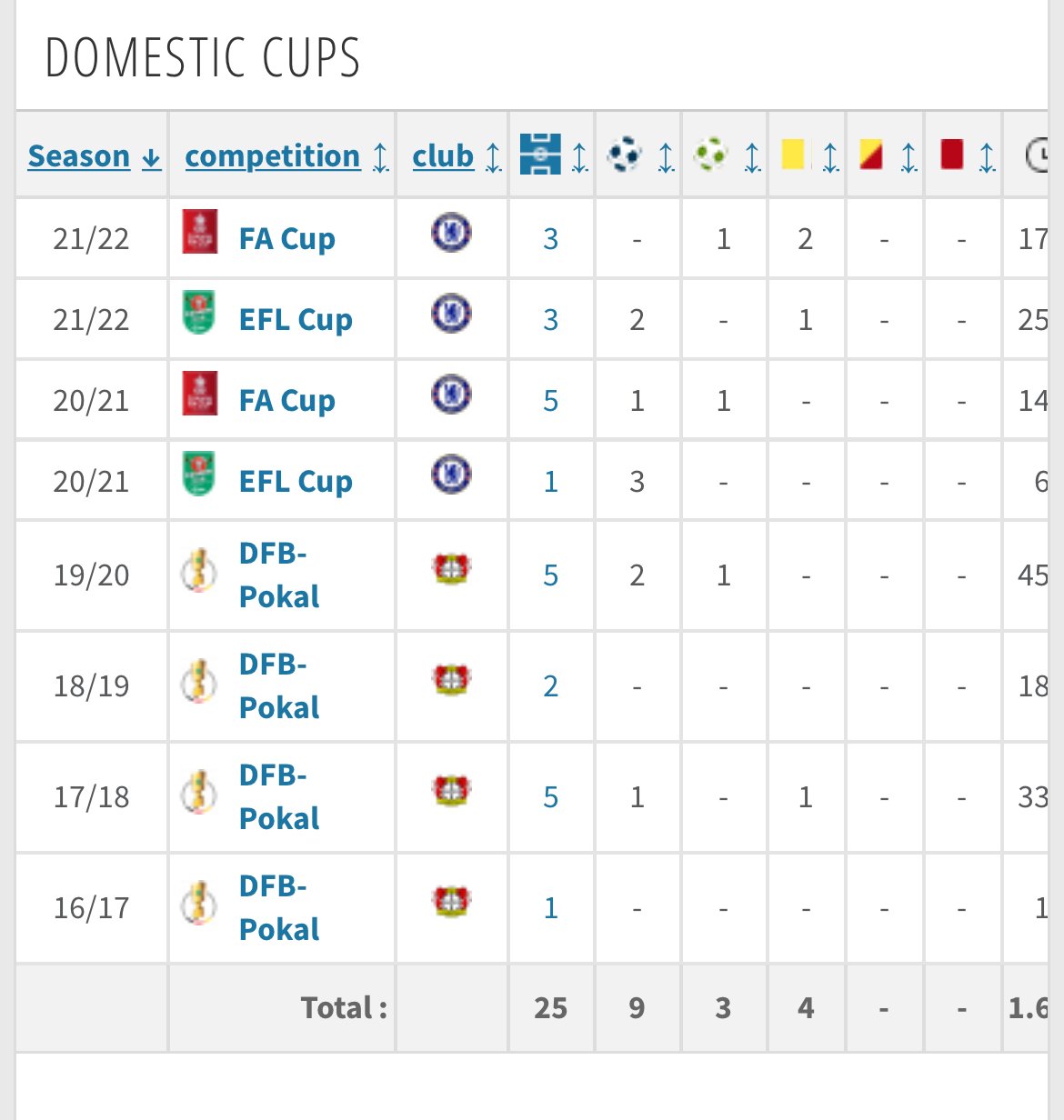 source

source

I do not think Kai is the best striker in the world. He's far from that at the moment. Cristiano Ronaldo is my personal favorite but like I already said, the game has evolved and even Ronaldo didn't start his game as a striker. He made his name as a winger cutting in and taking shots.
Harry Kane, Lewandowski and Benzema are obvious and excellent shouts but with their age, I don't think they're worth 200m. Harry Kane is younger but having not achieved any accolades, he's not worth that much.
I invite @rubilu123 and @lazor10 to take part in this contest.
Thank you.