Even when you factor in the volatility, bitcoin works better than gold as a store of value
A store of value is supposed to store your value, correct? Which means it should be stable over time, right?
Yes and no.
You want something that beats inflation and preserves purchasing power, at the very least.
Gold as long been seen as one of the main use cases for that goal, however, it's time has come and gone.
Why not go with something that has not only persevered your purchasing power but also increased it over time?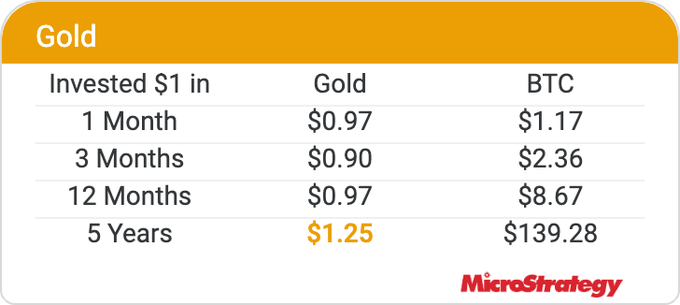 (Source: https://twitter.com/michael_saylor/status/1377402148669956096/photo/1)
Bitcoin ate gold's lunch long ago and it will likely never look back. Bitcoin beats gold on just about every level except for it's long history.
With inflation likely on the way, actually it's already here, bitcoin is going to look even more attractive than it has been.
We've never seen bitcoin in an inflationary environment, well we are now headed for one:
Inflation is coming:
Steel +145%
Lumber +126%
Oil +80%
Soybeans +71%
Corn _69%
Copper +50%
Silver +38%
Cotton +35%
Coffee +34%
Wheat +25%
FAO Food Index +25%
Cattle +21%
Bitcoin +470%
Stock Market +23%
Home Values + 8%
Hourly Wages +5%
Money Supply Up +24%
Reported Inflation +1%
Just wait until that reported number starts inching up...
What do you think that's going to do to the price of bitcoin?
I have a guess...
Stay informed my friends.
-Doc