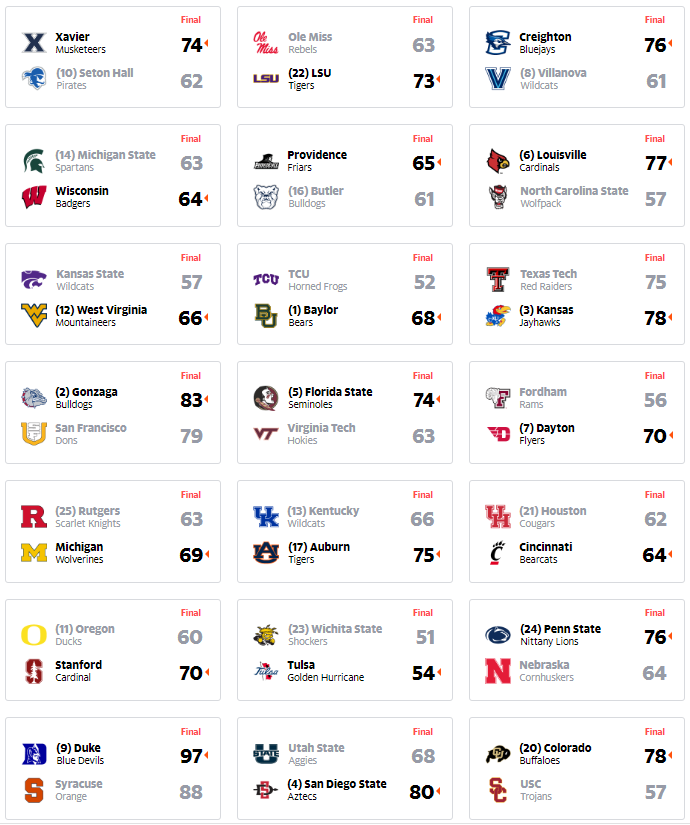 Can you believe of the 21 games that were played on Saturday involving top 25 teams, nine of them ended in an upset? That's right, over forty percent of the top twenty five teams that played lost to an unranked team or in the case of Kentucky a team that was ranked lower than them.
Let's get the one that stings the most for me out of the way right now. Michigan State played a pretty horrible first half. I planned my whole day around this game on Saturday and quite honestly it was an entire waste of time. Being an away game shouldn't have been a factor for the Spartans. I knew Coach Izzo was going to give it to them during halftime and sure enough they played much better the second half.
Sadly, it wasn't enough to seal the deal and they ended up losing by one point. Pitiful...
For the most part, I am not really that surprised by the majority of the upsets that happened. Had the home court advantage been reversed I would have all but guaranteed the Xavier over Seton Hall, Creighton over Villanova, and Providence over Butler upsets. The fact they happened as away games makes it even more exciting.
The biggest surprise for me from the past weekend is probably Stanford over Oregon. I am not sure anyone could have seen that one coming. Oregon has had their struggles through the season for sure, but to me the Standford win feels a lot like the Purdue win over Michigan State. Right time, right place one team playing the worst game of their life and the other team playing the best.
No overtime games, which I find a little shocking. You would have thought at least one of them would have went into overtime. Especially the Houston/Cincinnati game or the Wichita State/Tulsa game.
Kansas continues to play really well after the suspension of one of their starters. On the flip side, Kansas State is still struggling to find their feet again after that huge debacle against Kansas.
San Francisco almost beat #2 Gonzaga and Baylor continues to sit in the #1 sport that was formerly owned by the Bulldogs.
What is most surprising to me (sort of) is the fact that San Diego State is still ranked #4 yet they are the only team in the top 25 that still has zero losses on the season. I said sort of before because I am sure someone is going to point out "strength of schedule". At 23 and 0 I still think it is a disservice to have The Aztecs ranked anything less than #2.