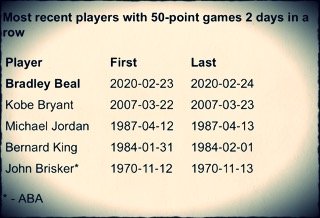 We are still sad about the loss of black mamba.
At the same time slowly we are trying to move on and go back to our daily lives.
It could be impossible to clear this tragedy in our head.
In the meantime good deed will spread and slowly
We will bring normalcy to our live.
I was looking at a stat figuring Kobe and Mj scoring plus 50 two days in a row.
Bradley achieved that fit.
Playing basket is tiring.
Determination is what propel a player to be great.
We know Michael and Kobe.
Bradley is happy to be among greatness.
Great job.