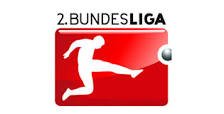 Heute am Sonntag 3 interessante Spiele in der 2. Bundesliga.
Today on Sunday 3 interesting games in the 2nd Bundesliga.

vs.

AUE spielt zu hause gegen Kiel. Kiel hat 5 Spiele nicht verloren und AUE in diesem Jahr nur 1 Punkt geholt. Ich hoffe trotzdem auf die Heimstärke meiner Mannschaft und tippe 2:1 Heimsieg.
AUE plays against Kiel at home. Kiel did not lose 5 games and AUE only scored 1 point this year. I still hope for the home strength of my team and bet 2: 1 home win.
---

vs.

Darmstadt spielt zu hause gegen Sandhausen. Ein Duell zweier Mannschaften im Mittelfeld der Tabelle. Ich sehe auch hier die Heimmannschaft mit leichten Vorteilen und deshalb 2:1 Heimsieg.
Darmstadt plays at home against Sandhausen. A duel between two teams in the middle of the table. I also see the home team with slight advantages and therefore 2: 1 home win.
---

vs.

Karlsruhe spielt zu hause gegen Osnabrück. Karlsruhe sehr schwach in diesem Jahr und Vorletzter in der Tabelle. Ich sehe dieses Spiel auf Augenhöhe und tippe 0:0 Unentschieden.
Karlsruhe are playing at home against Osnabrück. Karlsruhe very weak this year and penultimate in the table. I see this game at eye level and bet 0-0 draw.
Funny matches @all
Best regards & Glück auf
sportfrei