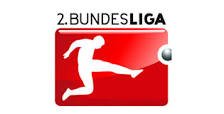 Heute 3 Spiele am 24. Spieltag in der 2. Bundesliga.
Today 3 games on matchday 24 in the 2nd Bundesliga.

vs.

Die kleine Stadt AUE spielt heute gegen die Weltstadt Hamburg. AUE wird kämpfen, aber die Qualität der Mannschaft aus Hamburg ist sehr groß. Ich hoffe auf ein Unentschieden, aber normal gewinnt Hamburg 0:3.
The small town AUE plays today against the cosmopolitan city of Hamburg AUE will fight, but the quality of the team from Hamburg is very high. I hope for a draw, but normally Hamburg wins 0-3.
---

vs.

Fürth spielt zu hause gegen Stuttgart. Stuttgart meiner Meinung nach der Favorit und deshalb 1:2 Auswärtsieg.
Fürth plays against Stuttgart at home. Stuttgart in my opinion the favorite and therefore 1: 2 away win.
---

vs.

Darmstadt spielt zu hause gegen Heidenheim. Ich sehe hier ein Spiel auf Augenhöhe und am Ende ein 2:2 Unentschieden.
Darmstadt plays at home against Heidenheim. I see a game at eye level and in the end a 2-2 draw.
Funny matches @all
Best regards & Glück auf
sportfrei