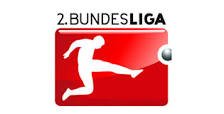 Heute am Samstag 3 weitere Spiele am 25. Spieltag in der 2. Bundesliga.
Today on Saturday 3 more games on match day 25 in the 2nd Bundesliga.

vs.

Der HSV spielt zu hause gegen Regensburg. Der HSV hat 2 Spiele in Serie verloren und muß im Heimspuel gewinnen. Regensburg wird kämpfen, aber der HSV ist im Normalfall zu stark. Ich tippe 3:1.
The HSV play at home against Regensburg. The HSV has lost 2 games in a row and has to win at home. Regensburg will fight, but the HSV is usually too strong. I bet 3: 1.
---

vs.

Heidenheim spielt zu hause gegen Karlsruhe. Heidenheim klarer Favorit zu hause und deshalb ein 3:1 Heimsieg.
Heidenheim plays against Karlsruhe at home. Heidenheim clear favorite at home and therefore a 3: 1 home win.
---

vs.

Darmstadt spielt zu hause gegen Bochum. Darmstadt im Jahr 2020 stark und deshalb im Vorteil im Heimspiel. Ich tippe auch hier 3:1.
Darmstadt plays against Bochum at home. Darmstadt strong in 2020 and therefore an advantage in the home game. I also guess 3: 1 here.
Funny matches @all
Best regards & Glück auf
sportfrei