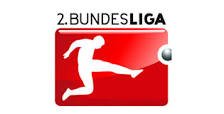 Heute 3 Spiele in der 2. Bundesliga und als Höhepunkt das Sachsenderby.
Today 3 games in the 2nd Bundesliga and as a highlight the derby of Saxony.

vs.

Dresden spielt zu hause gegen AUE. Ein sehr emotionales Spiel, wobei Dresden als Tabellenletzter maximalen Druck hat. Ich tippe 0:2 Auswärtssieg.
Dresden plays against AUE at home. A very emotional game, with Dresden having the maximum pressure at the bottom of the table. I guess 0-2 away win.
---

vs.

Kiel spielt zu hause gegen Fürth. Ein Spiel auf Augenhöhe und deshalb am Ende ein 1:1 Unentschieden.
Kiel plays against Fürth at home. A game at eye level and therefore in the end a 1-1 draw.
---

vs.

Sandhausen spielt zu hause gegen St. Pauli. St. Pauli hat einen Lauf und deshalb ein 1:2 Auswärtssieg.
Sandhausen plays St. Pauli at home. St. Pauli has one run and therefore a 1: 2 away win.
Funny matches @all
Best regards & Glück auf
sportfrei