Greetings to everyone, it was a great match day with lots of exciting matches played.
Well,I would like to talk about Bruno Fernandez performance today at old Trafford which Manchester United face Watford and defeated them to a three goals to nothing..
If you had watch this match today am sure that you would accept that Bruno Fernandez is a great player, with great improvement to Manchester United team. With a very outstanding performance today, Bruno Fernandez manage to impress is fans all around the world. This young star was even part in all three goals scored by Manchester United, with two great assist he delivered, one to Greenwood and another to Martial and even scoring a goal himself, this cleared my doubts about him and even made me like him more.
Moreso, Manchester United might need to sell Pogba now since Bruno Fernandez is there to do the job efficiently. Pogba who hasn't been so involved in most Manchester United matches this season because of injury and even because he wants to leave the club may be free to go since Bruno Fernandez is here now to his work perfectly..
All we just need now from Bruno Fernandez is to continue with his great style of play and even help Manchester United to win trophies and even bring Manchester United to a good shape which they were some years ago. And even Bruno himself to claim great credit to his name as he stays in England and play as a Manchester United player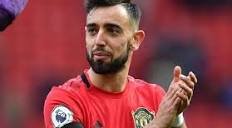 IMAGE SOURCE