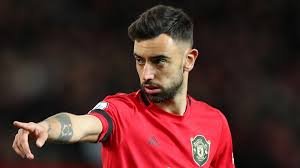 IMAGE SOURCE
Yesterday's match just happened unbelievable, I couldn't believe my eyes after Manchester United defeated Chelsea in a two goals to nothing at Stanford bridge.
Yesterday just happened to blow my mind because I couldn't believe Manchester United could defeat Chelsea yesterday,it just happened like as if it was a dream, because all I thought was that Chelsea would defeat Manchester United yesterday at Stanford bridge and even revenge their last meetings this season but it didn't happen like that.
Manchester United manage to defeat Chelsea in the third time this season which was really heartbreaking and really unexpected. With the goal from Anthony Martial in the first half of the match through the assist from Wan Bissaka and a beautiful goal from Henry Maquure which was assisted through Bruno Fernandez Manchester secures three and reduces the gap between them and Chelsea.
The second goal of the match which was scored by Maguire and assisted by Fernandez brought Fernandez into the lime light. The newly signed player Fernandez who was signed some weeks created a very beautiful assist yesterday which made more Manchester United fans across the world to put him on a good scale.
The midfielder who has played just two matches as manage to impress the world that he is a good and awesome signing. He was so amazing yesterday during Chelsea's match and really played to his best and delivered more chances but one was useful.
Bruno has been known to be a very creative player with lots of great passes and lots of good assist and we would expect nothing more but the best has he stays in Manchester United