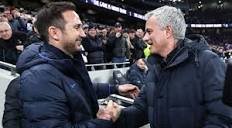 IMAGE SOURCE
t is another beautiful weekend with lots of interesting premierleague matches but the one that catches my attention more is Chelsea vs Tottenham.
Well, last premier match wasn't a good one for Chelsea as they were defeated by Manchester United and they would like to do anything to get back to their winning ways which will include beating Tottenham this weekend.
Moreso, both team has found it difficult to win their last matches which is the one of Chelsea losing to Manchester United and even Tottenham was defeated two days ago in the champions league match against their opponents which makes both teams in a very bad record.
Although, Tottenham won their last match against Aston Villa which ended 3-2 with a very beautiful goal from Son Ming. The Korean winger rescued Tottenham with the last goal of the match which was a very good goal from Son at the 94th minutes of the game.
Well, Chelsea defeated Tottenham to a two goals to nothing in the first leg of the EPL which was a blow to Tottenham for them to loose in that kind of manner to Chelsea, but I hope Mourinho could find a way to fix this mess if he is able to defeat Chelsea also at Stanford bridge but nevertheless, let's don't forget Frank Lampard is also a good manager and he can also find a way to defeat Tottenham again as he did ones.
I can even understand football now, because Mourinho was once a manager of Chelsea and Lampard was a player under him and Lampard was very good during Mourinho's days at Chelsea but I see no reason why Lampard should defeat Mourinho because I believe Mourinho should be a master in this game called football but football is not always judged in such manner.
So, I can't really say much on who will win or what will be goal line look like but I strongly believe but teams and manager are really for this big task ahead. So let the match and the way the players play decides who wins.