After today's winning against Leicester city, Manchester city finds away to make their points higher as the defeated Leicester today.
Today was such a wonderful day, featuring lots of premier league exciting matches which includes Chelsea vs Tottenham and many more.
But Manchester city game being the last and the most toughest among them all took my attention because the match was between two rivals who are fighting to achieve one goal which is to stay in the second position..
Well, Leicester has been in the second position for sometimes now because of the problems Manchester city were facing which included injuries, losses and many more... But now Manchester city who are the defending Champion has hijacked the position from Leicester city and given them seven points clear making it a little difficult to fight back.
Well, let's just say Manchester city are assuming Liverpool will be crowned champions and lift the premier league trophy this season because Liverpool has really worked hard for the trophy and should have it.
Aside from working hard Liverpool has beaten almost all the big clubs in the premier leaving just few of them behind which Manchester city is also among. Aside from even beating most big teams Liverpool has been unbeatable in premier league this season and I hope they keep up with the good form...
Let leave this for now, Manchester city has conquered a task today and heading towards another task on Wednesday which they would face Real Madrid for the CHAMPIONS LEAGUE round of 16.. I can't really say much on this because I was really impressed with Manchester city's match today and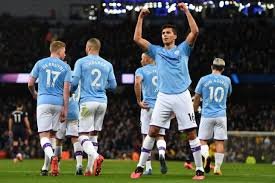 IMAGE SOURCE
even Madrid are also in Form so I keep my comment and observations till Wednesday when the match would happen