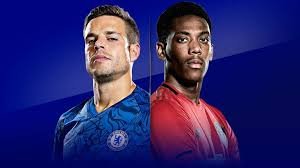 Image Source
The match we have all been waiting for is happening live at the Stamford Bridge Stadium (England).
Today Chelsea hosts Manchester United for the EPL kick off.
Both teams have dreamt and ready for this match because they are both one of the rival teams among the premier league teams.
With just two meetings this season Manchester United have defeated Chelsea in the both meetings this season which sounds as a blow to Chelsea's face.
With the first match of the season and even the opening match, Chelsea were destroyed by Manchester United in a four goals to nothing, this was really shocking because no one could believe that kind of score for that kind of match, well but when it comes to football most things are possible.
Another meeting was during the carabao cup competition that again Manchester United won through the help of Marcus Rashford scoring twice to defeat Chelsea to a two goals to one..
Well all this are at the past now, and Chelsea looking forward to revenge Manchester United defeats, will this be possible?? Can't say for sure but let wait for the match.
Both teams are just getting back their form because they have been so poor in form and performance lately this season but Chelsea still finds their way in top four.
Competing for top four is a major challenge in EPL and I believe that is what is making most England teams coming back to their senses.
The match would be a tough one though, but someone needs to win to secure a three points because we are now at the second face of the EPL and no team can afford to loose any match which would cause loss of points.
But I can't say for sure who would wins but I believe it would be a tough and interesting match.
You can't afford miss!!!!!