Today something very unlikely, unusual and unbelievable happen today in England.
Today is another beautiful weekend with lots of amazing matches but the match that really gave a lots of people concern was the match between wattford and Liverpool.
I couldn't believe my eyes when I saw the score line of the match, for the first time this season Liverpool is beaten in EPL which has been a really big task for most team in EPL but wattford did it today without a sweat.
Today wattford destroyed Liverpool to a three goals to nothing which has been a complicating issue to the entire football fans because for some times now Liverpool has not been beaten to that kind of score but things changes.
Liverpool who just lost a match against Atletico Madrid for the Champions LEAGUE round of sixteen kick off which happened earlier this week has been humiliated badly again has the team lost another match this today which was against wattford.
Well, I was thinking initially that Liverpool would loose the match but I wasn't expecting this kind of score because I regard it has a disgrace to the club.
Well, in the first half of the match wattford were so close to scoring goals but they were not chanced but the second half was a blow of mind because I didn't believe my eyes when I saw the third goal in the match. It was a really shocking football match because I expected nothing less than 2-1 or even a draw but nevertheless wattford deserved to win because they really played well today.
This is a bad experience to Liverpool but I hope they would bounce back and return to winning ways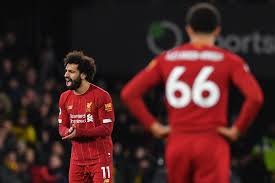 IMAGE SOURCE