Football for the past 10-15years has been dominated by two beautiful players Lionel and Christiano Ronaldo. The two has been in the lime light for some years now dominated and making fame as they play in their respective clubs.
Messi who is an Argentina midfielder and playmaker has won 6 FIFA world best which no players has won he has scored lots of goals, created lots of assist and he is known to be a Greatest of All Time G.O.A.T.
Messi has won a lots of trophies for his club which is Barcelona has has created lots of records that no player has ever done.
However, the Argentina star is a very good player he still finds it difficult to win lots of trophies for his country, but he remains the king of football.
Another Person his Ronaldo,the Portuguese player who was none to be a player, scorer, team builder and a goal machine has won 5 FIFA WORLD BEST, scored lots of goals and achieved a lots. The Portuguese who left Madrid for Juventus after winning a lots of trophies for Madrid including a back to back champions winning for Madrid.
Ronaldo who got is first world best at Manchester United because he was really awesome, creative and perform beautifully on the pitch.
Both Ronaldo and Messi and been regarded has greatest of all time for dominating the entire Europe for some years now.
But now this two players are getting old and will eventually stop football, but the problem lies at who would replace this two, who would bring fame to football more than, who would score more goals, create more assist and becomes the new greatest of all time.
Well, a lots of players are contending to this, let's relax and see what happens in the next five or tens year's and see who can be like Messi and Ronaldo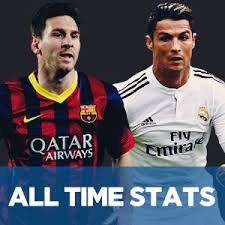 IMAGE SOURCE