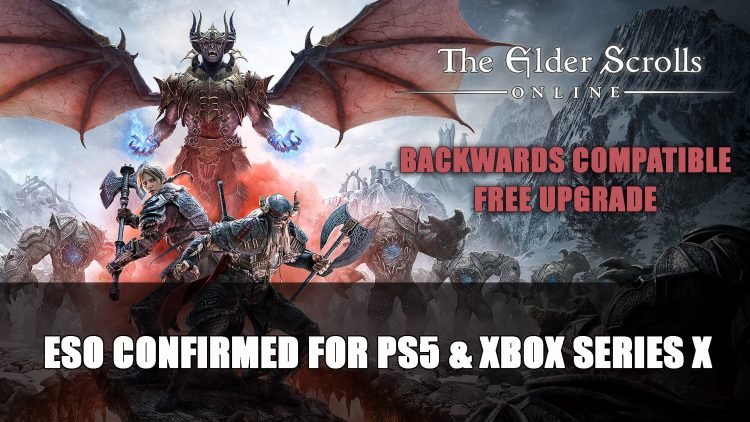 Zenimax announces that the Elder Scrolls Online will be coming to next-generation console Xbox Seriex X and Playstation 5, with free upgrades for those who own it on current consoles.

Elder Scrolls Online Is Coming Xbox Series X And Playstation 5

The Elder Scrolls Online has been confirmed to be coming to Playstation 5 and Xbox Series X. Good news for those who already own a copy on Playstation 4 or Xbox One, as they can get a free upgrade when they switchover to next-gen consoles (respectively) when they become available, so no need to repurchase. The same goes for the title DOOM Eternal.
The development team are working on making both titles backwards compatible when the new consoles launch. What that means is, you can continue with your current account, keeping your character progress and continue playing.
More info will be coming in the next weeks and months for the MMORPG, this will include the expected release windows for both consoles plus further enhancements. While the details are a bit slim at the moment, it's great there's a confirmation for next-gen consoles, plus the promise of free upgrades.
Bethesda will be holding livestreams on August 7th to 9th for QuakeCon at Home, which will cover all the latest Bethesda titles. Don't miss on the livestreams as there will be Twitch drops on the official ESO streams, which include the Flame Atronach Pony pet and Ouroboros Crown Crates. Make sure you've linked you ESO and Twitch accounts, and it's available for all platforms.
Recently Zenimax announced the next DLC for ESO which follows the Dark Heart of Skyrim narrative in Stonethorn which will be coming to PC alongside Update 27 on August 27th. For Playstation 4 and Xbox One on September 1st. Want to know upcoming changes to sets? Watch our ESO Stonethorn Biggest Set Changes Ever video.
Elder Scrolls Online is currently available on Playstation 4, Xbox One, and Stadia. It has been confirmed it will be coming to Playstation 5 and Xbox Series X.

For more news be sure to read next Cyberpunk 2077 Second Night City Wire Episode Announced and Rumour: Final Fantasy XVI To Be Timed PS5 Exclusive. You can also check out Mortal Shell Launches August 18th.