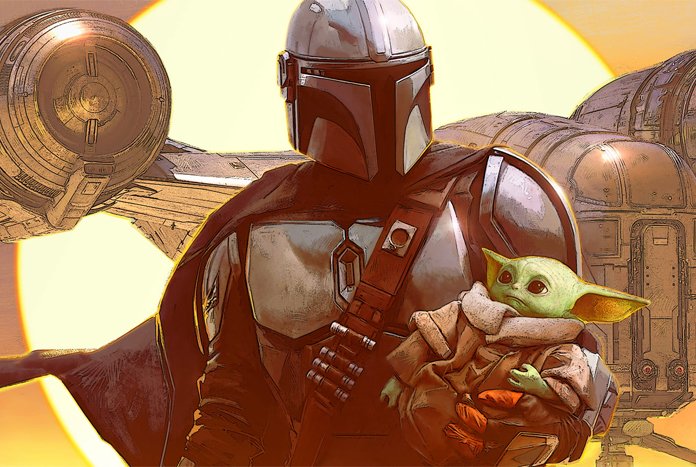 Similar to what was done for the Sequel Trilogy films, Lucasfilm has announced that they will be releasing a new publishing program centered around The Mandalorian Disney+ TV series. There will be titles suited for all ages with the debut of the program set to launch later this fall (new releases will be coming throughout the winter and spring as well). Here are some of the publishing works that we'll be getting including an original adult novel penned by author Adam Christopher:
– The Art of The Mandalorian (Season One) by Phil Szostak; cover by Doug Chiang
– The Mandalorian: Original Novel (adult novel, Del Rey) by Adam Christopher
– The Mandalorian: The Ultimate Visual Guide (DK) by Pablo Hidalgo
– The Mandalorian: Allies & Enemies – Level Two Reader (DLP) by Brooke Vitale
– The Mandalorian: 8×8 Storybook (title to be revealed later) by Brooke Vitale
– The Mandalorian: Junior Novelization by Joe Schreiber
In addition, The Mandalorian-inspired comics are coming from Marvel and IDW Publishing, and magazine, novelty, and coloring and activity titles are on the way from Titan, Studio Fun, Crayola, Thunder Bay Press, Disney Publishing Worldwide, and Dreamtivity. Younger bounty hunters can look forward to a Little Golden Book and a Screen Comix retelling of Season One.
Below is a look at the cover of The Art of The Mandalorian (Season One) featuring new artwork by Lucasfilm's Doug Chiang. Published by Abrams Books, this 256-page hardcover is scheduled to be released on December 15 and can be pre-ordered here for $40.