Sword of Ianna is a new hack and slash adventure for the Amstrad CPC. Think generic Conan the Barbarian if you will, and you have a good idea in mind. Your character is a muscle-bound fantasy character who carries a sword. You are tasked with returning peace to the land. Are you up to the task or will evil prevail?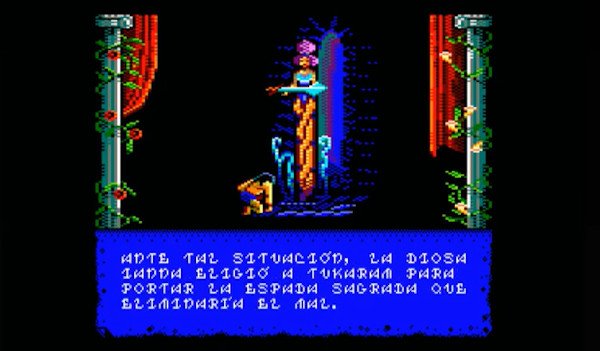 Sword of Ianna has history
It seems that centuries of calm and peace have made the land ripe for evil invasion. Dashte Kavir and Dashr-e Lut are under siege by evil creatures. Orcs, dark knights, and more fantasy entities are laying waste to the land you love.
Take control of Jarkum, of the Arram lineage, and stop the evil from spreading. The peace that washed across the land was thanks to your ancestor Tukaram. Your job is to bring that peace back now. Centuries after Tukaram wiped blood from his sword for the last time you must wet yours.
Quite a beautiful land to kill in
Sword of Ianna
is quite striking as mentioned by
Indie Retro News
, I agree.. From the title screen which features a wavy reflection to the animation. This is an adventure you will remember for a long time. The story of
Sword of Ianna
is illustrated with graphics and text describing the situation. That is a treat for fans, and something often ignored by developers.
There are flames flickering torches in the background, blood on spikes alerting you to danger, and varied enemies. There are many challenges in the levels – enemies, environmental, and simply going the wrong way.
Sword of Ianna seems to feature a non-linear bit of exploration. Bottomless pits are not truly bottomless for instance. Miss that jump and you must find a way back, either directly or indirectly.
The animation is awesome. As they say, the devil is in the details. Walking has one speed, you can run as well. Unsheathe your sword and get a new animation, and walking speed. Jump from a higher platform and watch as Jarkum convincingly flexes on the landing.
Little things like that take a game from being "okay" to being "great".
Will you take the challenge of Sword of Ianna? It is free on the Amstrad CPC, as well as the MSX2 and Spectrum.
Sword of Ianna by Retroworks
Developer – Javier Pena
Genre – 2D side scrolling action
Platform – Amstrad CPC, ZX Spectrum, MSX2
Available now on the Retroworks website for free.
This article was originally published on Retro Gaming Magazine.