Not since the days of Spy vs Spy had gamers had an action game that allowed two players to just beat the heck out of each other. Bonus since Dashin Desperadoes added a love interest while Spy vs Spy was all about getting secrets. This is one of the best games to show off the power of your Sega Genesis too- watch as the two halves of the screen display the action. Try that on Super Nintendo, shoot, try this frenetic gameplay with one screen let alone two.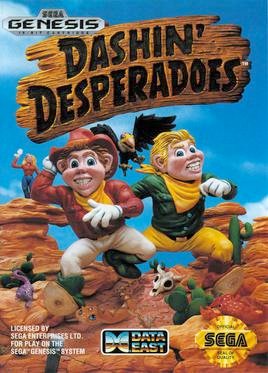 A classic tale
As mentioned already, there is a love interest in
Dashin Desperadoes
. You are racing the blond haired cowboy to the mutual love interest that waits at the end of each level. Along the way you have to use bombs, traps and anything else you can think of to stop your opponent. This is where the fun comes in since you have to worry about more than just the enemy.
Dashin Desperadoes is always 2 player
Dashin Desperadoes
is a 2D side scrolling action game with a fair bit of charm. In single player mode the blond haired cowboy is controlled by the computer. Bring a second player along and you have a rather hectic fun time ahead of you. This is the perfect game for when you have a friend over but cannot think of any good two player games to enjoy.
Not much competition
When you think of classic retro games a 2 player competitive action game is probably not what you think of. Data East had a rather interesting game on their hands, too bad they didn't realize it at the time.
There has not been a sequel to Dashin Desperadoes which is unfortunate. The idea is solid, the graphics are still quite good and the gameplay is as fun as ever. Let's play some trivia. What does the box art for Dashin Desperadoes have in common with Nintendo Power Magazine?
Grab Dashin Desperadoes on eBay.

Want more action games? We got your back.
This article was originally published on Retro Gaming Magazine.