Pac-Man 40th Anniversary continues with a book this time. Announced by Bandai Namco and release coming from Cook and Becker, this is a high-end design book. Fans interested in the history of Pac-Man and interviews with the original designers will want this Pac-Man book. Billed as a luxury coffee table book, the Pac-Man 40th Anniversary book is the first to cover the game.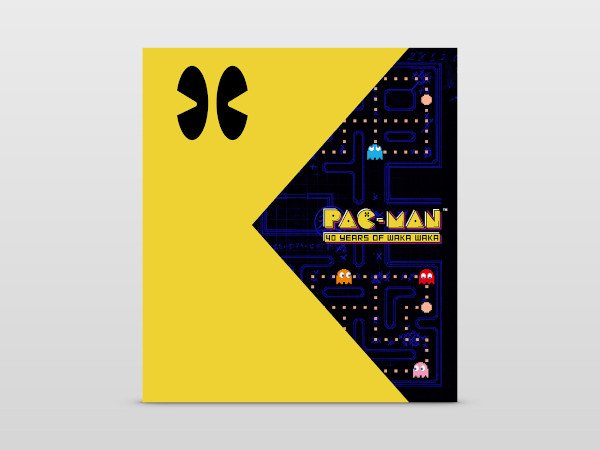 Inside the Pac-Man 40th Anniversary Book
Cook and Becker are the first publishers to take on the world of Pac-Man for a coffee table book. That alone makes it interesting to me. I have always been interested in physical media that goes behind the scenes and such.
That is exactly what this coffee table book does.
There are exclusive behind the scenes interviews with the original team. Both Japan and U.S. based staff involved in creating and bringing Pac-Man to life are featured in this book.
"We are thrilled to work with BANDAI NAMCO Entertainment on an officially licensed book on one of the most iconic figures in video games and beyond", says Cook and Becker's CEO Maarten Brands. "The PAC-MAN games raised the bar for video games in more ways than one: it showed a budding industry a way forward, in terms of game design but also in terms of marketing, especially in merchandise. To give fans the book that puts the spotlight on these huge achievements, is an honor and a pleasure for us as a publishing house."Research was deep on this one
The Pac-Man 40th Anniversary Book goes into the history of the game across three continents. That is a lot of work and coordination to be put into a book. It also gives an idea of the quality fans can expect here. This is not a cash grab like a certain game company – rhymes with THAT Games.

Behind the Pac-Man 40th Anniversary Book
Creating this special look at Pac-Man are a few alumni of books covering game histories.
Arjan Terpstra – (The Netherlands) author of Sonic the Hedgehog 25th Anniversary Art Book
Tim Lapetino – (USA) author of Art of Atari
with special help from
Katsuaki Kato – (Japan) former editor-in-chief Weekly Famitsu
"I'm so glad to have the opportunity to write the first book dedicated to the history of this iconic gaming character", says co-author Arjan Terpstra. "We were able to conduct dozens of interviews with people involved in the design, production and sales of Pac-Man in the 1980's, both in Japan and in the US, and we think fans will be excited about some of the fascinating new stories and items we've unearthed."
Tim Lapetino adds, "It's a privilege to tell the story of Pac-Man and how the game has influenced pop culture worldwide," says co-author Tim Lapetino. "Pac-Man and its successors have helped transform video games, visual culture, and the way games are made and marketed. I'm excited that we can share those stories here, with the creators and visionaries that brought Pac-Man to life."
Fans of Pac-Man will want to pick up the Pac-Man 40th Anniversary Book. It is a must own for fans. It beats yet another release of the game with minimal efforts.
You can pre-order the Pac-Man 40th Anniversary Book in July 2020. Please note, it will not begin shipping till November 2020. There will also be two versions available. The standard hardcover and a limited, special collector's edition with several extras. No information was available at the time of writing as to what those extras are.
This article was originally published on Retro Gaming Magazine.