What do you do when you are sitting on one of the most iconic overhead scrolling shooting games? Why, you continue the lineage with a sequel that gives more of what brought fans in the first place. I reviewed Sky Force 2014 awhile back and felt it was one of the leading titles in the genre. Let's see if Sky Force Reloaded suffers the "SNK" curse or not. For those that don't know, this is the 3rd game in the series, unless I am counting wrong.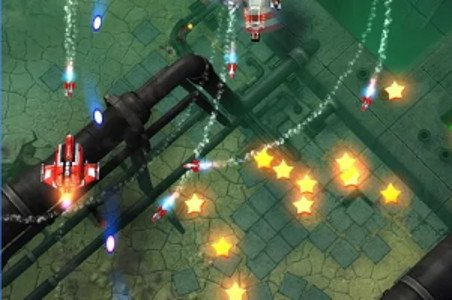 First some Sky Force history
Okay, third may be a stretch, just a slight one. The first
Sky Force
game that I know of came out on Windows Mobile 2002 devices. I was first exposed to the series on an old
HP iPaq personal data assistant
(PDA).
Sky Force 2014
was basically that game but upgraded with more levels, better graphics and the like and released on modern mobile devices. Reloaded is just more, though new, of what brought Infinite Dreams to the party. I wouldn't have it any other way, honest.
Remember the illusion of depth in M.U.S.H.A.? Sky Force Reloaded blows it away in the first level.

Infinite Dreams paid attention to detail
The sound effects, music and graphics are all top notch - Infinite Dreams have set themselves a high watermark in these areas. With
Sky Force Reloaded
they have slightly surpassed those high points and added in more of the trademark difficulty that fans love.
A vertical shooter with history
It is interesting that Infinite Dreams have been able to continue the
Sky Force
line this long. We are well past a decade since the first game was released. Too bad we can't get some classic games brought back to challenge
Sky Force Reloaded
for the crown of best overhead scrolling shooter. Could you imagine
M.U.S.H.A.
or
Guardian Legend
on modern devices?
Infinite Dreams, thank you for keeping true to the formula in Sky Force Reloaded. It is definitely going to be on my phone till the next installment arrives.
Sky Force Reloaded by Infinite Dreams
Genre: Overhead scrolling shooter
Platform: Android and iPhone
In App Purchases: Yes
Rated: E for Everyone on Google Play and 9+ on iTunes
Available now on Google Play and the iTunes App Store
This review was originally published on Retro Gaming Magazine.