Vectorblade is a Vectrex port of a PC game called Warblade. This is an overhead scrolling shooter with some great use of the Vectrex. This is a genre that has been around for decades. Interestingly, it was not one that hit the Vectrex, until now. This is one I might be decent at.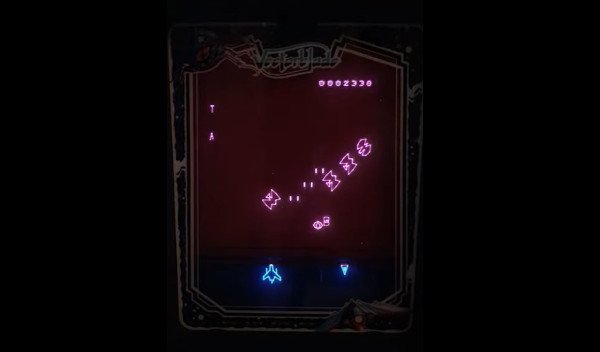 Vectorblade stands tall
Other entries in the overhead scrolling shooter genre include
Galaga
,
Galaxian
, and even
Space Invaders
. More modern entries include
Sky Force Reloaded, Air Attack 2,
and
Dokingan
.
The market is crowded is what I am trying to say here. Still, Vectorblade appears to hold its own in that market.

Tons of content
Vectorblade
will come with all the niceties that fans expect of the genre. Collectibles, power ups, ship enhancements, etc are all on the list of things included.
There are 100 levels planned with a total of 4 bosses waiting to annihilate you. That is going to require some enemy variety or it is going to get boring. Luckily, Vectorblade has tons of enemies available. Each new wave of enemies you face is more menacing than the last.
The nitty gritty
Malban is the
developer behind Vectorblade
. He has been working on it since around 2018. Mentioned on his blog, he hopes to have a 2020 release of the physical cartridge.
That is special because as far as I know, there is no way to play the game right now. That cart will be the first, and extremely limited, option to enjoy the full game. There is apparently a Vectorblade Alpha 5 download available. You can also check out the Beta Test page available which requires a password to log into.
There is also no word on a digital release.
That last part is apparently par for the course. Not many independent homebrew developers are embracing digital. It is a shame because, again apparently par, releases are limited to 100 units. Vectorblade is projected to follow that course when the physical cart is released.
If you want in on this overhead scrolling shooter then you need to be prepared with cash. It will surely sell out quick.
This article was originally published on Retro Gaming Magazine.