Despite school ending well over a week ago, it has not really felt like I have had much time to just relax and do something purely for my own enjoyment. The night after turning in my very last assignment I went straight into five nights of work at the hospital. After that, I spent a day catching up on chores and preparing for the next day's trip north towards Chico for some other work. Since my boyfriend could not come with me as driver this time, I opted to spend the night for safety's sake (rain + late night driving + narcolepsy = scary) and leave the morning.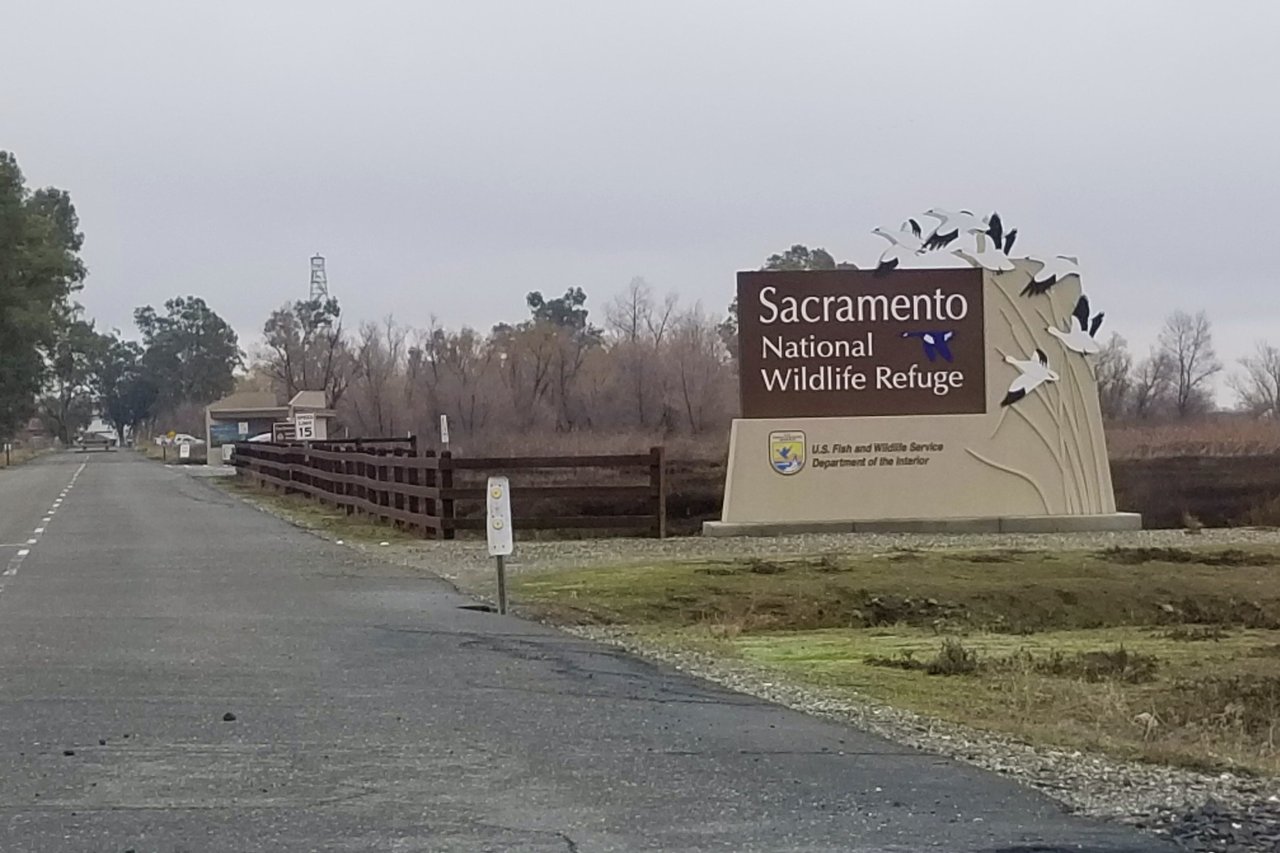 The day I drove back was my only real day off since classes ended, and besides the three and a half hour drive home I had nothing else planned for the day before returning to work at the hospital the following day. As a gift to myself I decided to finally stop at one of the birding spots I always passed on the way up and back on previous trips. The one that happened to be the most convenient stop at less than two miles off the highway was the Sacramento National Wildlife Refuge. On my drive up the day before I had seen many flocks of geese flying overhead, so I was excited to see the migratory action at the refuge which is an important stop on the Pacific Flyway.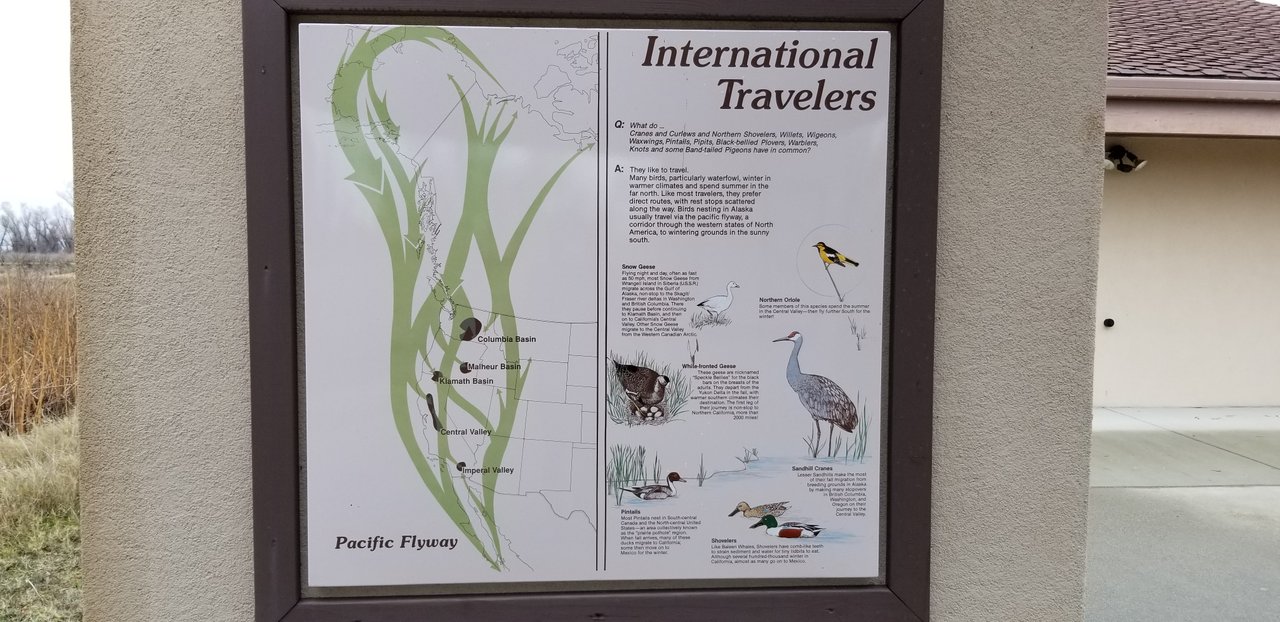 Of course, I did not have my camera with me because I had not originally intended to go birding. I had my binoculars and my phone, which were harder than usual to manipulate considering the chilly, wet weather. Thus, I apologize for the quality of the photos of actual birds in this post.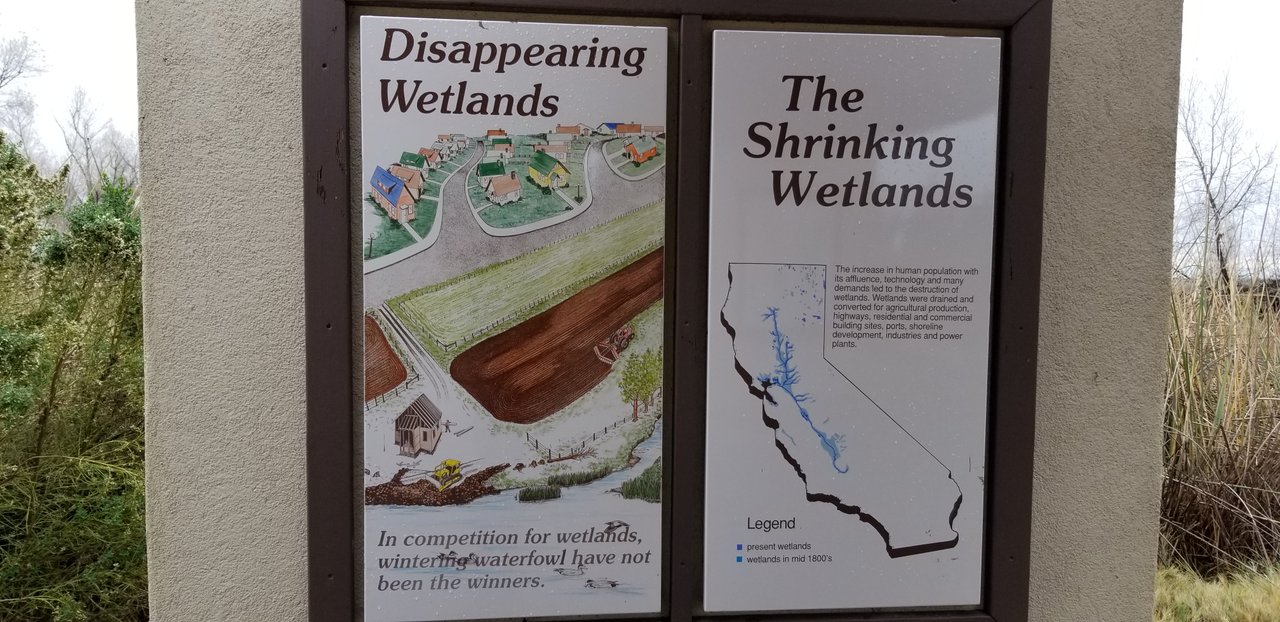 California's ever-shrinking wetlands...although work is being done to restore some of them, like the South Bay Salt Pond Restoration Project happening where I live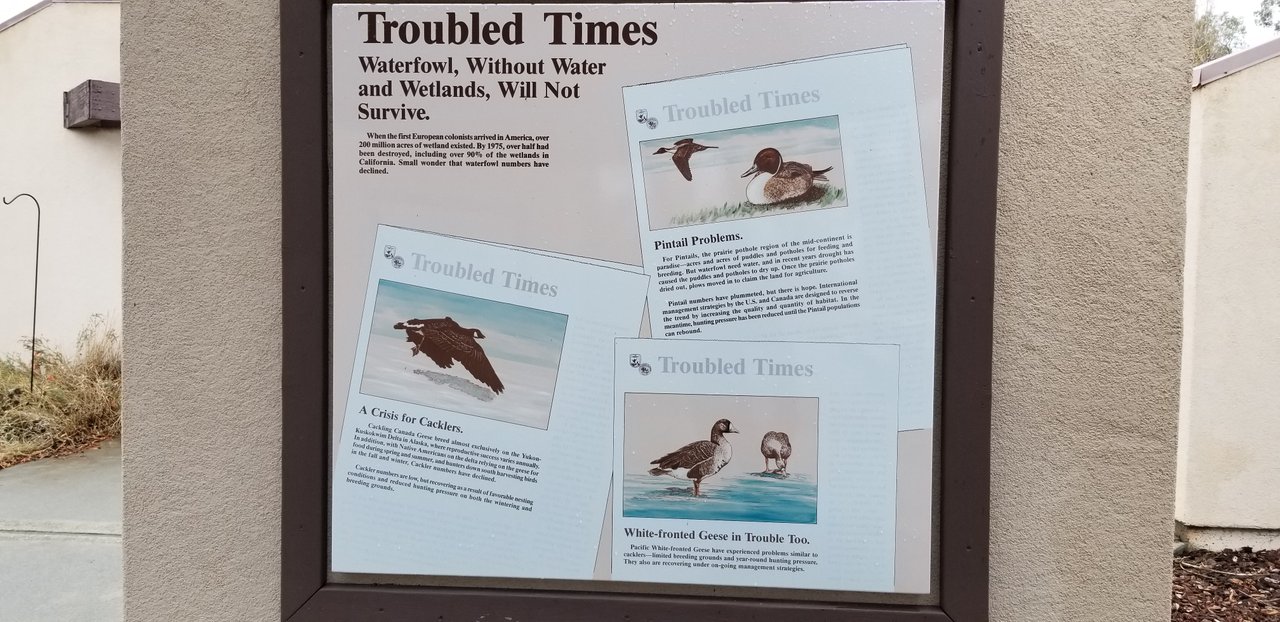 I went into the visitor center first, out of which a local Audubon chapter also operates a gift shop. I love nature shops, so I spent some time looking at what they had, which included a very impressive collection of field guides I did not get a picture of.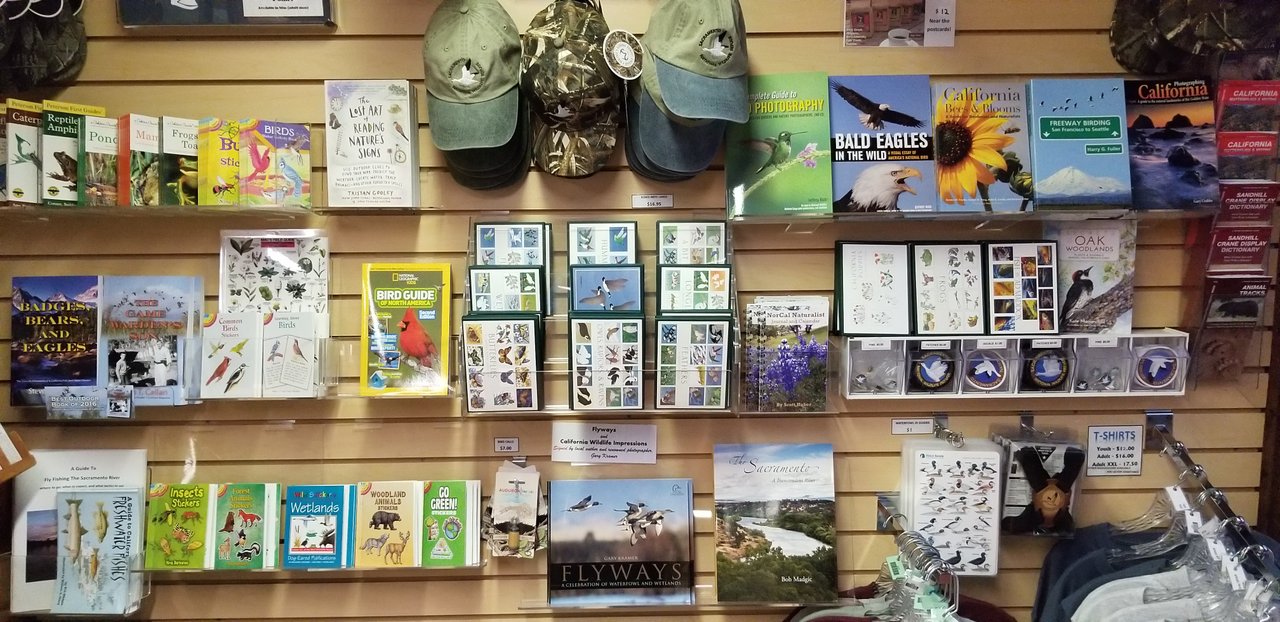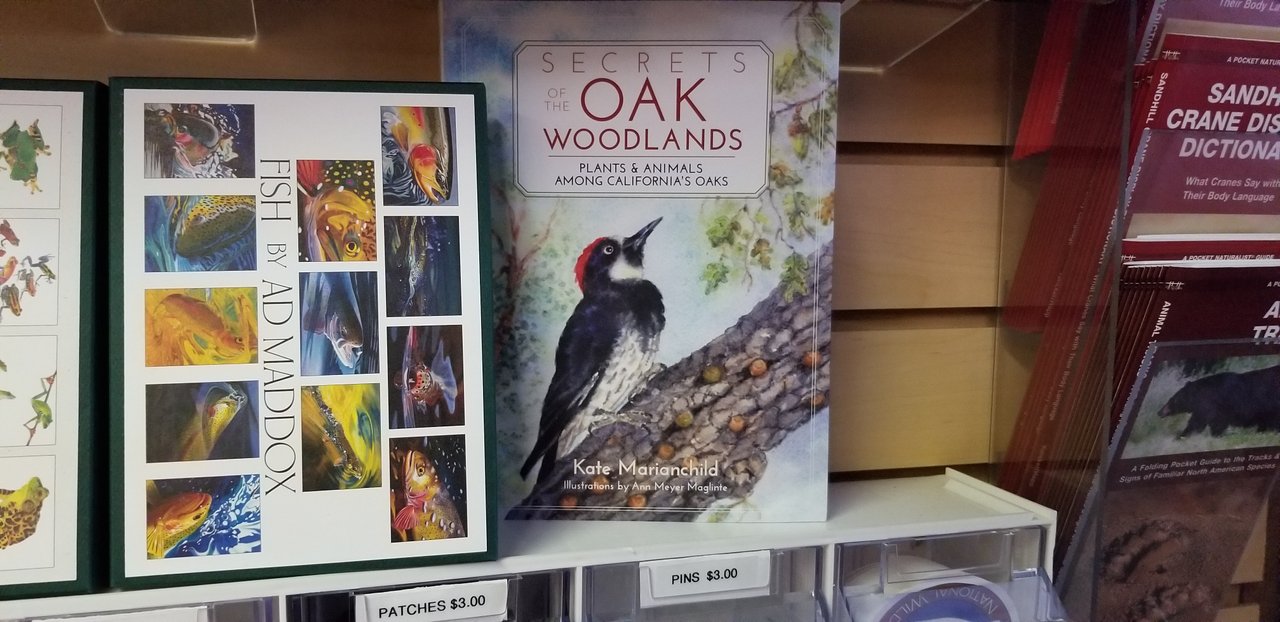 This is a great book about the oak woodlands in California! Really fascinating plant, mammal, amphibian, reptile, and bird species highlights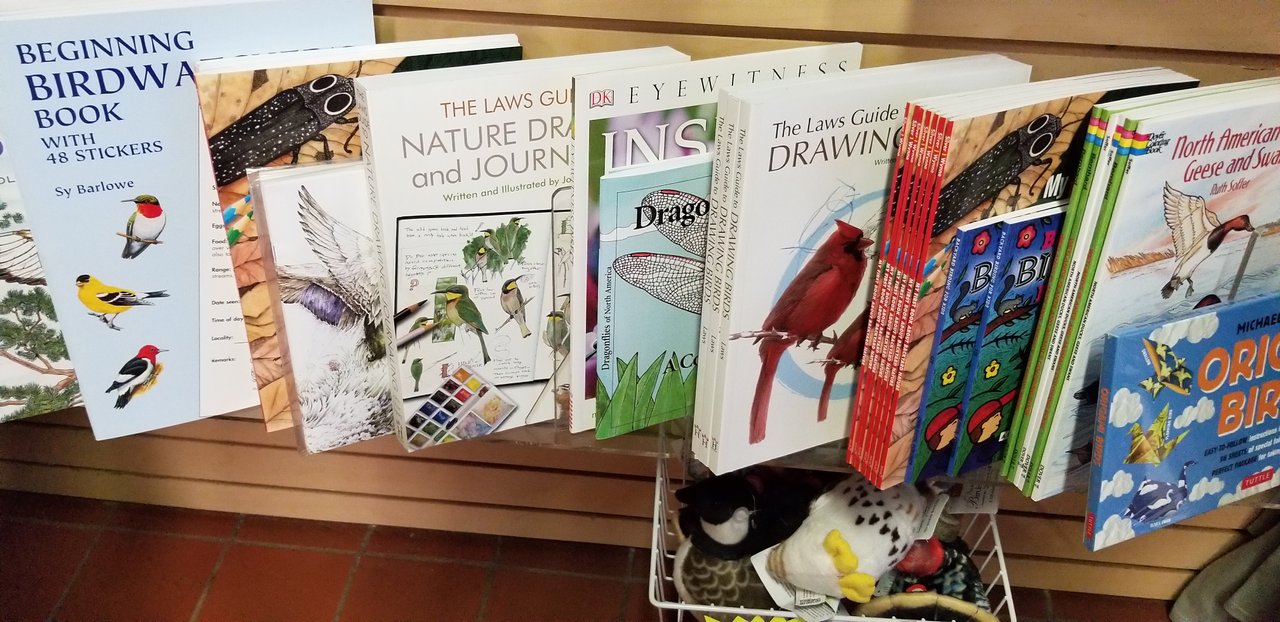 The Laws' drawing and journaling guides. Although I don't own either of them, I have checked them out of the library and they are really neat
They also carried Birds and Beans coffee! I have wanted to buy some for my mom ever since hearing about it, but no local stores carry it.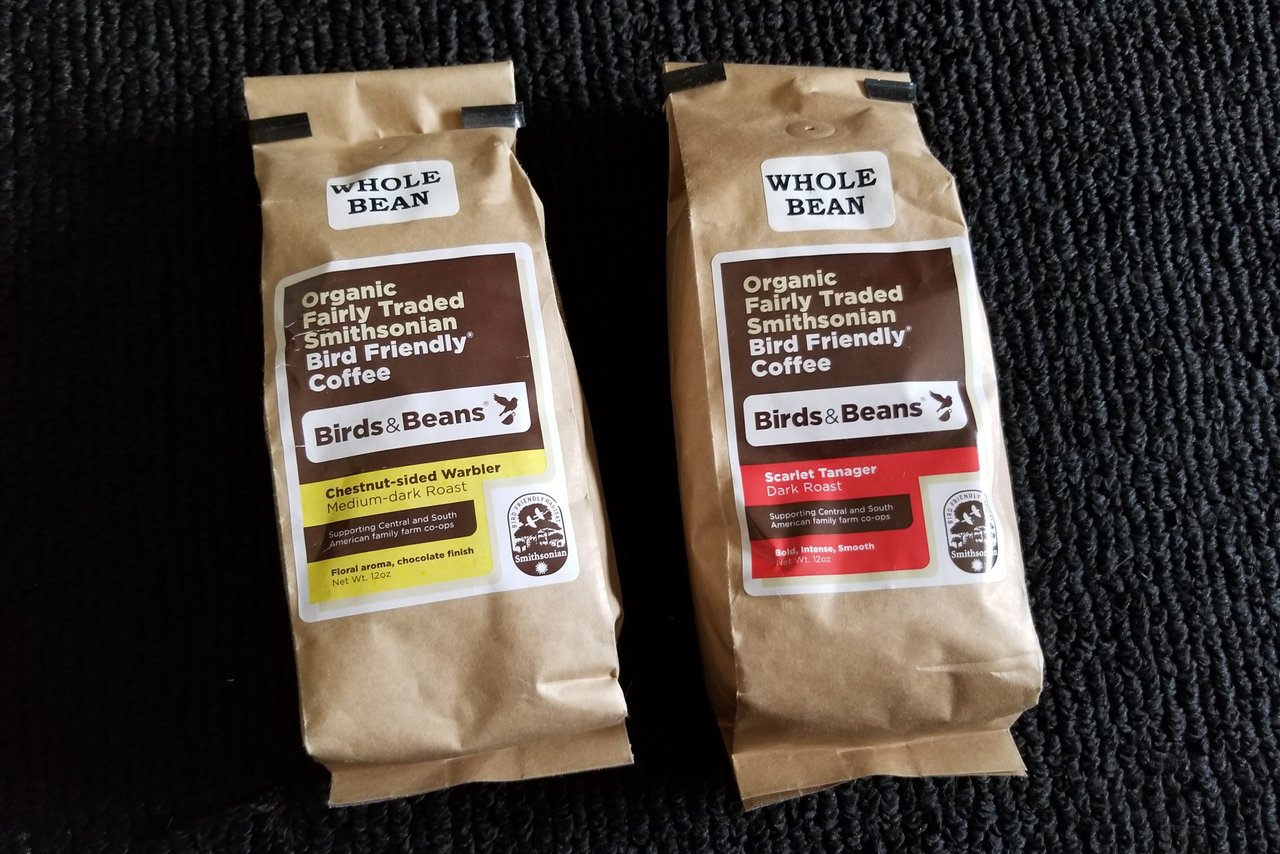 Birds and Beans coffee is shade-grown, which is much better for birds because instead of vegetation being cleared to grow coffee, coffee is planted under existing trees which provide foraging habitat and shelter for birds. They only had two varieties so I bought both. I don't drink coffee (I think it is icky), so if my mom doesn't like it hopefully my sister (who still lives at home) will.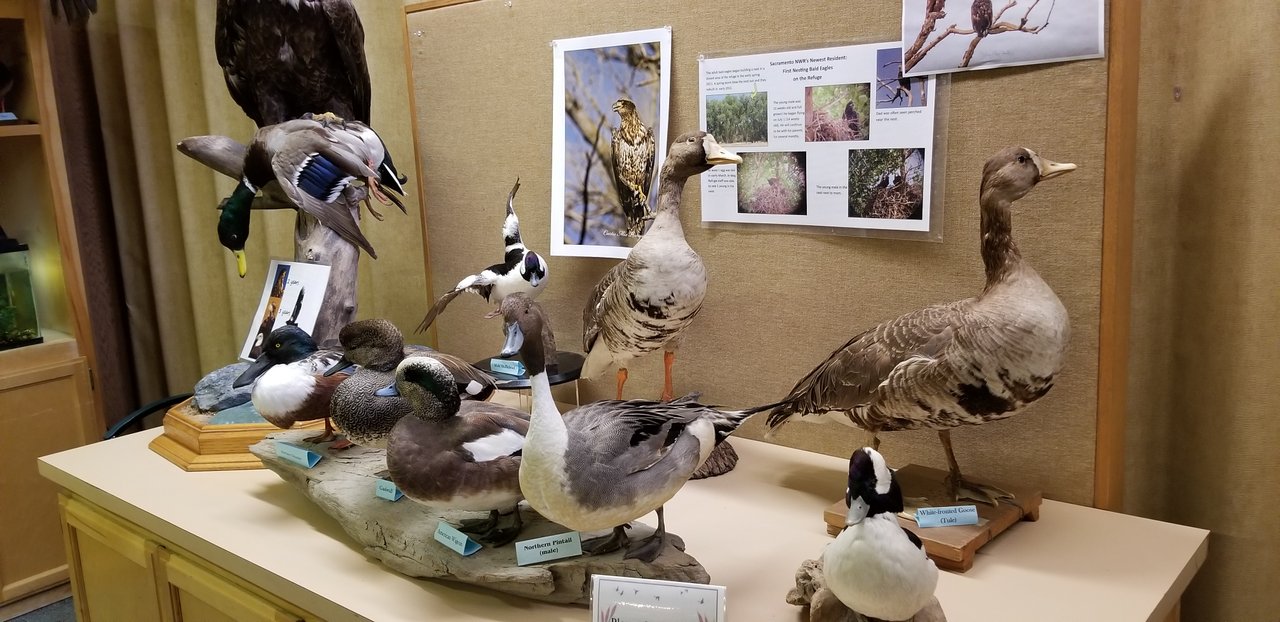 I also popped in one of the side rooms to check out some of the exhibits. There were some impressive taxidermy specimens on display, which I always feel a little conflicted about if I don't know where they came from.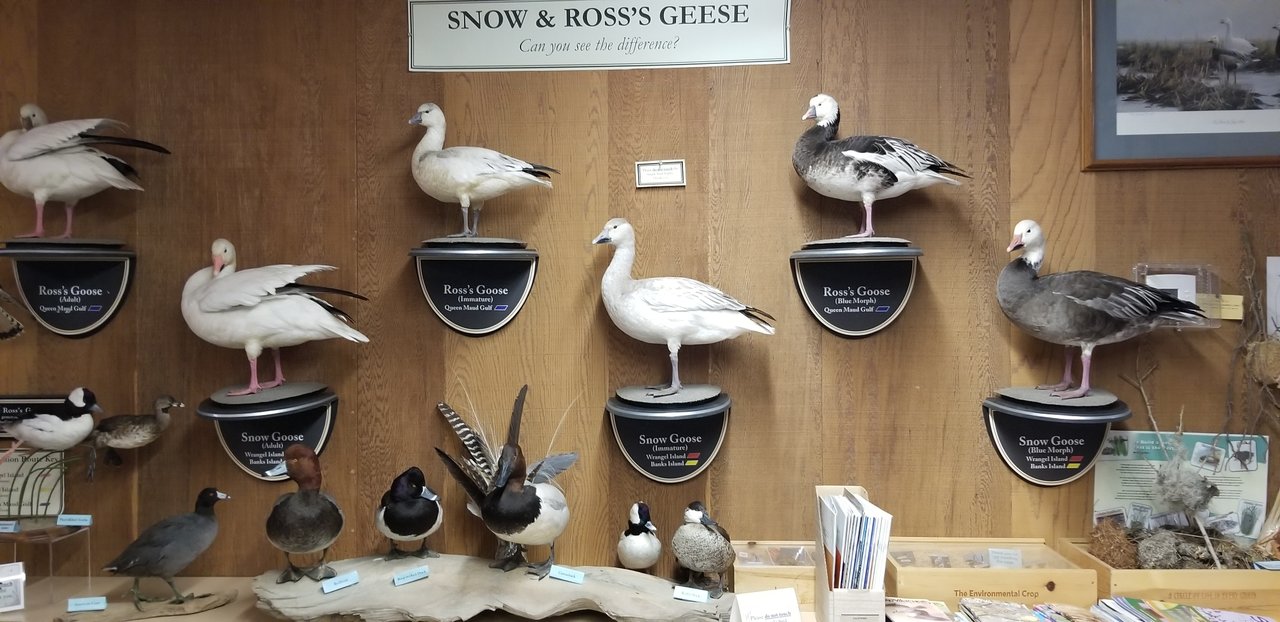 After speaking with one of the Audubon volunteers at the check-out about the refuge, I headed towards the wetlands walk trail.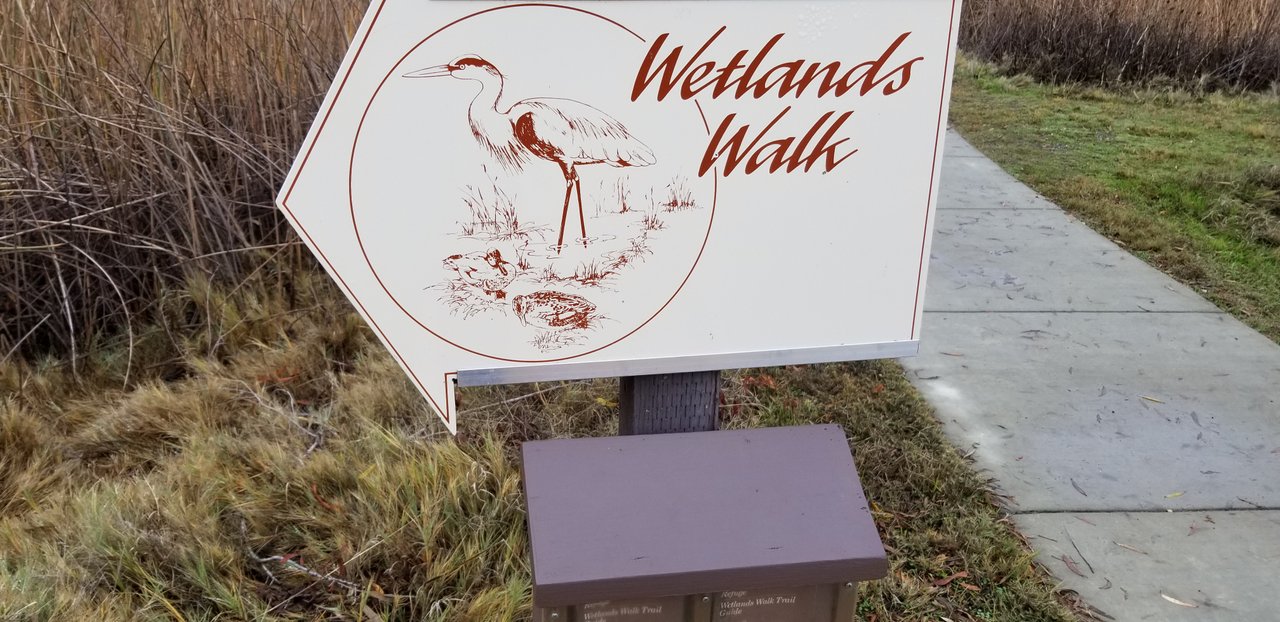 The trail was neat because it takes you through different types of habitats. I did not get any photos of birds during this portion, but among some of the species I saw were ring-billed ducks, ruby-crowned kinglets, coots, red-tail hawks, Northern harriers, white-crowned sparrows, and I heard a sora call although I did not actually see it (they are pretty elusive).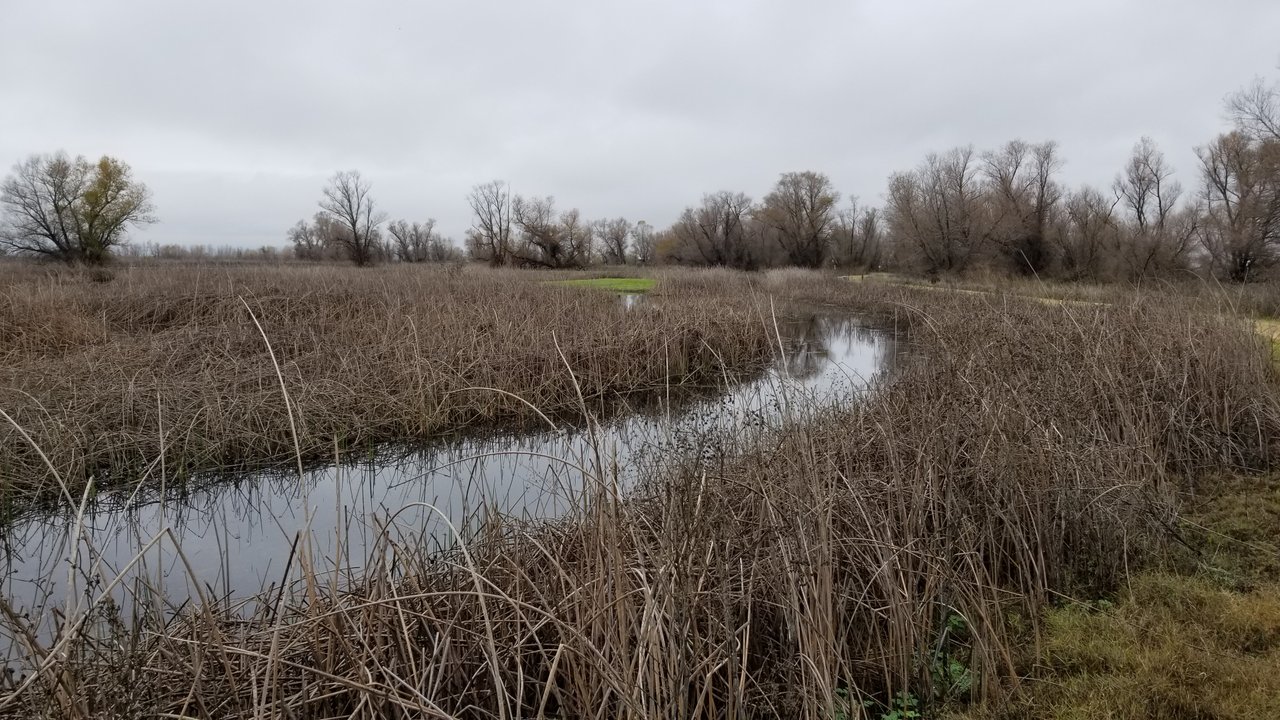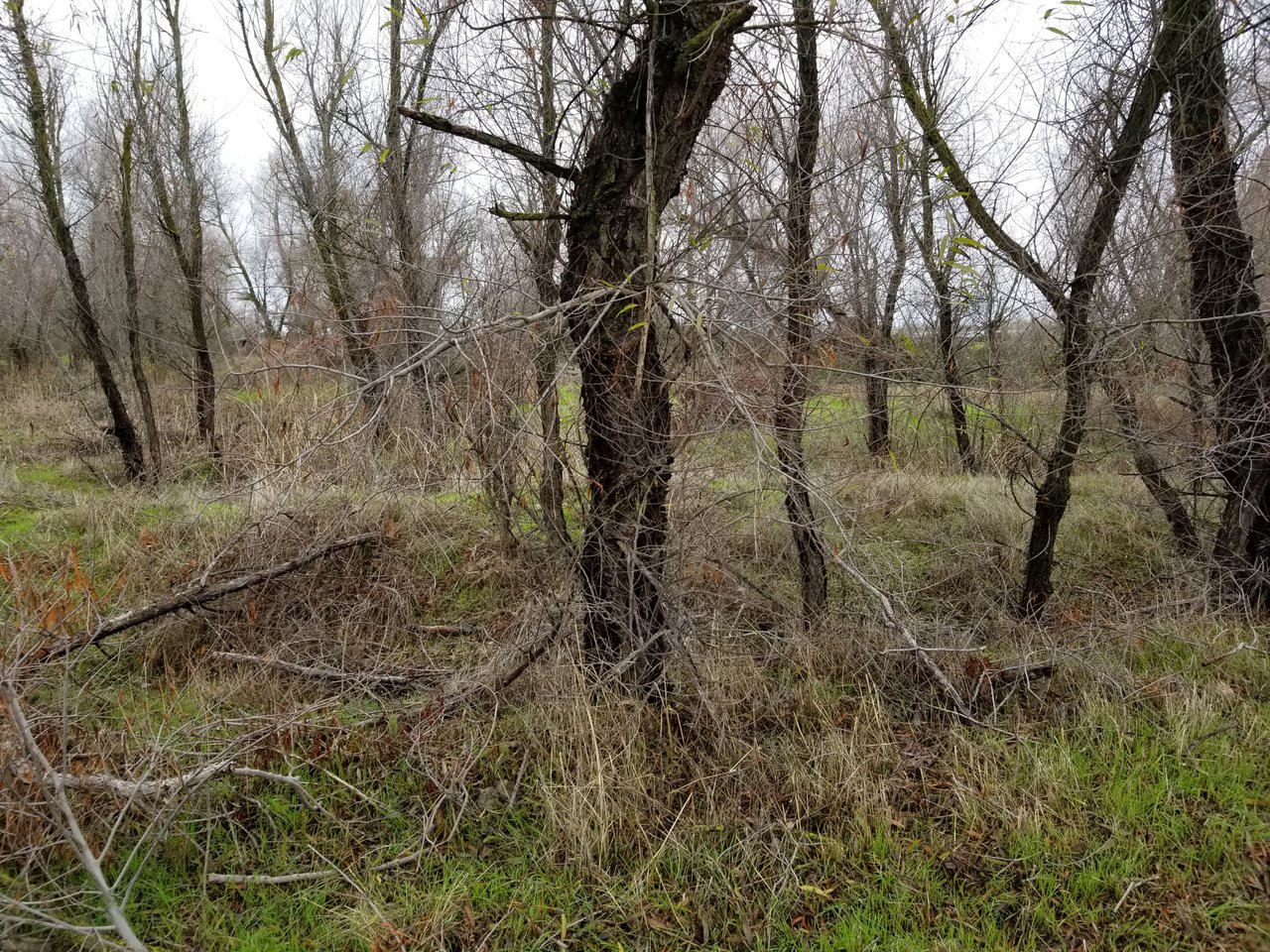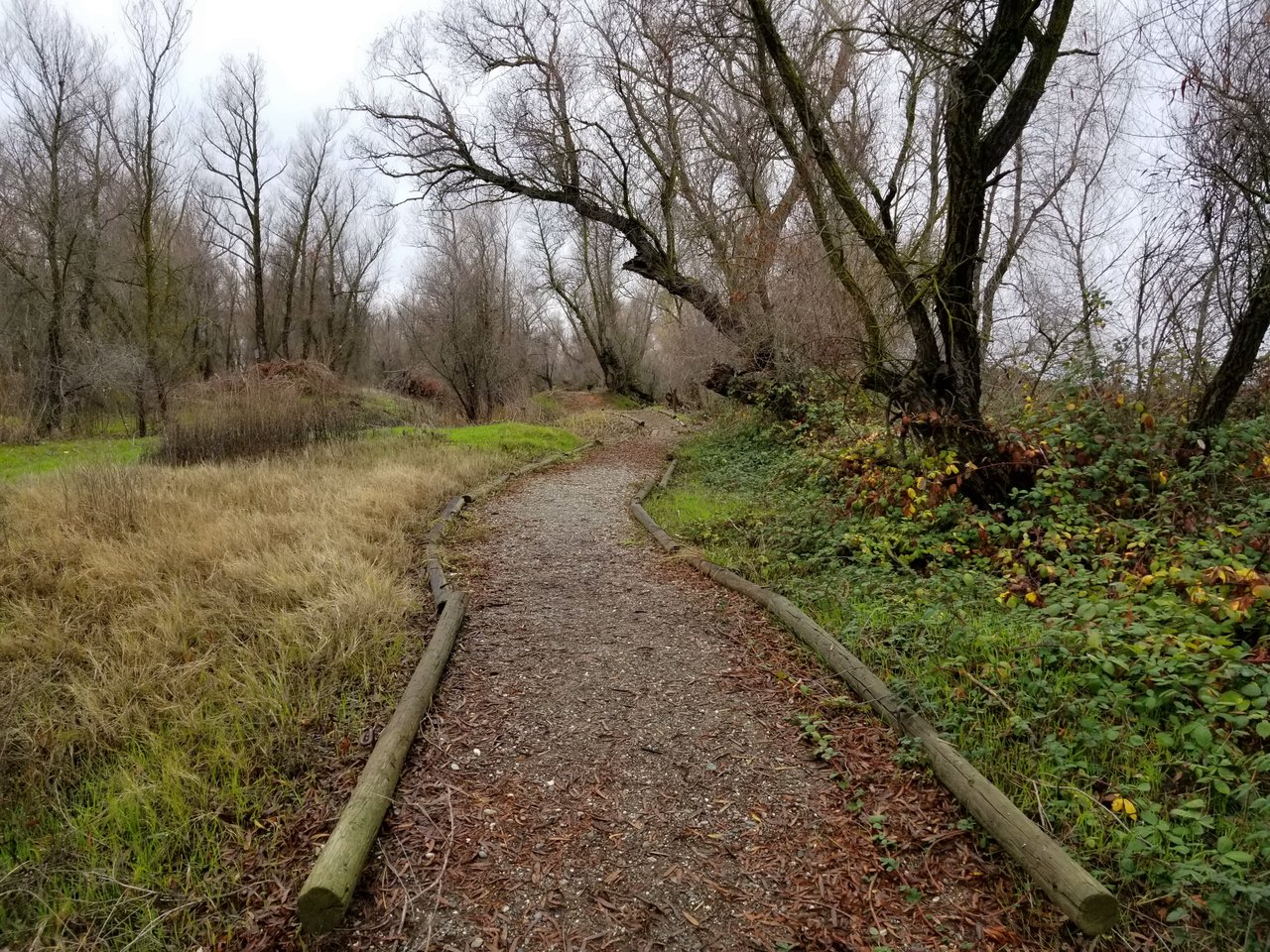 No matter where you were on the trail, you could hear the constant calls of migrating geese. Every few minutes you could also see hundreds of birds flying overhead. It is hard to see, but you can make out some of the groups of migrating birds in the sky.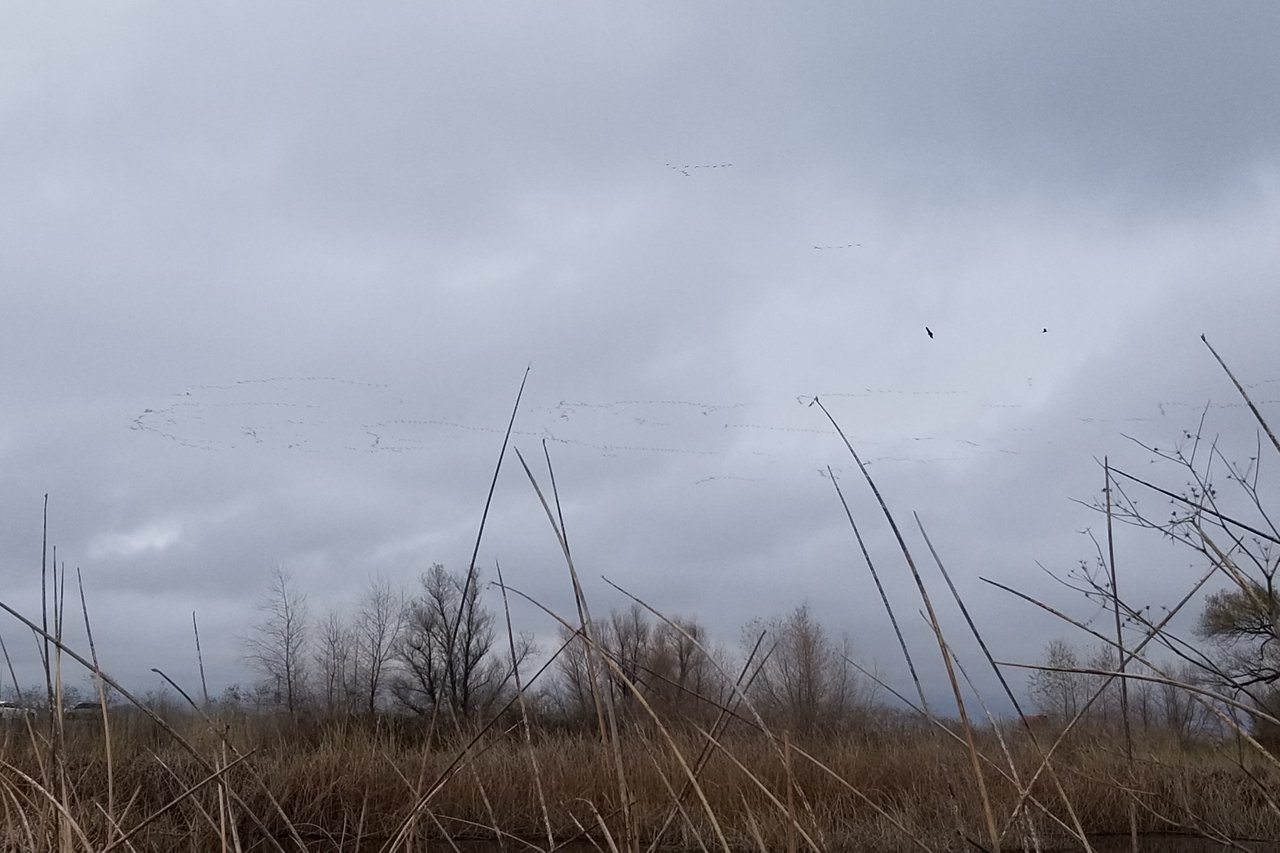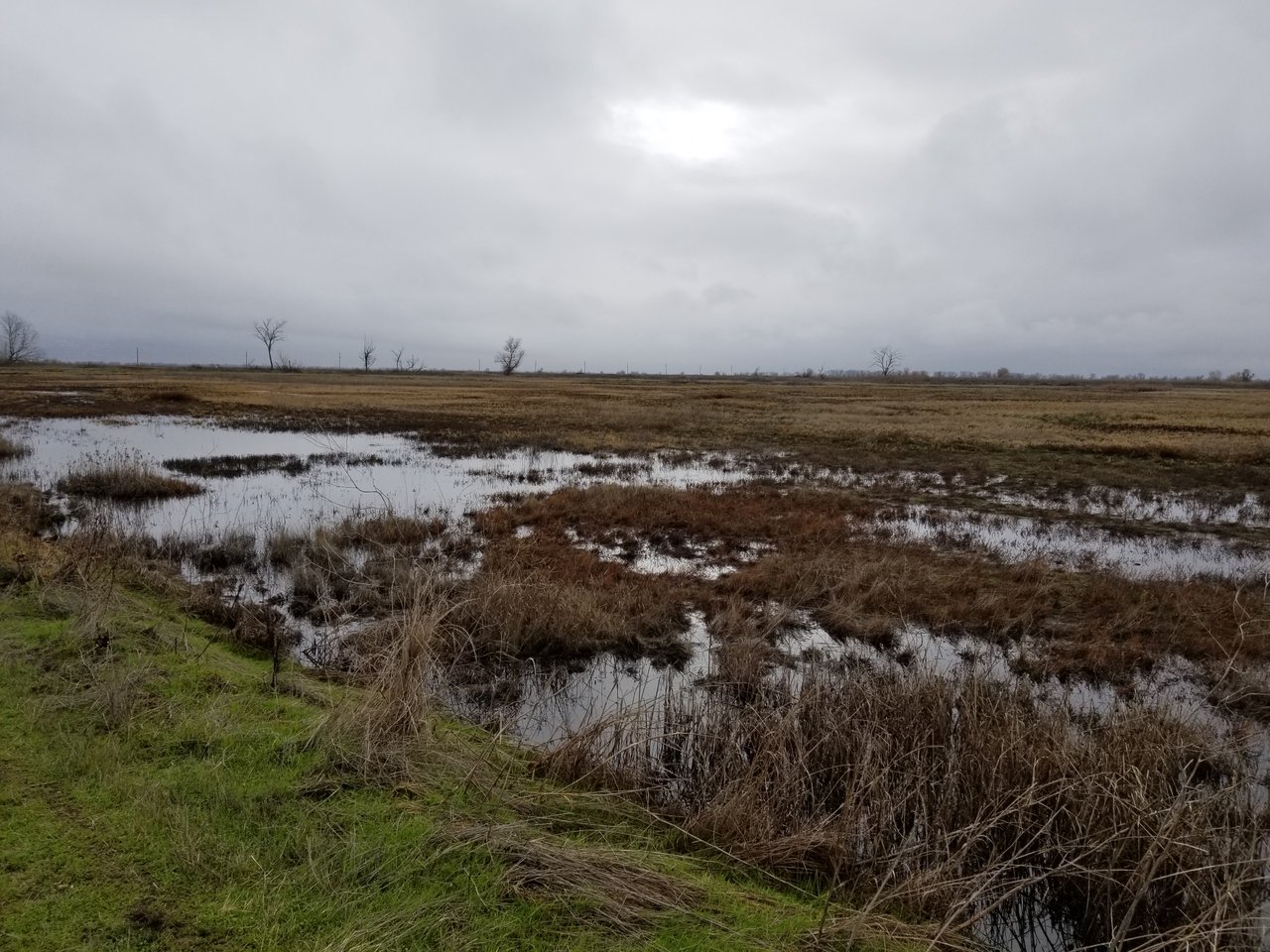 After finishing the loop, I was planning on heading home, but I could not resist checking out the auto tour. Especially because I did not get to see the geese on the walking trail and figured they must only be visible from the auto tour.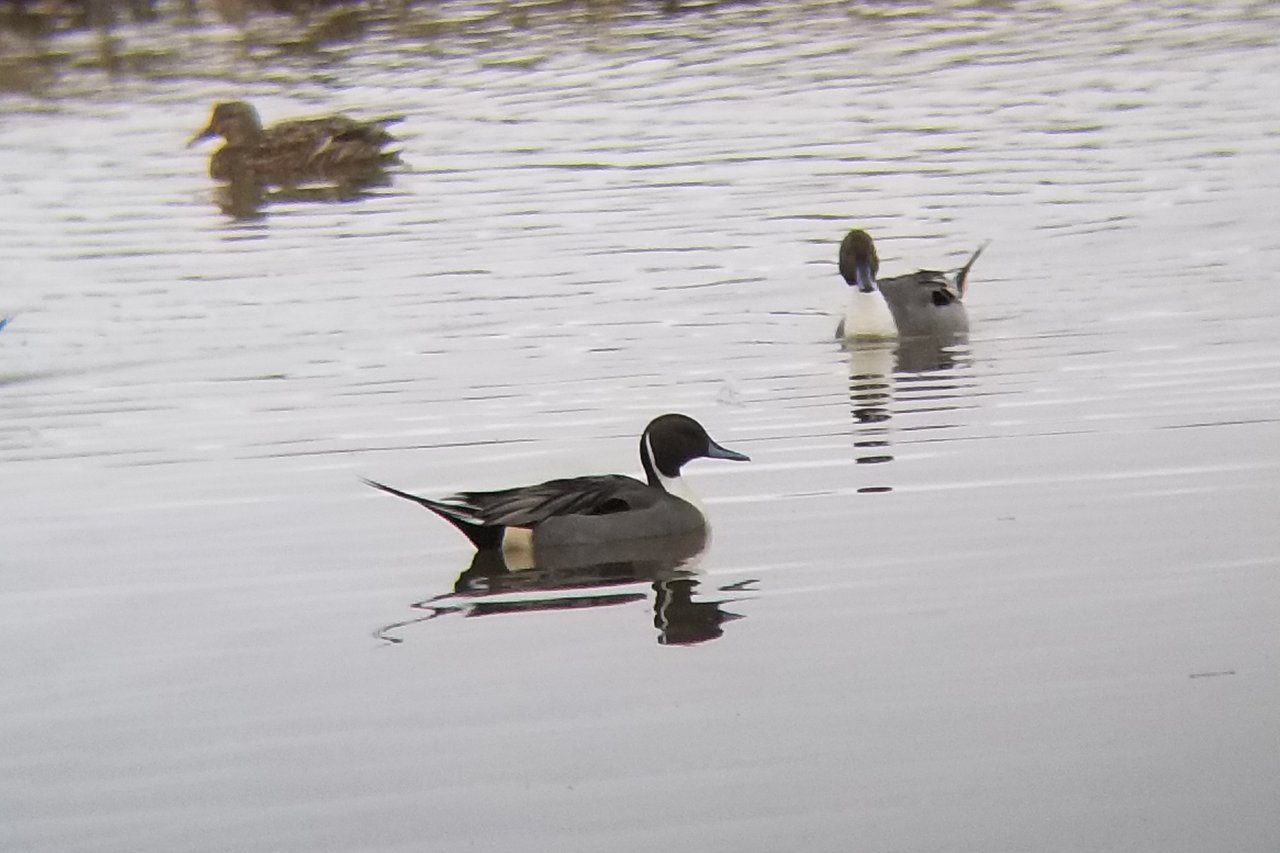 There were a couple spots you could park and get out to view the birds, but for the majority of the six mile route you had to stay inside your car. The first stop gave a good view of pintails, gadwalls, and my first greater white-fronted geese! The following photos were shot through my binoculars with my phone, so apologies again for the quality!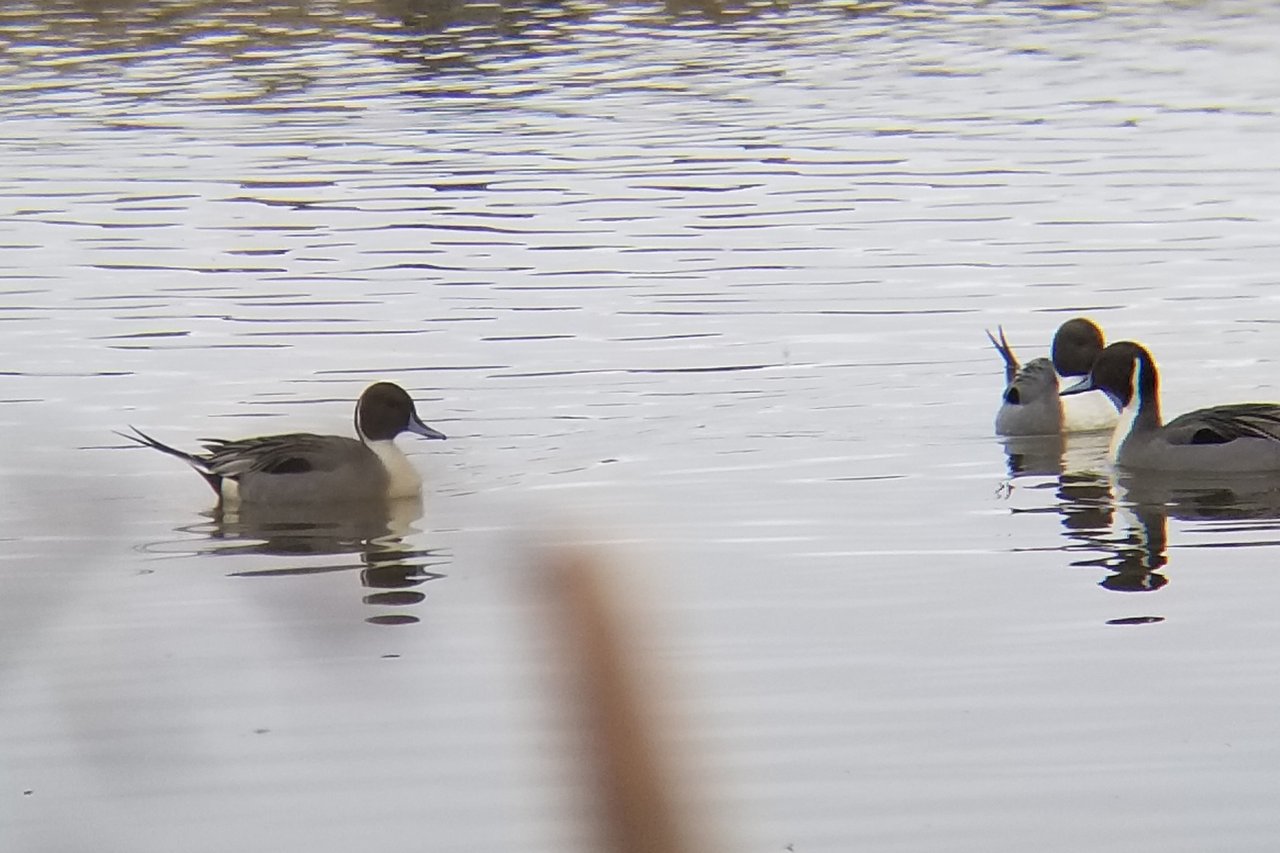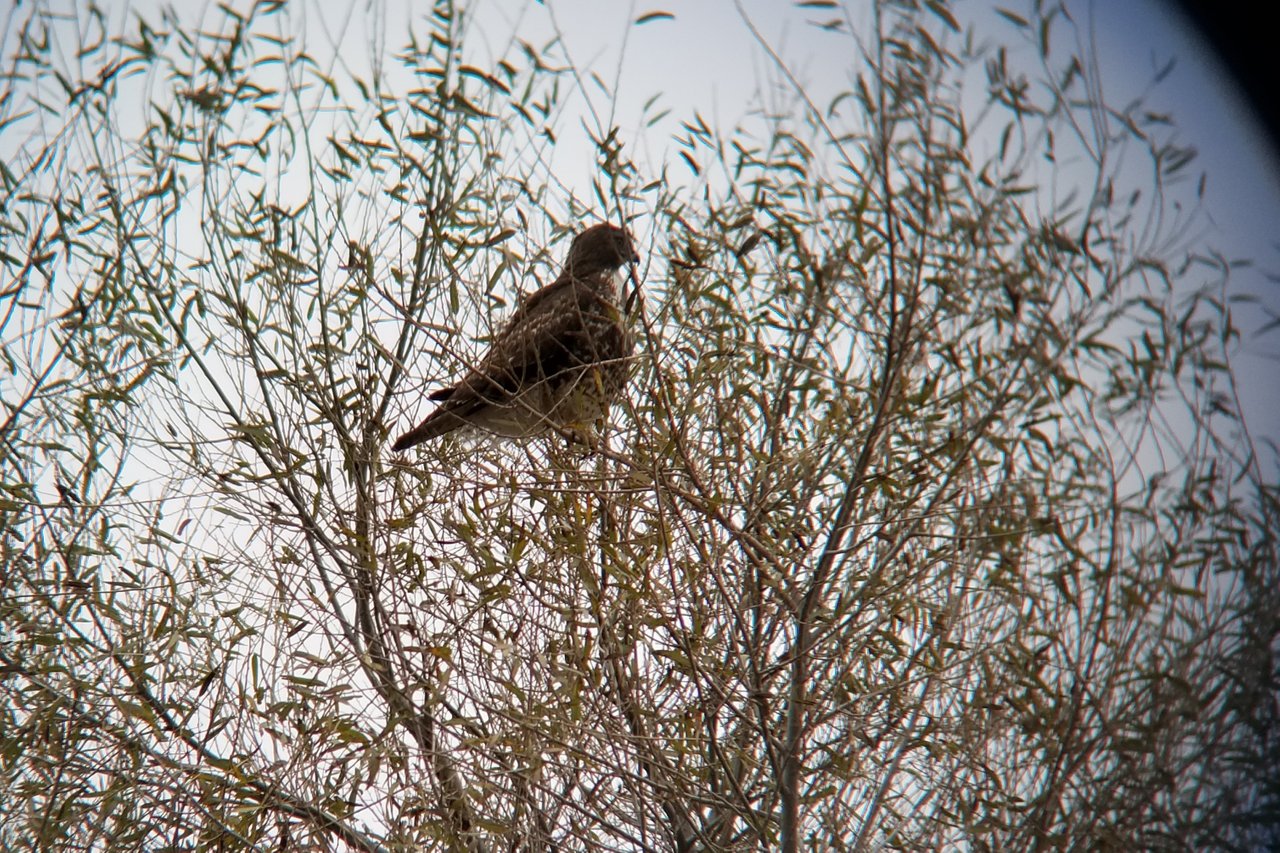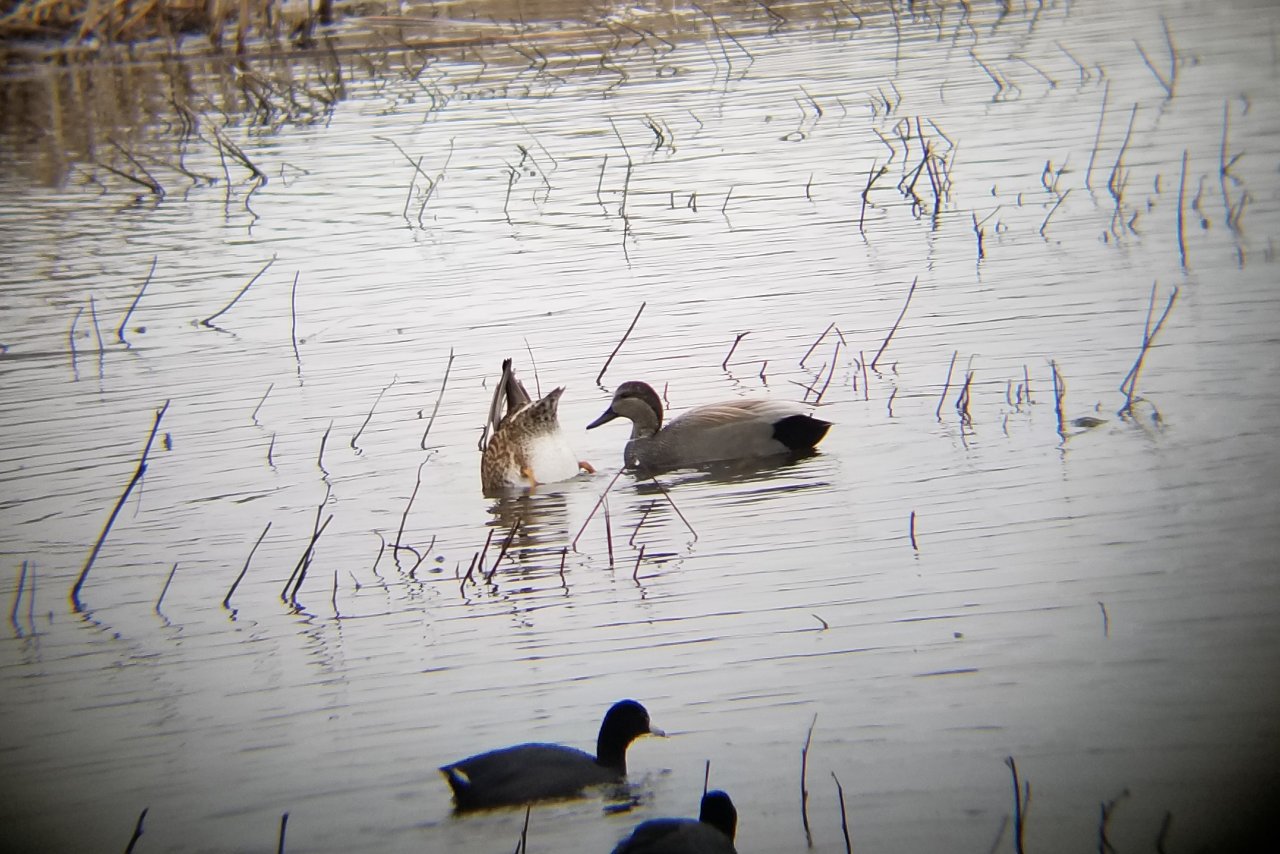 There were raptors sitting in every other tree above the auto tour trail, it seemed! Harriers, hawks, and lots of turkey vultures. If only I had my camera!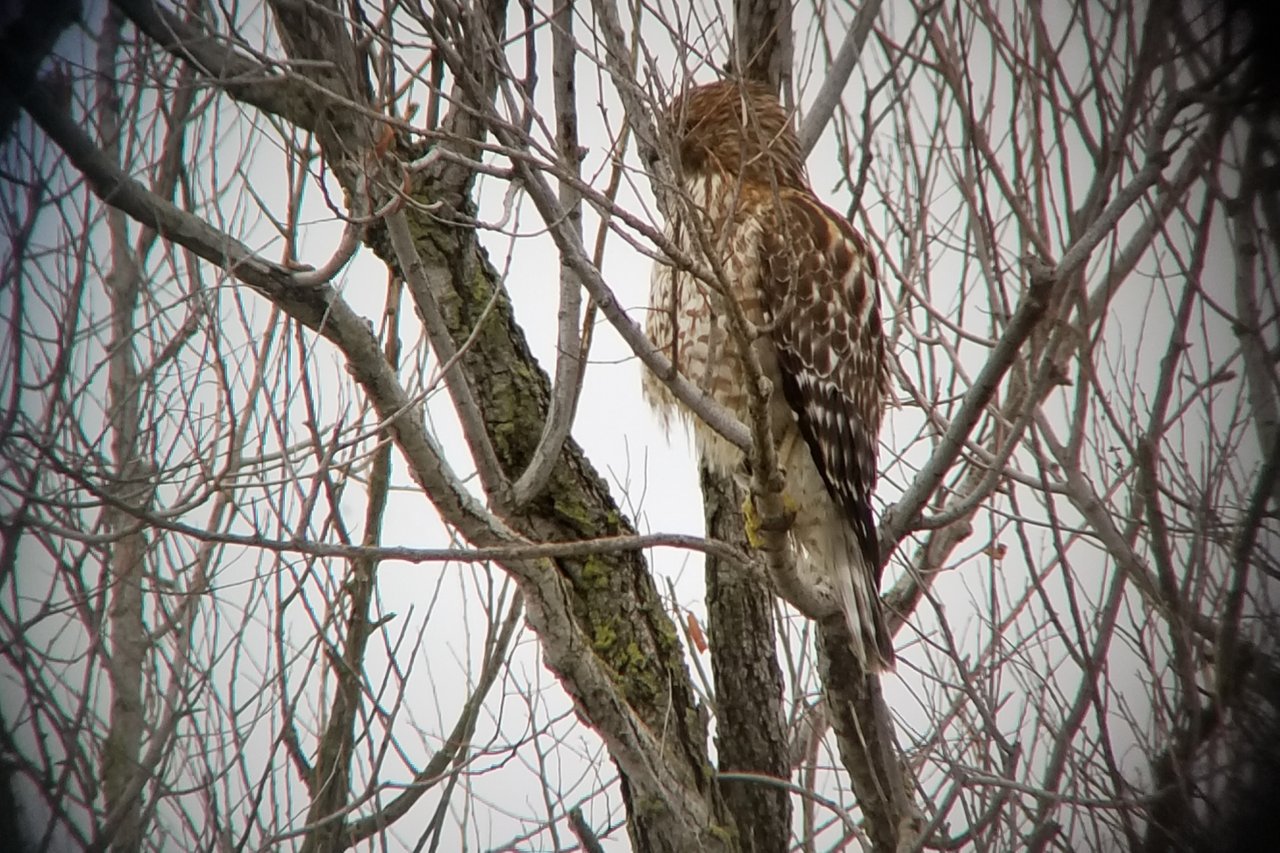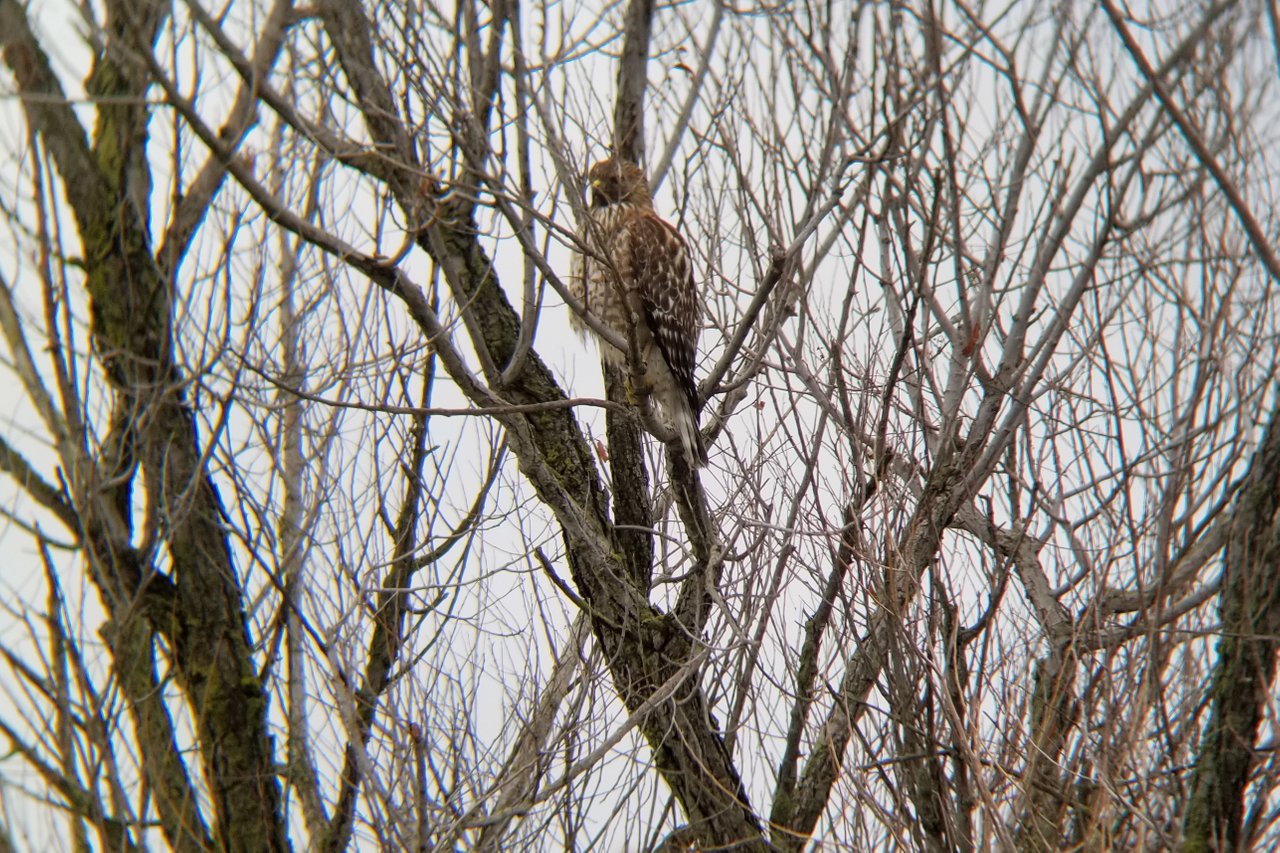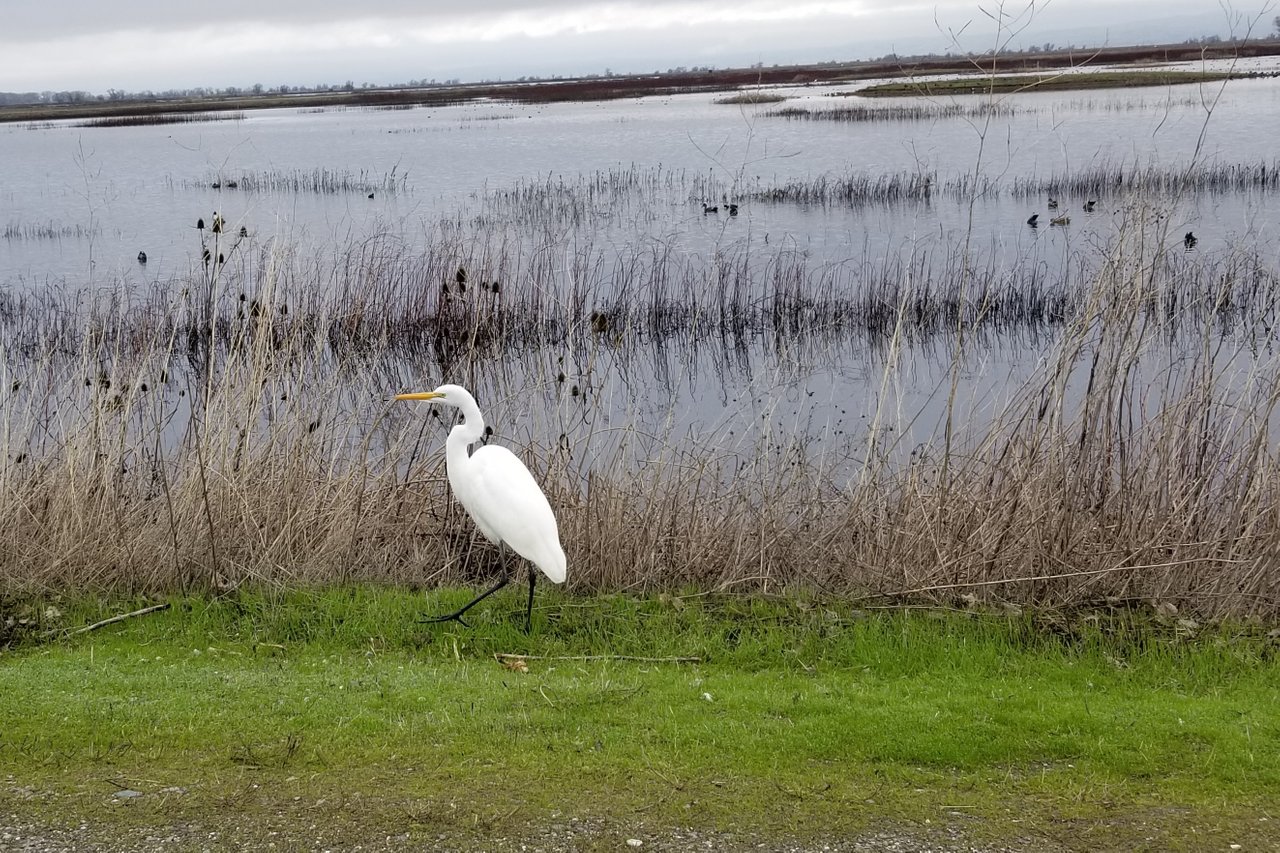 This was not actually shot through my binoculars, this egret was just walking at the edge of the trail and allowed me to take a photo with my phone right out the window
There was even a bald eagle hanging out!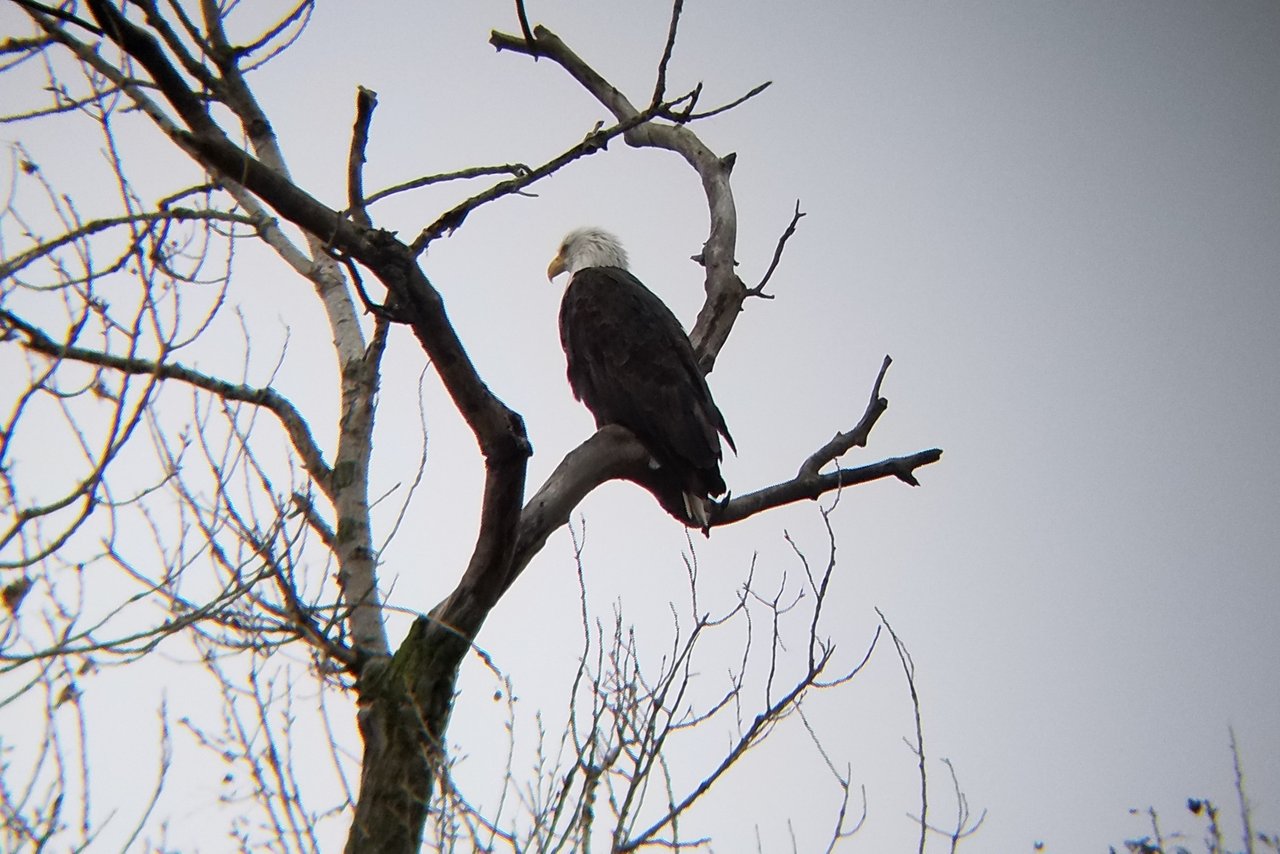 Near the end of the route is where all the snow and ross's geese were hanging out. So happy to see them, as I had never seen either species before.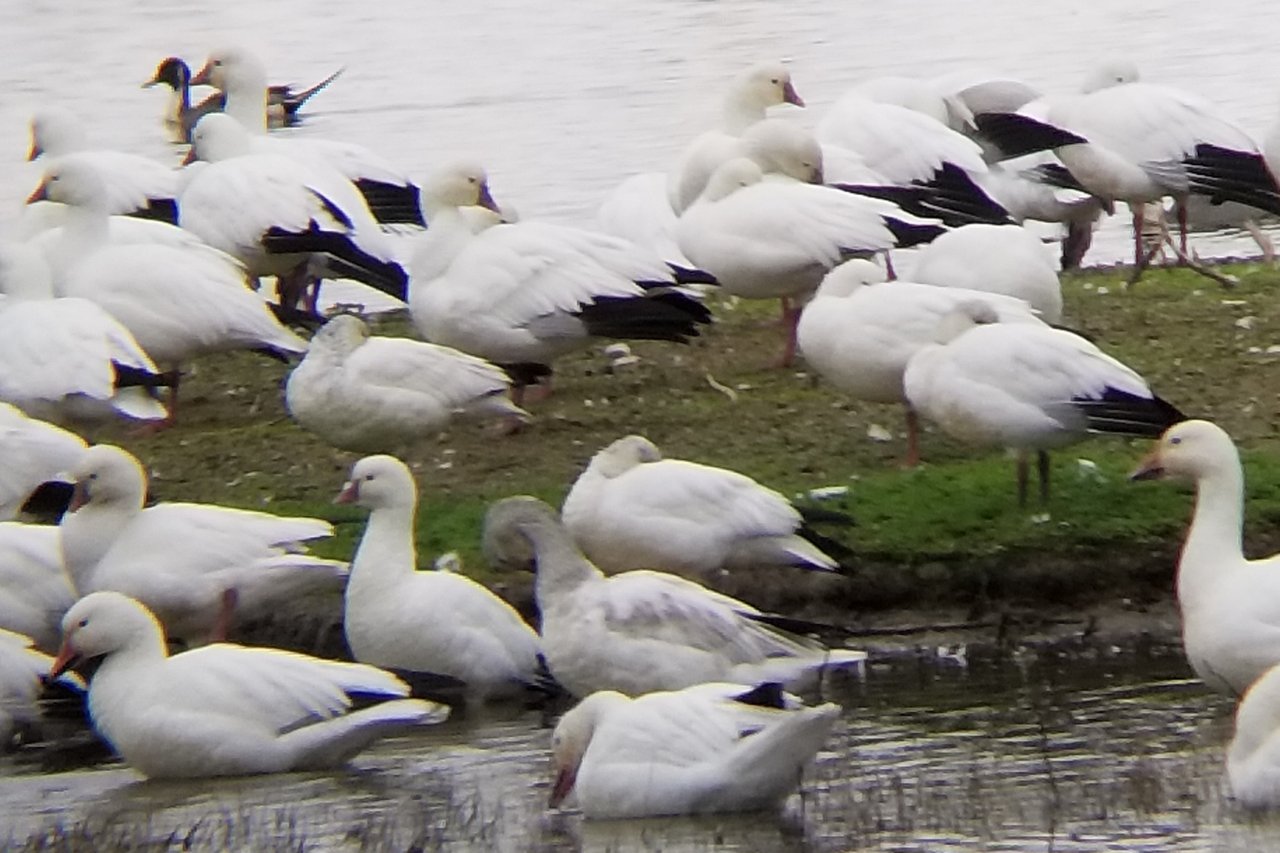 I had only planned to stop for an hour or so in total, but I ended up staying for almost two and a half hours. When I did finally notice the time, I realized I would not be home before dark if I stayed even fifteen minutes longer. I cruised through the last two miles of the tour, parked to use the bathroom at the visitor center, and then drove the next three hours without stopping and made it home just before dark!
I definitely will be going back to the refuge before winter is over. It was a really nice experience despite feeling a little rushed at the end. I especially hope my boyfriend will agree to come with me next time, so he can drive me through the auto tour and I can shoot out the window :P
I will end this here. I have been getting a bunch of texts from work over the last 45 minutes asking me to work on my only two days off over the next eight days, so naturally my anxiety has spiked and I need to discharge some of it by doing something productive. It is a little frustrating that I have had a few posts I have been wanting to make over the past few days, but the time just isn't there. Oh well.