Greetings friends and welcome to my homework task entry into the beginners dynamic course organized by Professor
@wahyunahrul
in the Steemit Crypto Academy.
---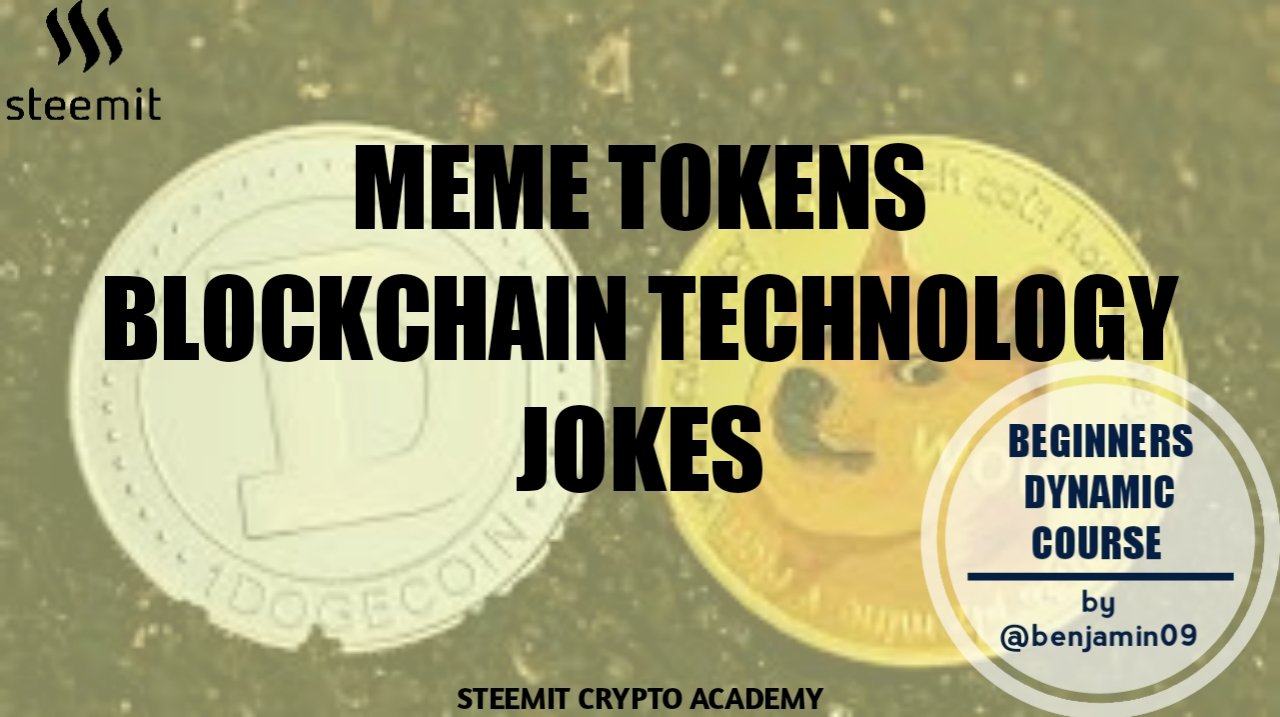 1). Why Meme Tokens could be one type of cryptocurrency that will have a big impact on the cryptocurrency market in 2021?

Since the birth of cryptocurrency through Bitcoin in 2009, we have experienced a surge in the development of new cryptocurrencies starting with Ethereum in 2019. Blockchain technology is now a part of our lives and there is no escaping.
The crypto world currently has so many types of cryptocurrencies. One type I will be talking about in this post is the "Meme Token". Similar to how we share memes in our day-to-day lives and laugh about them, Meme tokens are a source of humor in the crypto world, created for our fun. So Meme tokens are digital assets that are created using blockchain technology. Their main aim is to provide a source of entertainment for blockchains.
Also, after Elon Musk published several other tweets about Dogecoin, the market capital increased and this led to the rise of Dogecoin in the rankings of Crypto currencies to Rank No. 9 as at today 23/10/2021 from Coinmarketcap.
The rise of a meme token among the 10 best crypto currencies, has promoted many other creators to create more meme tokens so that they can recreate the same progress as Dogecoin. This has really caused a rise in the meme crypto currencies during this year of 2021.

2). Do you think Meme Tokens is a type of cryptocurrency that shouldn't need to be created?

Meme tokens they say, are the joke of cryptocurrency. Many will understand it in the sense that they provide us with some sort of entertainment using blockchain technology. I, on the other hand, choose to understand that they are a joke, literally.
More than 60,000 cryptocurrencies are existing as of today. The competition is very high as developers struggle to find investors. We also know that good tokens are those which were built for a project that at least helps us in one way or another. Either by introducing something completely new or by making something already in use better.
But the whole purpose of meme tokens is to make us laugh. To be honest, they are not even funny. Investors are out to make money from crypto and work on buying tokens which they expect their value to increase after the long term. This value increase is very possible only if the token has a purpose. Otherwise, it is valueless and not worth the energy or money, not even your $1.
So in conclusion, unless a meme token is created that makes us laugh and serves a purpose greater than that, they have no use and shouldn't even be created.

3). If you had to choose to invest or trade on Meme Tokens, which would you choose? Explain your choice in detail and provide strong evidence for your choice.

Choosing a token to invest or trade, requires the user to analyze the meme token first and look at all the facts concerning in order to have a fruitful transaction. Investing in a meme token is something that will require the trader to critically analyze the meme token.
Therefore, if I were to invest in a crypto currency, I will choose to invest in the meme crypto currency, Khishu Inu.
What is the Kishu Inu crypto currency and why did I choose it?
The Kishu Inu meme token refers to a deflationary token that appreciates after every successful transaction is made on the network. It was created 6 months ago after the success of Dogecoin and it was made to solve Dogecoin's problem of being unable to have a deflationary mechanism.
With the Kishu Inu, after every successful transaction on the platform, 2% of the KISHU is given to the decentralized wallets of the holders'. This is what gives it the instant usage rewards system that is very beneficial to users.
Also, the Kishu Inu has a very safe and secure network as it uses the smart contract that is audited and created by top specialized teams. With this decentralized function, this makes the Kishu Inu very safe for users and traders from hackers or malicious users.
---
Reasons supporting my decision to invest in KISHU.
Before investing or trading a coin, one has to consider the following points and I will analyze that of KISHU in the following points.
1. Community.
Community is one of the very important points to consider before investing in a crypto currency because a crypto currency with strong community backing is what makes it strong and influential. For $KISHU, there are several ways which they promote community such as their telegram group where the community supports each other and the dev team by contributing a fund.
2. Uses cases.
Kishu Inu has its decentralized exchange platform which is Kishu Swap. With this exchange, a user can swap tokens among the ERC20 tokens. Also, it acts as the foundation upon which several features will be developed for KISHU users.
3. Social Media Promotion.
Kishu Inu is a network that has really invested heavily in social media promotion. They have hired football legend Ronaldinho as their brand ambassador and this will go a long way in promoting Kishu Inu since Ronaldinho is one of the most popular footballers with so many fans such as myself.
Also, they had a commercial video which was displayed on the world's tallest building which is the Burj Khalifa and Ronaldinho was in it. This went viral and increased the publicity of KISHU. So, I can say that in the department of promotion, they have that in the bag.

4). Choose a Meme Token (except Dogecoin and Shiba Inu) and do an analysis of the Meme Token with the following conditions:
-If in question number 3 you choose to invest, then do a detailed fundamental analysis of the Meme Token you choose to prove that the Meme Token of your choice is a good investment tool. (Screenshot Required)

The Kishu Inu was created on April 7th 2021 after Dogecoin's rise and it was created with the purpose of being a decentralized token with a deflationary mechanism. The Kishu Inu has already had a lot of publicity and since I chose to invest in KISHU, let me do my fundamental analysis of the Kishu Inu platform.
CoinMarketCap analysis.
The Kishu Inu has as its token $KISHU.
It currently has as its market value, $0.000000003465.
Also, the current market capital is $347,698,000.
The fully diluted market capital is $345,291,815.
And the 24hour volume of $KISHU is $16,086,267.
The maximum supply is 100 Quadrillion.
All these data has given $KISHU the rank among cryptocurrencies as No. 2732.
---
KISHU Ecosystem.
For the Ecosystem of KISHU, we will have the following;
- Kishu SWAP.
KISHU SWAP is a decentralized exchange which is used in the Kishu Inu blockchain and with it, a user can swap any ERC20 token for another one. KISHU SWAP is powered by Uniswap, the safest DEX and with this, Kishu Inu will increase functional for its holders.
- KISHU CRATE.
KISHU CRATE is the official NFT decentralized market place for KISHU INU. With this, the $KISHU tokens are staked, in order to receive rewards as well as digital collectibles featured by artists who are also part of the KISHU community.
With the KISHU CRATE, artists foster or submit their works into contests organized by KISHU INU and the community will vote the work that should get added in the market place.
- KISHU PAWPRINT.
The KISHU PAWPRINT refers to an app that monitors $KISHU tokens stats for users over time. The users can use this and check their token stats over time. And among the stats will be the $KISHU rewards and total token balance, the value in USD, the price charts and more.
- KISHU SWAG.
With the KISHU SWAG, the users are able to make and market any merchandise that represents KISHU and it should be made by an ownerless and non-profit organization. All the proceeds and profits should be used to promote and support the KISHU INU and promote development.
---
Roadmap.
The roadmap for KISHU is as follows with the following phases.
PHASE 1.
This is the Launch phase and it has already been completed.
PHASE 2.
This is the growth phase and it has already been completed.
PHASE 3.
This is the expansion phase and it has already been completed as well.
PHASE 4.
This is the utility phase and it is currently in progress.
KISHU INU is a great up coming platform that I believe will grow to great heights and from my above analysis, I will invest in it.

5). Conclusion.

After the completion of this homework, I have learned all about meme tokens. Meme tokens are cryptocurrencies that have hit a breakthrough in 2021 and will keep on growing and from the above analysis, KISHU INU seems to be a very great meme cryptocurrency with chances of growing to great heights and therefore, can be a possible investment venture.
Thank you for reading.
Cc @wahyunahrul