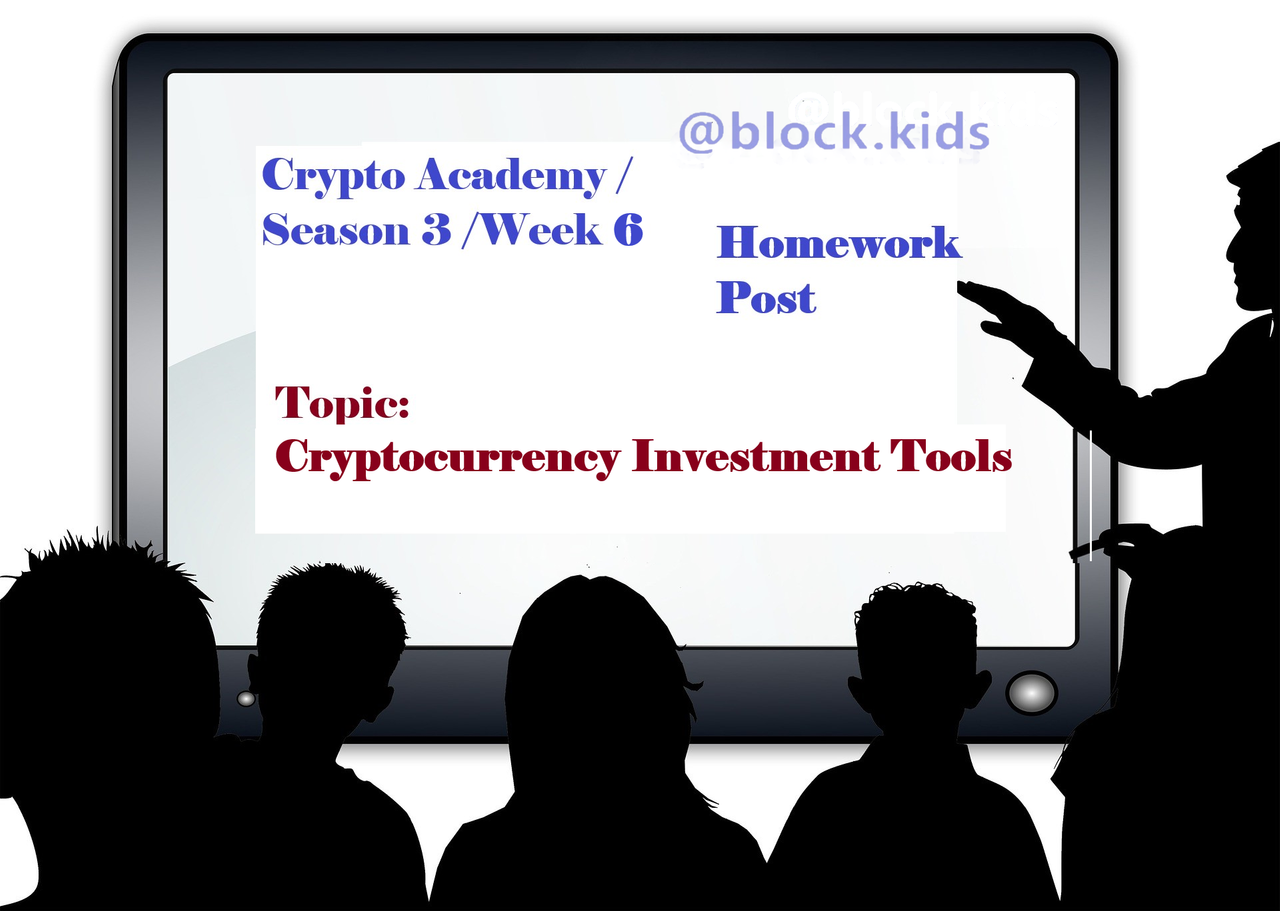 Hello, steemians!
This week is the sixth week of Season three in the Steemit Crypto Academy and this week introduced me to the beginner's course titled "Cryptocurrency Investment Tools."
Investing is a risky venture which leaves investors in a stable state, uncertain of which decision is perfect for making the maximum profit. However, with the proper tools and analysis of the commodity's market, investing becomes a lot easier
The concept mentioned above is also applicable to investing in Cryptocurrencies. Although the degree of risk involved when investing in cryptocurrencies is enormous considering how volatile its price behaves.
---
Nevertheless, Professor reminisence01 introduced essential investment tools that aid investors in making quality trading decisions when trading their crypto assets and aid investors in accessing information about the best and most viable cryptocurrencies before investing.
I am glad to be part of this week's activities. Hence I will go further to respond to the question asked in the lecture.

Question 1a: Explain CoinGecko and why it is a good cryptocurrency investment tool.


Source :Kindpng
CoinGecko is an online cryptocurrency price and information data platform that provides users with all the information they need to know about the cryptocurrency market. The venue is a Singapore-based company founded in 2014 by TM Lee and Bobby Ong with a vision to aid cryptocurrency investors in making better trading decisions.
Some information that can be gotten at this site includes;
The Team behind the project,

Updated information about the Github of the cryptocurrency project,
Community statistics of the cryptocurrency project,
Market statistics of the cryptocurrency project.
---
On CoinGecko, cryptocurrency coins can be also be ranked based on market capitalization, volume, 24hr changes, or all-time highs and all-time lows.
CoinGecko is a good cryptocurrency investment tool because It helps its users quantitatively evaluate and rank their coins. This platform provides an opportunity for investors to fundamentally analyze the cryptocurrency market and make profitable decisions when investing in crypto currencies.

Question 1b. Explore CoinGecko and explain at least five unique features of the platform (Take a screenshot of the page).

Coingecko is an excellent platform with many unique features that make the experience for users fun and easy to use. Some of Coingecko's top features as taught in this week's lecture includes;
1. Coingecko's cryptocurrency Ranking system: CoinGecko provides information on all categories of cryptocurrencies in the market. To access this information, once you visit Coingecko's landing page using a mobile device. Click on the top left corner of the screen where you see a menu tab, then go further to click the coins option; you will see all the categories of cryptocurrencies by purpose, large movers, high volumes, and even the recently added coins. Coin gecko has a trending search ability that helps you navigate through all coins according to your preference.
All these cryptocurrency categories, including DeFi, NFTs, stablecoins, exchange-based tokens, Privacy coins, and much more, are usually ranked by Market Capitalization.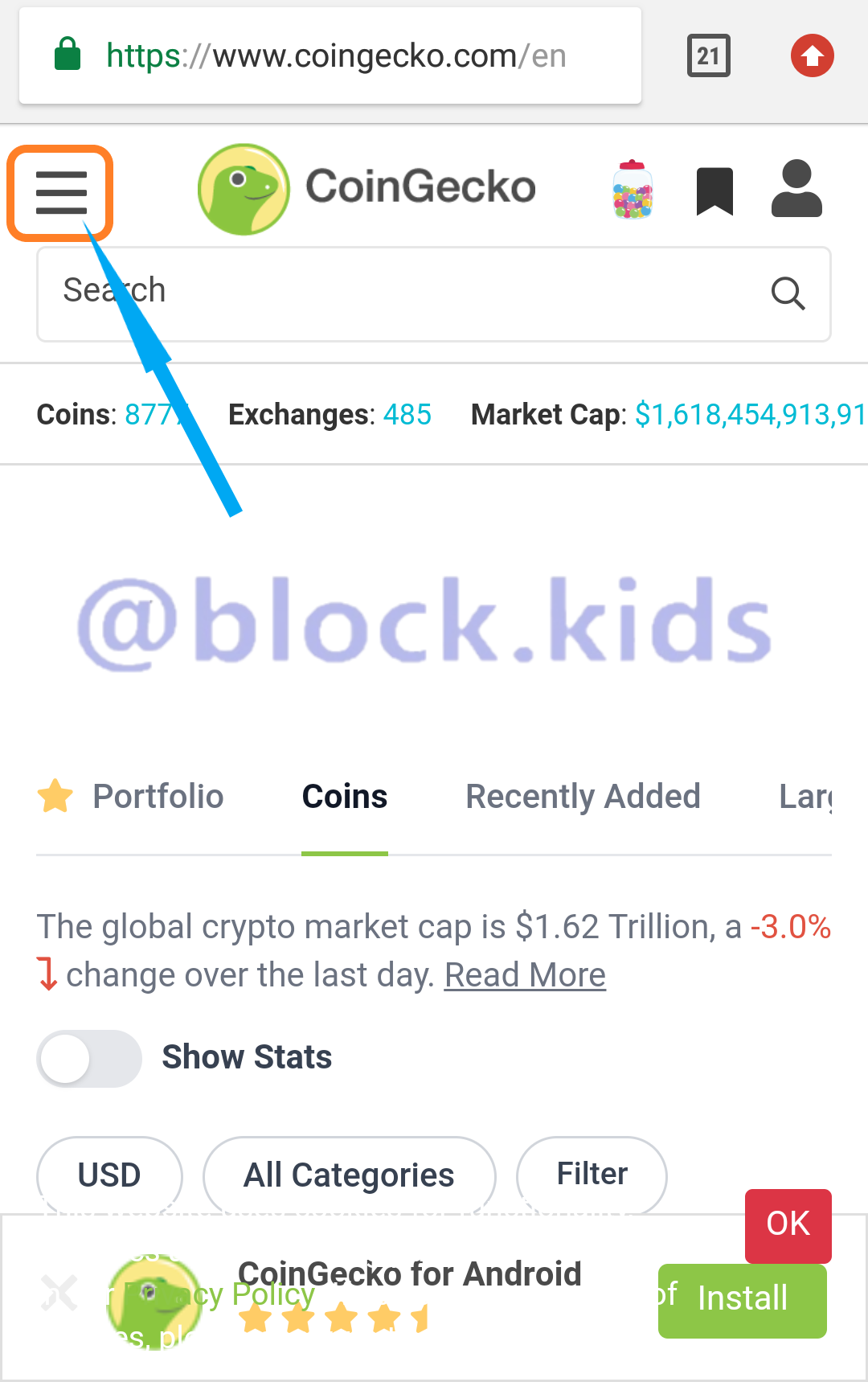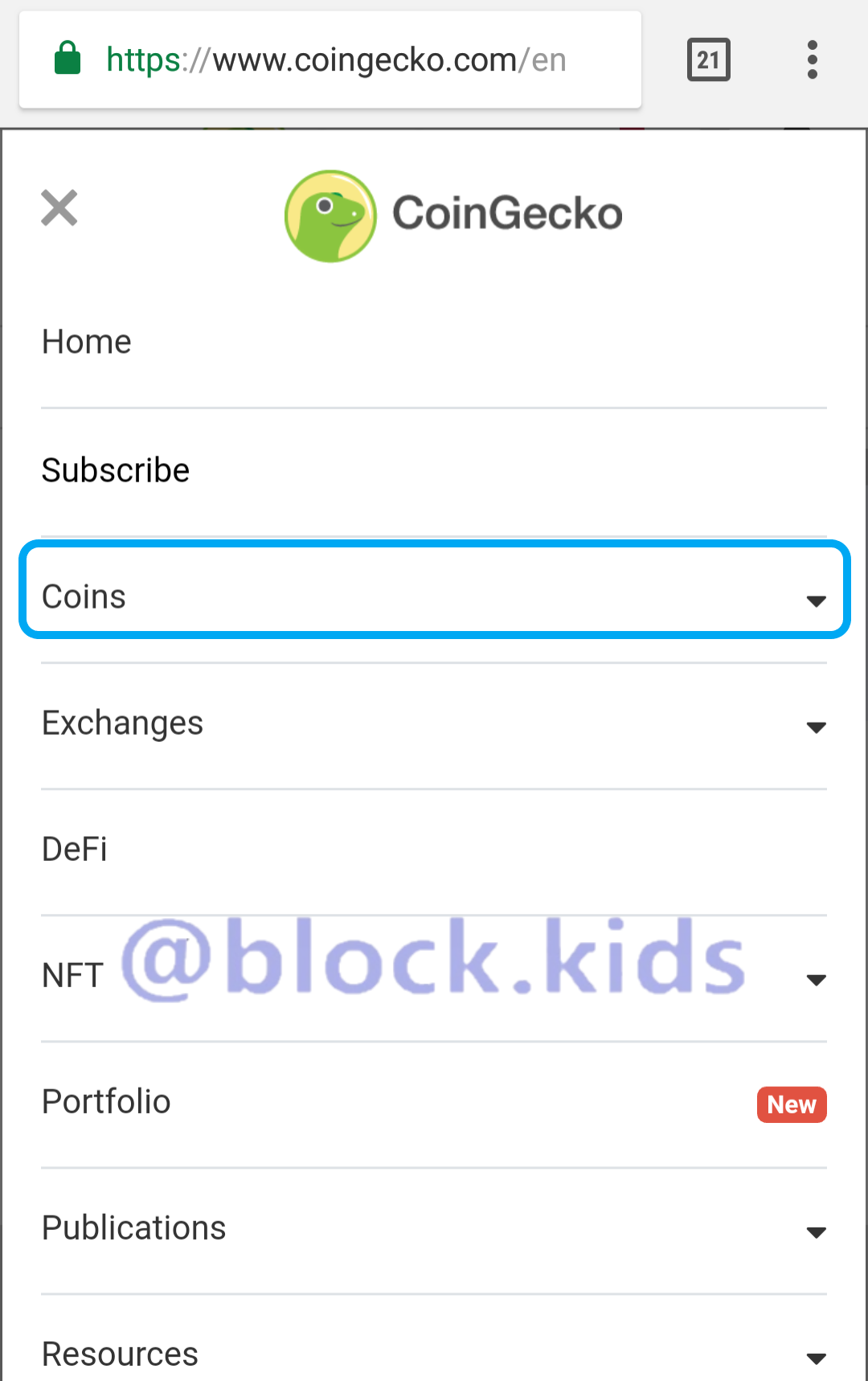 ---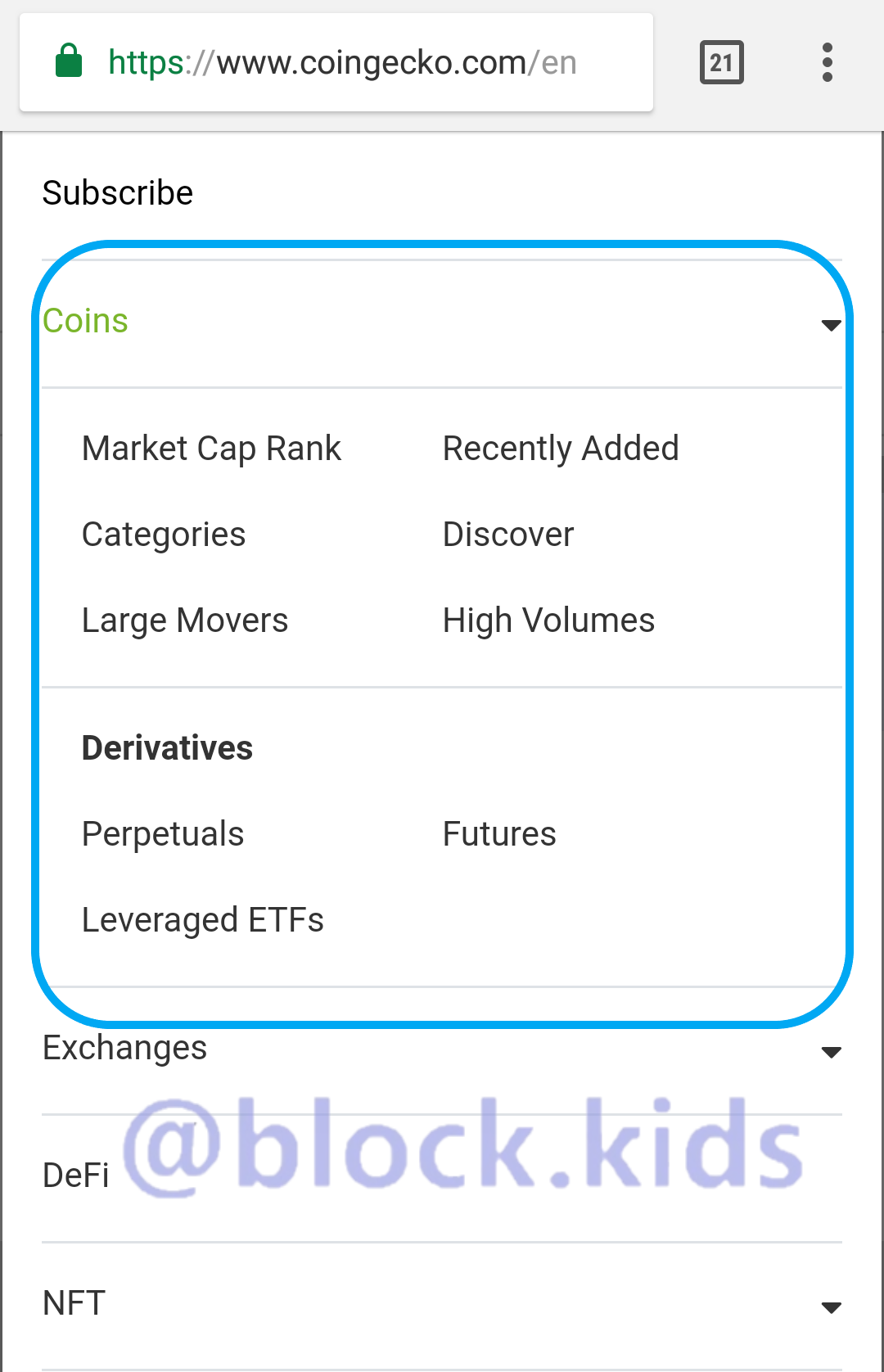 Source :screenshot
---
2. Crypto exchanges ranking system: The ranking system of Crypto exchanges on the CoinGecko platform is another exciting feature that this digital information platform possesses. Here exchanges are ranked using the unique Trust Score algorithm, which helps traders discern the psychology behind how other traders feel about trading on any exchange before trading on that exchange. With this feature, you can also get additional information like the number of visits on the exchanges, trading volume, and total trading pairs for better decision-making.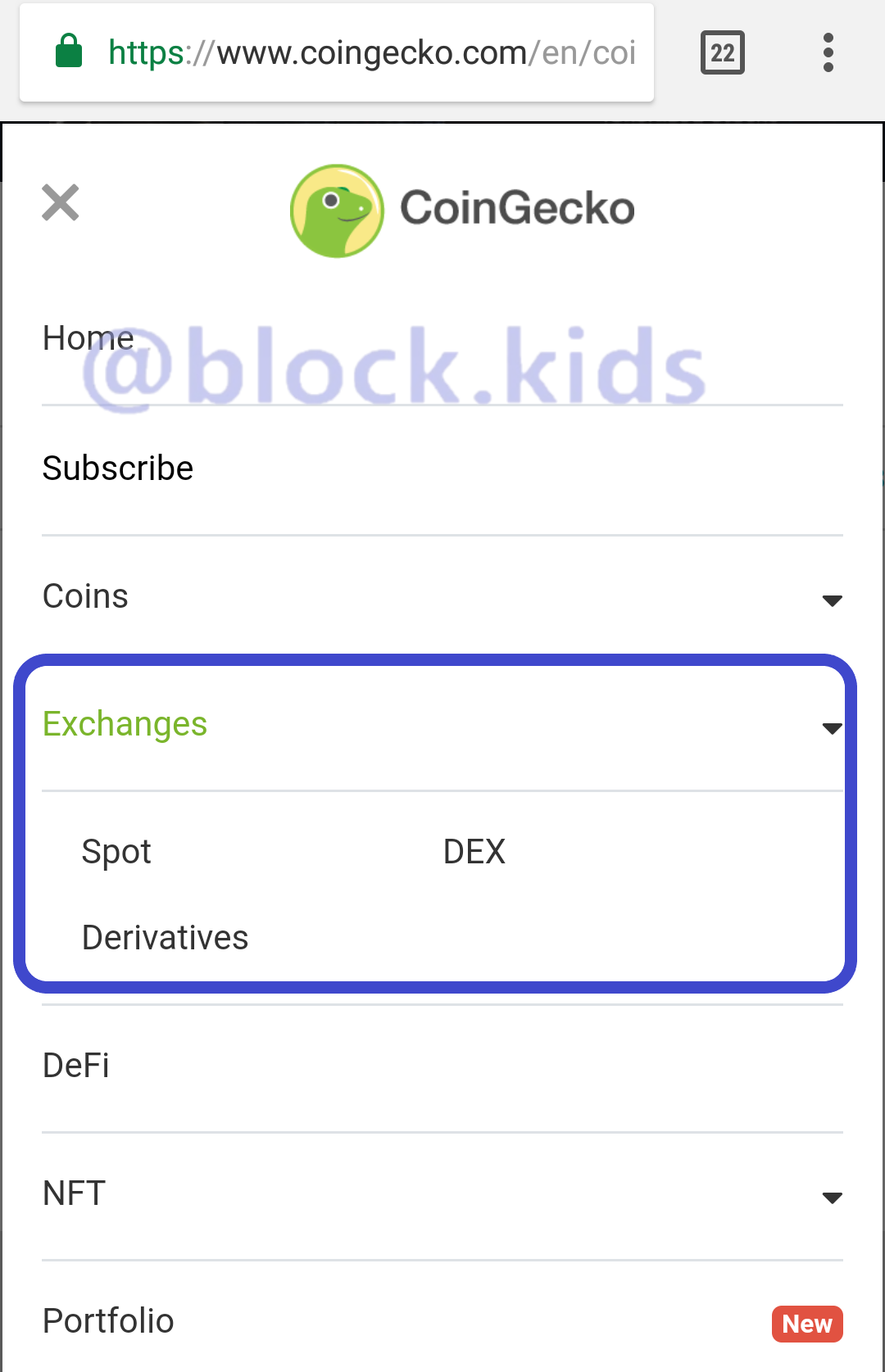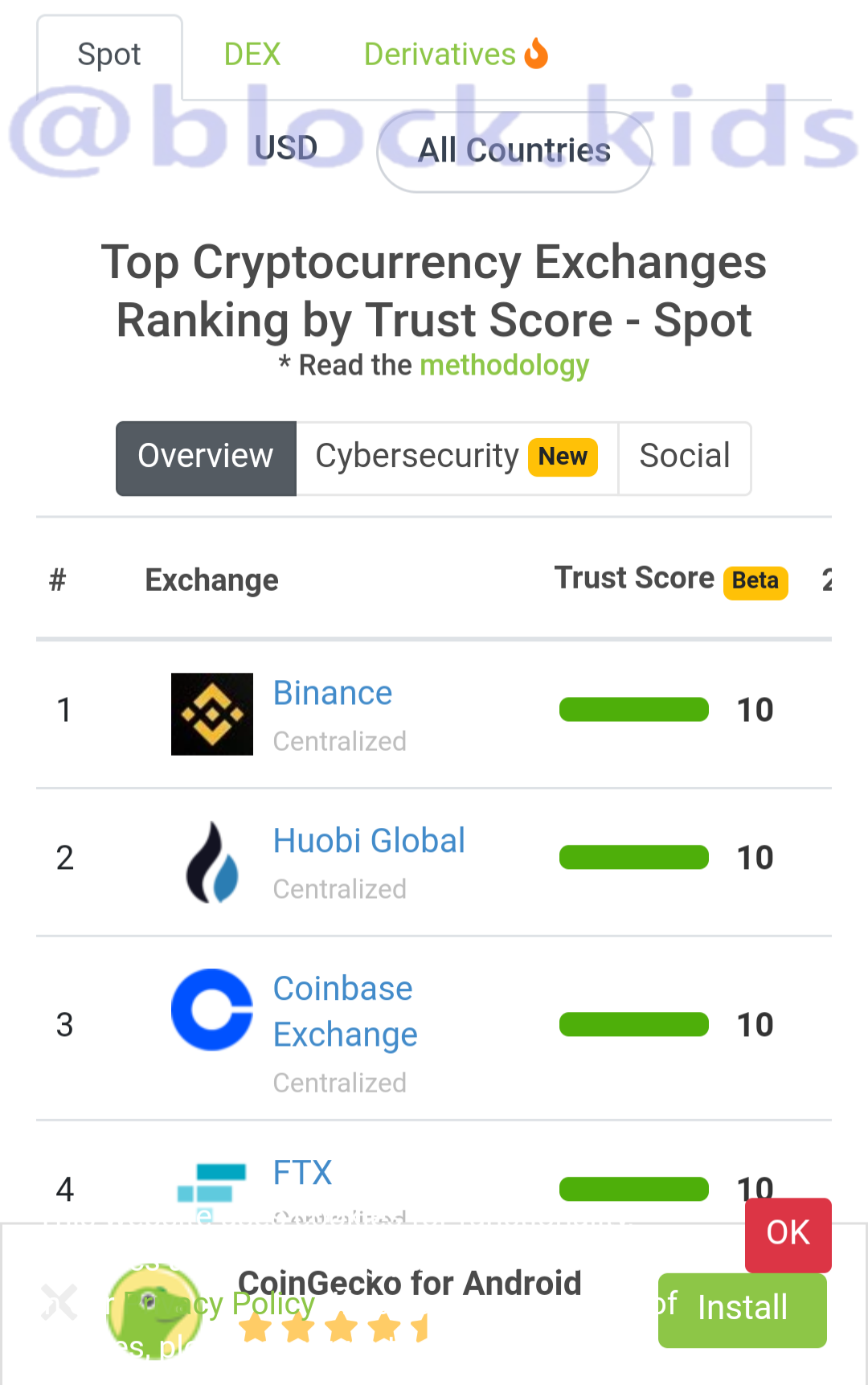 ---
Source :screenshot
---
3. Coingecko filters : Searching for either coins or exchanges on CoinGecko has been made elementary the adopting the use of filters can lead any user to his most preferred listing. Some filters include;
Filter Coins by Hashing Algorithms: You want to see a list of coins with Ethash only.
Filtering Coins by Platform: like seeing a list of coins based on the Ve-chain platform.
---
4. Coingecko News: CoinGecko provides its users with up-to-date info on various kinds of analysis and recent happenings in the world of cryptocurrencies. Some of the vital information regarded as 'news' includes API updates, buzz reports, coverage of current events, professional notifications, newsletters, halving schedules, etc.
CoinGecko also provides 'beam updates.' These kinds of information are comprised of updates directly from the developers of each crypto project.
5. Coingecko reward system: My best feature is the reward system of the CoinGecko platform, which awards Coingecko candy, a loyalty point system for using coin gecko. To access this feature and start getting rewarded, click on the icon, which looks like a cookie jar located at the top left corner of the screen. Sign up with all the required details and start getting rewarded.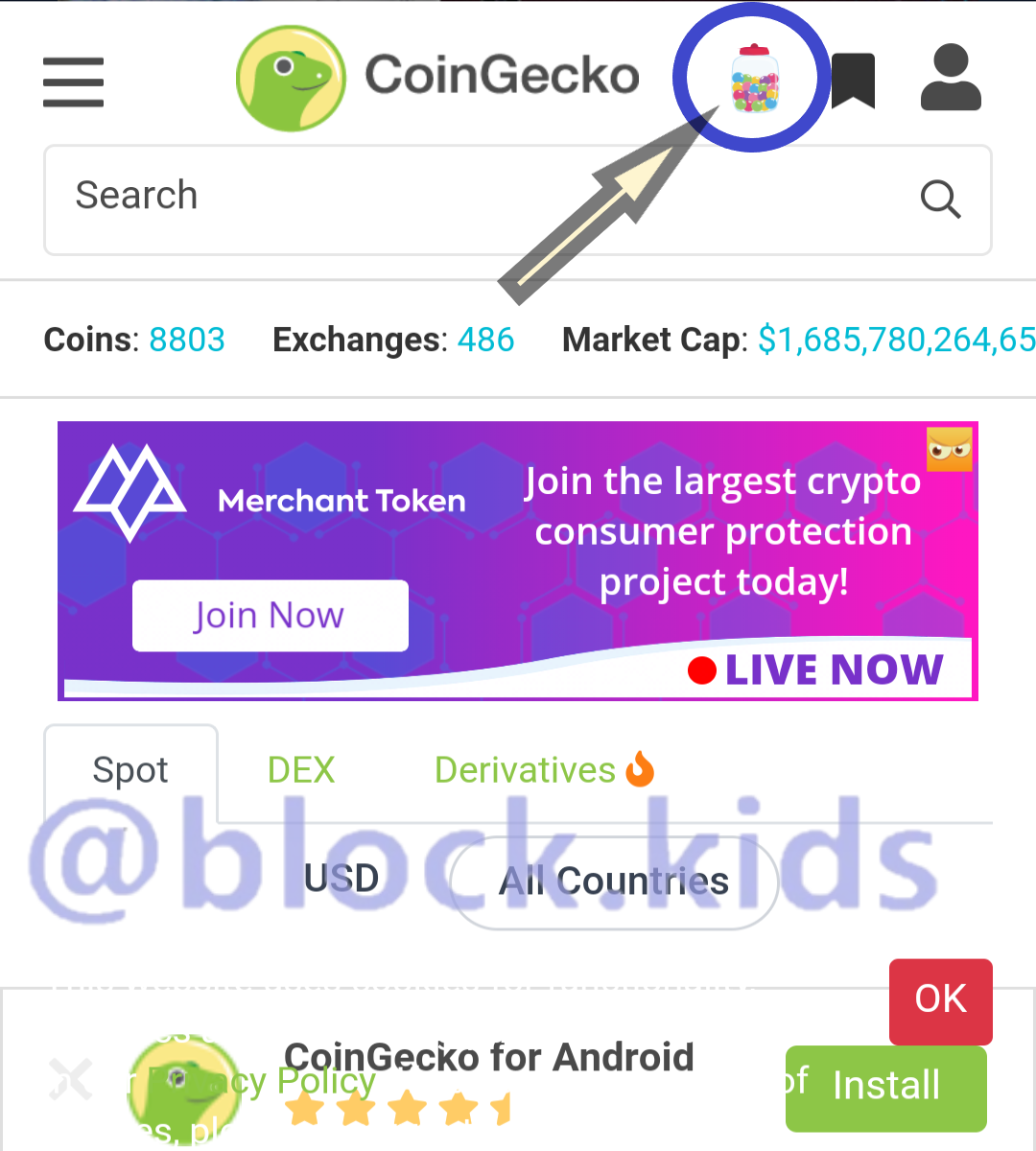 Source :screenshot

Question 2a. Give a brief explanation of Tradingview platform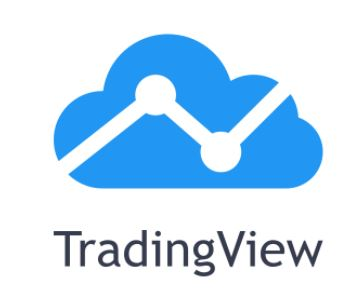 Source :Customer Care Contacts
The TradingView platform is an online platform where traders can connect and discuss market ideas. This platform also provides essential tools like screeners and charting tools with which traders can relate vital information about the market's environment. Some of these charting tools include drawing tool features that aid traders in executing high-quality technical analysis with little or no challenge.
One outstanding feature of the TradingView platform Is that there are built-in technical indicators, candlestick patterns, and much more technical analysis tools at the users' disposal
In addition, there is also a public library where users can publish their indicator scripts for traders to access and access other trader's indicator scripts.

Question 2 b. Explain the steps involved in adding indicators on the Tradingview chart. You can add an indicator of your choice except moving average. (Screenshots required)

There are specific steps that must be followed to add an indicator on your TradingView chart successfully, and these steps are as follows;
---
-Step 1: Visit TradingView.com (https://www.tradingview.com/) on your browser, tap the menu icon located at the top left corner of the screen, click on the 'Chart' tab and access the charting interface.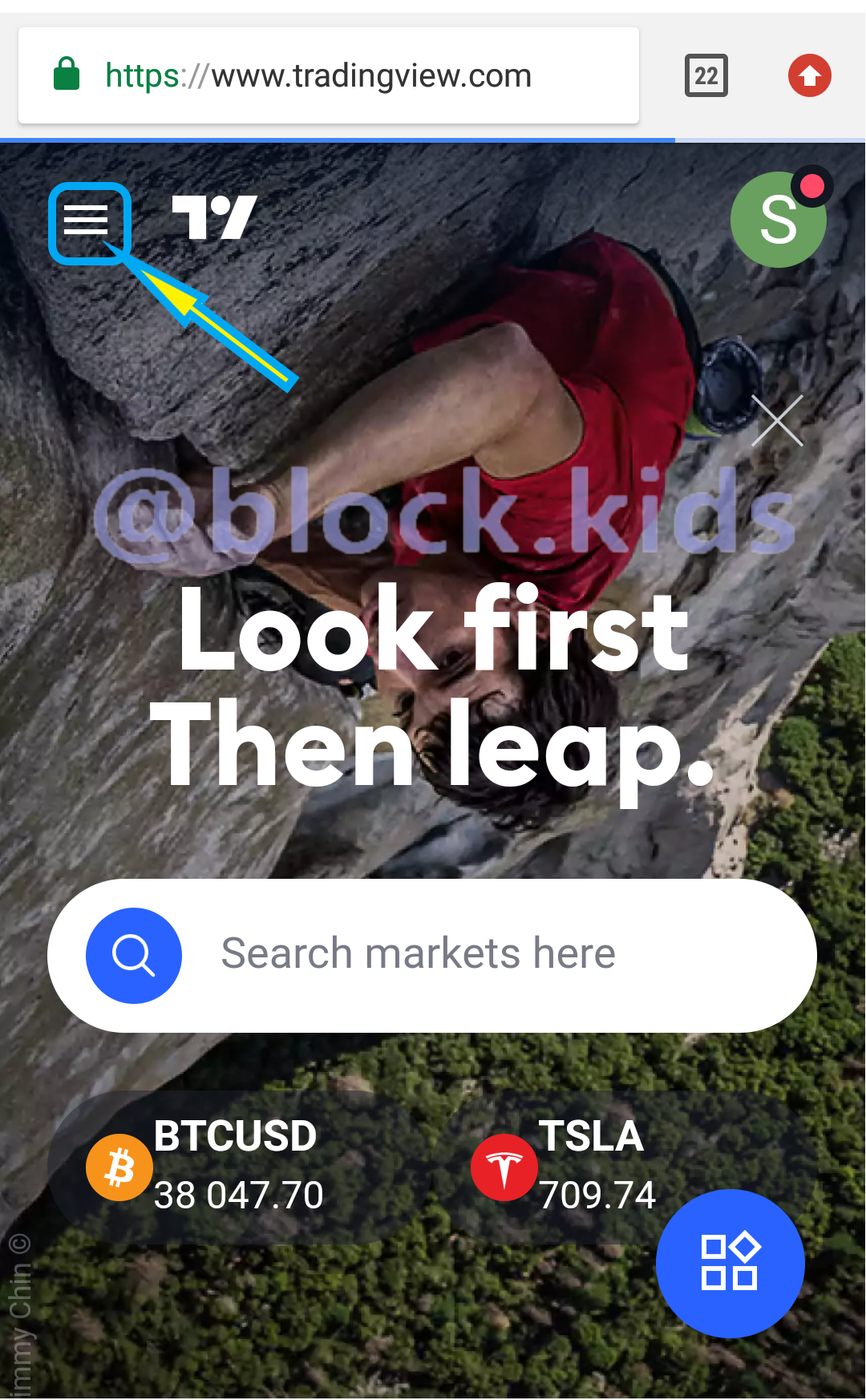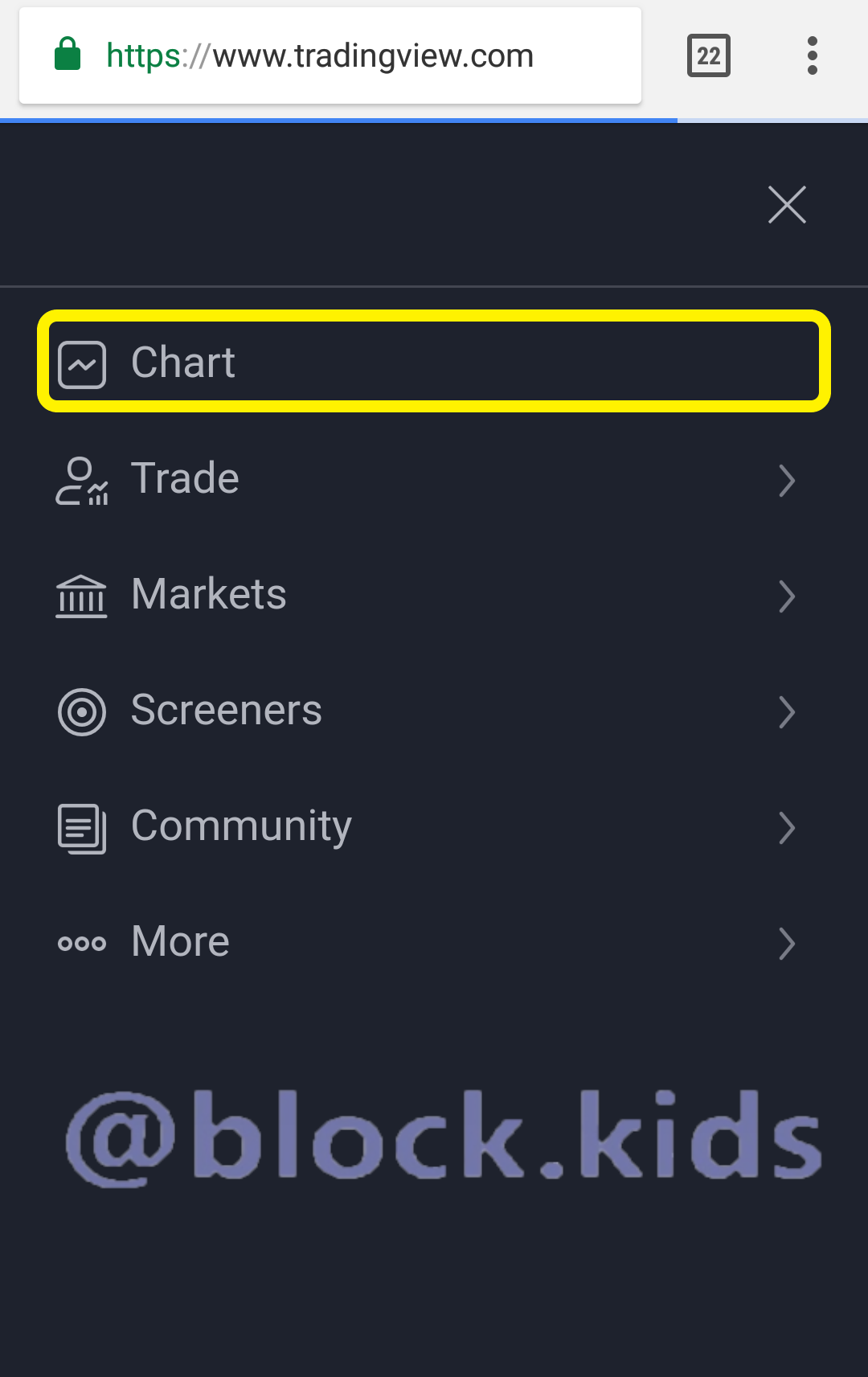 ---
Source :screenshot
---
Step 2: On the charting interface, click on the indicator icon located at the top of the page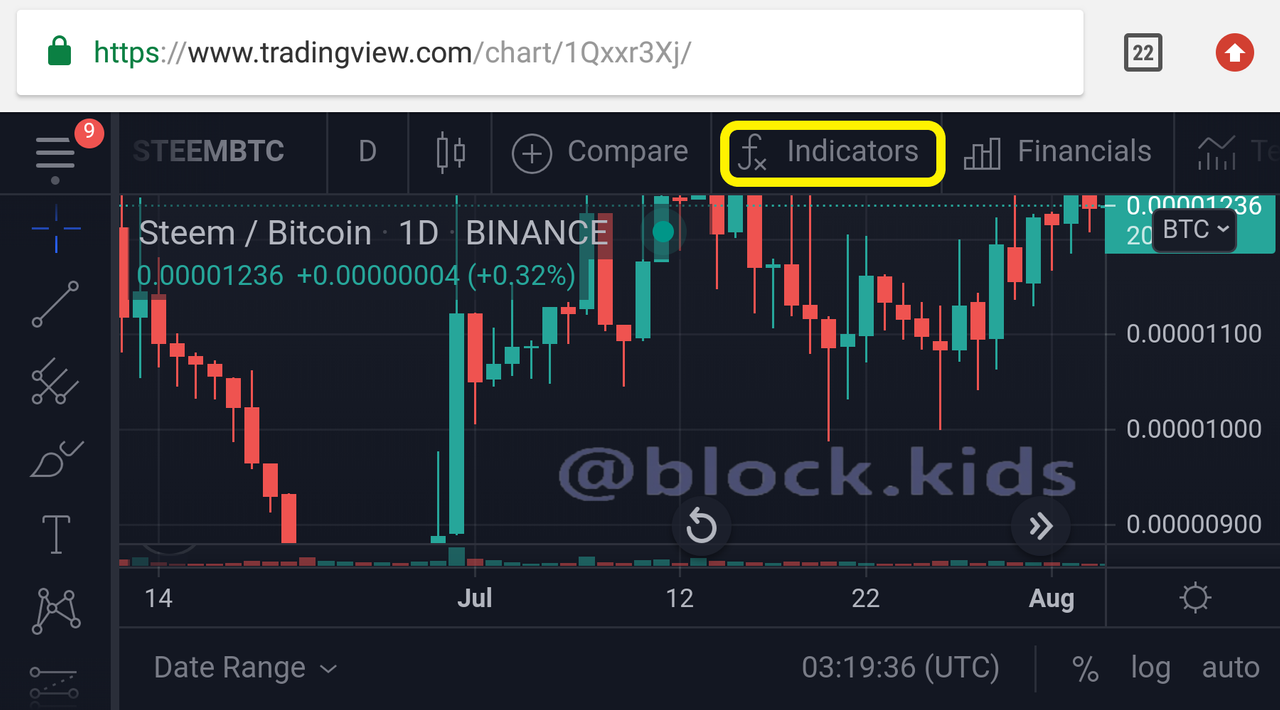 Source :screenshot
---
Step 3: The indicator icon will drop down a pop-up window containing various indicators on Tradingview. These indicators include both user-customized and built-in indicators.
Step 4: To make use of your desired indicator, type its name into the search box. Then all the available scripts will be displayed.
Step 5: Click on your most preferred indicator. It will then be added to the chart.
---
As shown below , I added the accumulation /distribution indicator to my chart.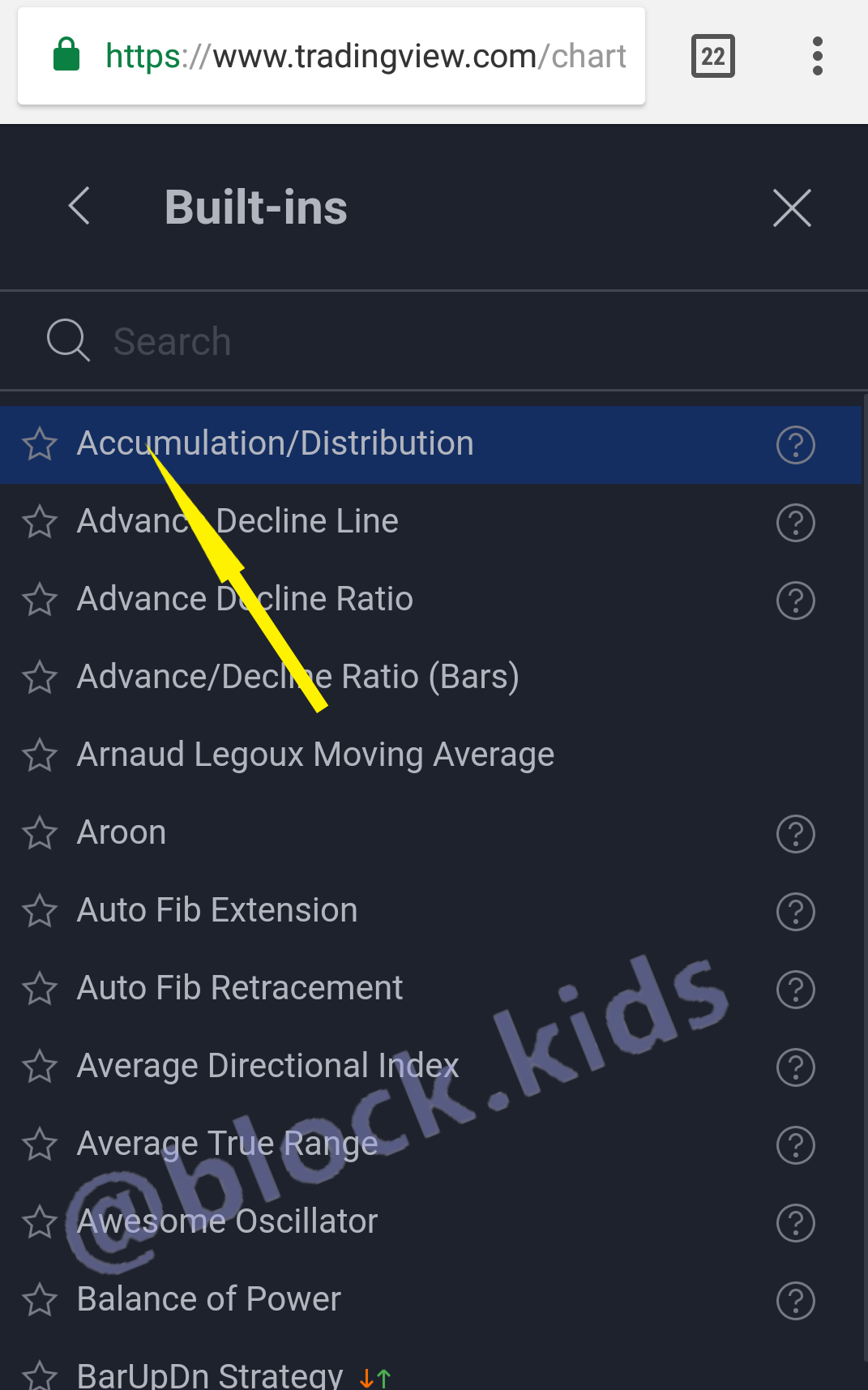 Source :screenshot
---

Question 2c: With relevant screenshots, illustrate how to modify the indicator you have added to your chart.

To make better use of the indicators in technical analysis, users should configure it to their taste. I'll use the accumulation/ distribution indicator tool I added to the chart above as a case study. Here are simple steps to follow when configuring an indicator.
---
Step 1: Click the indicator figure on the chart, and an indicator bar will pop up.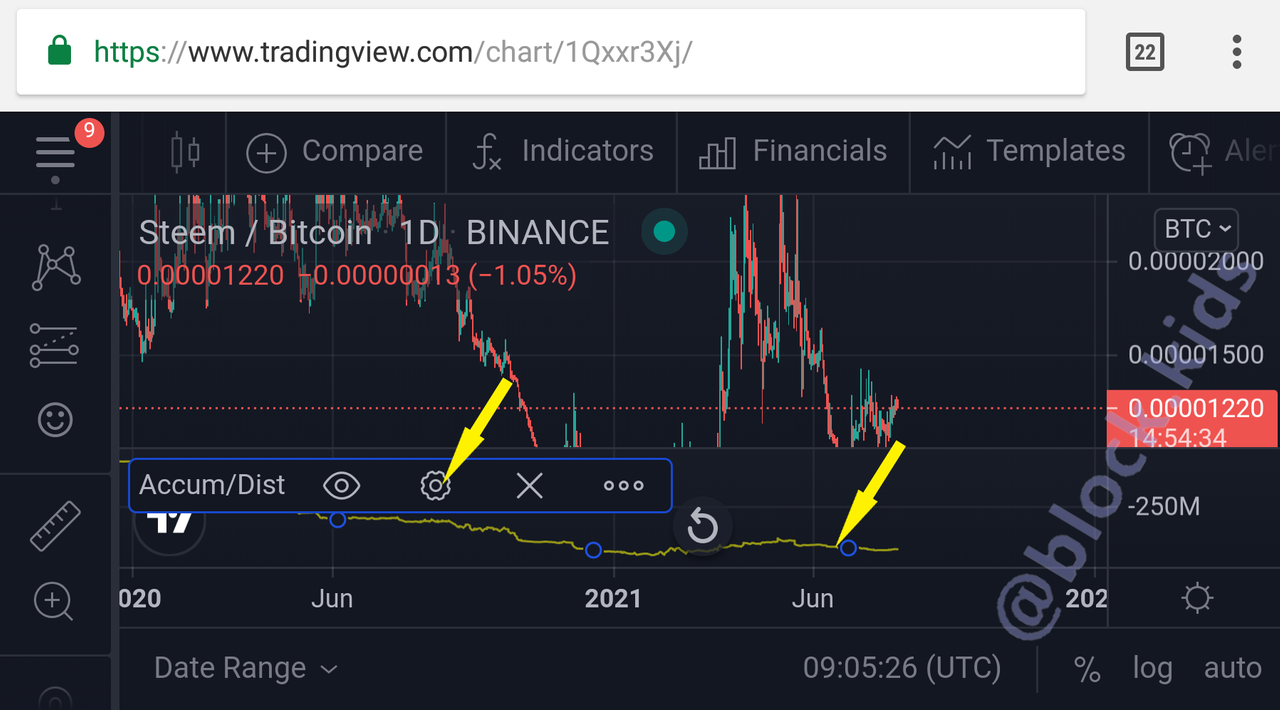 Source :screenshot
---
Step 2: Click on the settings icon. A pop-up window will appear displaying the configuration of the indicator.
Here you can configure the indicator parameters, color, font size, etc. And make the indicator user-defined.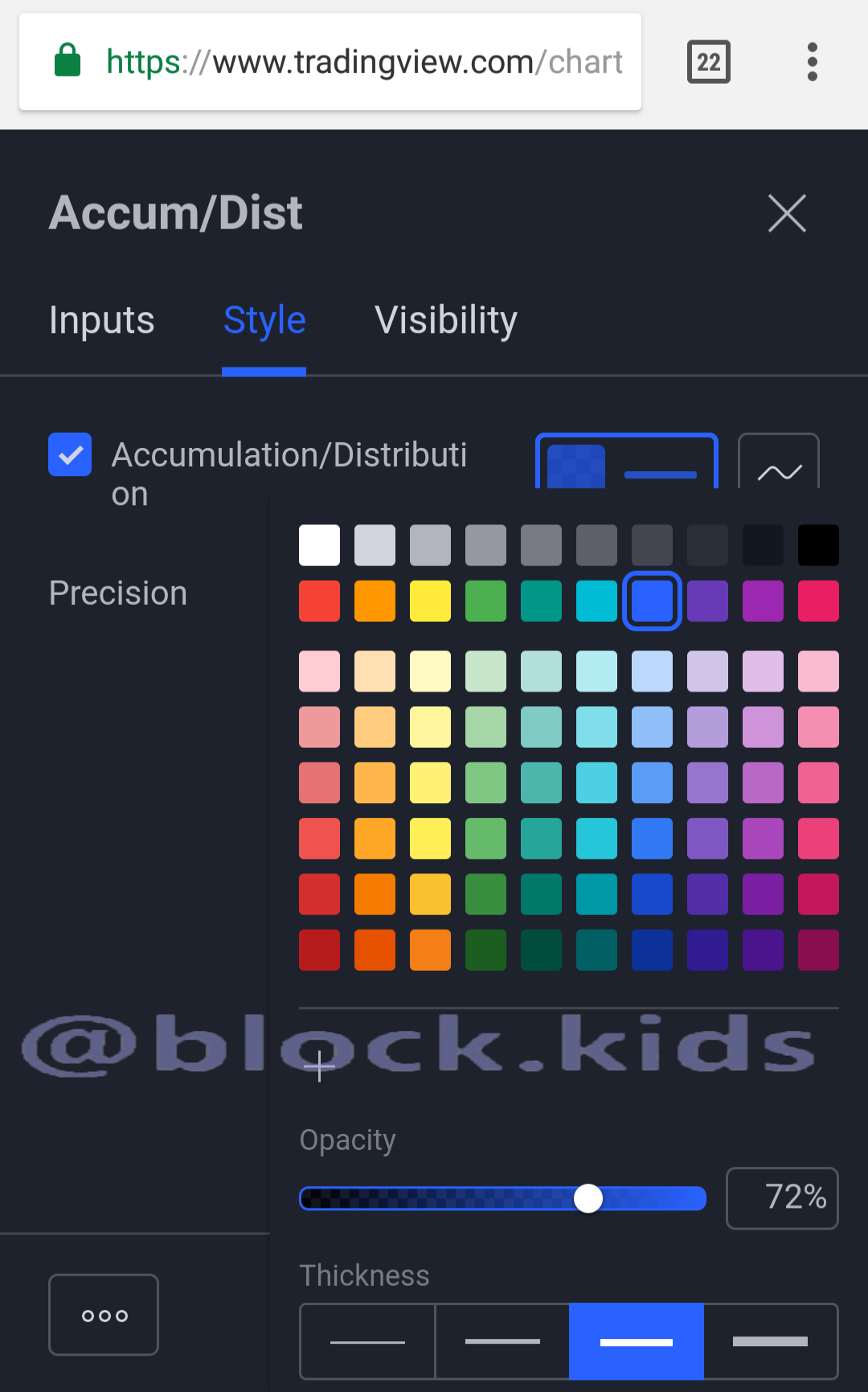 Source :screenshot
---
As shown above, I changed the color and thickness of the accumulation/ distribution indicator line.

Question 3a. In your own words, explain the cryptocurrency Portfolio and Watchlist.

I would refer to a Portfolio as a collection of assets and investments like cryptocurrencies,commodities, stocks,bonds , ETFs, real estate, etc. These are carefully selected and monitored by the investor for potential profit.
However, I will describe a watchlist as a digital tool used to monitor the progress of prospective investments or assets before it signifies the investor timely on the right time to add that commodity to his portfolio.
For example, consider a situation where an investor runs a full proof analysis and is convinced that Steem cryptocurrency would gain more value in the future but would only invest when one Steem is equal to 1dollar. The investor can add this cryptocurrency to his Watchlist, where the coin will be monitored until its value is equivalent to a dollar. once 1 Steem is about the equivalent value of 1 dollar , The Watchlist signifies the investor to add the Steem crypto currency to his portfolio.

Question 3b: Explain the need for Portfolio management.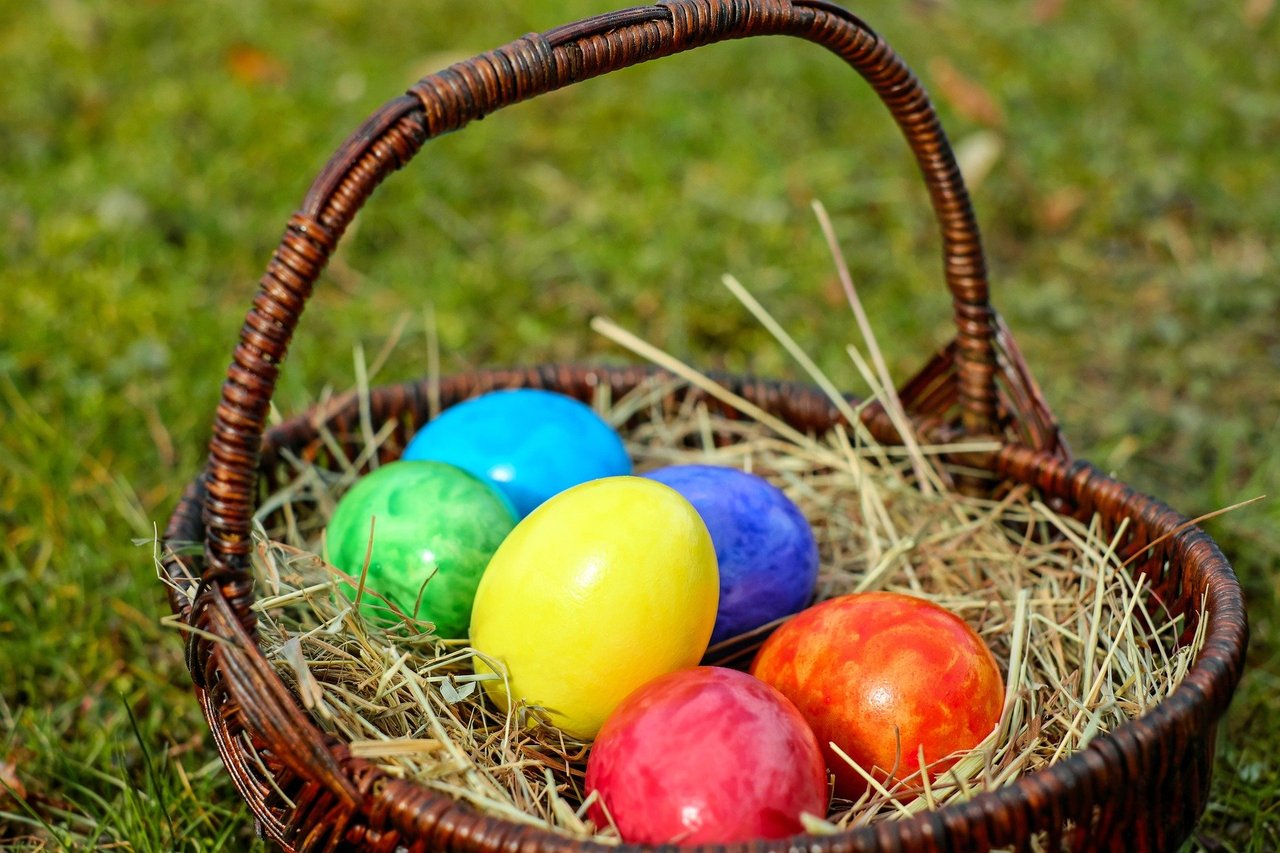 Source :Pixabay
"Do not put all your eggs in one basket."
The idiom above summarizes the need for sound portfolio management. But if I was to explain further; I would say having a wide array of viable assets and Investment will help you minimize your losses because the probability of making losses on all your investments is very low. Even if you make losses on all investments, the degree of loss will differ for each asset.
Therefore it is wise for cryptocurrency investors to have good portfolio management because the volatility of the crypto market space can see crypto assets perform very well or very poorly within a short period.

Question 3c : Select 5 cryptocurrency assets you wish to add to your Watchlist and explain why you selected each of them. (Show screenshot of your Watchlist. It can be any platform).

These coins are the list of cryptocurrencies I added to my Watchlist on my trading view platform.as shown in the sceenshot below.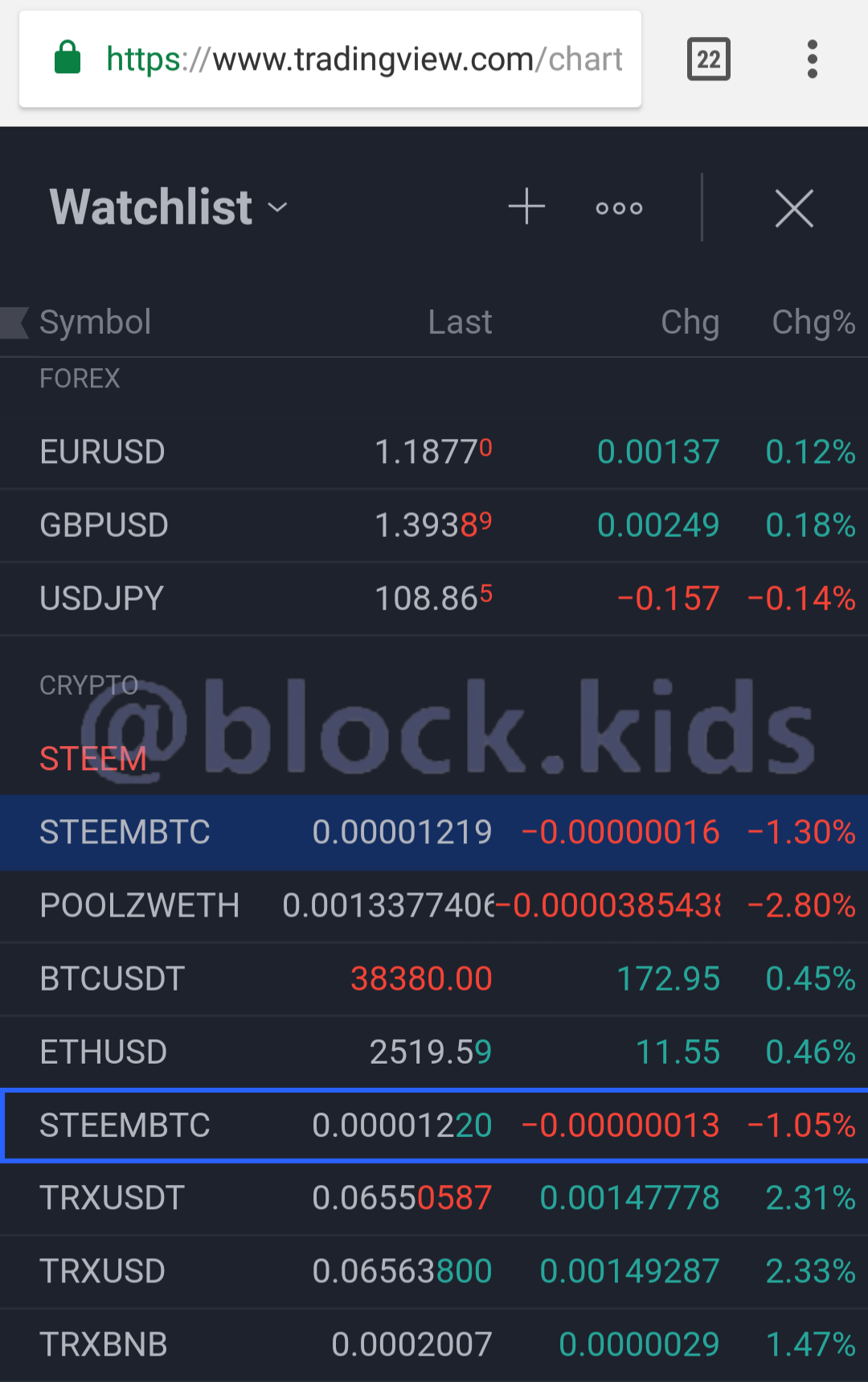 Source :screenshot
1. Steem (STM): Not much analysis is needed here, as the Steem ecosystem is sustainable. Besides, Steem coin has not experienced high fluctuation levels for a long time, and therefore, with the steady growth of its ecosystem, I postulate the Steem will rise in value again and very soon.
---
2. Bitcoin (BTC): My reason for adding this coin to my Watchlist is not necessarily because I want to invest in BTC. Bitcoin being the parent crypto asset has market trends that affect every other cryptocurrency either positively or negatively.
---
3 Ethereum (ETH): This coin has one of the largest ecosystems, and I believe it is wise to keep watch over the Ethereum market space.
---
4. Binance coins (BNB): The Binance coin is a strategic coin whose value describes the status of the largest exchange.
---
5. Tron (TRX): I added this coin to my Watchlist for reasons relating to research as I started studying the Tron ecosystem some few months back after I resumed posting on Steemit.

Conclusion

There is much profit to be made if an investor can successfully analyze the crypto market space. However, this tricky hurdle can easily be overcome by using proper cryptocurrency investment tools that help an investor fundamentally and technically analyze cryptocurrency price behavioral patterns in the crypto market ecosystem.
In addition, these investment tools help investors minimize losses with beautiful features like watchlisting and excellent portfolio management.
I feel great about being part of this week's activity, and I want to say a big thank you to Professor reminiscence01 for this excellent lecture.