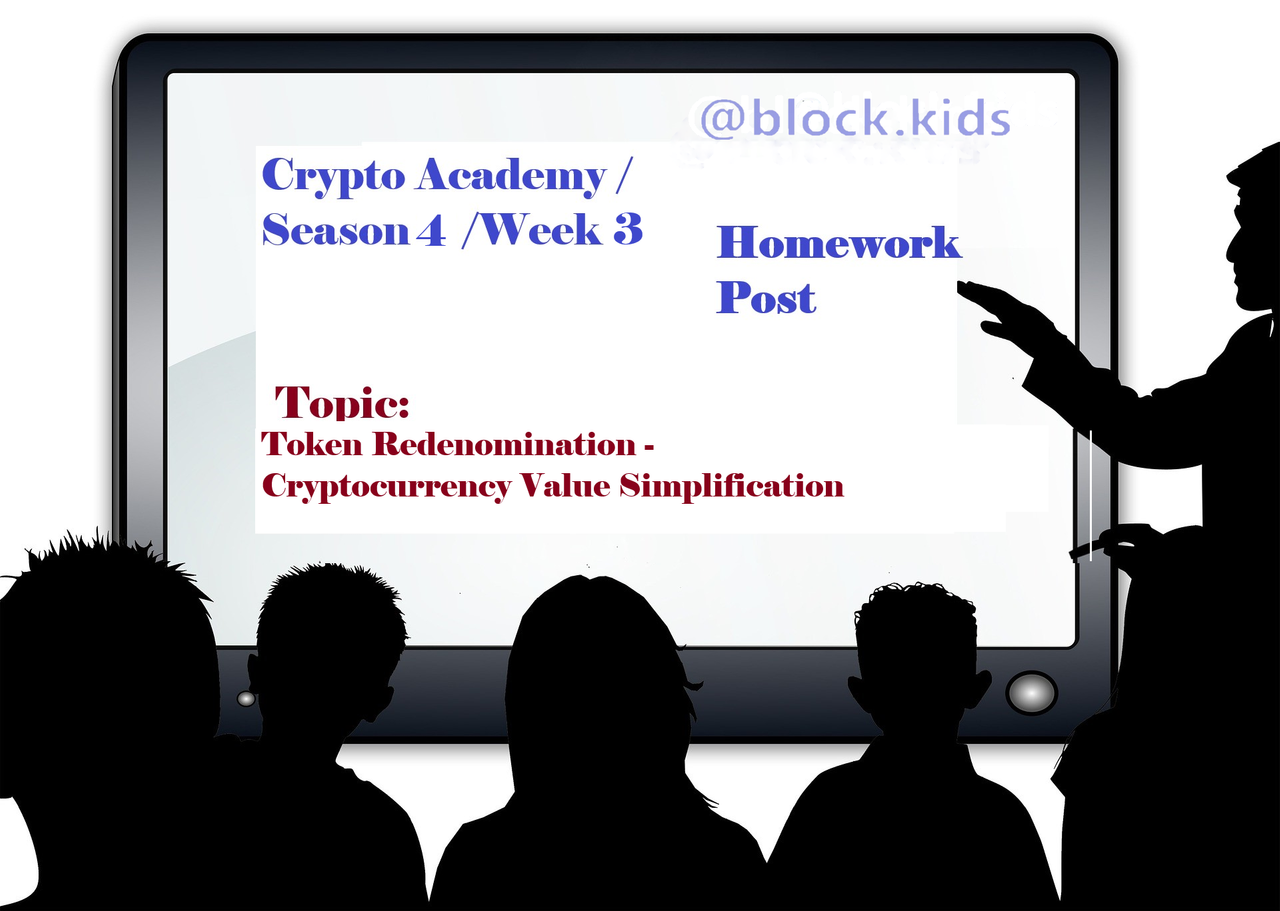 Hello guys!
There is a great deal of knowledge shared within the cryptoacademy community and this knowledge has shaped the minds of many steemians in the realms of cryptocurrencies, blockchain technology and finance.
In professor wahyunahrul previous lecture we took a space dive into the realm of socios.com, where the sports fan feature was submerged in the world of tokens and Cryptocurrencies.
This week, professor wahyunahrul took us on a cruise through the lands of "Token Redenomination" where we got to understand reasons behind why and how crypto currency values are simplified.
Here are my response to the questions asked in professor wahyunahrul lecture post.

Q1 : Explain what is Token Redenomination in your personal opinion? What distinguishes it from currency or other assets redenomination?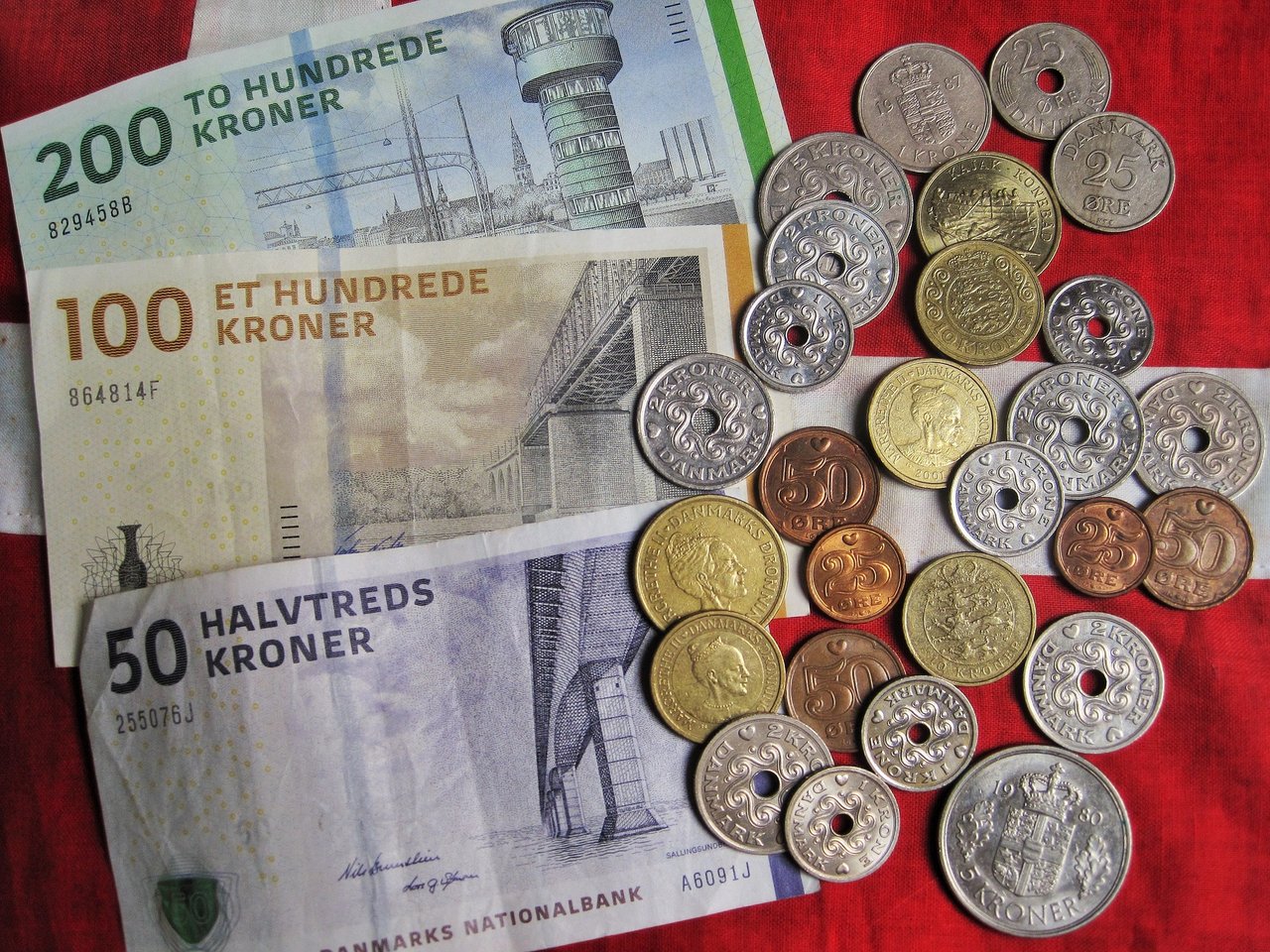 source : pixabay
A token is a digital asset which represent a unit value of a project launched on a blockchain network. Sometimes, a project can become so successful that the price value of its token becomes so high that it scares away small scale investors. In order to attract these small scale investors and create more liquidity of token, the already successful project will tend to resolve to an act of 'Token Redenomination'.
---
In my opinion, Token Redenomination is the act of cryptocurrency value simplification which involves the process of changing the face value of a digital asset (token) already in circulation. This redenomination process successfully changes the face value of the token without reducing or increasing the value contained within the currency in circulation.
Token Redenomination distinguishes itself from currency or other assets redenomination in so many ways including:
Token Redenomination is proposed by the developers of the token's project and decided over by the holders of the token, while currency Redenomination is proposed and decided on by the central bank.
Token Redenomination is based on a decentralized financial system while currency denomination is based on a centralized financial system.
Token Redenomination usually occurs when the token gains too much purchasing power, loosing liquidity in the process while currency Redenomination occurs due to inflation or hyperinflation where the currency has significantly lost its value (purchasing power).

Q2: Mention the advantages and disadvantages of Token Redenomination.

The process of Token Redenomination has several effects on the token and its holders, listed below are the advantages and disadvantages of Token Redenomination.
Advantages
Token Redenomination will attract many small scale investors.
The capital base of the tokens project will be expanded as the project will get access to fresh funds.
Token Redenomination will create an increase in the rate of buying and selling within the token's market space.
Token Redenomination Increases the liquidity of the token while maintaining the total value of the old token.
Due to the increased number of investors caused by the token Redenomination, the market capitalization will also be increased which will attract even more investors.

Token Redenomination will cause holders of the old token to have a more dominant share of the new token.
---
Disadvantages
Obtaining a new currency after the token Redenomination process might incur a gas fee especially ERC-20 tokens.

The process of token Redenomination is tedious especially on the part of the developers a several data like logo and front end codes need to be tweaked to suit the new token.
The voting to decide the redenomination ratio is not fair as the large investors who own more token will have higher voting rights.

Q3: Do all cryptocurrency projects need to do Token Redenomination? Explain in your personal opinion.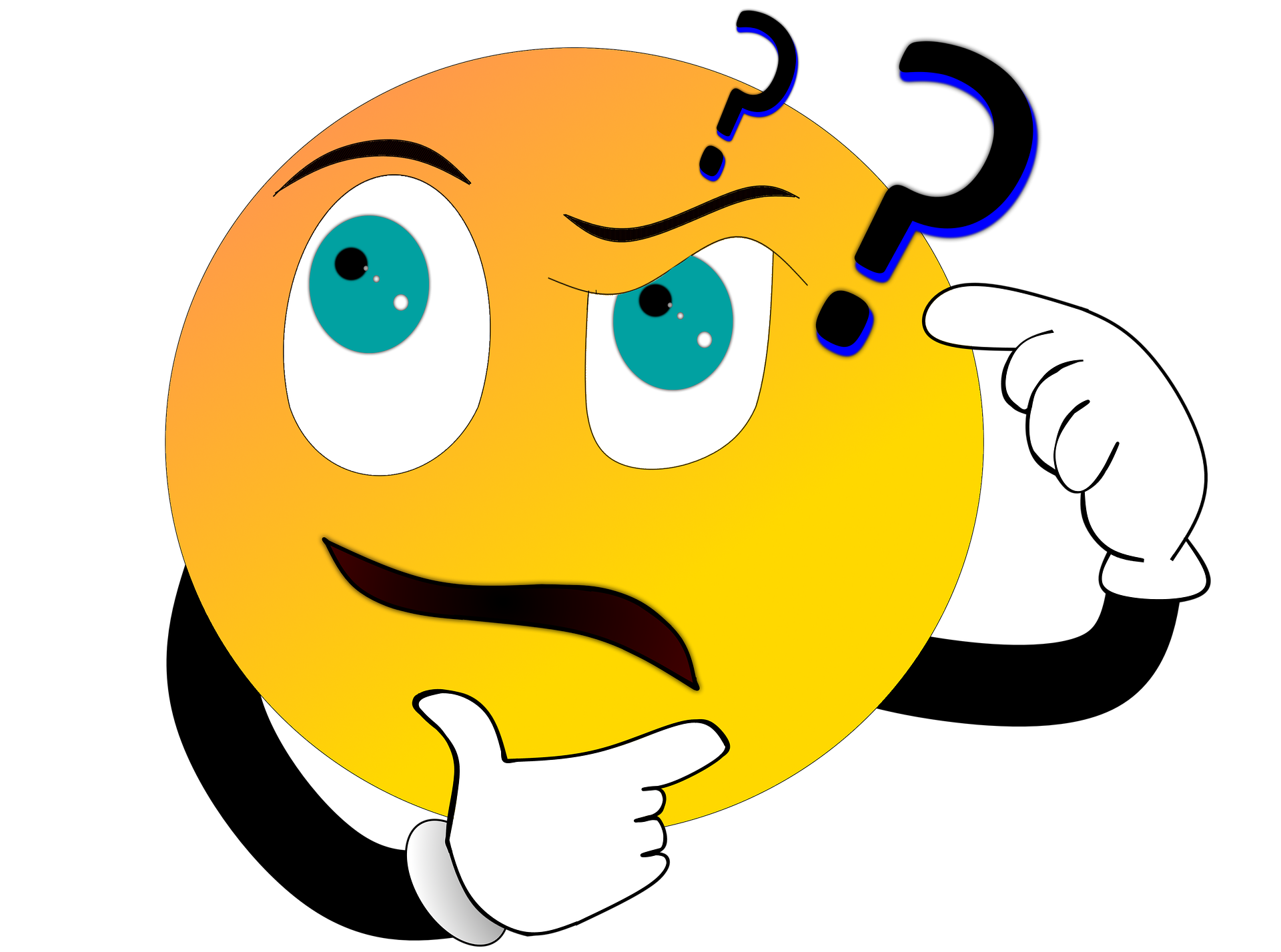 source : pixabay
In my opinion I don't believe that all Cryptocurrency projects need to do token Redenomination. This is because cryptocurrencies which need to undergo token Redenomination have to first experience a very high increase in price, causing the token to become illiquid. Only when this happens that developer of the token's project can decide to recalibrate the token's value so that the price of the token can be cheaper in order to attract small scale investors and recreate liquidity within the token's market space.
---
For example, a token like Steem will not need to undergo a token Redenomination because;
It has not yet experienced a high increase in price.

It is still very much has a liquid market

It has every category of investors, ranging from massive whales to planktons

It has a good market capitalization size.

Q4 : Choose a project that has or is currently doing Token Redenomination and show how to convert old tokens into new tokens. (Screenshot Required)

In this section I will be showing my readers how to convert the DREP token from the old DREP tokens to new DREP tokens. However, I might not be able to complete the swapping process because the designated period for the swap to take place was from 5th March, 2021 to 1st September, 2021 and as the time of making this post the deadline had already expired. The DERP token's Redenomination is not like the SUN token Redenomination discussed in the lecture post. The DERP Redenomination is deflationary in nature with an exchange ratio of 100:1. That means the 100 old DERP tokens will be converted to Just 1 new token.
There are other ways of swapping the Old DREP token with the New DREP, but since the DREP token is an ERC-20 token you can manually swap it in your trust wallet by following the steps outlined below.
---
Step1
Launch the trust wallet App on your android, windows or iOS device, click on the 'DApps' icon which is located at the bottom of your page.
Type this address "http://swap.drep.org/" in the search box. The address will lead to a page where you can confirm your connection to the ETH environment.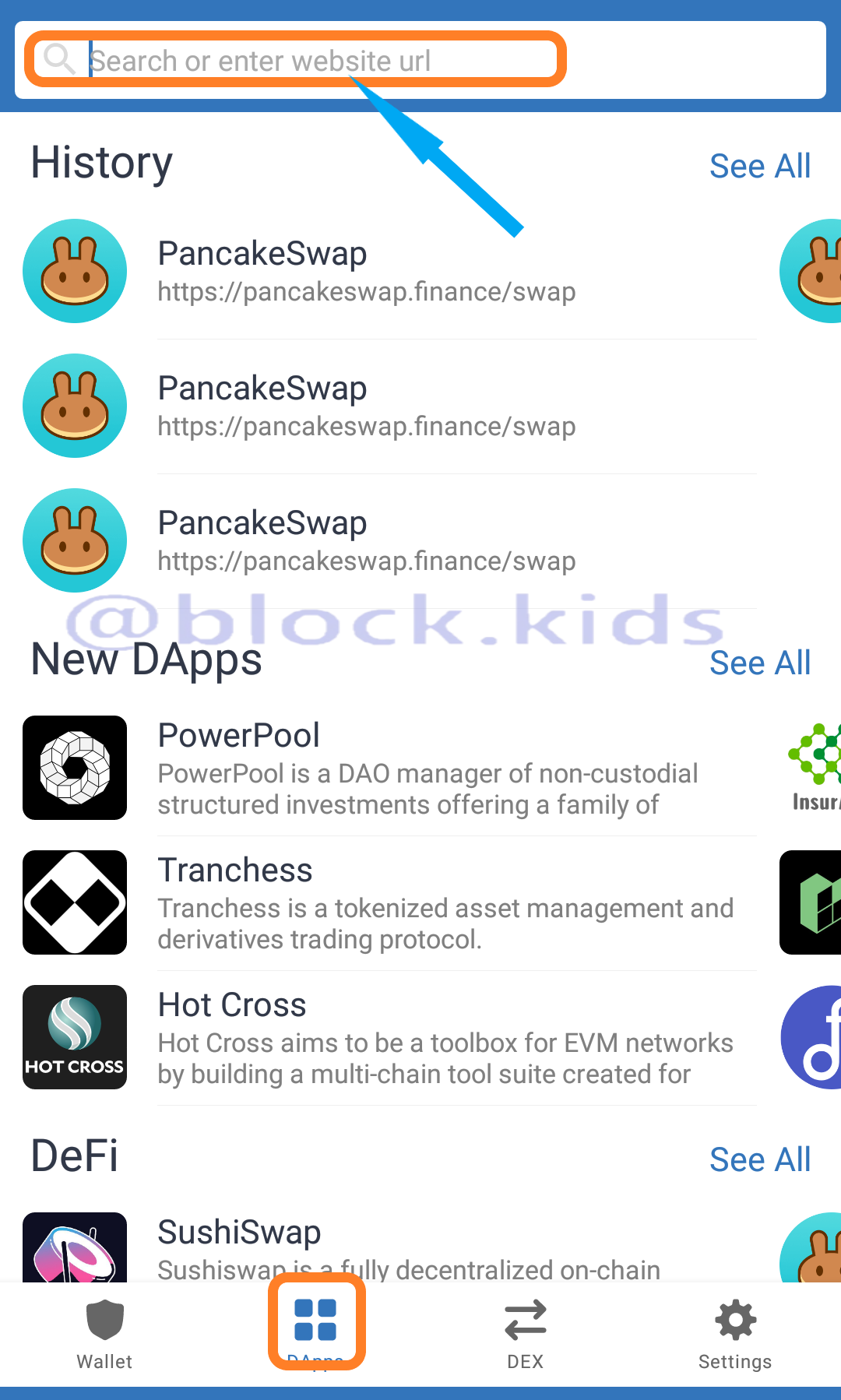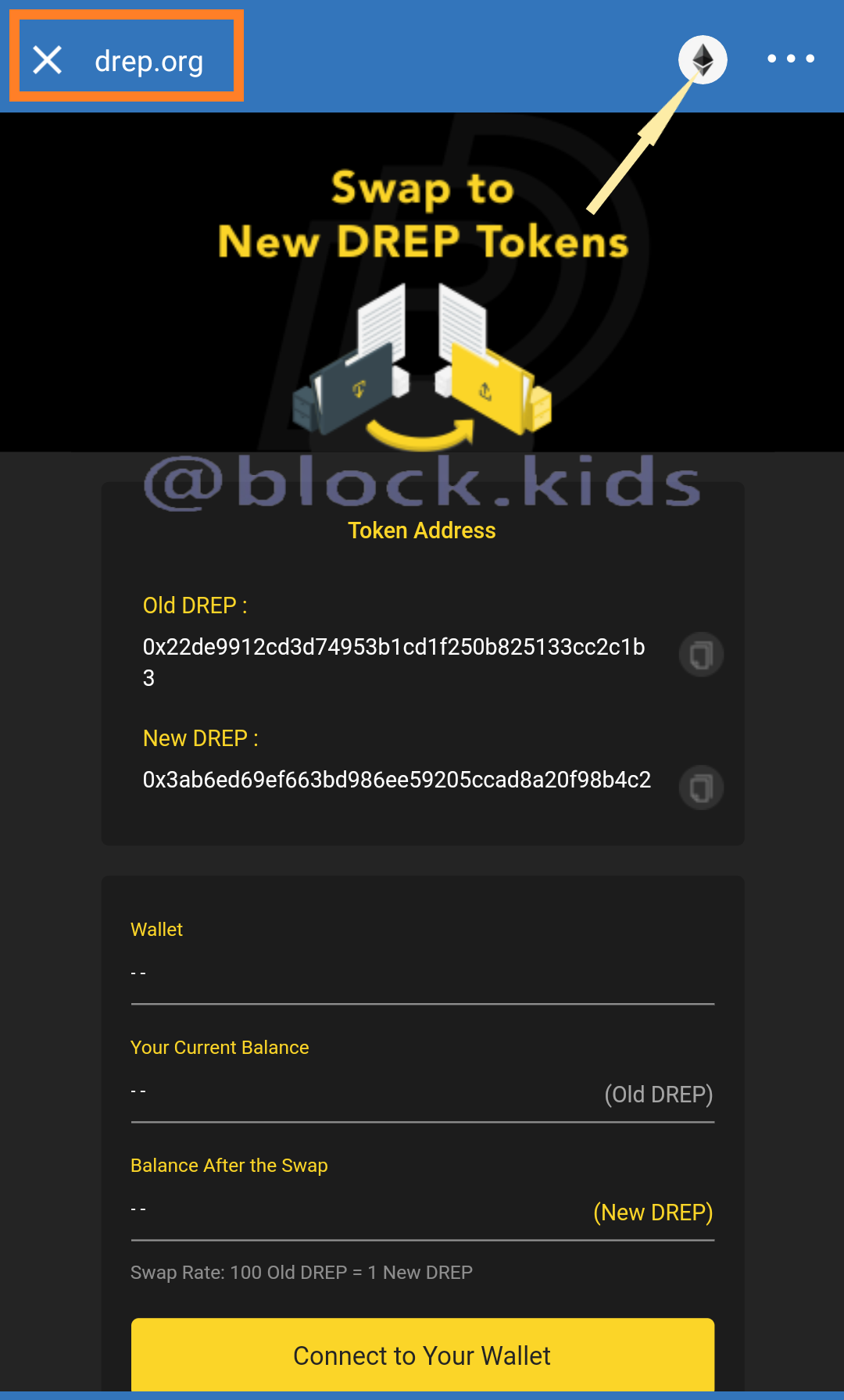 ---
Source :screenshot
---
Step 2
Once you have confirmed your connection to the ETH environment, click on 'Connect to Your Wallet' tab to connect your Trust Wallet.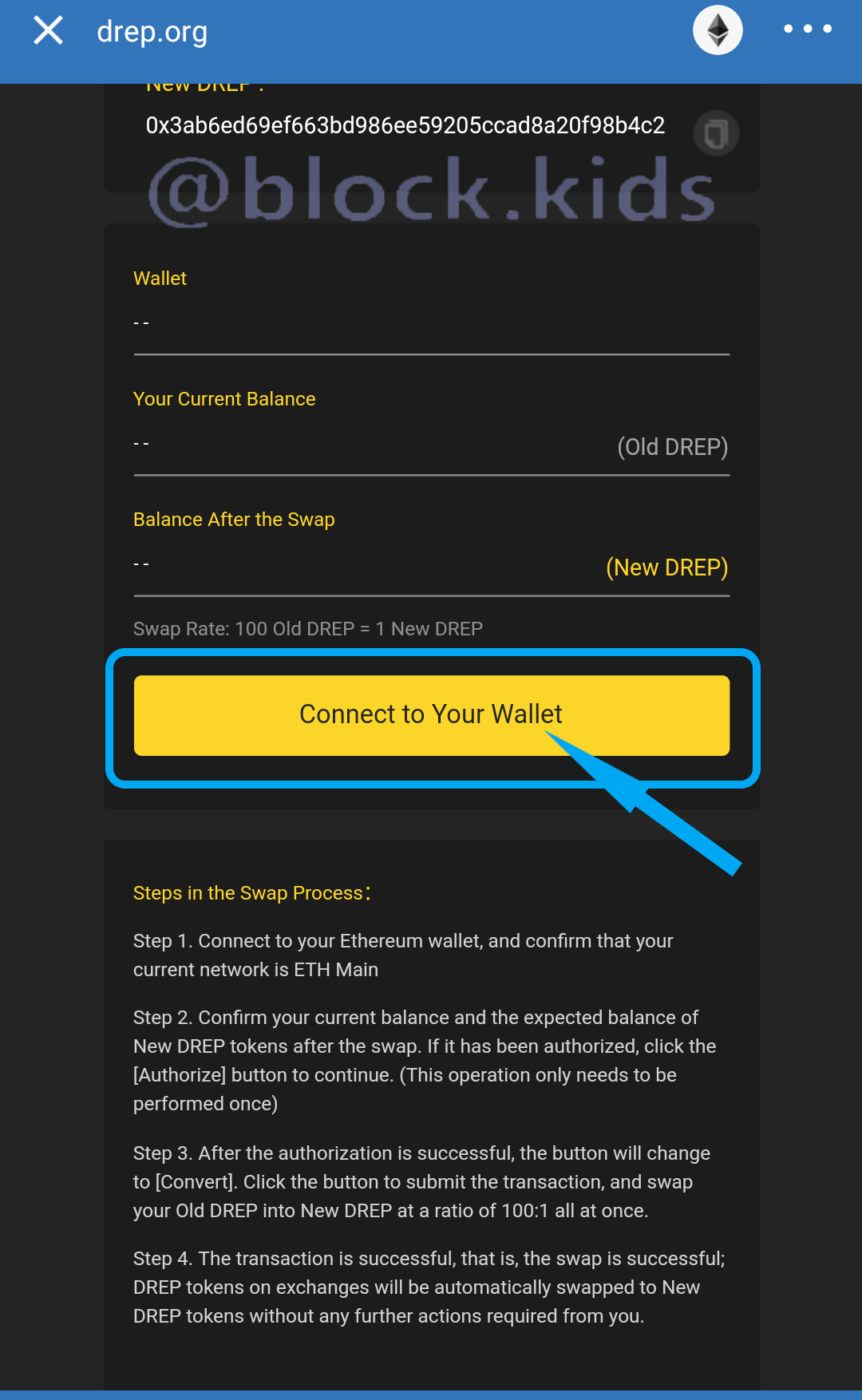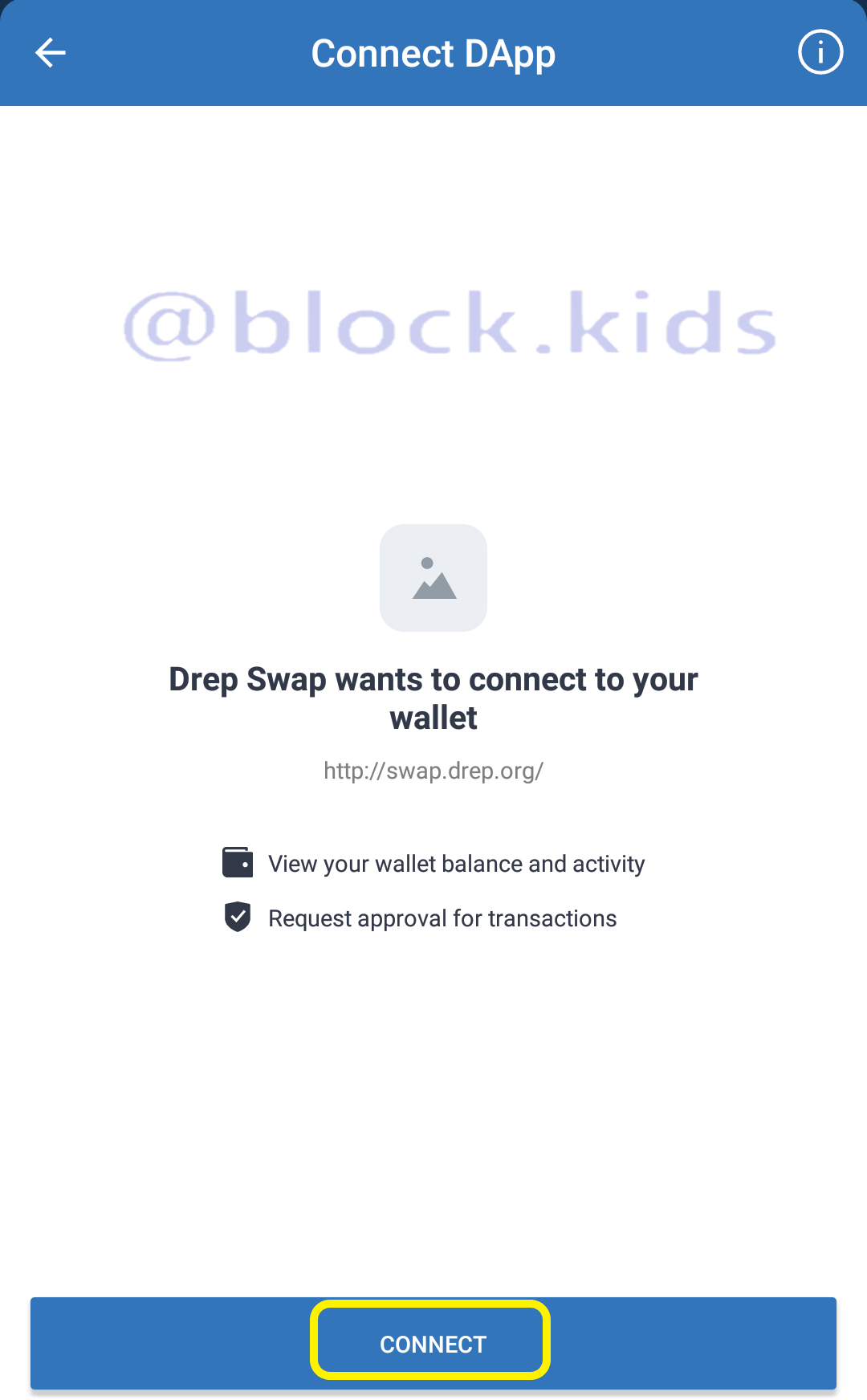 ---
Source :screenshot
---
Step 3
Once the wallet is connected, click on the 'Authorize' tab to validate the wallet connection.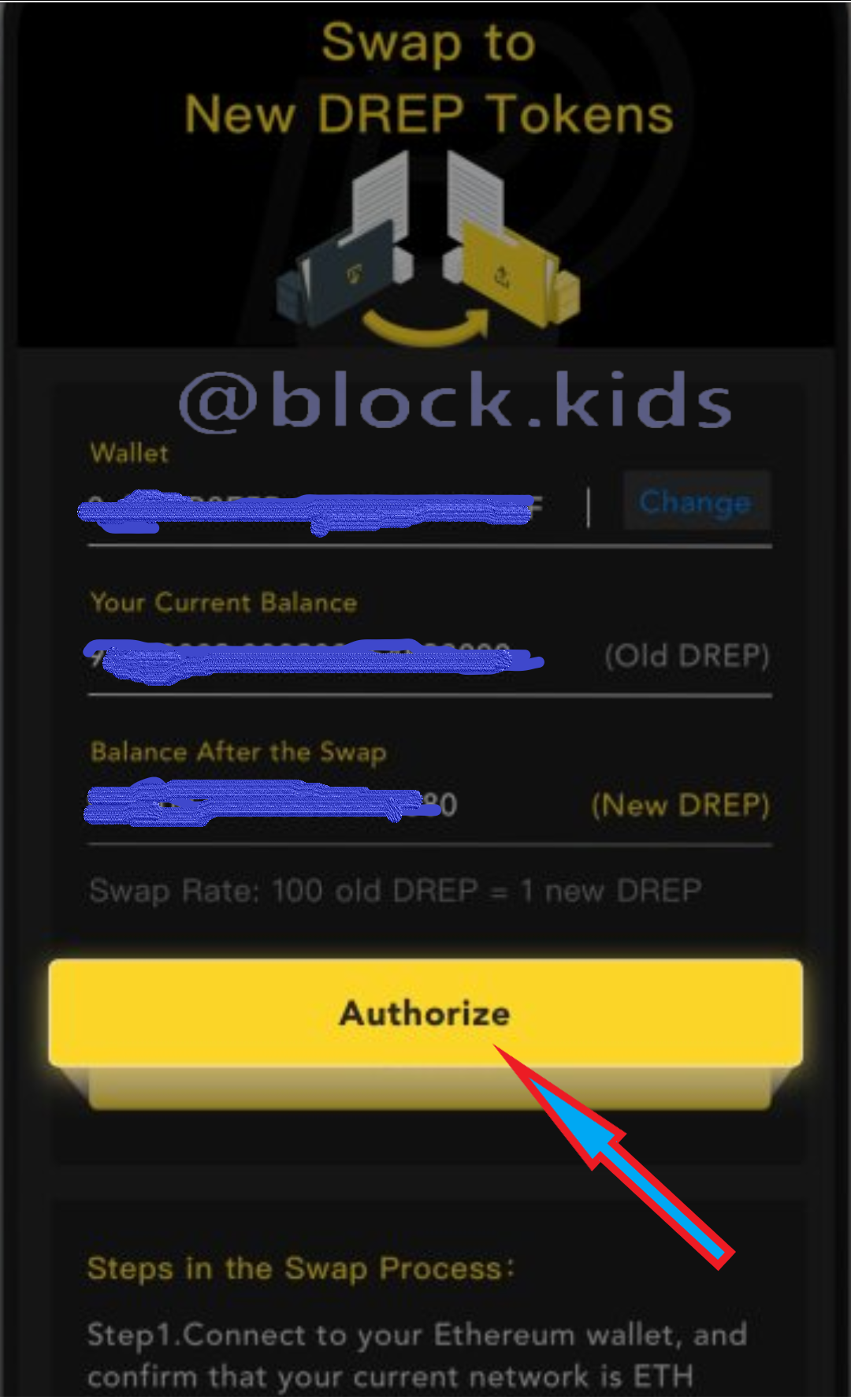 Source :screenshot
---
Step 4
After validating that your authorization is complete, click on the 'Swap' tab to begin converting the old DREP tokens to the new DREP token.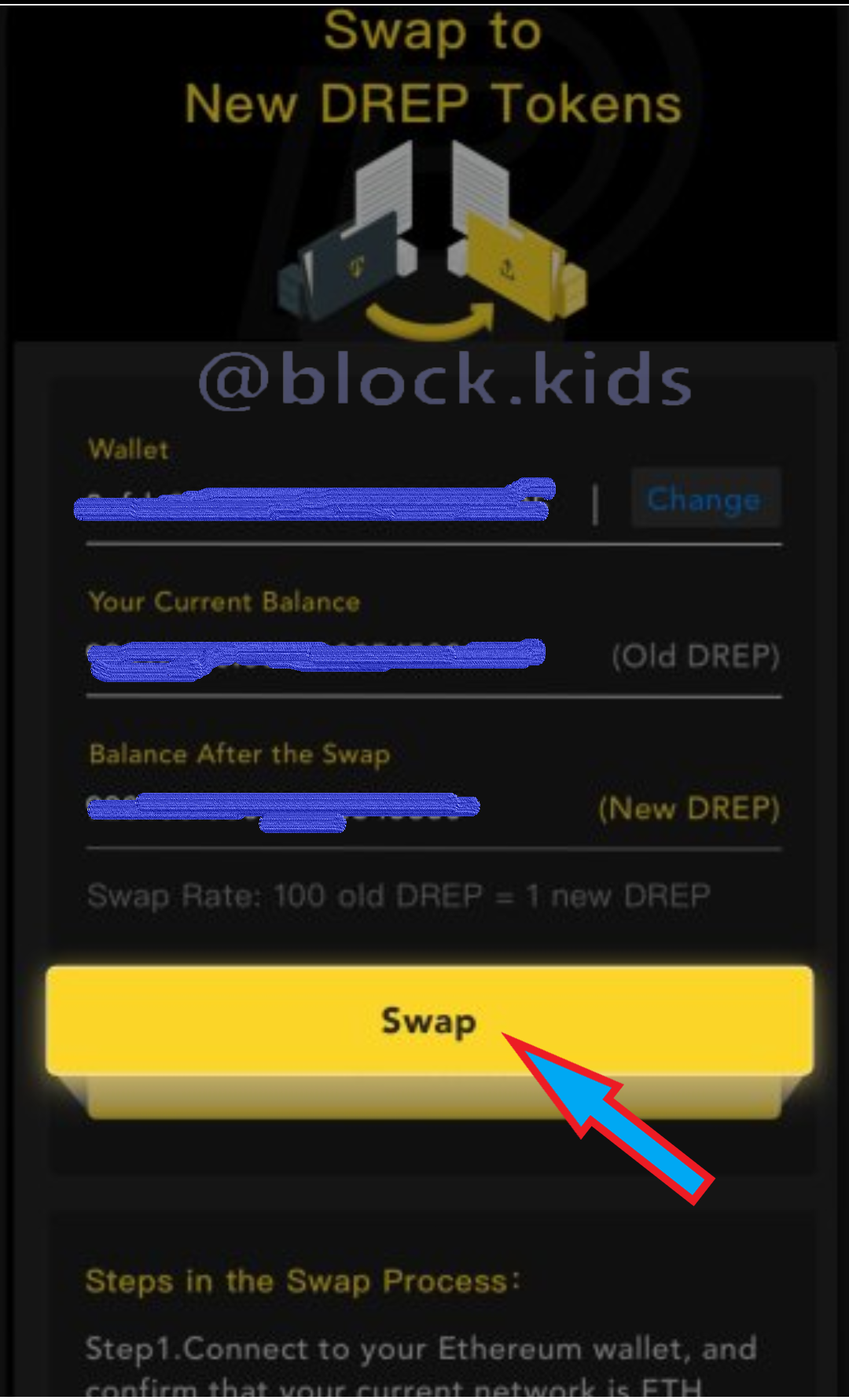 Source :screenshot
---
Step 5
Once the swap process is done , you can now confirm it on your trust wallet by checking yourbalance. however since the redenomination deadline is long overdue there is no screenshot to support this step.
---
Note:
All tokens will be swapped from the old contract address to the new contract address.
Old DREP token contract address: 0x22de9912cd3d74953b1cd1f250b825133cc2c1b3
New DREP Contract address:0x3ab6ed69ef663bd986ee59205ccad8a20f98b4c2

Q5: Analyze whether the token from the project you chose in question number 4 is worth investing in. (Screenshot Required)

The DREP project, launched by Gate.io in 2019 is a decentralized reputation ecosystem based on blockchain technology which creates an avenue for Internet platforms to be able to quantify and monetize reputation value, while improving data security on these platforms.
Developers who subscribe to the DREP project will be able to easily integrate blockchain technology based connectors and toolkits like built-in wallets , asset trading platforms, and public-chain versions of dApps using tools like DREP Client, DREP Software Development Kit ("SDK"), DREP Decentralized ID and DREP Chain.
The DREP token is a deflationary economic model which keeps the ecosystem of the DERP project functional. Primarily, it acts as both a transaction fee and a voting right in the DERP network layer, it also serves as payment and equity certificates in DERP based tools and applications. DERP tokens also acts as pledge assets used for locking up liquidity. In essence the DERP token as high scalability and functionality.
As of the time of this post, The New DERP token was valued at $0.5849 on Coinmarket Cap and has a rank of #710. The token also experienced its 24hr high at $0.5872 and its 24hr low at $0.5308.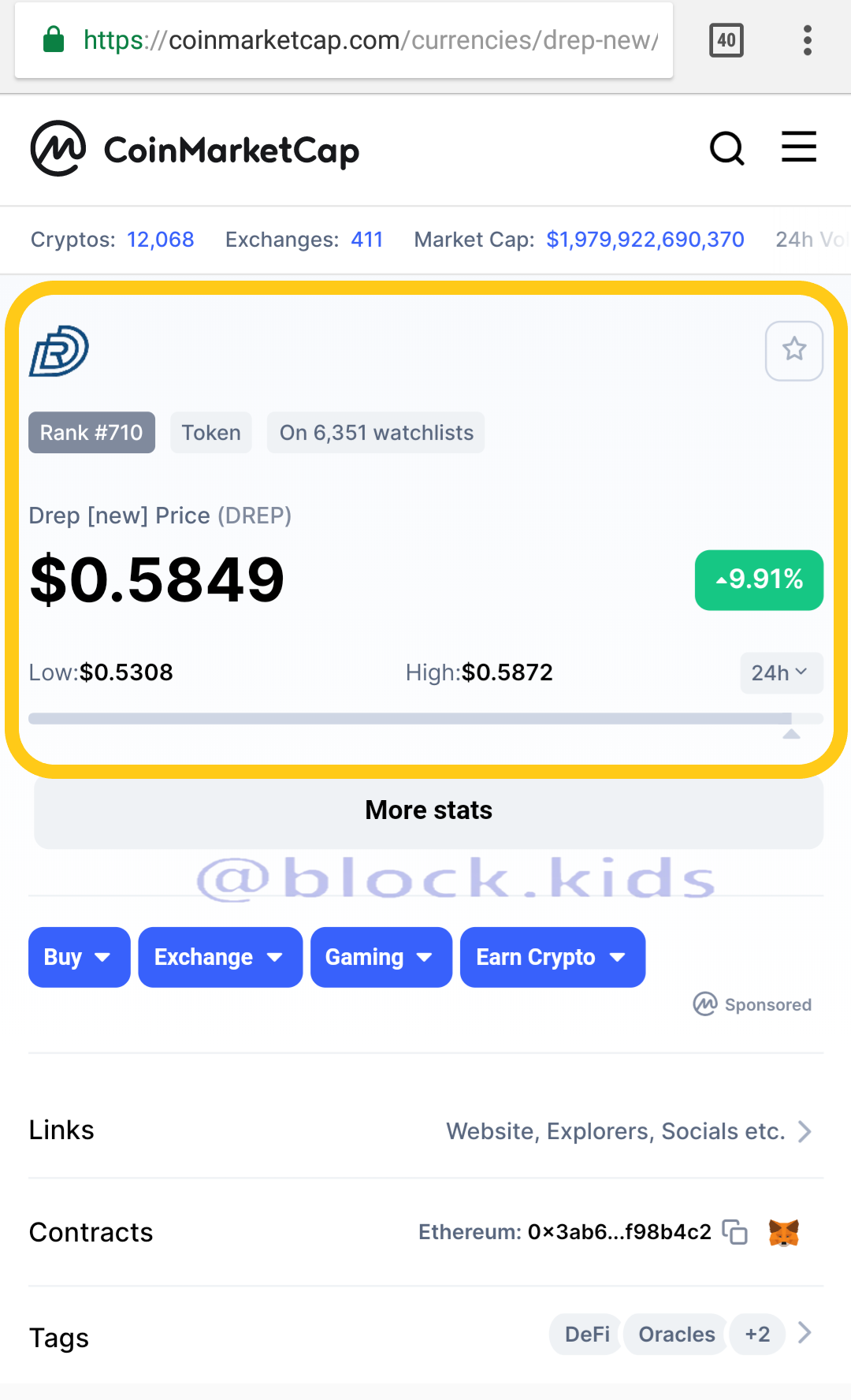 Source :screenshot
The DERP token has a market cap of $23,340,073.57 and has a total fixed supply of 10 billion tokens and with over 2 billon tokens now in circulation.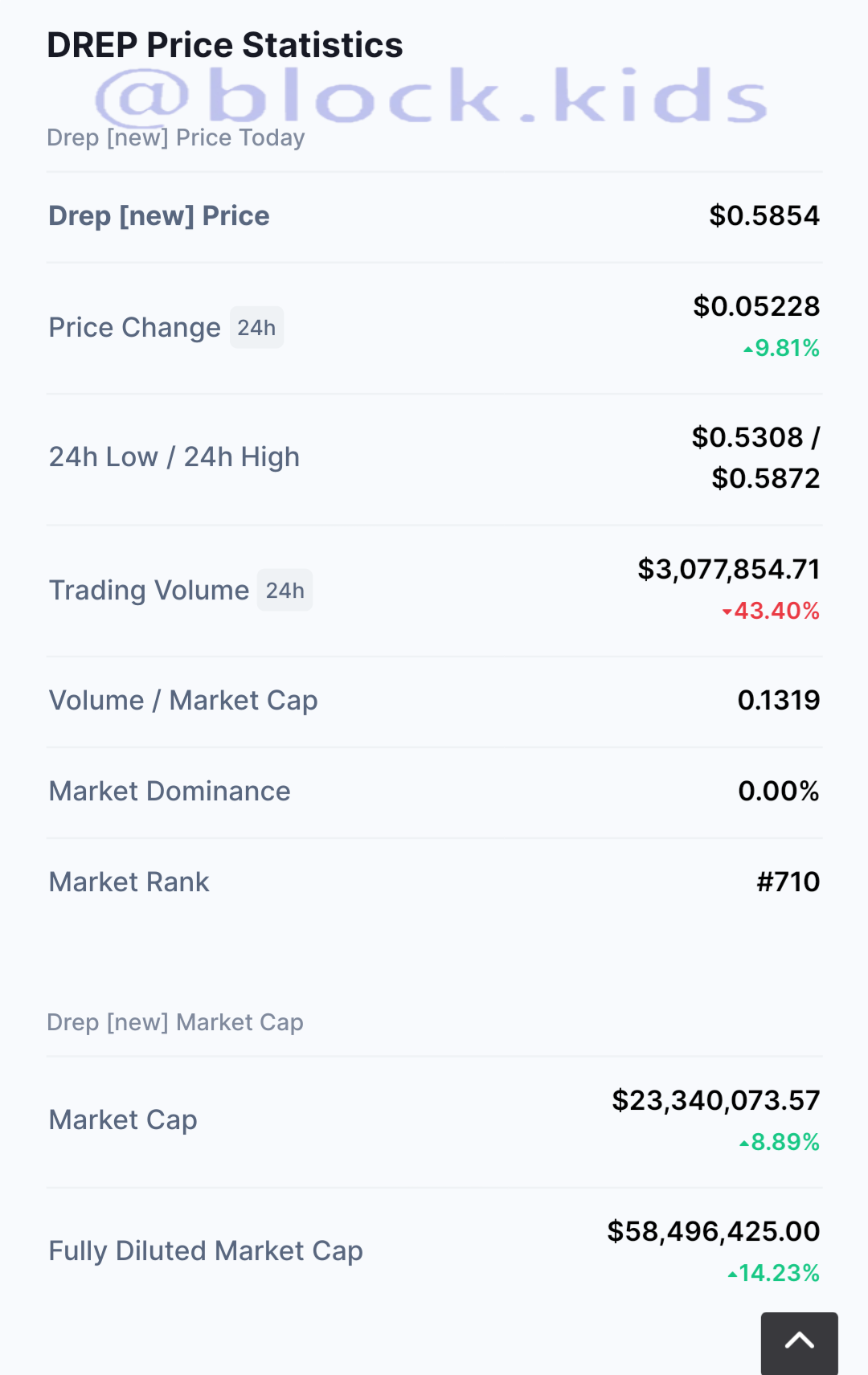 Source :screenshot
The DREP is a worthy Investment option because it has already been listed on so many crypto exchanges including Binance, , Bithumb Global, Gate.io , BitMax, , and Binance DEX .
The DREP project has also partnered with various enterprises in gaming, real estate, financial sector and other industries around the world.
These prove that DREP is a token with great potential and also has a great ecosystem which will help the tokens value gain more value in future

Conclusion

The price value of a token is tied to the success rate of its project, however, if the project becomes too successful it could become economically detrimental to the growth of the project as the token will lose liquidity
Token Redenomination can help solve this economical problem by attracting small sale investors and recreate liquidity within the token's market.
In some rare cases, the process of Token Redenomination can be used to make a token more valuable. Hence Token Redenomination can be used to solve problems relating to inflation, deflation or hyperinflation as it relates to Crypto tokens.
In conclusion, I will like to thank professor wahyunahrul and cryptoacademy for this wonderful opportunity to to take part in this week's activities.
Thank you for reading!