I'm cool to participate in another intriguing homework, by prof
@gbenga
. He broke down the week 7 topic in his lectures and explained in detail for all students to understand defi, cefi, defi ecosystem, and yield farming. All these are enough to give every student insight on how to place their homework. The task given to student goes thus
Write on a Decentralized Finance Ecosystem as well as a Project/Protocol in the Ecosystem.
First, let me explain the little I understand about Defi. (Prof explained deeply)
According to what I understand, Defi means Decentralized Finance. Before, there was nothing like that, but as time went by in the crypto world, Defi was introduced. The famous ones we know are built on the ethereum blockchain. But why was Defi introduced? It was to break central financial intermediaries. Most Defi platforms allow people to borrow, lend, stake and transact easily without any third party involved. Unlike Banks where you need to go through series of channels before your transaction is certified. Defi platforms made it easy to liaise with the platform and get funds easily, and users have complete control over their assets. This takes us to DEX
Dex is a decentralized platform where users manage their funds without any third party poke nosing. Yes, It cut off any intermediary in the system and interact with the user directly. A dex is also like any other traditional exchanges, but the decentralized nature make it stand out because it doesn't operate with any central body, and they operate independently. It supports pair to pair transactions without you knowing whom you are transacting with. That's fantastic isn't it? You can trade with other people anywhere across the world easily without knowing or seeing them. However, you have to connect your cold store device (like trust wallet, ledger, metamask and so on) to use the Dex for anything you want to do. Dex mostly support ERC 20 tokens which are on the Ethereum blockchain. On dex, you can control your private keys unlike the centralized exchanges like Binance, poloniex, Bittrex, coinbase, and so on. Also, you don't need to do any KYC. You don't need to add any of your information before you can use the DEX platforms. I've seen some people especially developers who refused to use the traditional exchanges because they don't want to leave their information online (especially on centralized exchanges. Lol). I use both though butThey prefer DEX to decentralized exchanges. That's one of the advantage DEX have over the other exchanges I mentioned
So let's see a project on the ecosystem
YFI is a yearn finance project created by Andre Conje. This guy has many other defi project to his name, that's why he's called the father of DEFI. Almost all his projects are Defi. Eminence, Keeper finance, Derswap and so on, are the projects he has done
On YFI, you can Earn passive income through staking, yield farming, and so on. People can earn by holding their crypto. That is the idea behind yield finance
The circulation of YFI is limited. The mass supply and circulation is low. That is the intriguing part the marvels me. It's just around 37,000. Most cryptocurrencies are in millions, but YFI is different. Whenever there is a good presence in the ecosystem, (meaning when people hold a lot of the coin) and there is a big transaction, the market would be affected immediately. That's why YFI is seen as one of the most volatile cryptocurrencies. Any trader who knows how to enter a trade at the right point will make a lot of profit on YFI
Below is the YFI platform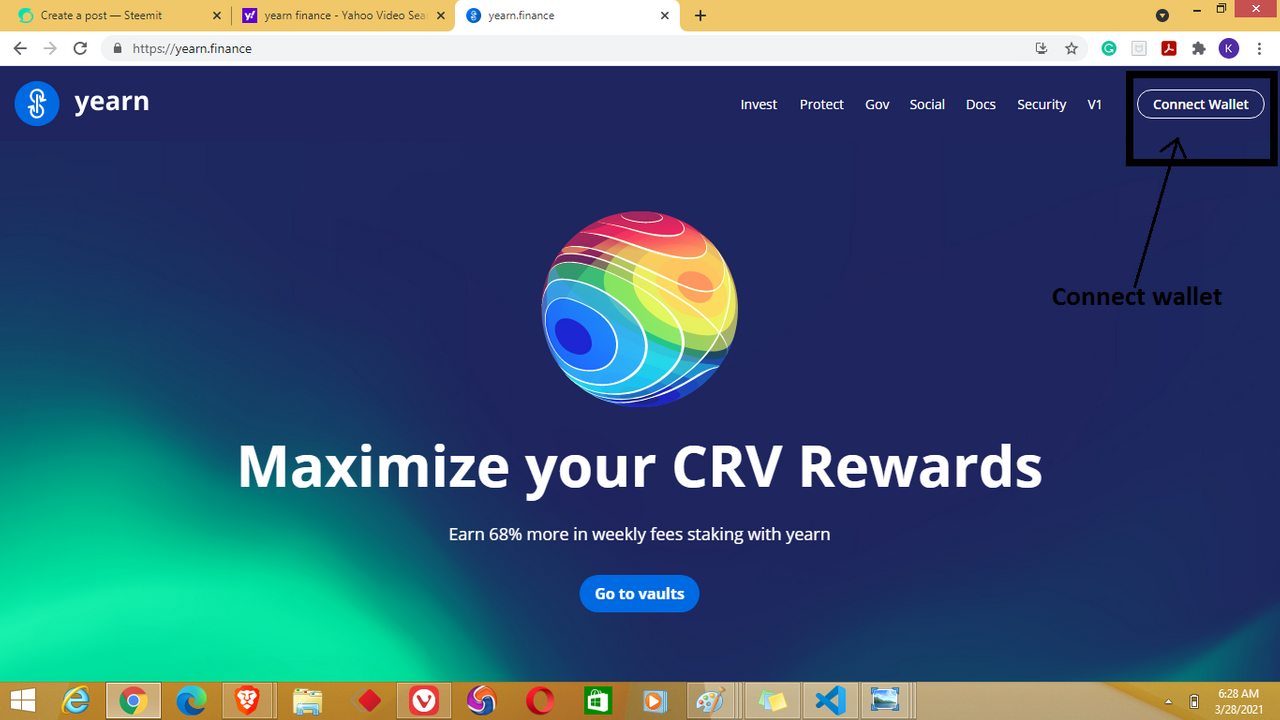 As mentioned, every user need to connect their wallet to use the platform. You can use trust wallet, metamask, ledger, trezor and so on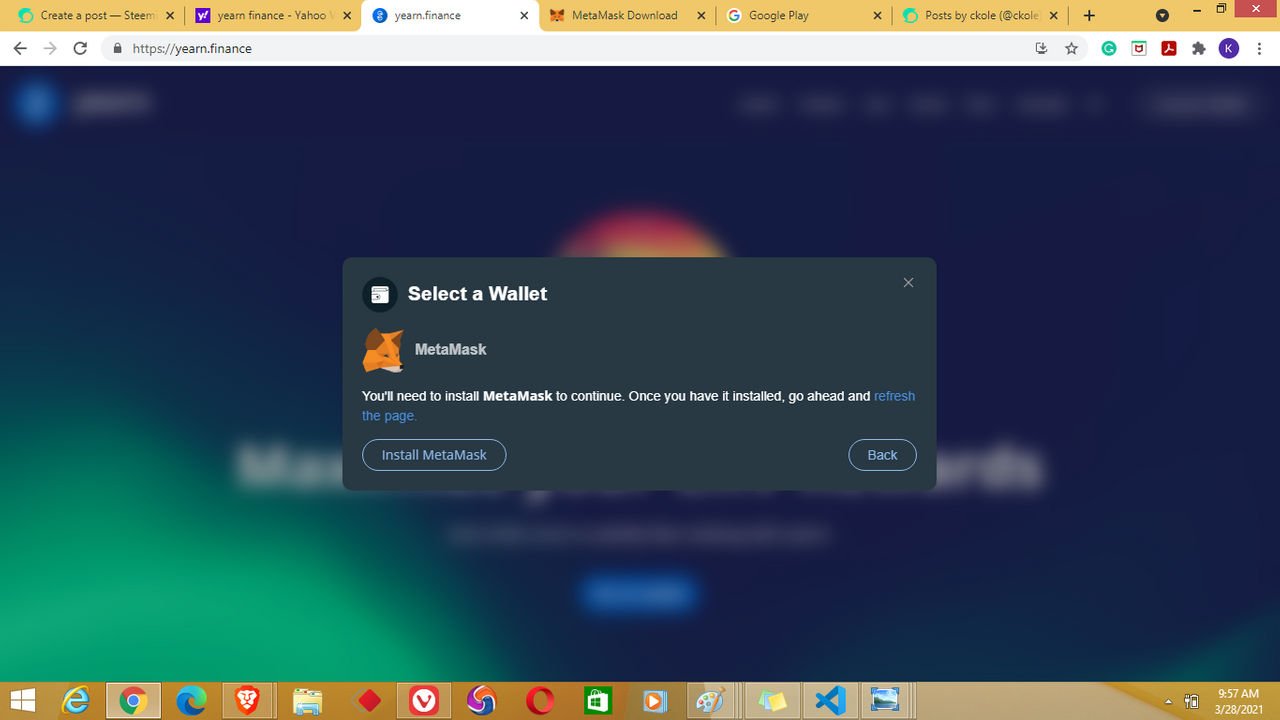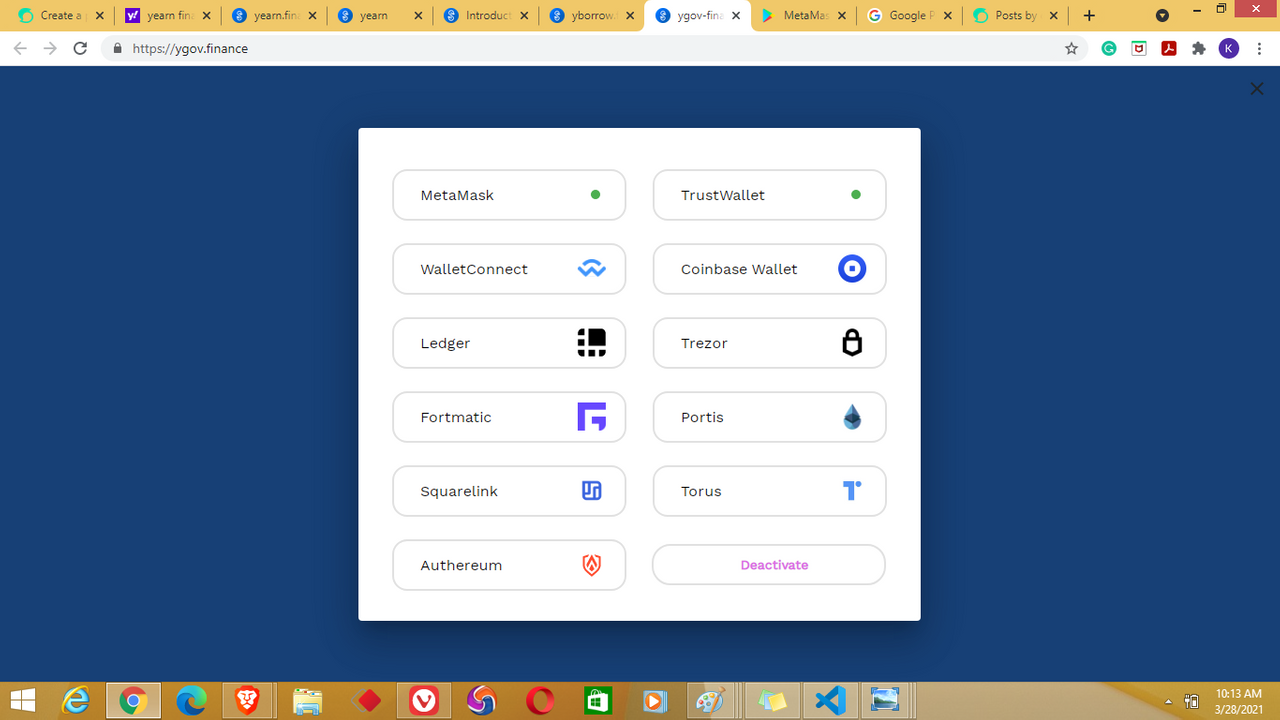 Above are the supported apps that relates with YFI.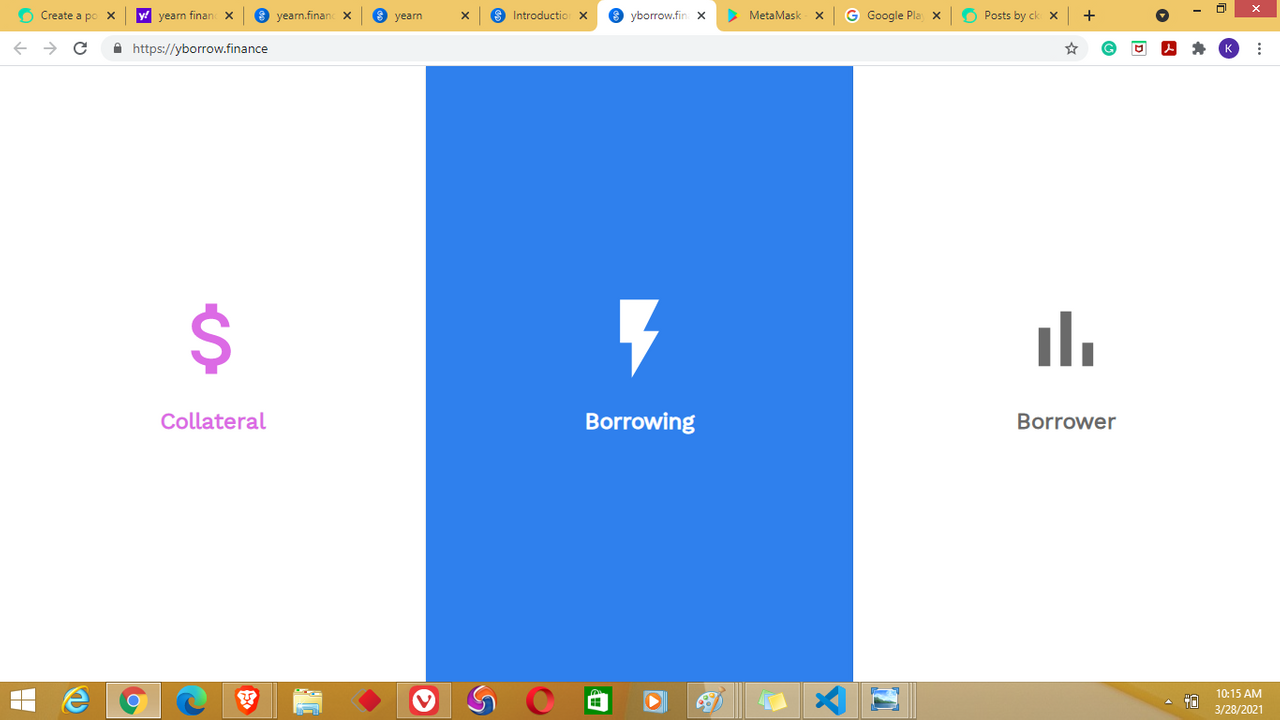 This great project provides a lending aggregation, and it's governed by holders of the token, though maintained by the developers, which is normal in every project
On YFI, users can earn by depositing fund to some lending aggregators like AAVE, dYdX. (When I first saw dydx, I remembered calculus, but this one is a margin trading platform built on ethereum). Margin in crypto talks about borrowing fund to trade, and dropping collateral, which is also crypto most times
Users deposit stable coins like DAI, USDT, and USDC to optimize yield, and they can switch between different lending protocols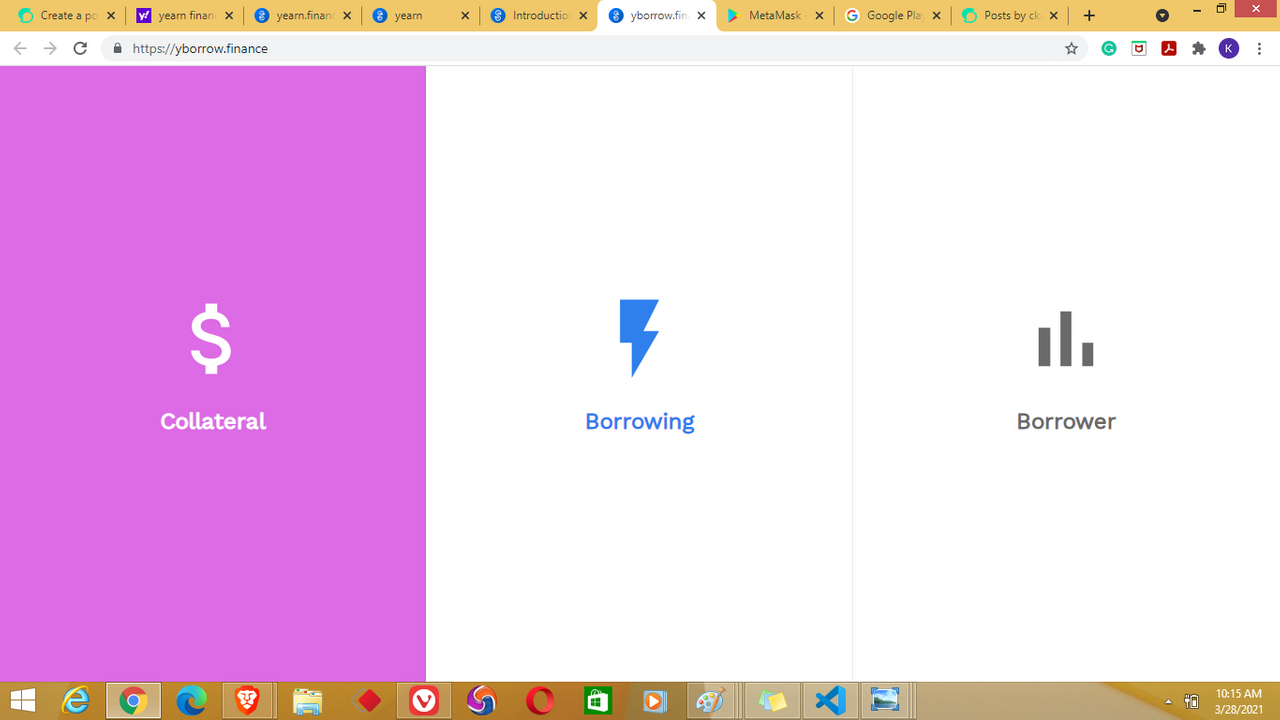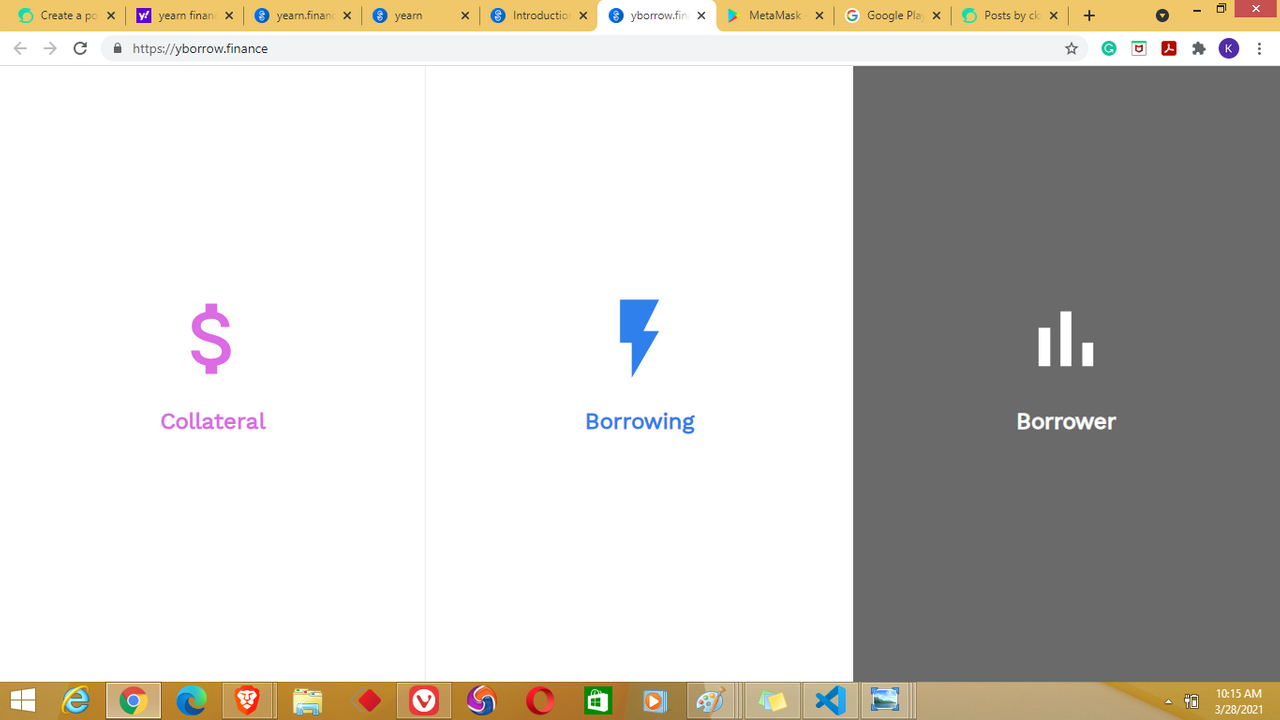 You can join the forums below yo get more info and guidiance.
Telegram https://t.me/yearnfinance
Governance Forum https://gov.yearn.finance/
Reddit https://www.reddit.com/r/yearn_finance/
Discord http://discord.yearn.finance
In conclusion, Decentralized exchanges has come to barricade third party in every transaction made on it. It has given users opportunity to lend, borrow, stake, and make profit. It solved some of the problems the traditional exchanges could not. Are we going to have something advanced than DeX, Defi projects in the crypto world? Let's keep our fingers crossed as we advance
Thanks to prof
@gbenga
for taking us through a lot on this wonderful topic
Thanks for reading
All images were taken from my PC
CC