Assalam o Alaikum (Hello) to all of you amazing steemians!
Greetings and best wishes from my side to all of you.
It's my homework post for Professor @yousafharoonkhan for week number 5. I hope it will be up to the expectations. Professor @yousafharoonkhan has taught very well this week too in his lecture like every week. Let's get it started.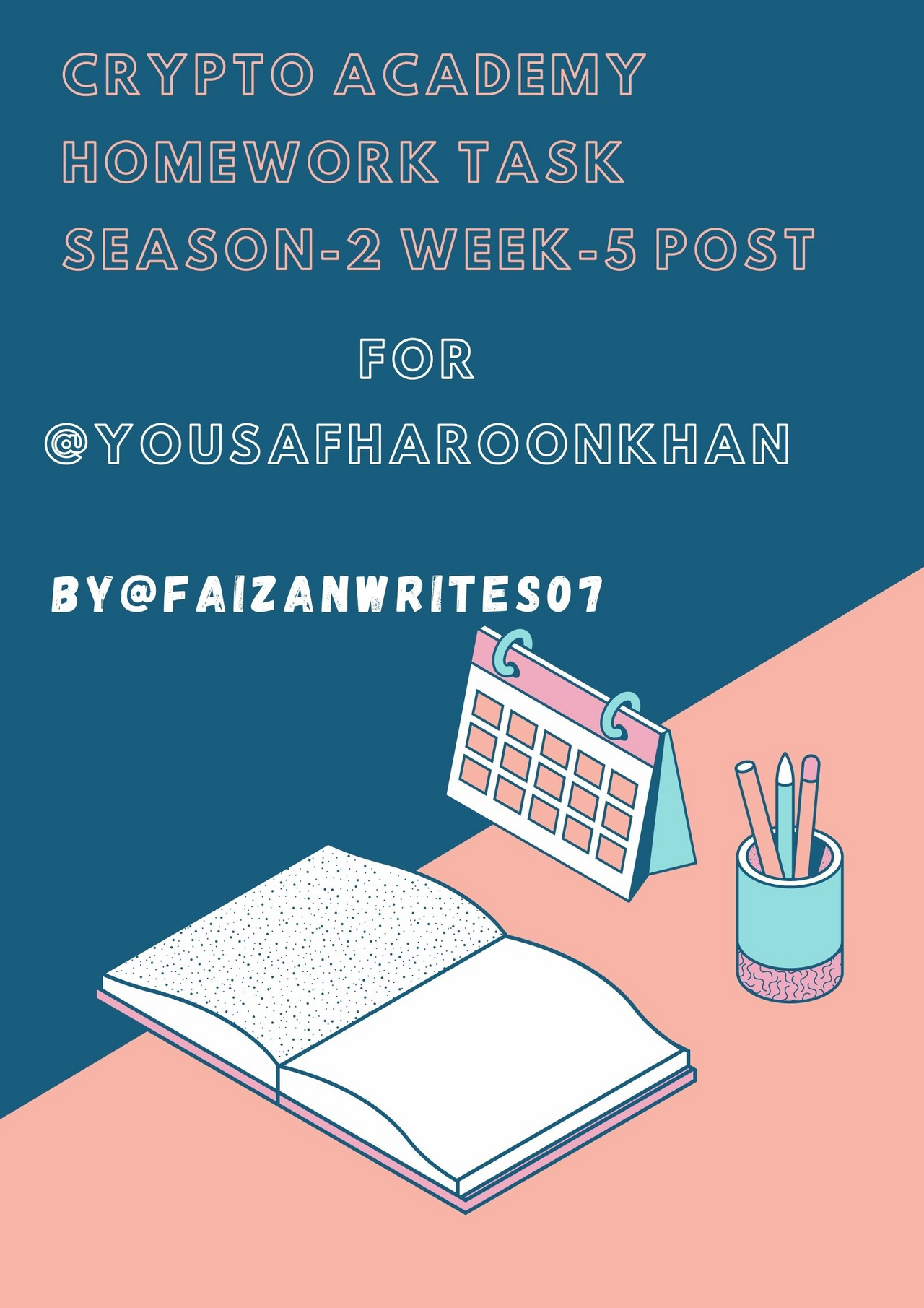 "Edited in Canva.com"
Question-1: Part-1:
Write the definition of Decentralized and Centralized Social Media Platforms in your own words.
Answer:
In today's world, social media has its own importance and every single person uses it at least once a day to update his/her social life statuses or just for information sharing or awareness. Here are two types of social media platforms named centralized and Decentralized, Let's define and then discuss them in detail.
Centralized Social Media Platforms:
As its name refers, it means those social media platforms which work under a central authority. It means the Owner or board members or Board of directors are in full control of the platform, it means they have their own community guidelines or policies which can only be changed, removed, or altered by them, and the end-user has very limited control over his account. In a centralized Social media platform, the end-user has been controlled by a third party which is obviously non-other than the central party to the platform. Centralized social media platforms include Instagram, Facebook, and Twitter, etc.
Facebook is a centralized Social media platform which is owned by Mark Zuckerberg. He is the CEO, founder, and chairman of Facebook and he can do anything about his social media platform without any interference from any user. But government can direct them and supervise them if they want to, it is only done if the data is used for any political purpose, etc. In cases like this government can ban these platforms or refrain them from certain activities.

Decentralized Social Media Platforms:
Decentralized Social media platforms are exact opposites of the centralized social media platforms because in decentralized platforms there is no central authority who can control any user's activities which enables the user to have full control over their activities without any third-party interferences. In decentralized social media platforms, there are no real-time employees and mostly they are based on blockchain technology. which gives the user full authority to post anything they want to without any external pressure or threat to get suspended or banned and the user's data will always be in control of that specific user and no one can use that his consent. Decentralized social media platforms include Steemit, sola, and minds, etc.
Steemit is a very good example of a decentralized social media platform, which is based on blockchain technology where the user's data is always secured and remains in control of the user only. There are no restrictions on users in steemit about the contents and account. along that steemit also rewards its users for quality and creative content which is another good thing for users.
Part-2:
Explain in your own words the difference between decentralization and centralization Social Media Platforms (answer should related Social Media Platforms:

Explanation: I'll explain the difference between these two in tabular form:
Centralized Social Media Platform
Decentralized Social Media Platform
Limited control of users over their account
Full control by users over their account
Third-party Interference
No third party Interference
less secured platform
highly secured platform
Easy to use user interface
Very complex user interface
---
Question-2:
Which One is The Future of Social media? Decentralized or centralized Social media?
Answer:

In my personnel opinion, Decentralized social media platforms are the future of social media because of so many reasons. I will try to explain as many reasons as I can to explain why is decentralized social media the future.
The first reason is that a decentralized social media platform is secured and your account is in full control of yours, which is not the case in centralized social media.
The second reason is that In decentralized social media your account can not be blocked, suspended for any minor reason but in centralized social media your account can be suspended anytime even for any suspected post or content which might have not violated any rules.
The third reason is no government involvement in decentralized while they have so much interference in centralized social media platforms and can use their data for any political purposes if they want.
The fourth reason is in centralized social media it is very rare to get rewarded for your precious contents while in decentralized your efforts, time and works are highly appreciated and rewarded. etc
---
Question-3:
How steemit decentralization social media is best than Twitter and Facebook?

Answer:
In my personnel opinion, Steemit is quite better than Twitter and Facebook in many ways. I'll try to explain it in my own simple words to let you understand my opinion on both of these platforms against decentralized social media platforms.
In centralized social media like Facebook and Twitter, your account can be suspended, blocked without any reason, which will make you start again from the start if you want to continue using that platform because the account recovery rate is very low but in decentralized social media platform like steemit you account will never be suspended or blocked and you can use it anytime and even after a long time if you had a break.
In centralized social media like Facebook and Twitter repetitive contents is shared by any user, which means hundreds and thousands of users can share a single piece of content from their own accounts which make the original author or owner of the content disappeared from the scene and many other takes advantages of his work BUT in decentralized social media like steemit you can not copy any other users work, which is a very good step and it stops plagiarism and helps the original creator of the content gets his rewards.
Facebook and Twitter have very less secured servers as compared to decentralized social media like steemit, which allows hackers to hack your accounts and use them for their own purposes by using your name and identity, which is highly threatening in serious situations.
---
Question-4:
What do you say? How do Steemit social media change the lives of millions of its users?

Answer:
Steemit has changed the world of many users and still going to change the lives of millions and billions more. I am one of them too, Steemit has changed my personnel life too which is still like a dream becoming true for me. Let me start with simple things, Like billions of other centralized social media users I have using my Facebook and Twitter, and Instagram for almost a decade now but even after sharing quality contents I never get rewarded other than praised by getting comments of appreciations but in steemit I have been rewarded with cryptocurrency along with praises in comments like in other centralized social media platforms.
Steemit has changed the lives of many users because so many users like me have so much talent and skills to create quality content but they didn't have any platform before steemit to get a reward for that. If they have shared it on Facebook or Twitter they only received praising comments like as I said earlier and nothing more. But in steemit they have done it as a full-time job and they are showcasing their skills and talents as well as earning handsome amount every week for their quality contents.
And yes, If anyone does not have any skill, steemit also trying to teach them skills through steemit crypto academy where they can learn and then trade in cryptocurrency and earn well for their living.
Unlike Facebook and Twitter which has no real worth of their work there, Steemit has played a very vital role in making millions of lives Independent financially and now they are earning enough to run their household expenses very easily. And if they were using Facebook and Twitter then they might have got nothing but only praising comments.
---
Question-5
How can we make money with Steemit's decentralized social media?

Answer:
Earning money with steemit is one of the easy money anyone can earn. One can make money from steemit in many ways but in my own opinion if he/she has the skill to write or capture good photographs they can earn good money from using steemit. Because if you can write well or your writing skills is well furnished then your work will attract the reader's eyes to read it and it'll be rewarded by the curators if it is worth rewarding by giving an upvote on your post along with the upvotes by other users too.
Steemit has various communities, in which you can find a community of your interest and start working there to attract the readers and get upvotes. If you are a newcomer, there is a community for newcomers in which you have to introduce yourselves before starting working on steemit, and guess what you will be rewarded on your introduction post too which makes steemit a very interesting platform to work on and earn good money.
If you have cooking interests and have unique recipes then you can share them by cooking them and share its full procedure in a community of "Steemitfoods" and you'll be rewarded according to the worth of your content.
if you have an interest in sports then you can post in sports related communities and earn a very handsome amount of money.
Other than that, you can trade steems and earn good money from there too.
---
Question-6:
How to create communities on Steemit social media ( practicle step by step ) & Promote your homework post on two social media ,twitter and facebook.
Answer:

For creating a community in Steemit you have to follow the following steps:
Step-1:
First of all, you have to click on the steemit Home button to get started.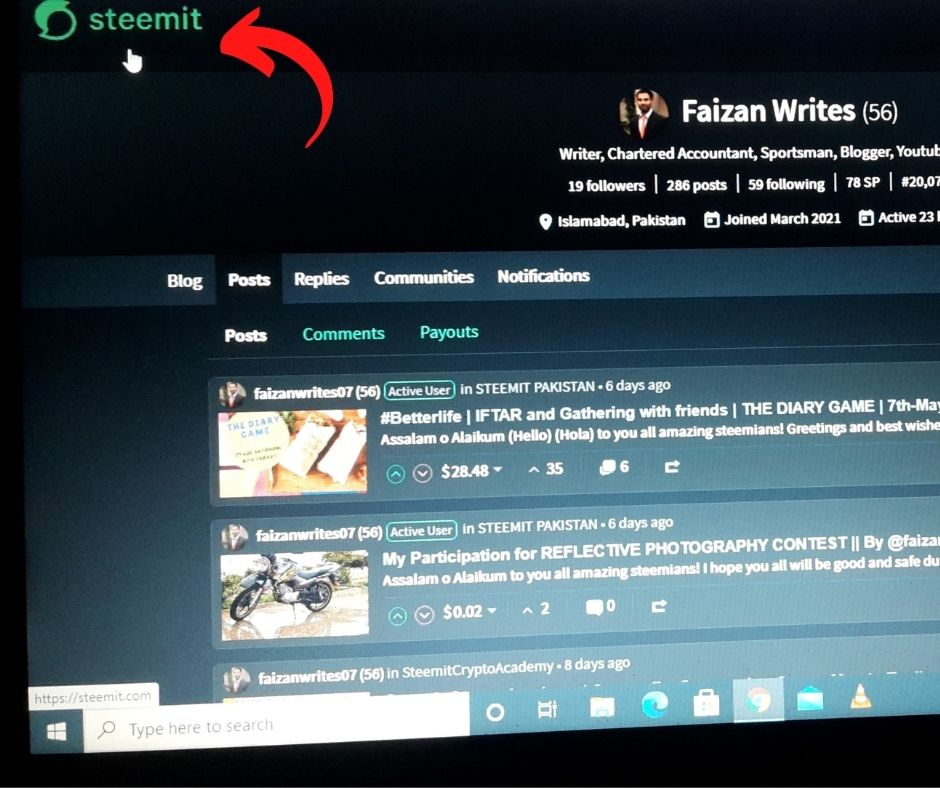 Step-2:
After that click on the explore communities down the arrow on the right side to open another window.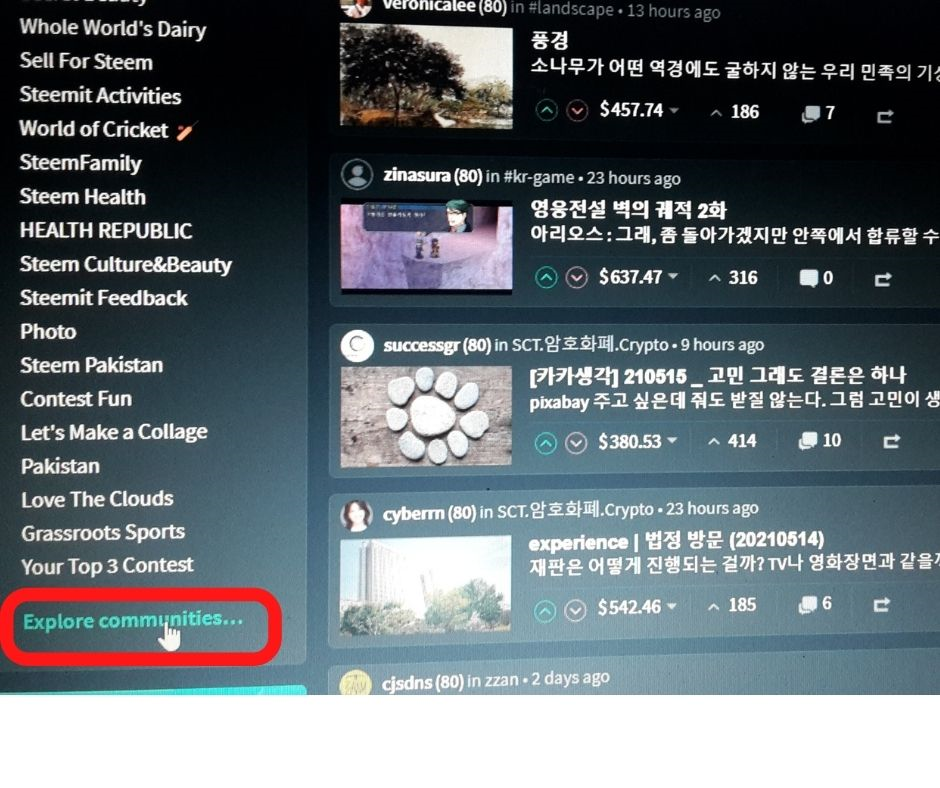 Step-3:
Now click on the create community to create a new community of your choice.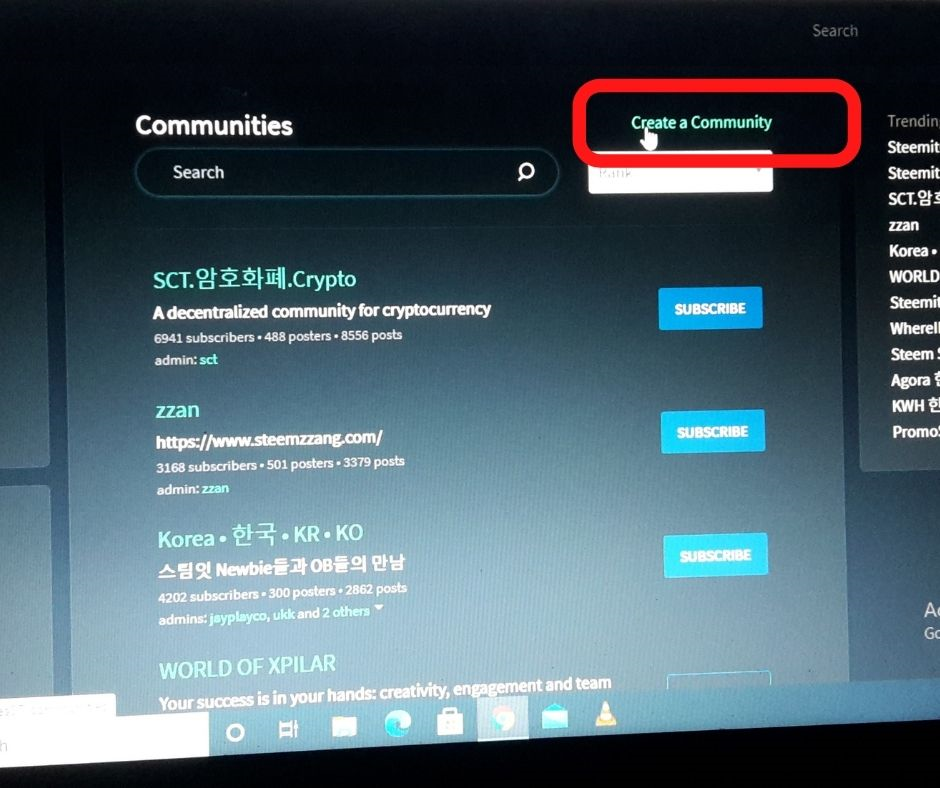 Step-4:
Now after opening the new window, fill both of the places provided.
In "Title" you have to write about the name of your community and in the "About" you have to write a short description about your community and click next to proceed.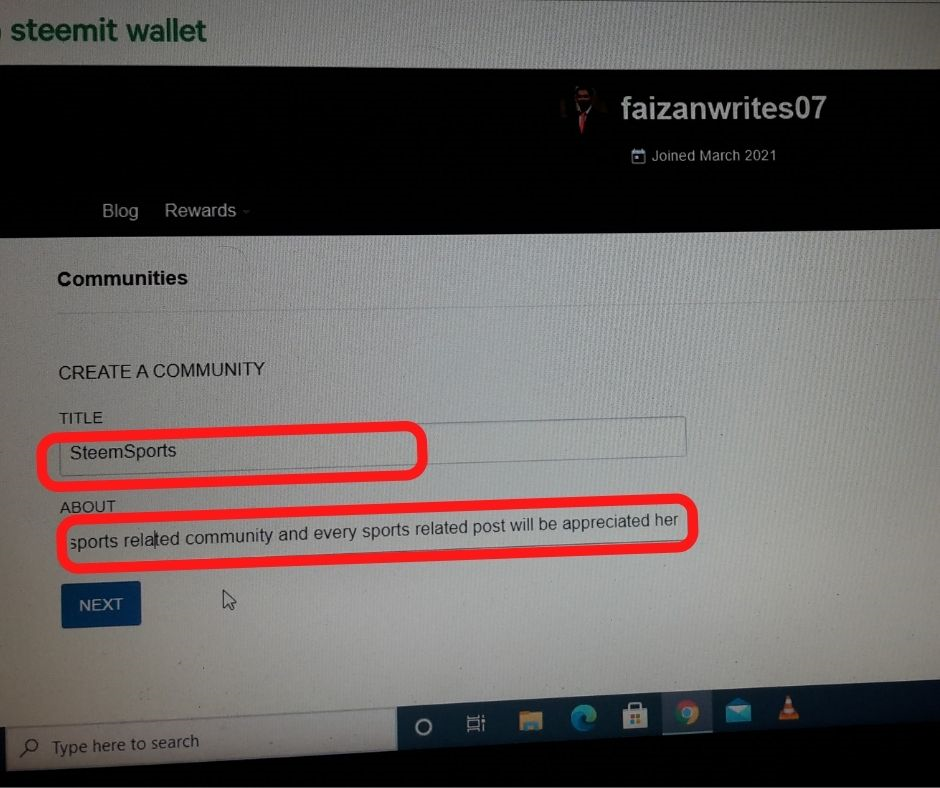 Step-5:
Now you will be provided with your Owner's Name and Password. After saving your password in a secured area, accept the option provide and click create a community to proceed further with the process.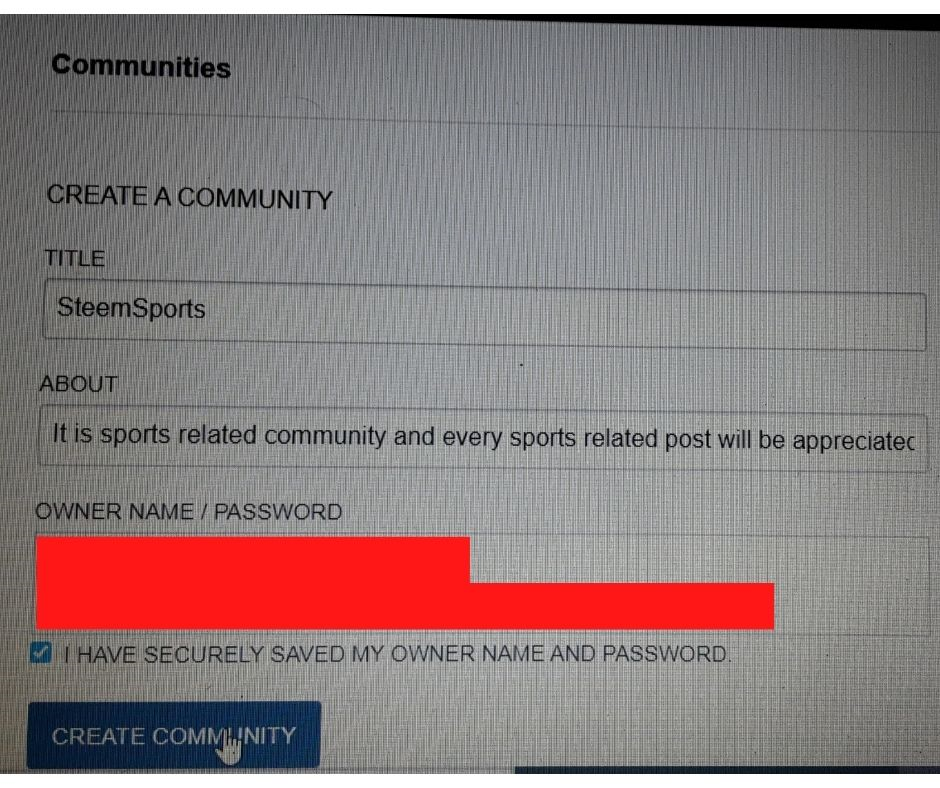 Step-6:
Now you will have to pay 3 STEEMS to proceed. Click on the "OK" to proceed.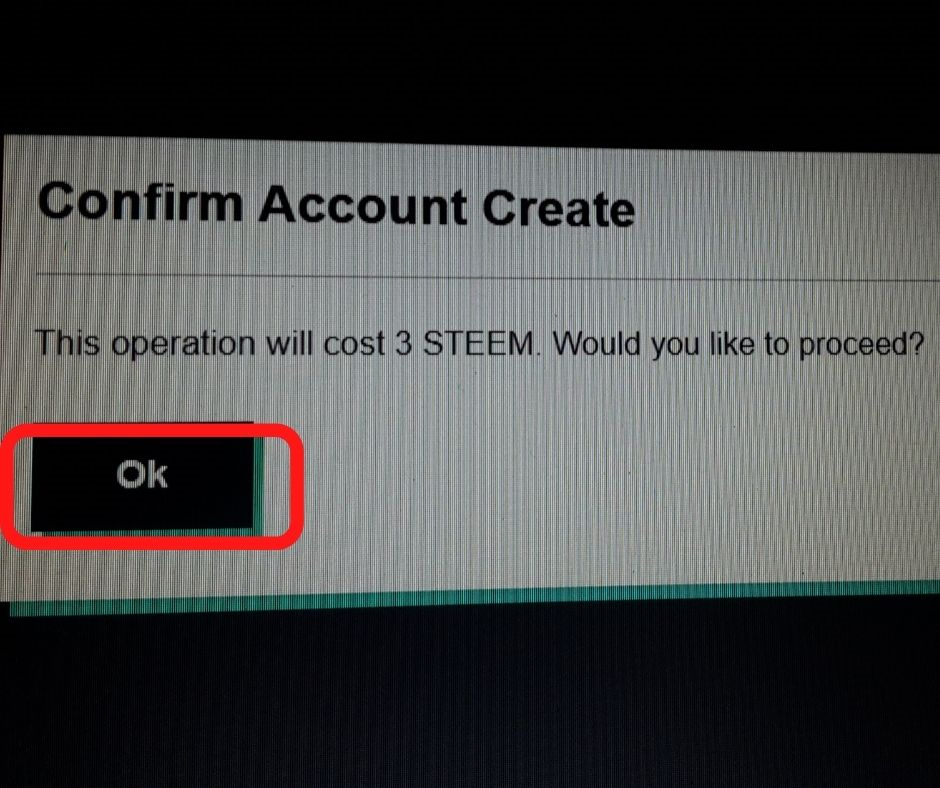 Step-7:
After signing in with the wallet key, press sign in.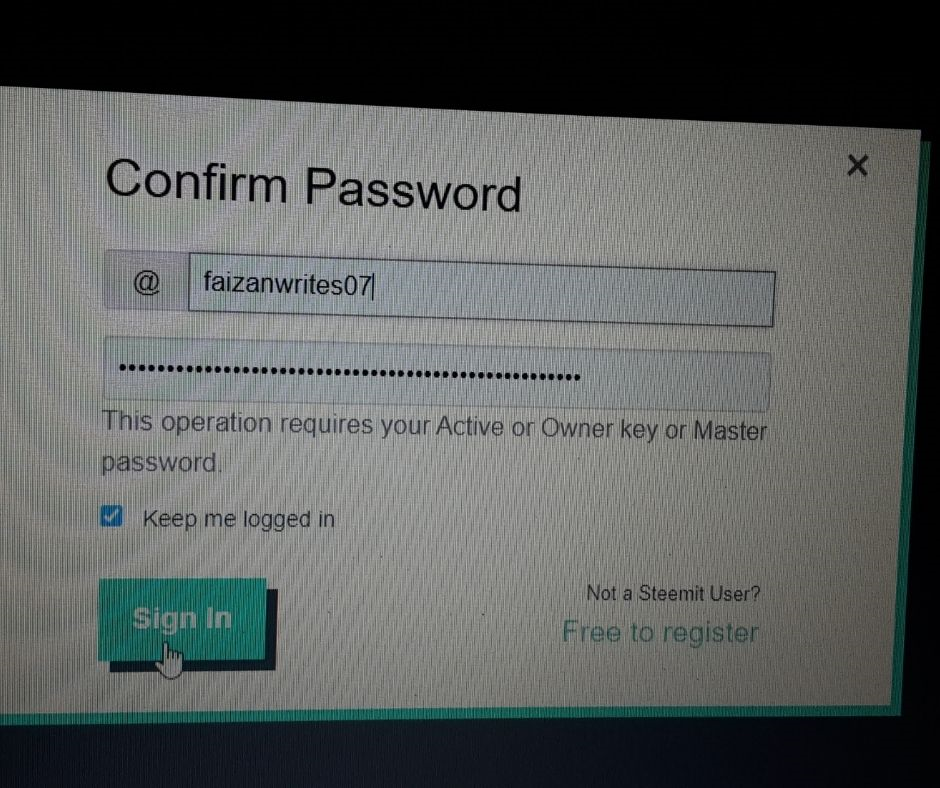 Step-8:
Now click "Get started".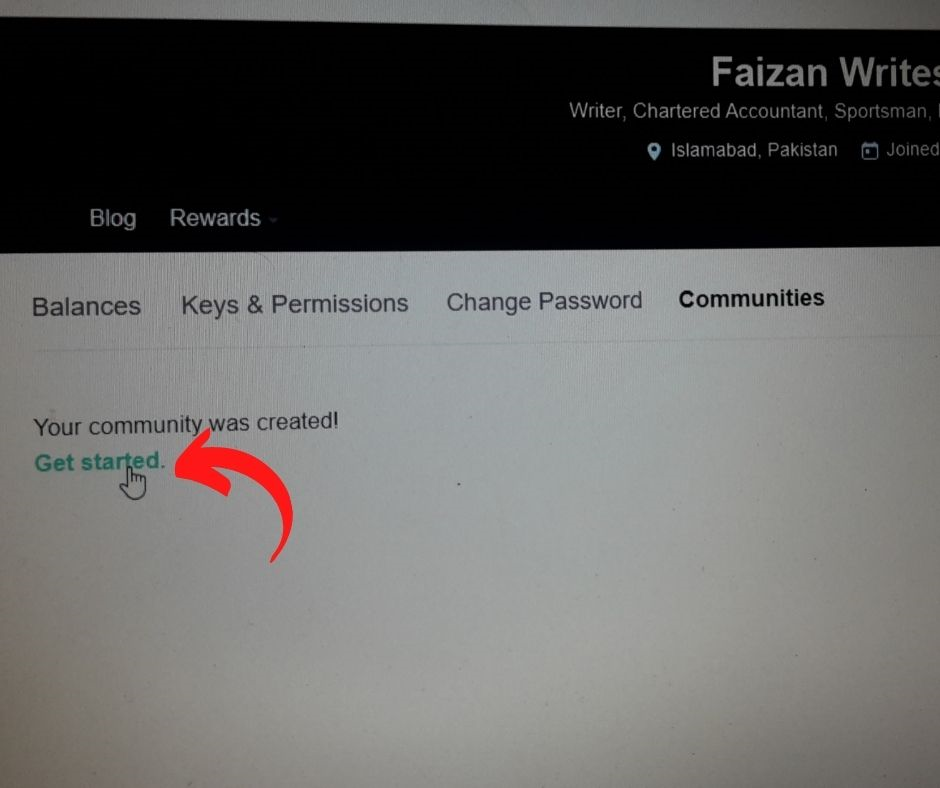 Step-9:
and here is your new community.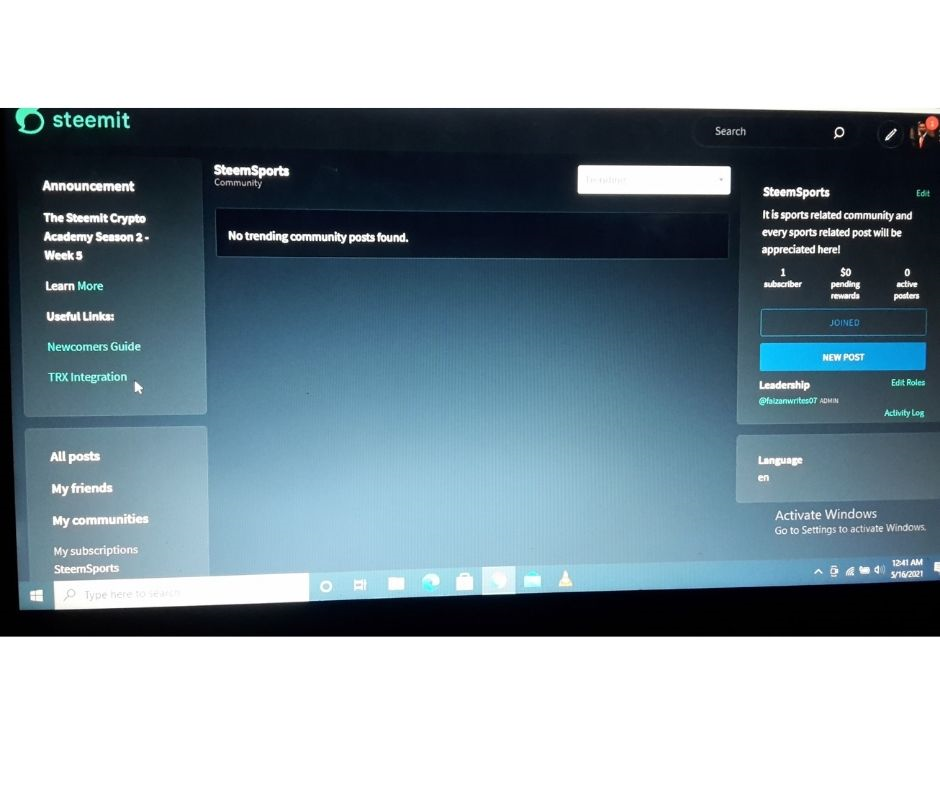 ---
Conclusive lines would be only this that we should promote steemit with all our friends and families and especially those people who want to get paid for their quality contents as it will be the future and no one will be using centralized social media for no reason and other than just wasting their time and getting nothing in reward.
---
Link of share in Twitter:
Link of share on Facebook:
---
Thank you so much steemit and Professors for your amazing and informative lectures!
Regards: