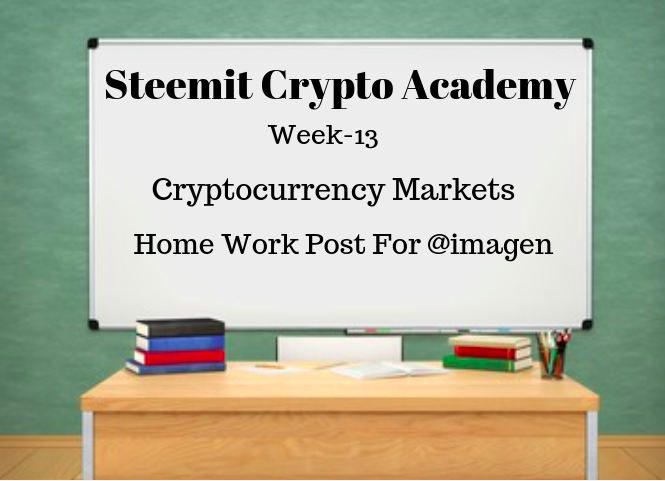 ---
Hi, friends hope you all are fine, I just completed the lecture post by professor @imagen, and learn about dominance in crypto and how the market will behave when we see high price in BTC and learned about altcoin season in-depth.
---
Dominance in the world of cryptocurrencies.
---
Dominance in simple word we can say that one thing or person has power or influence over other, as we have seen in crypto market Bitcoin(BTC) have dominance than altcoins because of many reasons, one of them are Bitcoin is very first cryptocurrency others have followed concepts of Bitcoin and added some additional things.
Other projects like Ethereum(ETH), Binance(BNB), and Ripple(XRP) are coming after Bitcoin, they have strong projects and getting a higher market cap on a daily basis.
Binance(BNB) has taken over the market in just a few months, they are just making things simple and take fewer transaction fees do we have seen rapid changes in the price of the Binance(BNB) token.
---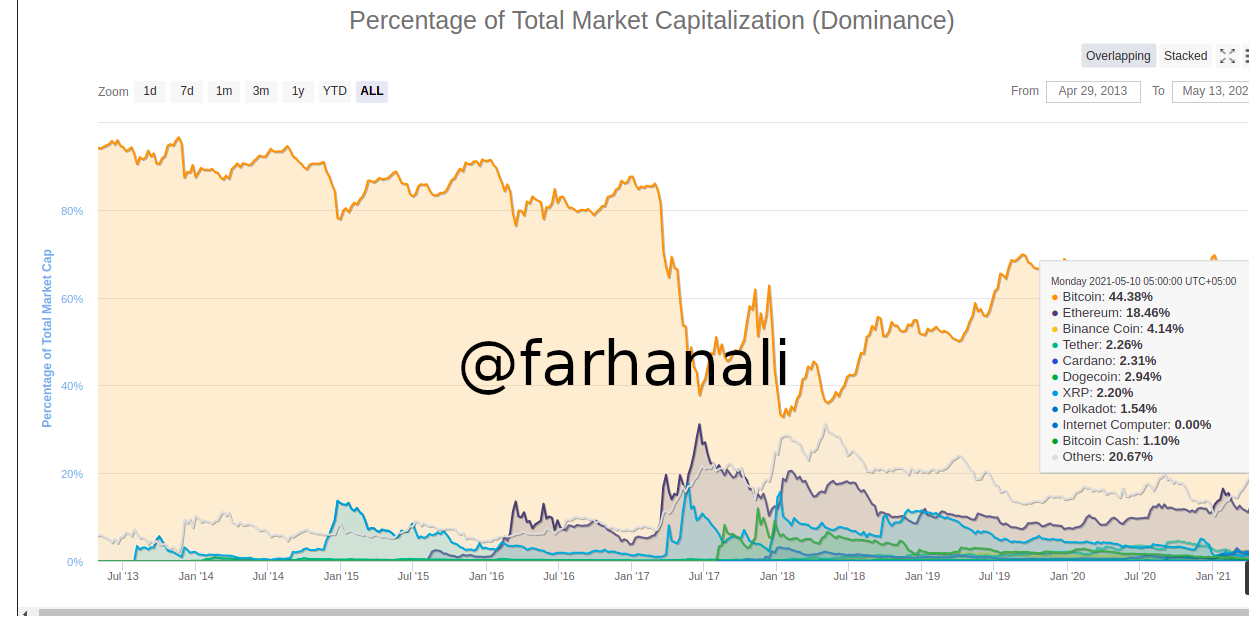 Source
---
Still, Bitcoin has dominance among other coins in this we have seen up and down in the price of Bitcoin and today we have seen Bitcoin is low at $46,980.02 and high at High:$57,196.48 and totally - 13.45 %, and has a market cap of $921,996,432,344 and Bitcoin dominance is decreased to 42.1% and we have seen Ethereum dominance is increased 19.7%.
---
2 Times Where The Market had Strong Falls.
First Market Strong Fall
In 2018, we have seen a great fall in the whole market it's like a huge crashed and all the market was red many investors have lost their investment, In January 2018 Bitcoin is falling down by 60% whole market was red.
Second Market Strong Fall
---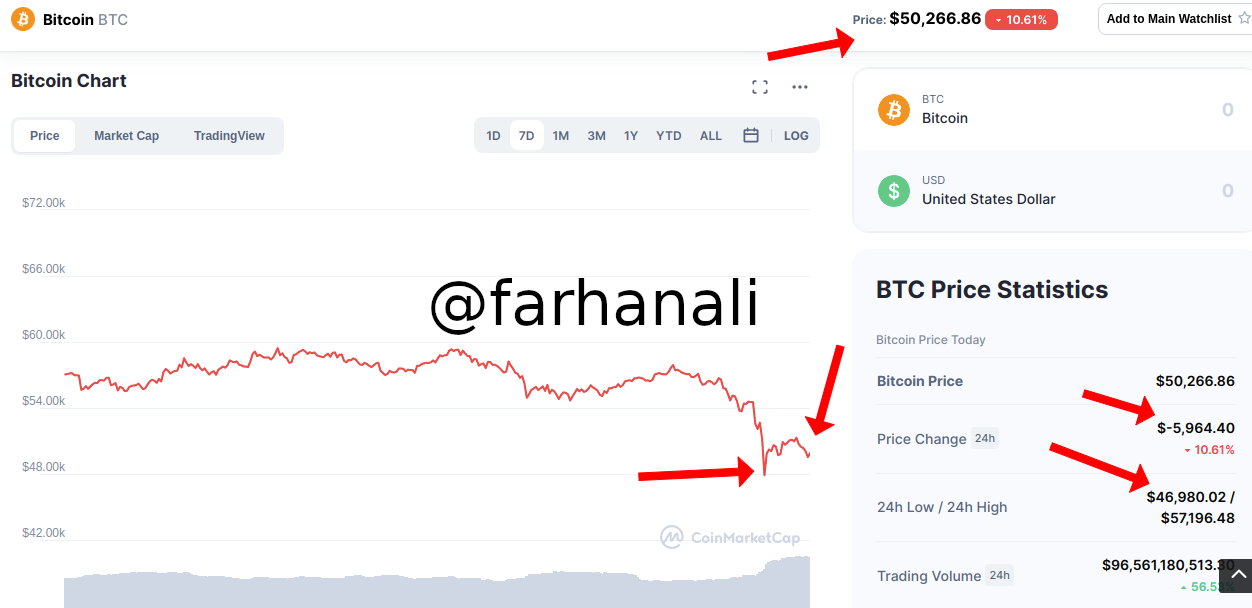 ---
Nowadays the market is behaving like same as in past years, the start bitcoin price reached an all-time high of $64,863 just a month ago and now it's keep going down and down on a daily basis today market is down Bitcoin is at -10% and all altcoins have followed Bitcoin.
---
What is the Altcoin Season?
Altcoin season in which all top altcoins perform best or gives all time high we can say like that season in which we give quite good gain and in altcoins are know as Altcoin season.
---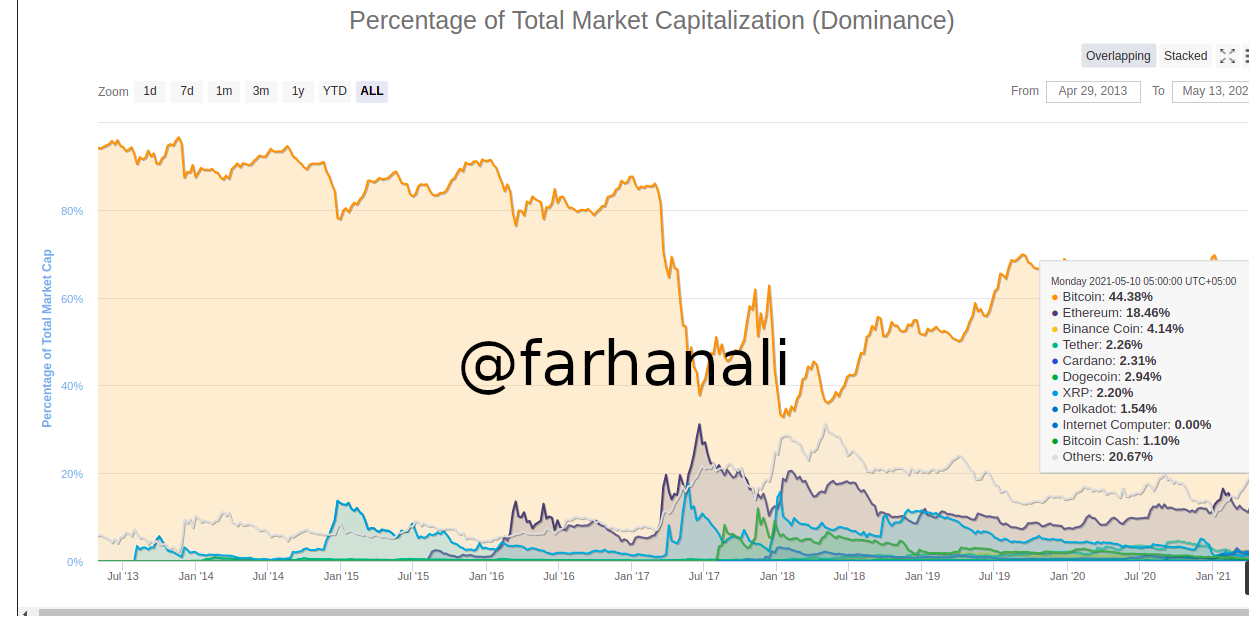 Source
Like now a day we can say it's altcoin season top 50 altcoin has gained a new all-time high like Ethereum, Binance token has gain massively. here we can see in this chart Altcoin have a great change in dominance.
Give a brief description of at least 2 altcoins that are in the TOP 50.
---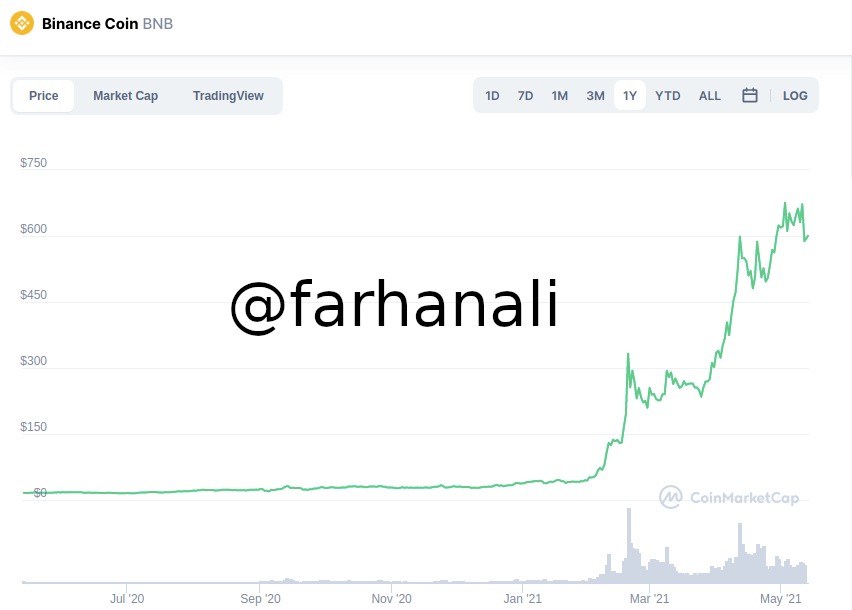 Source
1. Binance Coin(BNB) : Binance coin(BNB) is the native token of Binance it works in both Binance centralized exchange and Binance smart chain it's same like Ethereum Blockchain, Binance coin is rank at 3 positing after Bitcoin and Ether and have 4.4% dominance level, because of high gas fees in Ethereum network users have moving toward Binanace smart chain where they have to pay very low fees, the project like Uniswap name Pancakeswap and a few days ago they have crossed the 24 hours of Uniswap. and price going toward the moon.
---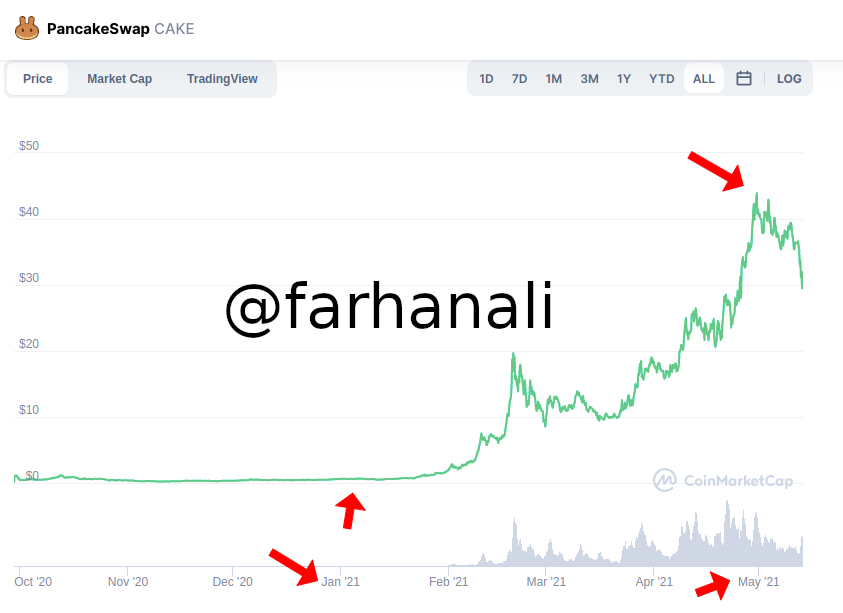 2. PanCakeSwap (CAKE): Pancakeswap is fork of Uniswap in the Binance Smart chain with some additional features like users get benefits of lottery and staking LP to get cake etc, Pancakeswap have native coin name $Cake currently rank at #35 according to coinmarketcap and have a market cap of $5,160,473,842 and the current price is $31.39. Pancakeswap gains very popularity in BSC and attract more user because of low fees, we can see in picture $Cake have gained very massive change in few months.
How can relevant news influence the price of cryptocurrencies?
We have seen much influence news which has an effect the market in both good and bad way here are some examples:
---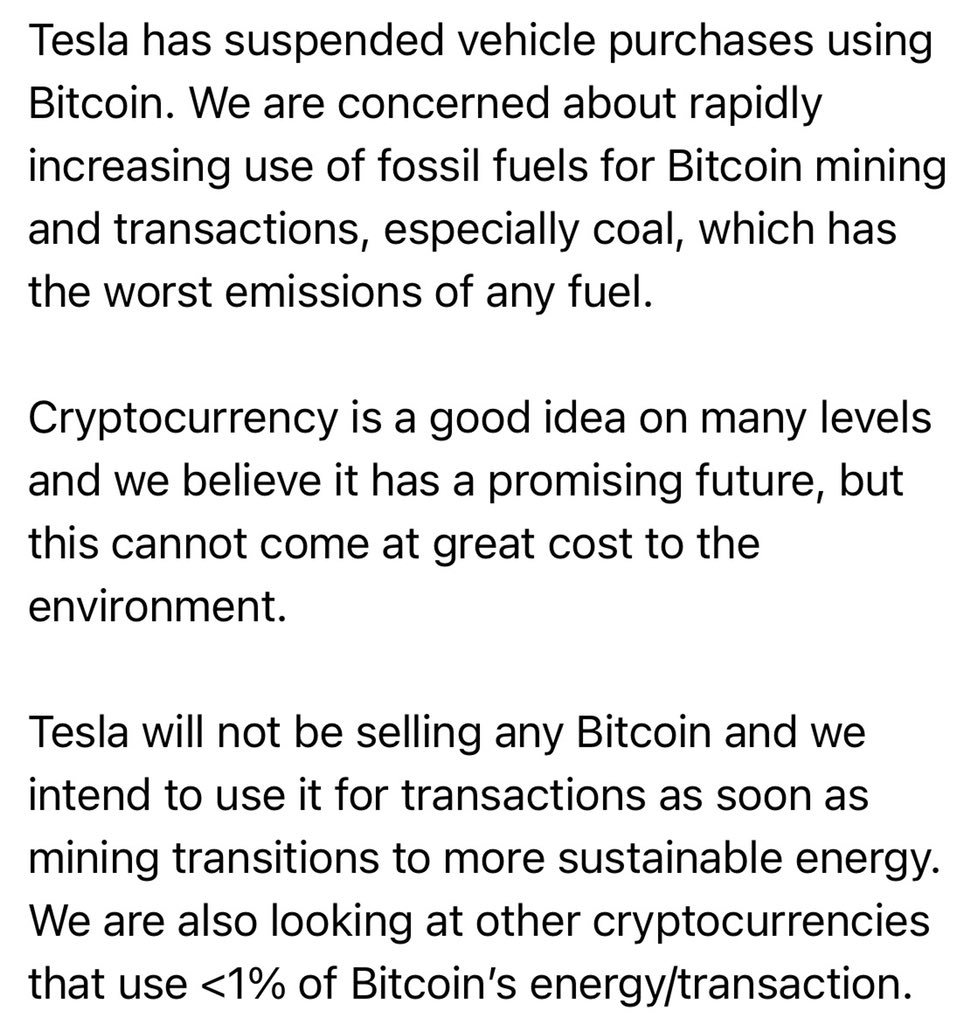 Tesla has announced that they are no more accepting Bitcoin as a payment method for paying any Tesla vehicle, after this announcement we have seen the Bitcoin market is going down.
---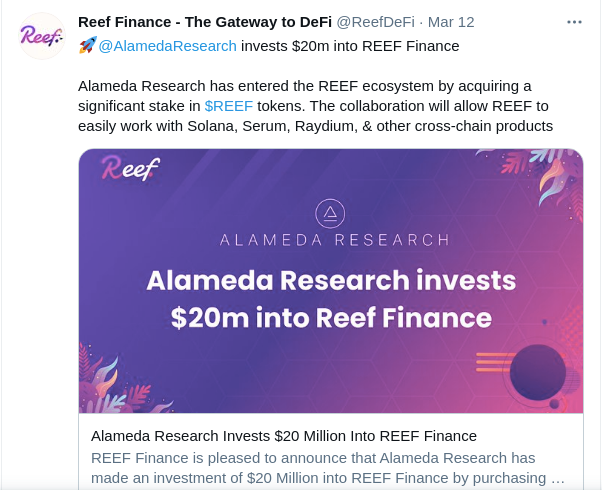 Source
Reef Finance has announced that Alameda Research has invested $20 Million into Reef Finance and overnight we have seen 30% gain in their native coin. and after a few weeks Alameda Research announced they are not investing in this project for some reason then suddenly reef coin is at - 30% within few hours of the news release.

At the end of 2020 Trust wallet have announced burning 89 Billions of $twt tokens from a total supply of 90 Billion, after this news coins market have touch sky gained more than 100%. Source
---
Penny cryptocurrency
SafeMoon
SafeMoon is the hottest coin in the market now a day, the investor gains double even more profit from this coin to date, according to write a paper of SafeMoon they are solving a problem which is newcomers haven't got benefits from higher APY so they are providing these benefits to newcomers.
SafeMoon have totalsupply of Quadrillion 1,000,000,000,000,000 coins. and having current prize of $0.00000745 per $SAFEMOON, total market cap is $4,332,726,409 and 24 hours trading volume is $192,980,022.
SafeMoon is rank at #202 by coinmarketcap, this coin is just 2 months old and gains a massive amount of change in price because of user interest in this coin.
---
Thank you.
Cc: