Good day participant of the Steemit Crypto Academy |Season 3 week 7. I appreciate the effort of our dear professor @allbert . This is my attempt on the homework:
Develop in a detailed and extensive way a post explaining some other Blockchain Oracle. (Chainlink will not be allowed)
What are the topics you should cover as a minimum?
1- History and Description. Does it have any token or cryptocurrency associated? Explain.
2- Functionalities and real-life applications.
3- Pros and Cons.
4- Future developments and new projects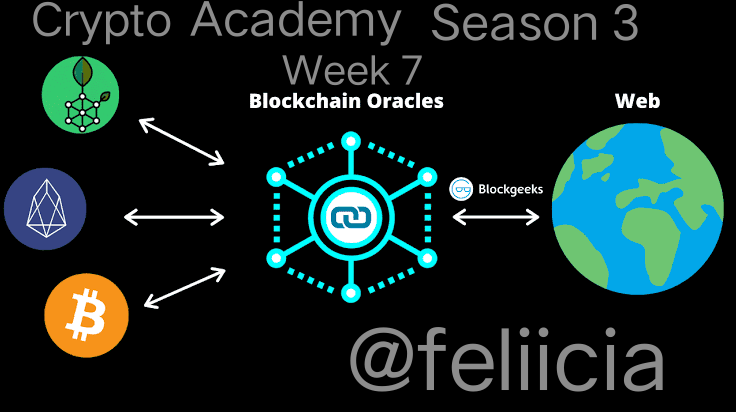 Source
blockchain oracles are third-party services that allow smart contracts to share data from the outside world. Through trusted APIs. There are many of them, but in the case of this assignment, I will be writing on the second most popular Blockchain oracles platform:
BAND PROTOCOL
1- History and Description. Does it have any token or cryptocurrency associated? Explain
What is Band protocol?
The Band protocol is a bridge oracle that allows smart contracts to collect and link any external data source or API in a scalable fashion. It is a piece of software that is supposed to reward people who give real-world data to decentralized blockchain apps.
Band protocol would develop its own blockchain employing COSMOS technology in the future, initially operating on the Ethereum - based network.
Decentralized Finance (DeFi) is a term that refers to financial applications that are entirely decentralized (dApps). However, one of the most significant issues is how to bridge the real world to the decentralized one. External data, like as stock and precious metal values, is required for so many decentralized applications. Decentralized oracles are used to prevent having to rely on centralized suppliers right now. Band Protocol satisfies this requirement.

HISTORY OF BAND PROTOCOL
Band Protocol is a technology that has been around for a while. The project has collaborated with various of well-known cryptocurrency projects, like ICON and Elrond, as well as its native BAND coin has been accepted for listing on a number of renowned exchanges, including Coinbase and Huobi.
BAND PROTOCOL was co-founded in 2017 by Paul Chonpimai, Sorawit Suriyakarn, and Soravis Srinawakoon. With the release of Band Protocol 2.0 in 2020.
Band Protocol's founders have achieved a lot outside the creation of band protocol. Take for instance, the present CEO of BRAND Soravis Srinawakoon is a former Ericsson software engineer and Boston Consulting Group management consultant.
Srinawakoon and his friends created a cryptocurrency "gambling" website that also served as a Bitcoin faucet, rewarding players in Bitcoin for winning casino-style games on the platform. Srinawakoon used the fund realized from this to start working on Brand Protocol.
Band Protocol was first deployed on the Ethereum blockchain in 2017 with the goal of providing accurate and trustworthy information to online communities established on cryptocurrency blockchains.

BAND Token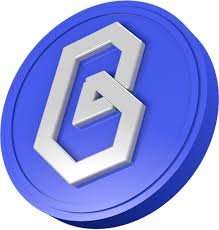 Image source
In order to encourage validators to create new blocks, partake in consensus, and react to data requests, the Band Protocol network makes use of its native BAND token.
Holders of BAND tokens
can also vote on how the system is run. The amount of BAND a network participant has staked determines their voting power. Delegators are urged to engage in governing; however, if they do not, their voting power is automatically allocated to a validators to whom they have assigned. If a delegate votes, they override the validators' allotted votes, resulting in a balance of power between validators and delegators.
BAND tokens are compatible with nearly any cryptocurrency wallet. An encrypted hardware wallet is one of the greatest methods to keep your BAND and other cryptocurrencies safe. Hardware wallets developed by Ledger and Trezor are among the most common. To ensure security, hardware wallets employ advanced encryption methods. Some even have features that allow you to recover access to your crypto assets if your wallet is lost, robbed, or ruined.
Another option is software wallets, which are both free and simple to use. They might be custodial or non-custodial, and they can be downloaded as smartphone or desktop apps. The service provider manages and backs up your private keys in custodial wallets on your behalf. The private keys are stored in non-custodial wallets using secure features on your device.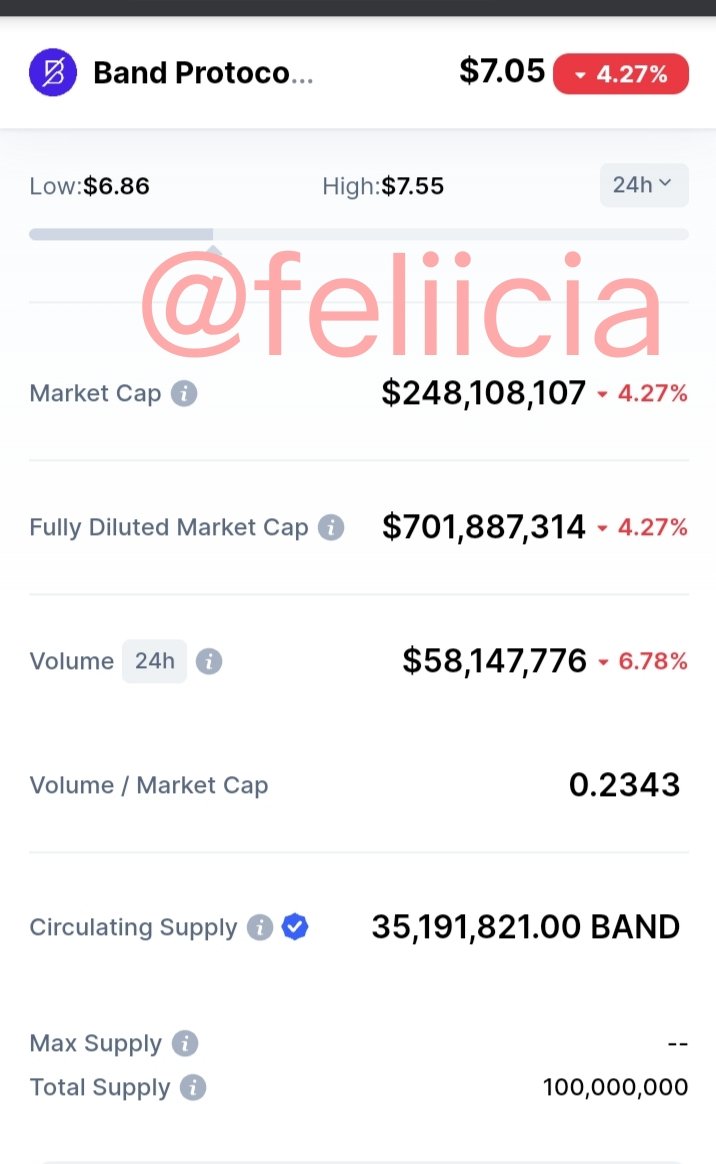 Screenshot gotten from https://coinmarketcap.com/currencies/band-protocol/
The price of Band protocol (BAND) as at the time of writing this assignment is
$7.02 with $247,881,235 as the market capitalization.
BAND has a circulating supply of 35,191,821.00 BAND

2- Functionalities and real-life applications.
The Band Protocol was created to address the same issue that all blockchain oracles confront: access to real-world data on the blockchain. Alongside the growth of the DeFi space and the adoption of dApps in general, there is an increasing demand for this type of data, as keeping within the closed system of blockchain significantly restricts their use cases.
Many decentralized applications (dApps) require their smart contracts to be able to receive reliable data from the real world. To function and acquire reliable time-sensitive data, all significant decentralized financial projects, for example, rely on a pricing oracle.
Payouts are determined by a verifiable random number or a real-world occurrence via an oracle in gambling and betting dApps. To achieve complete decentralization, a safe bridge between trustworthy off-chain data and dApps is required.
For access to external data, dApps directly use data points in place of oracles outside the blockchain of the Band Protocol's public smart contracts. BAND's data feeds are data sources that are community-managed and provide a framework for the moderation, operation and management of the data source for dApp users and developers. This mechanism ensures confidence and reliability of the data.
APPLICATION OF BAND PROTOCOL
One of the possible application of oracles like Band Protocol is gambling. If your dApp supports blockchain sports betting, you'll need a reputable source of sports scores and other statistics. Gambling apps require information such as the number of cards dealt or the outcome of a dice roll. Band Protocol might be used by a blockchain-based science app to collect meteorological data from monitoring stations all across the world.
A blockchain oracle is required for any dApp that uses real-world data.
Pros and Cons.
The following are advantages of Band protocol:
Scalability: Data providers' operating expenses stay constant regardless of the amount of decentralized applications they utilize. Several smart contracts can use data at no added charge to data providers once an item is integrated on-chain.

Speed and immediate queries are possible since logic can be executed in a single transaction with no blockchain confirmations. Because data is easily accessible on the blockchain, it may be used in a single transaction in a synchronous manner.

It is Compatible with many blockchains

Another benefit is its Widespread adoption in the Cosmos and Terra Luna environments
Despite it's numerous advantage to the blockchain technology, there are still few disadvantages with the BAND protocol:
There isn't as much brand recognition as Chainlink, and the data oracle nodes are chosen at random.

Another issue with Band Protocol is that Band Protocol only supports free open APIs. Their support for paid password-protected APIs is at this moment entirely theoretical. The current proposal will require data providers to be individually onboarded, and modify their business model to be paid in cryptocurrency
One of the management team's goals is to turn Band Protocol into a decentralized oracle for scalable blockchain applications, with end-to-end flexibility and customizability for both institutional data sources and oracle integrators.
4- Future developments and new projects
The team behind Band Protocol like any other project is working on improving their services so as to create a better future for the system. The following are things they they are working on to improve it's system
They're working on growing their engineering team and integrating monitoring programs to ensure that any Oracle feed irregularities are spotted immediately and quickly repaired on aBand engineers' actionable activities include testing, building, and delivering more fault-tolerant infrastructure

The inclusion of Band Protocol Oracle as a standard in Starport makes building a blockchain on Cosmos the most straightforward. As a result, developers of decentralized applications (DApps) on Cosmos will have easy access to decentralized and safe data from Band Protocol. IBC has previously only been used for asset transfers. With the recent inclusion of the Band package into the Starport architecture, and Band Protocol's IBC-connection to Cosmos on the edge of being enabled, Ibc will not only offers the new capacity for existing chains with the recent integration of the Band module into the Starport frame and is in the process of allowing IBC to connect with Cosmos, it also makes the new development projects within Cosmos spatial area incredibly accessible.
Creating secure and commonly used blockchain applications is essential for the production of decentralized data. Blockchains in the network now can use information with access to this data to meet their individual needs and innovate in the direction of new functions.