It is another wonderful week of the Steemit Cryptoacademy, I appreciate the work of our lecturer @imagen who has done a great job taking us on the journey of this lecture.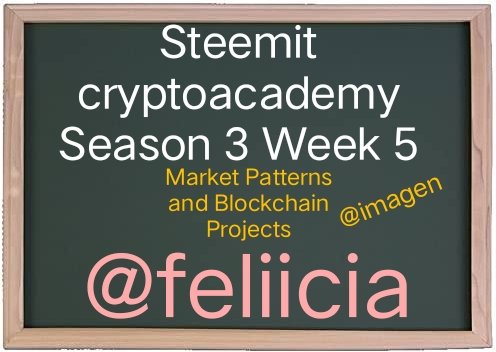 Question 1 Choose at least 1 of the following cryptocurrencies.
Axie Infinity AXS, Chilliz CHZ, Cardano ADA, VeChain VET
Make an investment of $ 12 or more. Show screenshots of the process.
In this homework, I will choose Vechain VET.
What is Vechain VET?
VeChain is a piece of software that aims to motivate a network of computers to provide a platform that allows companies to create and execute decentralized applications (dapps).
VeChain (VET) was among the first blockchains designed specifically for commercial clients. The project's creators hope to leverage distributed ledger technology to improve supply chain and product lifecycle management (DLT). Importantly, the platform provides users with a number of additional features that make it suitable for companies looking to improve their supply chain standards and business operations.
With the release of the program's mainnet in 2018, the VeChain protocol redesigned to VeChain Thor, expanding the scope of dapps to accommodate more general data services.
The following companies have begun to use the VeChain blockchain:
VeChain is used by Walmart to track the provenance of food.
BMW utilizes VeChain to combat odometer fraud in car sales. Etc.
VET is the VeChain's principal cryptocurrency, and it can be held, spent, sent, or staked. VET is a cryptocurrency that can be purchased on a cryptocurrency exchange. Within the VeChain network, it functions as a value increase. This coin can be used to send money across the blockchain and to initiate smart contracts. Users can also use it to pay for transactions on VeChain-based Dapps.
VTHOR will also be required to pay for transactions in VeChain-based applications. If the apps become more popular, demand for VTHOR will increase, which will raise demand for VET tokens, raising their value.
The reason why I chose this Cryptocurrency
User will be willing to own and stake VET tokens since they can vote on changes to the VeChain network, such as whether the VTHOR supply is increased or decreased.
Another thing is that VET tokens, like many other cryptocurrencies, have a finite supply, with only 86.7 billion VET available at any given time and this will help the value of the asset.
What is the objective of the project behind this coin?
VeChain's mission is to make it easier for businesses to collaborate digitally by providing new tools for data sharing and price control.
Asymmetric information is currently a problem in the logistics industry. While the mechanisms in place acquire a lot of data, it isn't always shared effectively. In most cases, substantial compartmentalization necessitates reliance on centralized data sources throughout the supply chain. This lack of cohesion leads to a loss of transparency and a delay in the transfer of data.
Businesses can track a massive amount of data using VeChain. Quality, authenticity, storage temperature, and transportation status are just a few of the indications that can be used. All of these characteristics are provided by VeChain through a decentralized and trustless business ecosystem. As a result of this,
Vechains Roadmap
The following took place in the journey of Vechain in the previous year and this year 2021:
VeChainThor Mainnet Launch was launched in 2018.
The following took place in November 2019:
Authority Masternode, Economic X Node, and Economic Node were renamed to reflect the new voting authority types.

According to the new stakeholder categorization, the voting authority model was adjusted.

Stakeholder voting has been simplified.

VeVote platform is introduced.
In January 2021, the following was achieved by Vechain VET
Vechain was designed to work with all major web browsers, allowing dApps to be more widely used.

Consistent user experience across different OS and devices simplifies dApps and dApp usage.
Who Is VeChain's Inventor?
Sunny Lu, the former CIO of Louis Vuitton China, and Jay Zhang co-founded VeChain in 2015.
In 2017, the VeChain team launched its cryptocurrency, VEN, on the Ethereum blockchain as part of a crowdsale that raised $20 million by selling 1 billion tokens.
When the VeChainThor blockchain was launched, these tokens were eventually replaced with VET tokens (sometimes called VET coins). At a 1:100 exchange rate, VEN tokens were exchanged for VET tokens.
What is it Market Capitalization? What is it position in the cryptoasset rankings?
Based on market valuation as at the time of writing, the current value of Vechain VET is $0.08369.
The trading volume of VET is 55,454,734,800. The technology at VeChain is geared up to issue 86,712,634,466 VET in total. It has a circulating supply of 64,315,576,989. VET is currently ranked #23 in cryptocurrencies worldwide.
Make an investment of $12 or more. Show screenshots of the process.
The first step in making investment with Vechain VET is to open the exchange, in my case I will be using Binance Exchange. -
From the binance exchange, we will go to spot and click on the search Icon to search for VET coin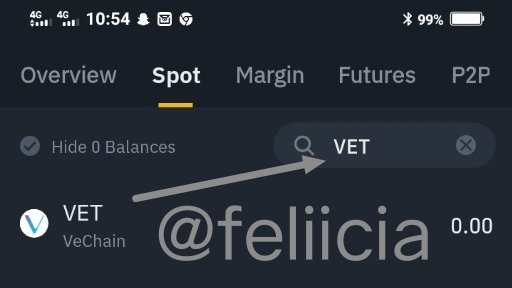 After then, We are going to select the trade pair,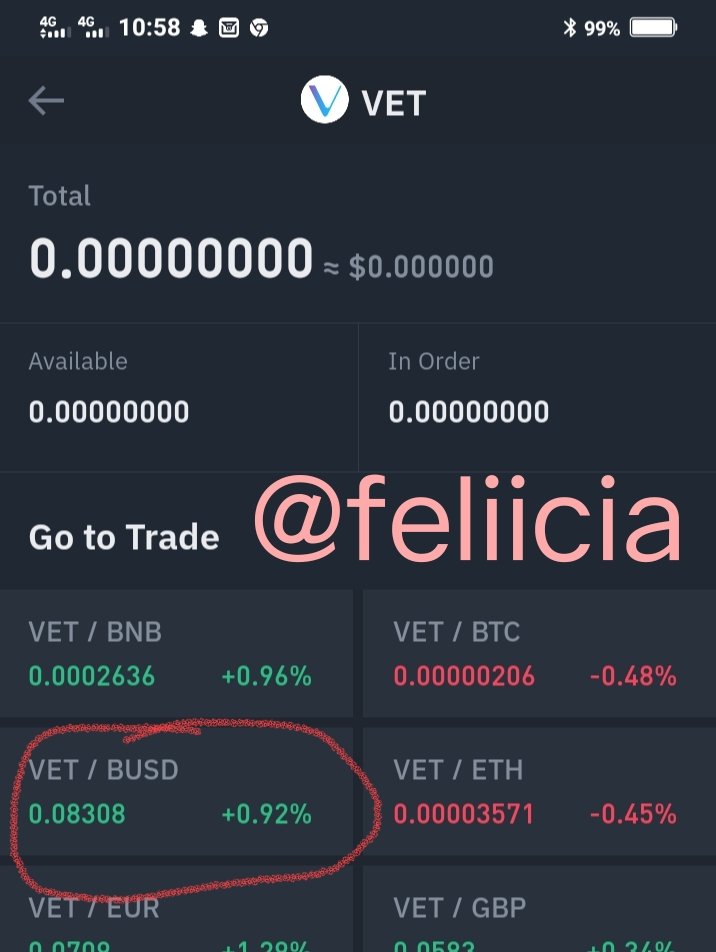 Once we have selected the trade pair, we will now fill the buy order form. Here, I have changed to market order which mean I will buy at the current market value. Also I will be buying With 50 percent of my BUSD which amounted to $20 and we will click on buy.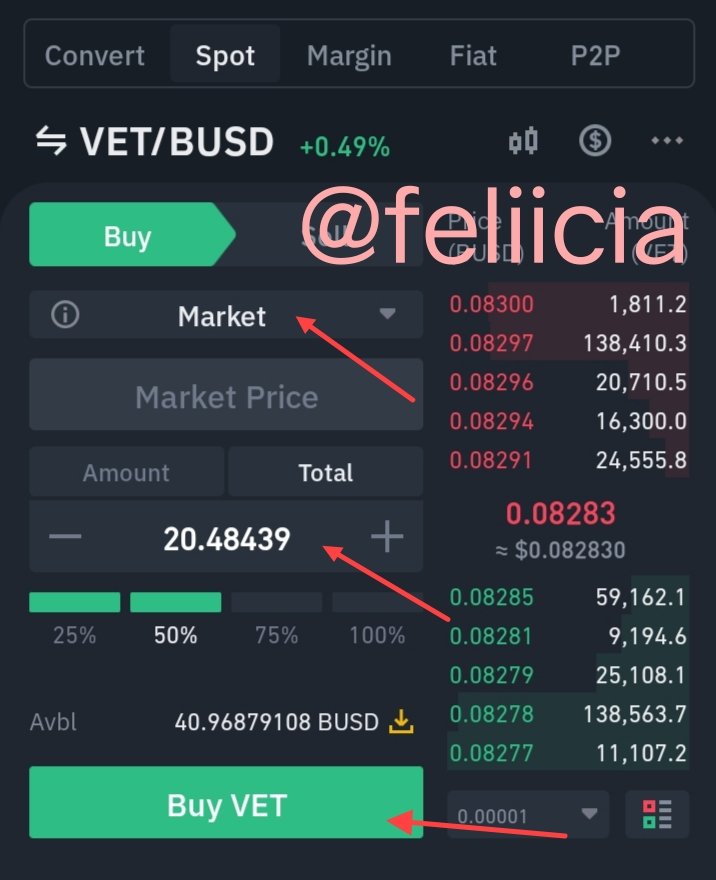 After clicking on buy, the fund will be added to our wallet and will be shown.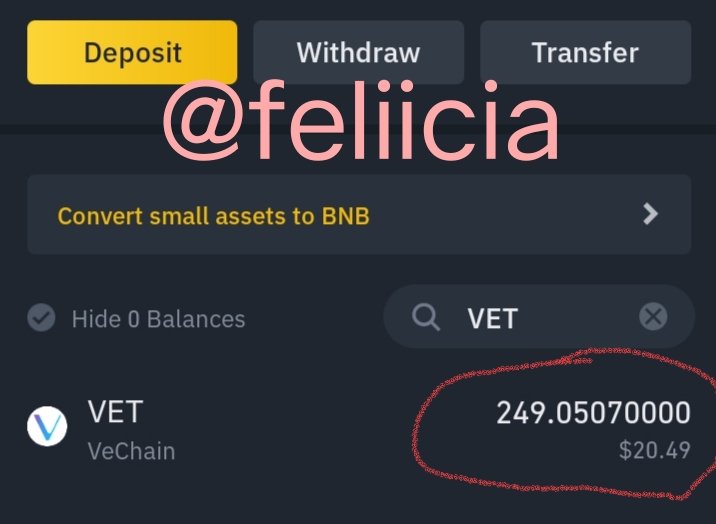 Question 2: EXPLAIN IN YOUR OWN WORDS WHAT THE "EVENING STAR" PATTERN CONSISTS OF. WHAT IS ITS HIT RATE?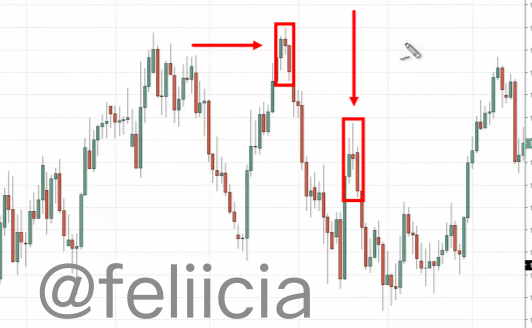 Example of evening star candle pattern
The Evening Star pattern on asset price charts is a form of reversal pattern. It is a bearish indication that normally appears at the peak of an upswing. Evening Star patterns are uncommon among traders, yet they are a reliable technical analysis signal.
An Evening Star pattern, consisting of three candles, can be seen in a candlestick chart of an asset price. The first is a long-body candle, which indicates a significant price increase with the close price settling above the open. The upward trend of the asset price is reflected in this bullish candle.
The second candle is a "star" candlestick with a tiny body (bullish or bearish) or no body (bullish or bearish) (neutral). With balanced buying and selling orders, the asset price closes at a level relatively close to the open price. The star indicates that the prior bullish momentum is slowing down. In a perfect Evening Star pattern, a gap should exist between the first candle and the star. It signifies the open price rose quickly from the previous closing price, with little or no transactions taking place in the meantime.
The third candle is usually bearish, with the close price lower than the open price, because it has a gap down from the previous star. The first candle's upward trend has been reversed, and the price gain has been erased. This candlestick indicates the Evening Star pattern (preferably with a gap down) and indicates that it is time to sell.
What Does the Pattern of an Evening Star Indicate?
The Evening Star pattern is a useful technical analysis tool because it can forecast investor sentiment and price momentum changes.
An Evening Star pattern, as previously stated, comprises of three candles, one for each day. The asset price climbs upward with tremendous velocity on the first day, with a long bullish candle. The momentum begins to decrease on the second day, when the star appears, after a rapid increase in price mirrored by a gap up.
The second day, however, is still a day of ambivalence between bullish and pessimistic feeling. If the market begins with a gap down on the third day, it means the momentum will be reversed, telling traders to take a short position. An Evening Star pattern is established when the price closes substantially lower at the end of the third day.
WHAT IS ITS HIT RATE?
The hit rate is 72% accuracy.

Question 3: EXPLAIN IN YOUR OWN WORDS WHAT THE PATTERN "ABANDONED BABY" CONSISTS OF. WHAT IS THE PERCENTAGE CORRECT?
It is made up of three candlestick reversal pattern which is very similar to
The morning and evening star candlestick patterns. The fundamental difference between this pattern with the morning and evening stars is that real bodies and shadows cannot overlap in this pattern. As a result, the abandoned baby candlestick pattern is one-of-a-kind and dependable.
The creation of this candlestick pattern is comparable to the island reversal pattern, despite the fact that it has a baby in its name.
THE BULLISH ABANDON BABY PATTERN
The bullish abandoned baby pattern comes near the end of a downtrend and indicates a trend reversal to the upward. Simply expressed, it signifies the end of bearish selling pressure and the re-entry of bulls into the market.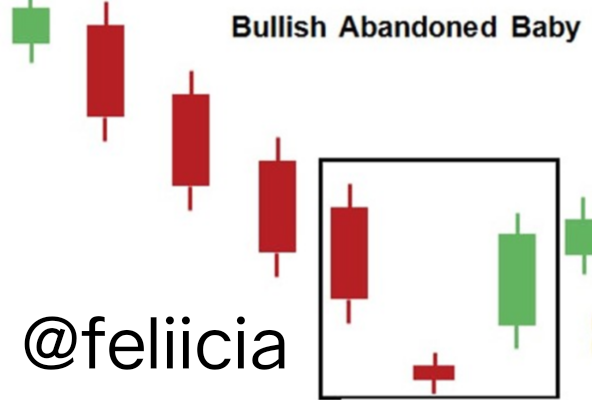 Example of bullish Abandoned baby
The first candle has a large black (or red) body, the second is a small bearish candle – or a Doji, and the third is a white (or green) candle.
The Doji's shadows should be completely gapped beneath the first and third candles' shadows.
A Doji candlestick represents hesitation from sellers and buyers because it has the same beginning and ending price. Its appearance on a chart denotes the conclusion of a selling streak and the return of bulls to the market.
To put it another way, the pattern emerges as selling pressures give way to buying forces. When traders anticipate a trend change for fundamental or psychological reasons, this can happen.
Traders should enter above the third candle while trading this pattern. If the price continues to rise, you can take advantage of the situation. You could put a stop-loss order below the second candle's lower wick (Doji).
THE BEARISH ABANDONE BABY PATTERN
The bearish abandoned baby pattern is a three-candle negative reversal pattern that comes at the end of an upswing. The first candle is bullish, while the second is a doji with an upside gap. A bearish candle occurs following the doji, which is followed by a negative price gap.
Market participants are largely bullish and believe in rising prices after a bullish trend. This appears to be right once the pattern's first candle forms. We get a lengthy, bullish candle, and the bullish sentiment continues into the next trading day. As a result, the next day's gap will be positive.
However, the market is currently substantially overbought, and the risk of a downward correction has significantly increased. As a result, purchasing pressure decreases, and the market develops a Doji, indicating that it is undecided about its next move.
As more market participants notice the doji, they grow concerned that the present upswing is about to an end, and they put orders to sell their positions. The market gaps down as additional selling pressure comes in. The gap creates further purchasing pressure, and before you know it, the market is closing in the lower half of a negative candle.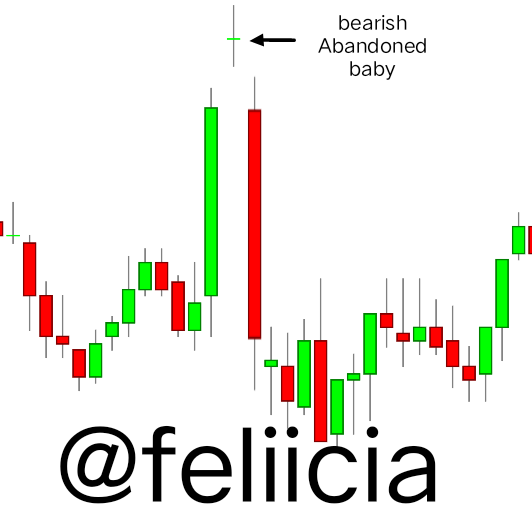 SUCCESS RATE PERCENTAGE
The Bullish Abandoned Baby pattern has a 70% success rate in reversing bullish trends, while the Bearish Abandoned Baby pattern has a 60 percent success rate in reversing bearish trends.

Question 4: PERFORM ANALYSIS FOR 3 AND 7 RECENT CALENDAR DAYS FOR BITCOIN. DO YOU IDENTIFY ANY PATTERNS? SHOW SCREENSHOTS
3 Days Analysis for BTC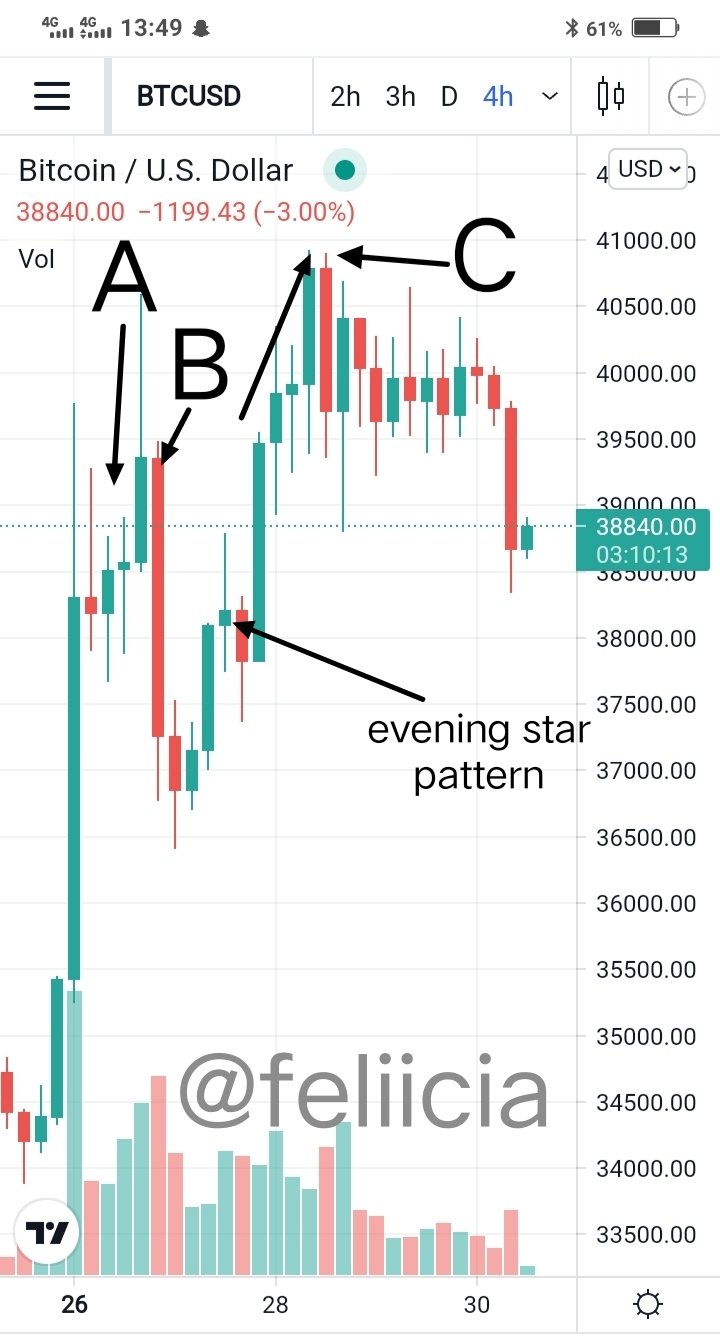 In the 3-days BTC analysis above, it shows that there is a bulish pattern on the 28th of the month with 3 big bullish Candle as buyers are trooping in to buy causing a bullish trend in the value of BTC. This bullish trend met up with a resistance which put an end to the bullish trends at the point C in the diagram above with a big bearish candle
Another pattern I see in the analysis is an evening star pattern on the 27th as I indicated in the screenshot.
7-days BTC Analysis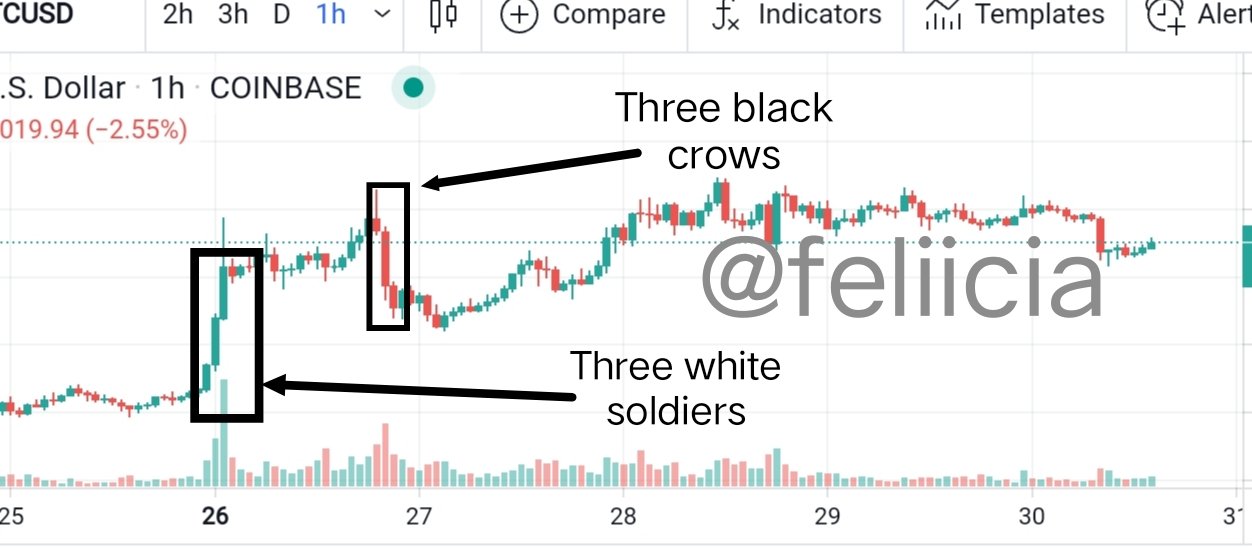 This week, Bitcoin has gained an amazing 22 percent as it confronts the $40K resistance level. As previously stated, bitcoin's price has been fluctuating between $30K and 42K for the past two months. This week ($41.3K according to Bitstamp), it reached its highest level since June 15th.
The following pattern can be see from the analysis above.
There is three white soldiers which is made up of 3 green candles with big body. This is telling us that the asset is overbought leading to an uptrend.

There is also three black crows, which is made of 3 bear candles. This indicates that sellers are selling at a particular high trend.

CONCLUSION
VeChain is without a question one of the most prominent blockchain startups in terms of forming partnerships. VeChain is starting to see some progress with around three dozen organizations running test programs. It may see more adoption if it can build on such successes.
The project is well-planned, has solid governance, and a unique economic structure that works effectively when large businesses and enterprise consumers are taken into account. It has also avoided the scalability problems that plague many blockchain projects, however this may be owing to a lack of popularity.
Finally, technical analysis helps you to move in response to price changes and profit from large swings by spotting trends, price levels, and statistics. The main benefit of studying charts is that they can assist you in determining when it is appropriate to open or close a trade. However, keep in mind that this form of study has its limitations and isn't always accurate. Finally, before deciding to purchase or sell a securities, do-it-yourself investors can always apply a combination of fundamental and technical analysis.