Good day participant of the Steemit Crypto Academy |Season 3 week 6. I appreciate the effort of our dear professor @yohan2on. This is my attempt on the homework.
What are Crypto scams? Make your research on any Cryptocurrency scam. (Attach a few references to the news surrounding that
scam crypto project)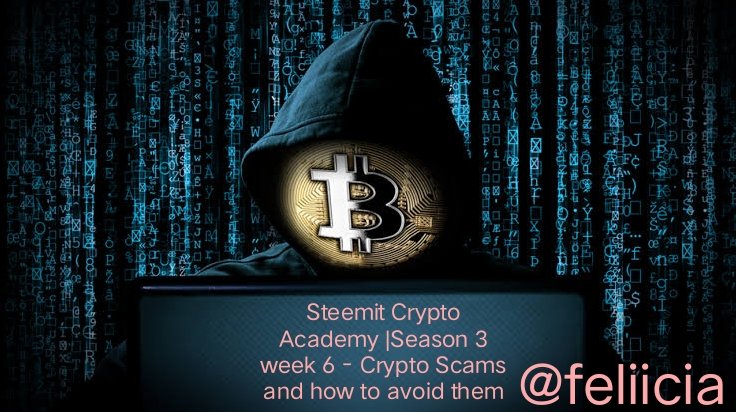 Source
Scammers use Cryptocurrency to mislead or manipulate naive victims into transferring them funds (or revealing a pathway to their cryptocurrency wallet). Scammers who operate in the cryptocurrency space are similar to those who operate in the banking world. They deceive unsuspecting investors into a false sense of safety by promising unbelievable deals or profits. Clients have the option of either investing their cryptocurrency in the scammer's "platform" or sending it to a third party. The scammer disappears after they have the crypto, leaving the victim with nothing.
Scams involving cryptocurrency come in all kinds and sizes. Some prey on admirers of well-known celebrities and CEOs like Elon Musk, while others acquire access to victims' accounts through hacking or malware. On Twitter, you'll occasionally be offered a phony NFT horse (no really, this happens). Bitcoin scams, like all forms of financial deception, are always developing, and investors should get familiar with the most popular types.
One of Digital currencies attractions also makes it a popular target for fraudsters. Cryptocurrency transactions are irrevocable and irreversible. Because there is no centralized authority overseeing transaction authenticity, the community collaborates to build new blocks of unchangeable transaction data. Even if it wasn't filed by the actual owner of the Cryptocurrency, once a transaction has been validated, it cannot be removed from the blockchain.
Cryptocurrency scams come in a variety of shapes and sizes, and they can catch unsuspecting investors off guard. These are some of the most prevalent frauds to avoid, according to the FTC and Entrepreneur magazine.
HACKING


Source
Hacking is a form of theft.
Cryptocurrency, in principle, ought to be a risk-free investment. All transactions must pass through a blockchain, which sends them across numerous computers and compares them to a database on each. A criminal would need to gain access to the majority of the machines in the chain in order to hack the system.
But nothing is completely safe in the actual world. Hackers have regularly discovered ways to gain access to various sectors of the cryptocurrency economy, including exchanges, coin-mining firms, and digital wallets where consumers store their money.
There's usually no way to get the coins back once they've disappeared.
FAKE INVESTMENT:
Fraudsters build up bogus sites to invest in or mine cryptocurrencies in cryptocurrency investment schemes. They use a variety of techniques to entice people to these sites.
They may pose as investors on the internet, sharing investment advice. In other situations, they send unsolicited letters from so-called "investment managers" proposing to assist victims develop their cryptocurrency holdings.
Through social media, phony crypto investment possibilities can potentially draw potential victims. In order to earn the trust of celebrities or their targets' intimate acquaintances, they sometimes hack into their accounts.
Airdrop Scam
Scams that involve freebies
The giveaway scam is another common variation. Fraudsters impersonate celebrities or well-known bitcoin investors and offer assistance to tiny investors. They claim that if you send them your cryptocurrency, they will add some of their own to assist you double your money.
Any payment you pay them actually goes directly into the scammer's wallets. Fraudsters impersonating Elon Musk defrauded investors out of more than $2 million in cryptocurrency in six months, according to the FTC.
The debut of a new cryptocurrency is called an initial coin offering, or ICO. It's a once-in-a-lifetime chance to get in on what could be the next Bitcoin.
Investing in initial coin offerings (ICOs) is always dangerous because no one knows how the new coin will fare. Some ICOs, on the other hand, aren't simply dangerous; they're outright scams.
Make your research on any Cryptocurrency scam. (Attach a few references to the news surrounding that
scam crypto project)
In this case, the cryptoasset is entirely false. In early 2018, investors were duped into putting $6 million into this fictitious cryptocurrency.
Randall Crater and his Greyshore Technology and Marketing Companies were hired by Roche in 2014 to develop the technology that would enable the business strategy. My Big Coin Pay, a layer of utilizations and income such as ATM machines and credit cards supported by the new currency, was also created and integrated into MBC. MBC announced a $23.17 transaction on their Twitter account on January 21, 2014. MBC was highly promoted, and Roche conducted and publicized peer-to-peer transactions on its own website as well as through a variety of social media venues, such as Twitter.
Fortunately, the US Commodity Futures Trading Commission uncovered the bogus coin and indicted the corporation behind it (CFTC). The claim was based on "commodity fraud and misappropriation relating to the continued solicitation of users for a virtual currency known as My Big Coin (MBC)," according to the case documents.
My Big Coin was accused of "misappropriating over $6 million from clients" by "transferring customer monies into personal bank accounts, and spending those funds for personal purposes and the purchase of luxury goods," according to the complaint.
Randall Crater, the company's founder, was later jailed. The case was one of the first in American history, arguing that Bitcoin may be classified as a commodity under the authority of the United States' derivatives regulator.

To what extent have Crypto scams affected the Crypto space?
Crytocurrency scam will affect the crypto world in many areas such as:
TRUST: As we know that cryptocurrency
is based on trust and transparency, Scam has tampered with the trust that some investors have in cryptos or exchanges, it has caused fear and created doubt in the mind of investors who have totally lost interest in new coin. It has also killed the moral and investing spirit of newbies who are just coming and those that are planning to invest into the crypto world.

Cryptocurrency spam have led to crypto ban from governments, and some of the real investment in the crypto world too suffered from government ban on cryptocurrency in the location.

It has led to ship-wreck of an individual who suffered from such scam expecially in case of wallet hacking. User that have all his investment in A wallet that got hacked, some of them them could no longer surface in the crypto world again.

Question 3: Will regulations in Crypto add value to the Crypto space?
The 2017 Bitcoin bull run was fueled by a significant number of largely uninformed newcomers who wanted to see their money "go to the moon." That's exactly where their money ended up, in retrospect. The cryptocurrency landscape in 2018-2019 is strikingly similar to that of the moon. It's riddled with uncontrolled, high security flaws, including over $1.7 billion in crypto assets lost in 2018 and $4.3 billion as at mid-2019 which is caused by high rate of exchange and wallet hacks and scams.
Virtual asset custodians and owners will benefit from clear and executable regulations, which will provide a much-needed control layer. If unlawful behavior or intentions such as human trafficking can be demonstrated by law enforcement, asset service providers will be able to refuse unwanted or suspicious transaction requests, freeze irregular transmittals in route, and even reverse harmful transmittals after the fact.
Compliant Asset service providers will be able to verify and cross-check the genuine names and purposes behind public addresses, and then transmit this information on to authorities as needed.

CONCLUSION
The prospect of making a rapid profit on an investment in a hot new business is alluring enough to attract both seasoned investors and newcomers into perilous territory. When looking for fresh investment options in the ICO and cryptocurrency arena, keep caution in mind. Be wary of undertakings that appear to be too good to be true. Spend time examining every aspect, and consider that the lack of a critical piece of information could be an attempt to conceal an unsound model or concept. Before investing in a project, look for outside sources to verify its credibility.