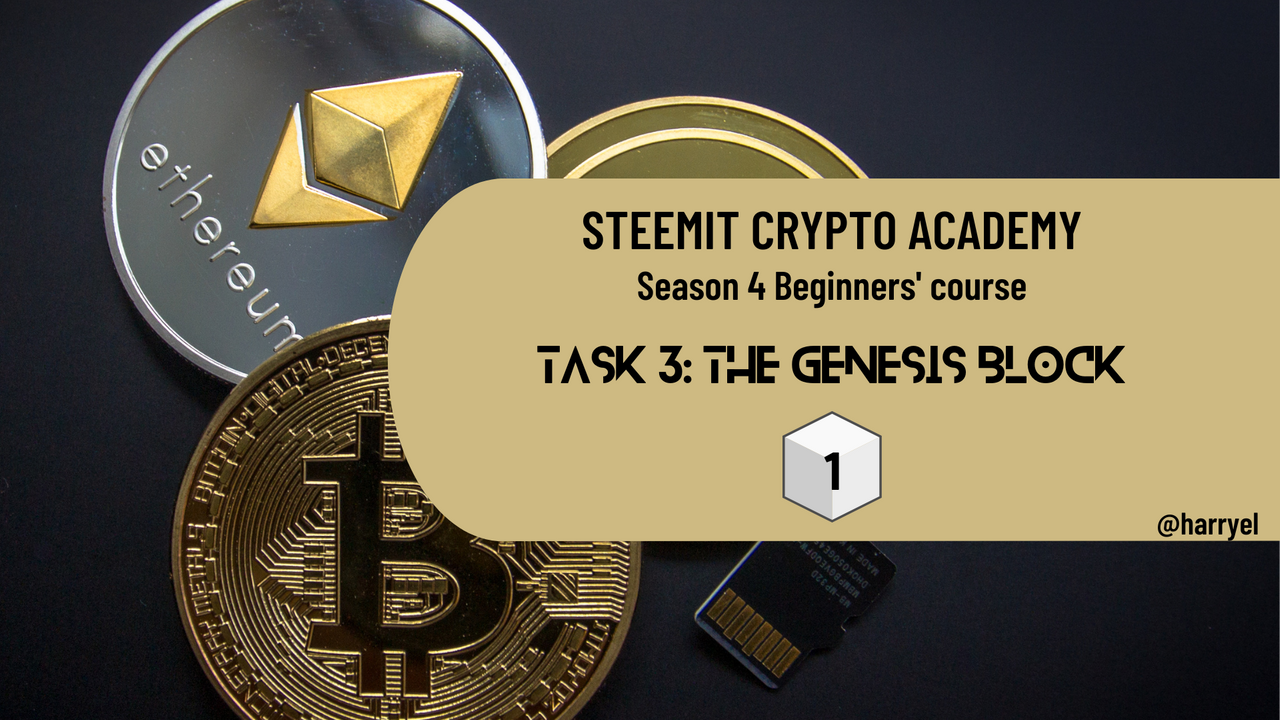 ~INTRODUCTION~

Good day Steemians!
I'm so excited as this is going to be my first post on the Steemit Crypto Academy. I have really wanted to post on here for a long time, but i have been working to meet the requirements.
For this my first post, I am going to be doing question 3 of the Beginners' course Task 3 assignment. The lecture was delivered by professor @awesononso, and was honestly a brilliant lecture, and I am very psyched to be doing the assignment. So, without further ado, lets dig in!
3a) What is a Cryptocurrency?
b) What is Cryptography and how does it make cryptocurrencies secure?
c) Explore the Steem Genesis Block and Sign in as proof of completion.

3a) What is a Cryptocurrency?
---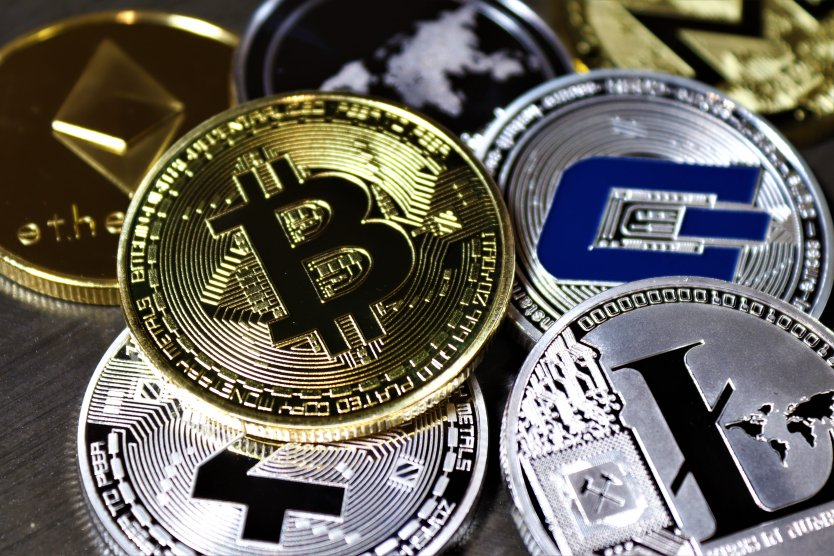 Source
Many speak of cryptocurrency as "the money of the future" or "the next big thing", and a really simple definition of cryptocurrency would be " a digital decentralized currency created using computer encryption techniques. But, to really understand what cryptocurrency is, we must break down the word into its constituents - Crypto & Currency
Speaking of currency, we would be talking about money. According to Google, a currency is "a system of money in general use in a particular country."
So, what is money?
Money is, essentially, a medium of exchange of value. It is something valuable, used to represent other valuables, and, because of its ability to represent other forms of value, it is usable in the transfer of value.
Then, when we talk about crypto, this refers to cryptography. Cryptography refers to the computer encryption algorithms and various cryptographic techniques used to create, manage and safeguard/secure this digital currency.
Of course, no discussion of cryptocurrency is complete without Bitcoin, the granddaddy of all cryptocurrencies, which set the ball in motion. However, it is interesting to note that, while Bitcoin is the first successful cryptocurrency, it was not the first attempt at creating a functional cryptocurrency. Actually, the first to theorize the concept of cryptocurrency was David Chaum, a cryptographer, who invented DigiCash. There were also other attempts by others including: b-money by Wei Dai (which was never actually created after the publication of the whitepaper), and the US-based E-Gold.
What is Bitcoin?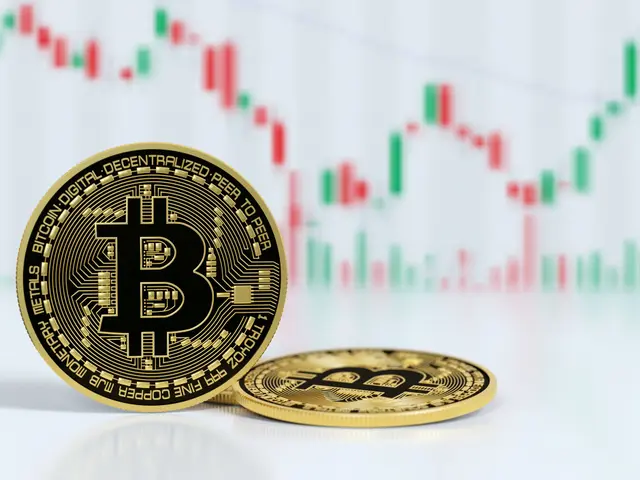 Source
Bitcoin is the first successful cryptocurrency, created by the unknown Satoshi Nakamoto. It is a peer-to-peer, decentralized, digital economy powered by a powerful technology called a Blockchain. It set the standards for cryptocurrency, and is absolutely decentralized, such that there is no centralized owner, controller, or lender.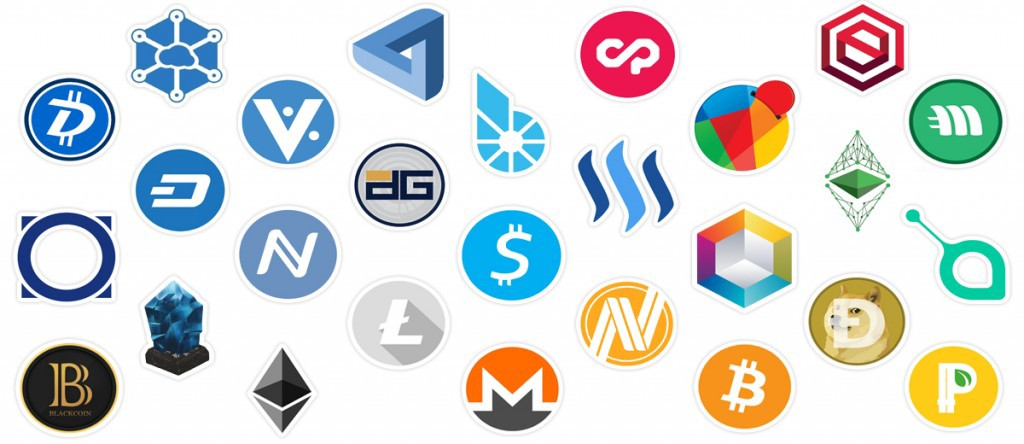 Source
In today's world there are over 6,500 cryptocurrencies, and many of these aim to solve one problem other. Cryptocurrencies are stored in digital wallets, and have no physical form (they are entirely digital). With Bitcoin being the highest, many cryptocurrencies have seen large scale increase in value in terms of price, and they are rightfully on their way to becoming "the money of the future."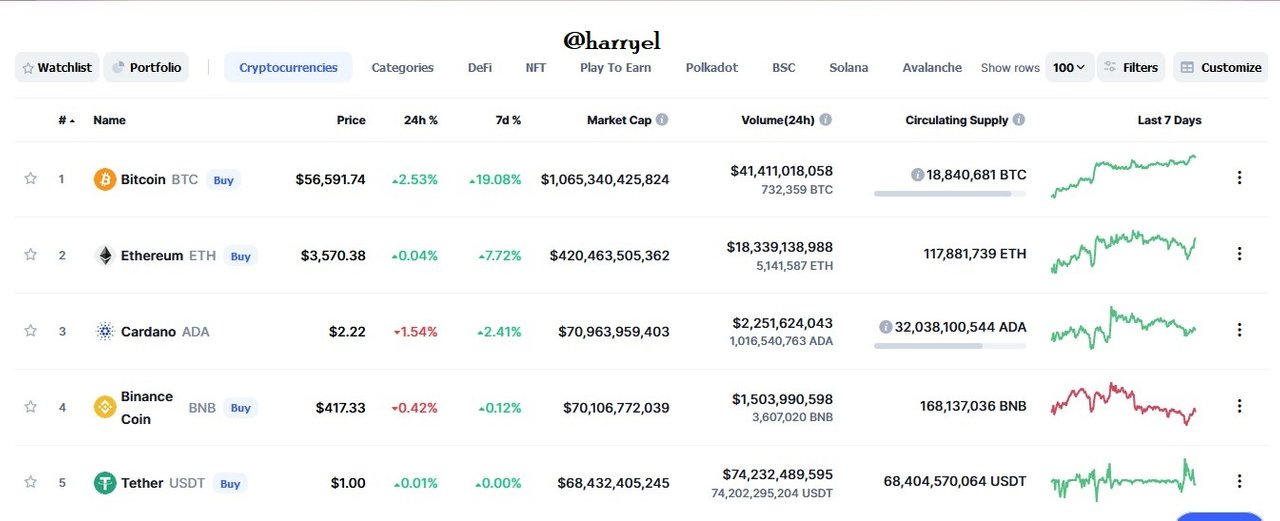 Top 5 Cryptocurrencies by Market Capitalization from Coinmarketcap

3b) What is Cryptography and how does it make cryptocurrencies secure?
---
Cryptography is the "Crypto" in Cryptocurrency, and it is what makes cryptocurrencies so unique, useful, and revolutionary. Cryptography literally is translated as "secret writing", and that is exactly what cryptography is in cryptocurrency; a way/method of hiding information from unwanted parties and revealing that information to the desired individuals.
Cryptography is the process/method of sending secure data between parties. The message is "encrypted" by the sender, which makes it secure and unaccessible by any third party, and the reciever "decrypts" the message, unveiling its content. This guarantees the authenticity and integrity of the message.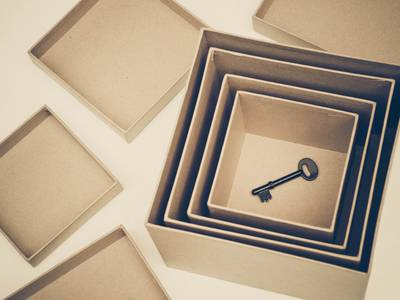 Source
Cryptography in cryptocurrency makes use of select mathematical theories and computational techniques to secure the network, validate transactions and protect other sensitive data, enabling cryptocurrency & blockchain anonymity and decentralization, as well as removing risk of double spending.
Cryptography is applied in many aspects of the entire cryptocurrency technology. It is used to limit the amount of monetary units created, the verification of transactions, the protection of one's assets and more.
How does Cryptography make cryptocurrencies secure?
Cryptography is used in the protection and safeguarding of one's cryptocurrency assets. This is done through (Public and Private) Key Cryptography, also known as Asymmetric Encryption Cryptography. This uses two sets of alphanumeric combinations called (Public and Private) Keys to encrypt and decrypt data. The public key can be known by anyone and essentially functions as the address of the recipient. The private key however, functions more like the password of the recipient and is kept confidential. The sender of the message (which, in this case, is a cryptocurrency asset) encrypts the message using the recipients public key. This message can then only be decrypted by the recipients private key. This ensures the integrity and security of the transaction without a middleman or third party.

Cryptography is used to verify the integrity and authenticity of transactions on the blockchain through Hashing. This encrypts transaction data in a specific way and groups them into blocks, then adds it on to the blockchain such that it cannot be tampered with without affecting the entire chain.
With this we can see that cryptocurrency is well secured through cryptography, and most cases of stolen assets are due to end-user error.

3c) Explore the Steem Genesis Block and Sign in as proof of completion.
---
Here are the steps to complete this task: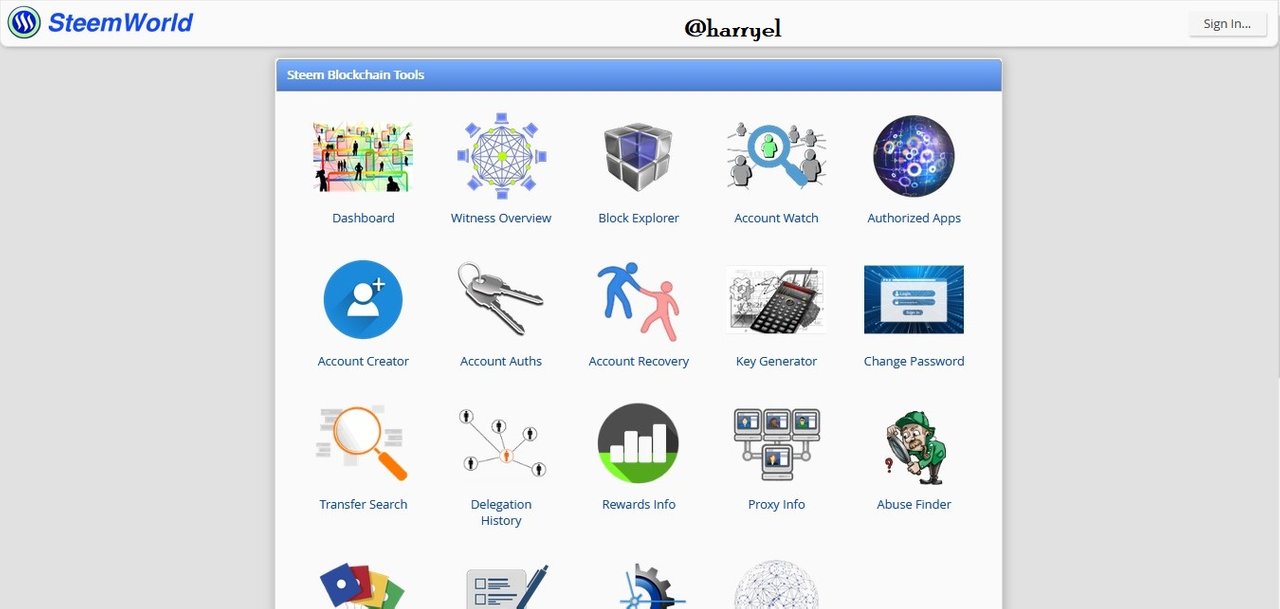 Image gotten from Steem World
On the landing/home page, click on the "Block Explorer" icon.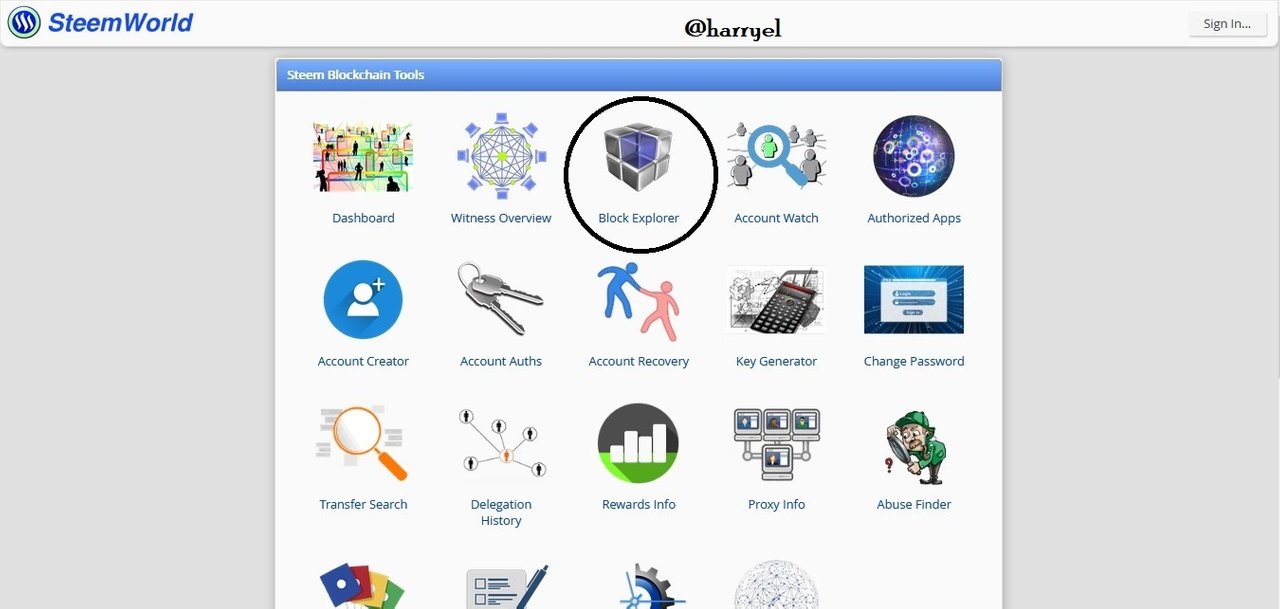 Image gotten from Steem World
A popup is shown on the page to determine which Block you want to view with "1" already pre-filled. Click on the "Ok" button.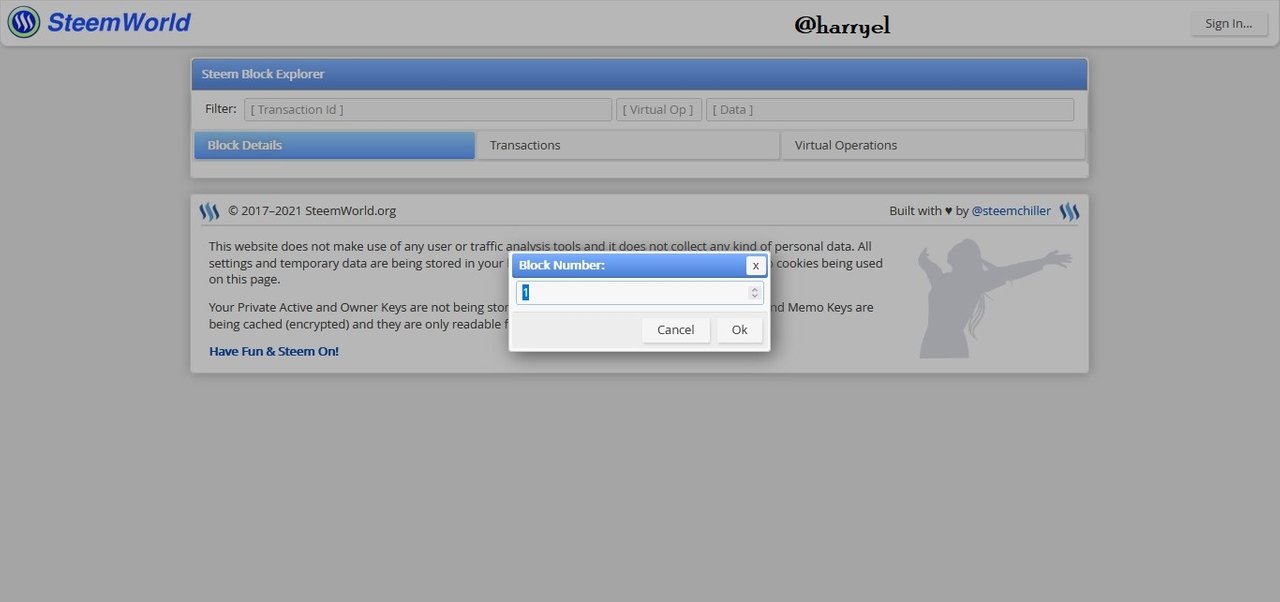 Image gotten from Steem World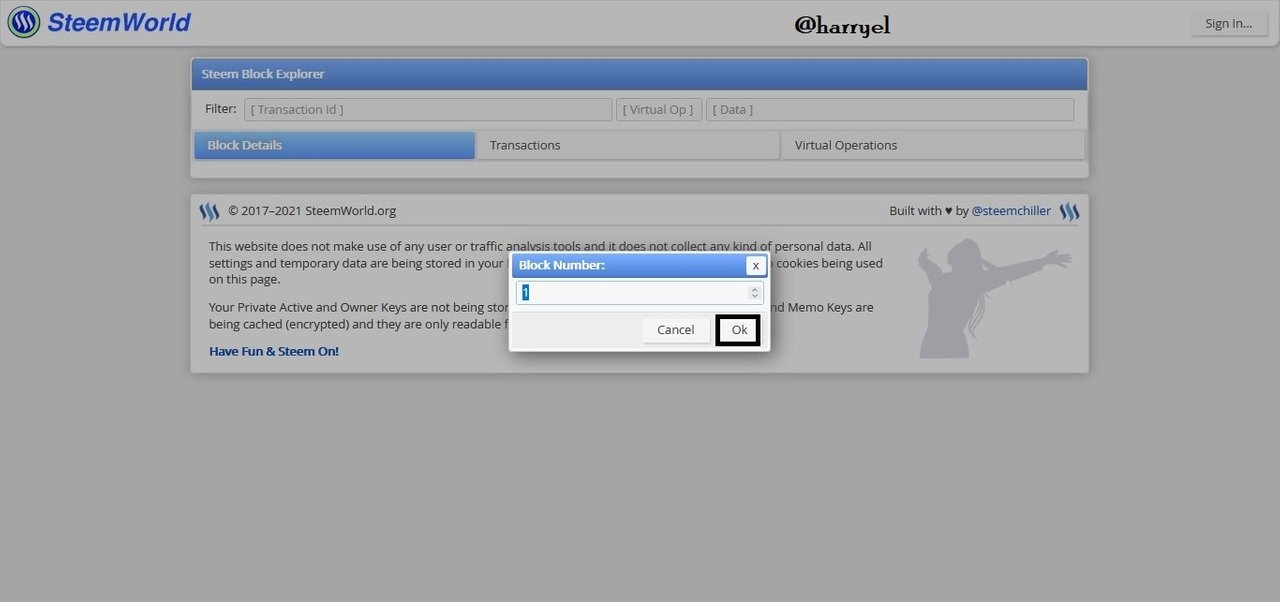 Image gotten from Steem World
The page containing the Block information is brought up.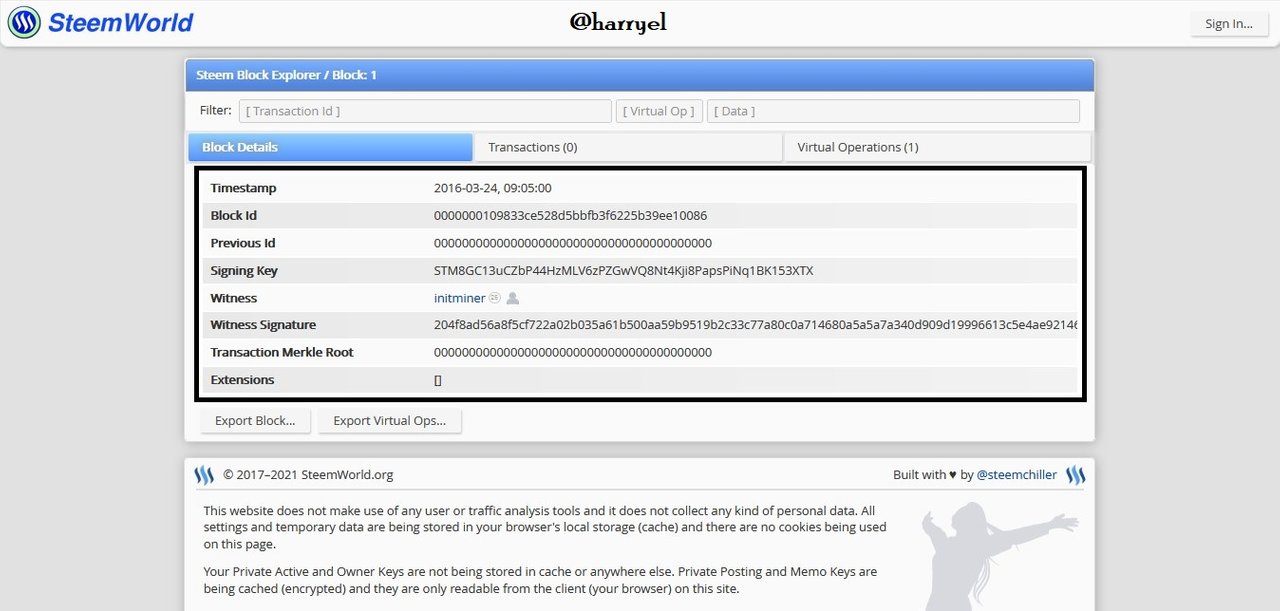 Image gotten from Steem World
Here is some of the important block information for the Steemit Genesis Block:
Timestamp: 2016-03-24, 09:05:00
Block Id: 0000000109833ce528d5bbfb3f6225b39ee10086
Previous Id: 0000000000000000000000000000000000000000
Signing Key: STM8GC13uCZbP44HzMLV6zPZGwVQ8Nt4Kji8PapsPiNq1BK153XTX
Witness: initminer25
Witness Signature: 204f8ad56a8f5cf722a02b035a61b500aa59b9519b2c33c77a80c0a714680a5a5a7a340d909d19996613c5e4ae92146b9add8a7a663eef37d837ef881477313043
Transaction Merkle Root: 0000000000000000000000000000000000000000
Extensions: []
We can also see the Virtual Operations.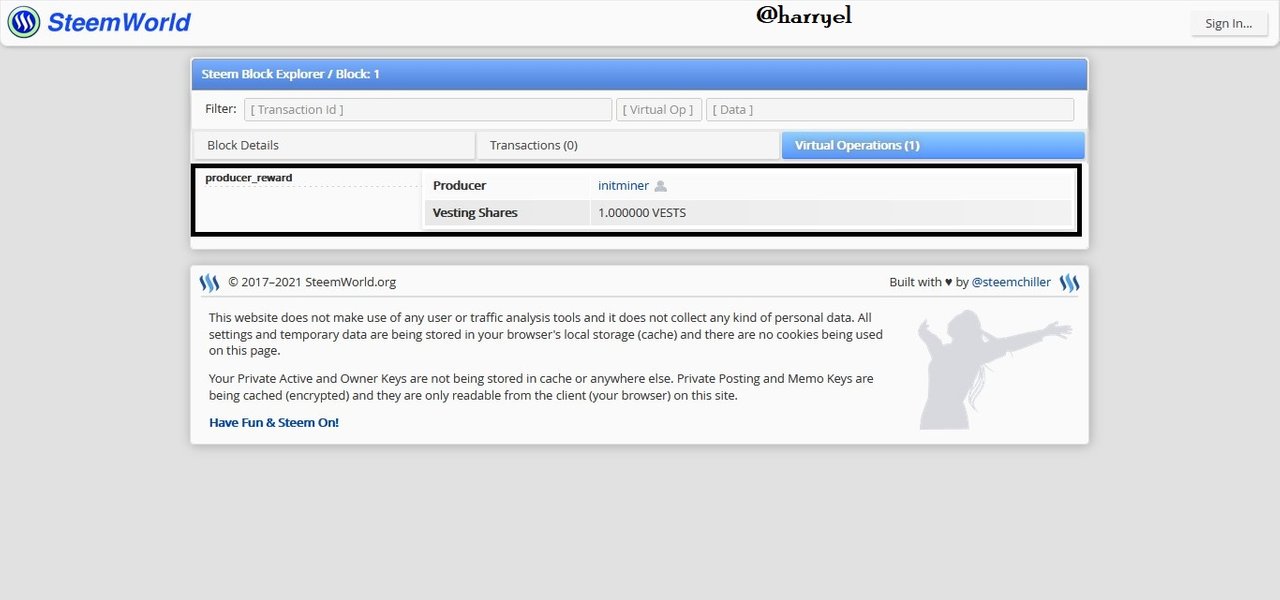 Image gotten from Steem World
I will now proceed to sign in.
To do this, I click on the "Sign in" button at the top right corner of the page.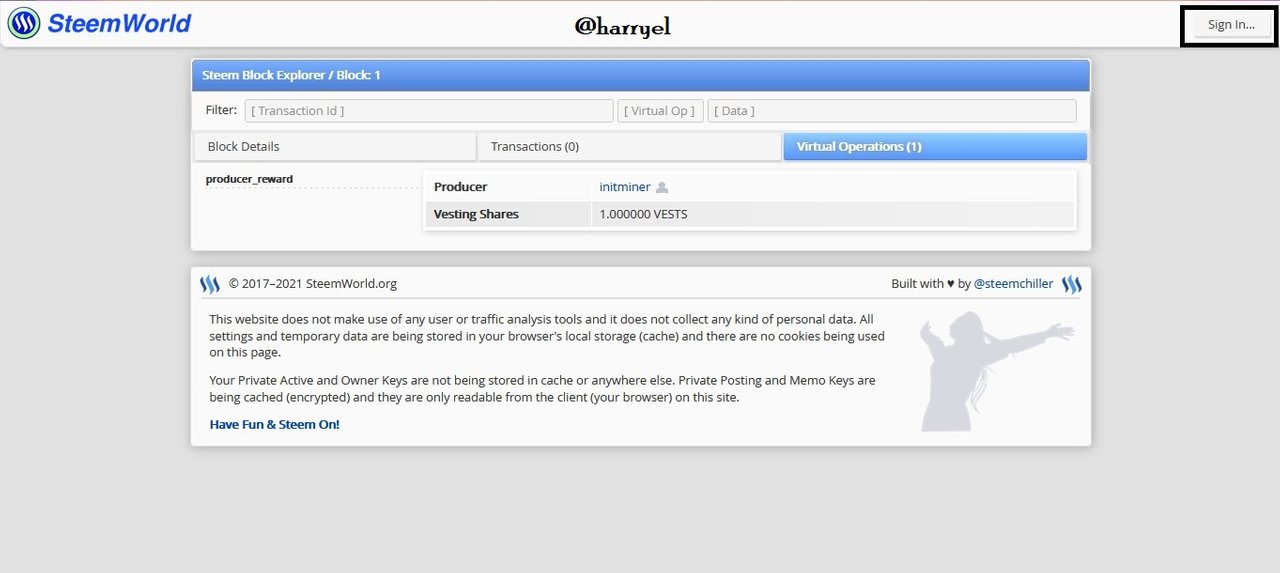 Image gotten from Steem World
A pop up is then shown, requesting the input of my Steem Account Name and Private Posting Key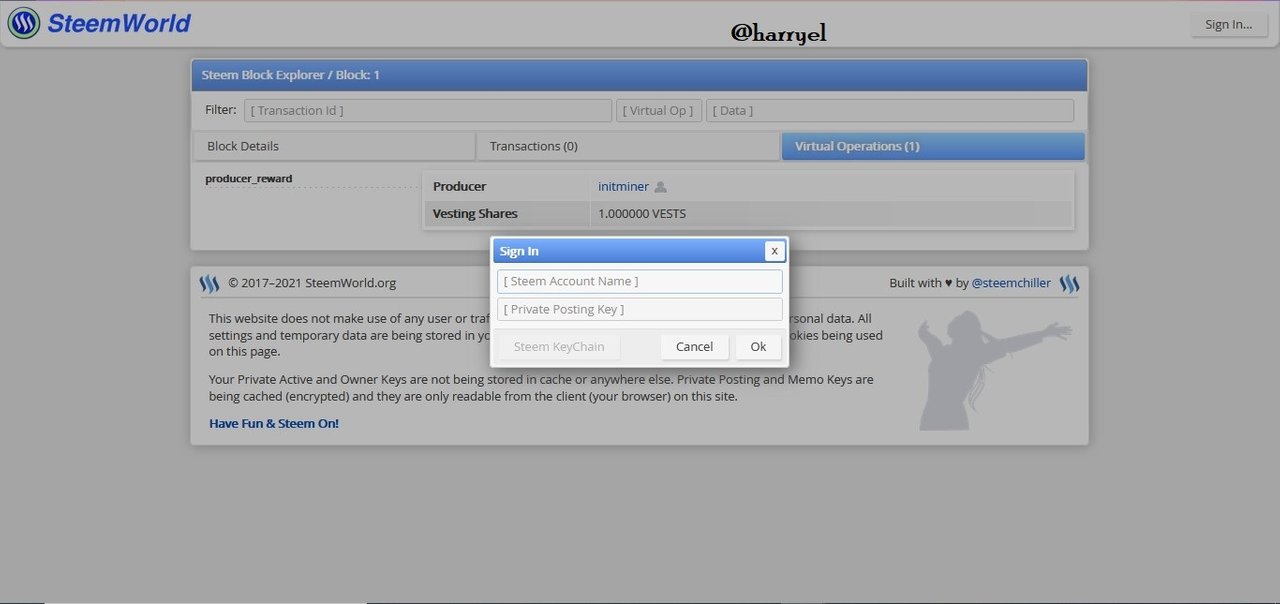 Image gotten from Steem World
After filling that in, I click on "Ok"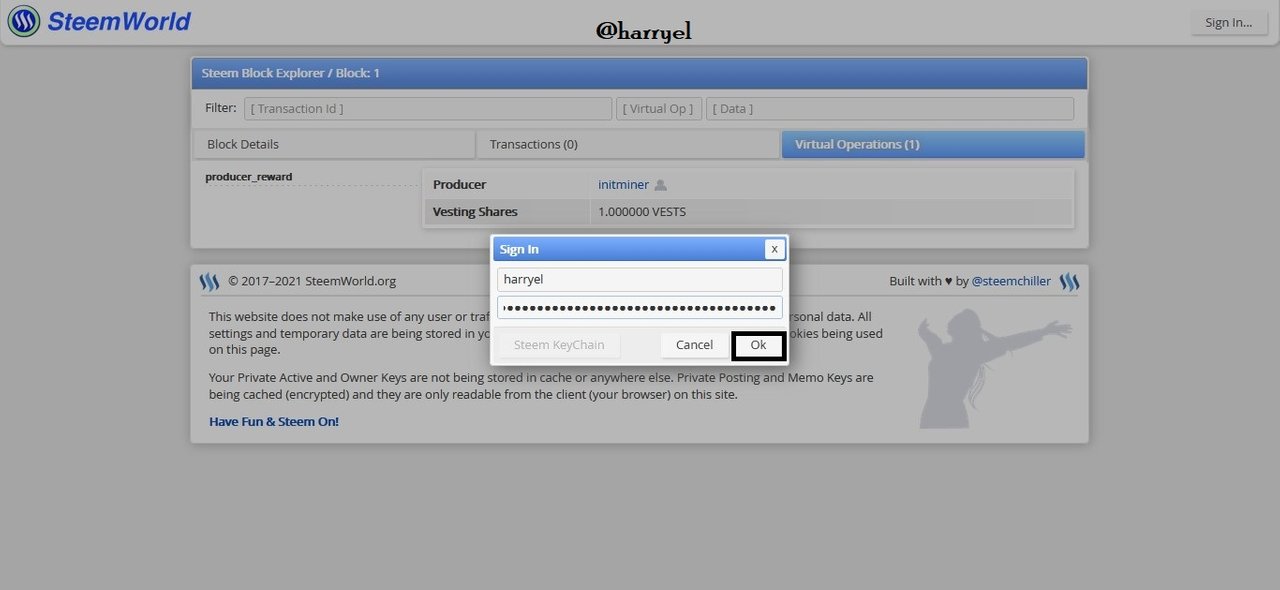 Image gotten from Steem World
I am now successfully signed in.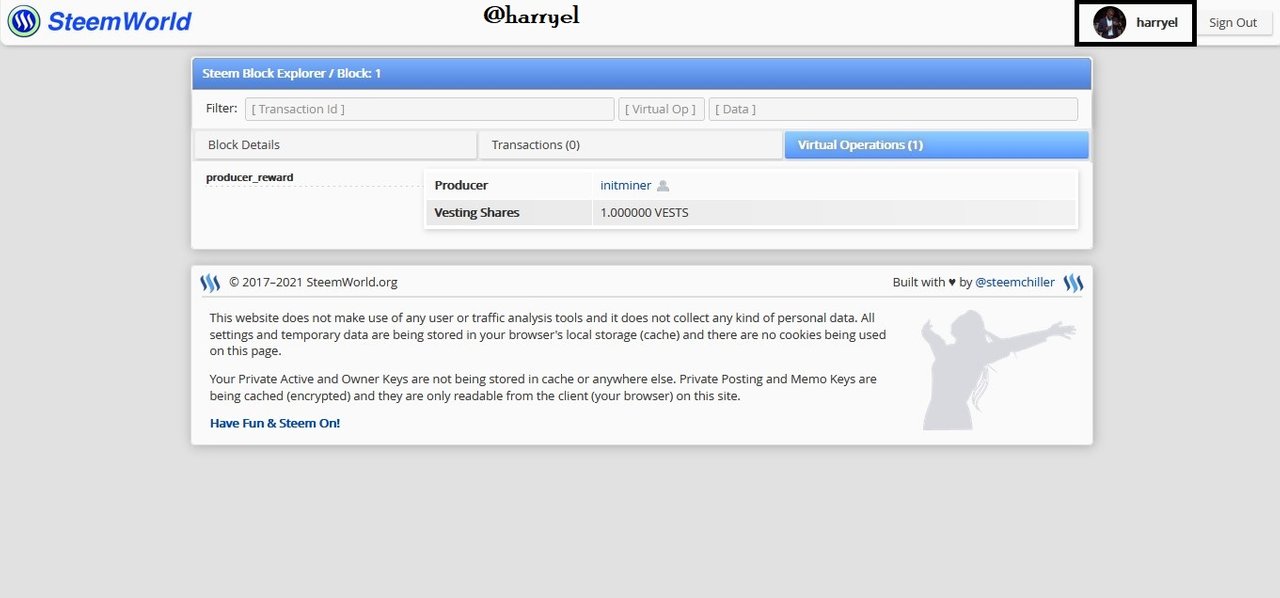 Image gotten from Steem World

~CONCLUSION~
---
Cryptocurrency is the money of the future, made decentralized, secure, and anonymous, through the use of cryptography. I am grateful for the opportunity to participate in this academy.
-IamEl the ModestPoet
N/B: All pictures not cited, were designed by me using Canva, powerpoint, or gotten from the respective websites.