Hey Steemians,
Good afternoon to everyone,
Greeting to #steemitcrytoacademy -The most engaged community on the steemit platform.
I'm @hdnakum. Today, im going to write the homework about Defi lectured by @reminiscence01. I will try to give my best to write the answer to all questions.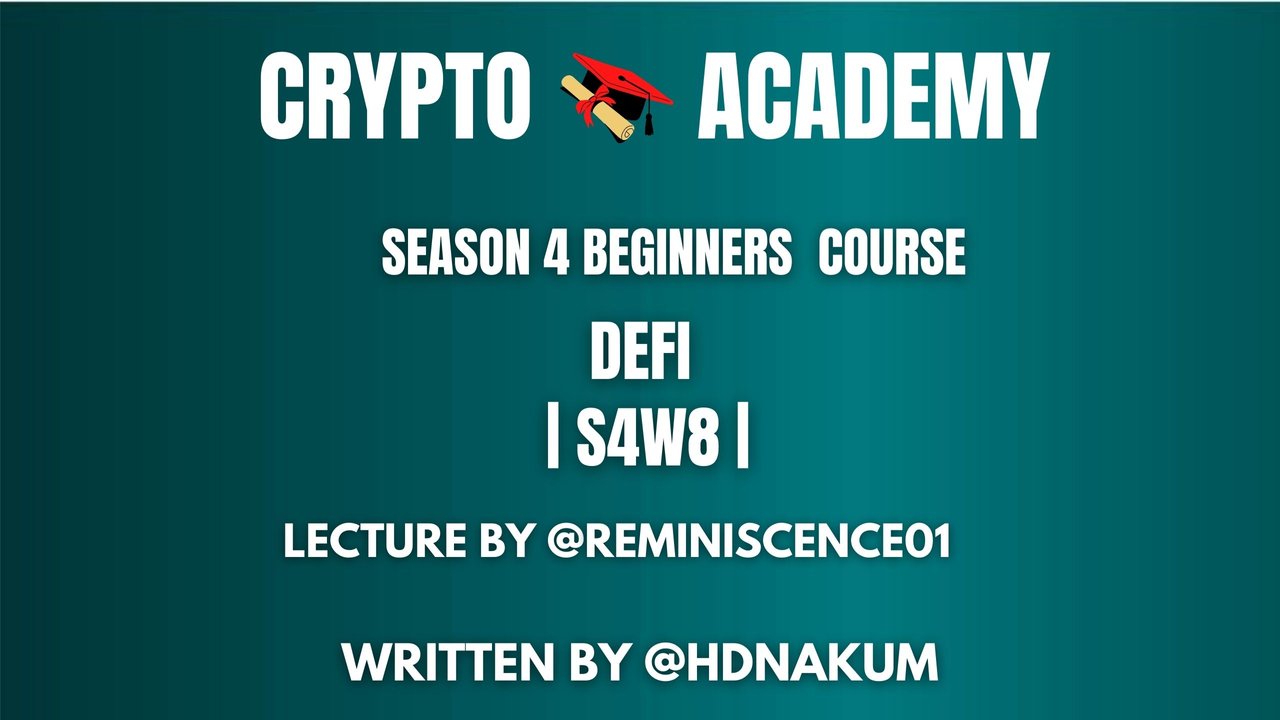 Made with Canva


1. What is DEFI
Decentralized finance (Defi) is an open financial system built atop of a smart contract enabled blockchains- a universal distributor ledger. The main difference between conventional finance and decentralized finance is Defi is controlled by you only whereas conventional finance is always controlled by a centralised body, be it a bank or any financial institute. You control your money by using Defi means you can do anything, that you have been doing (borrow, lend, insurance & earn interest) with the help of centralized finance, without any help from the centralized third party.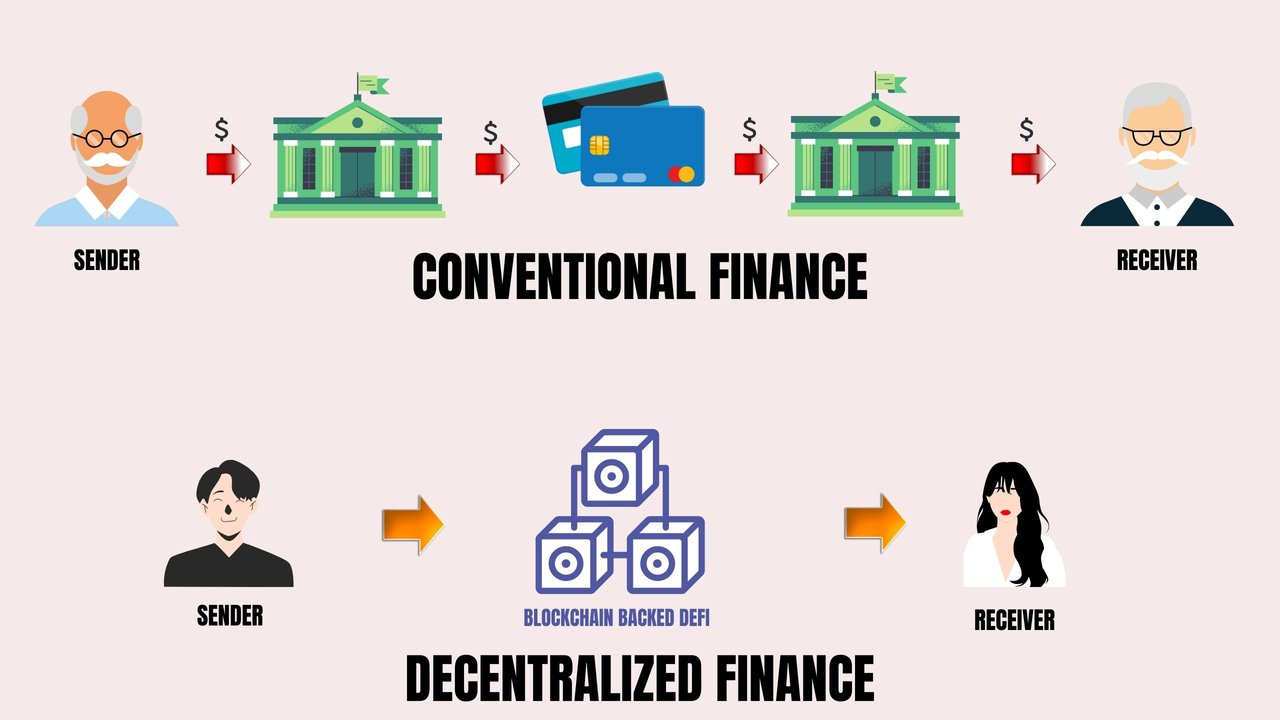 Conventional Finance Vs DeFi | Made with Canva
The Defi is completely made on smart contract enabled blockchain. We all know that blockchain is the universal distributed ledger that records the transaction on it and sends it to thousands of nodes simultaneously. The Defi Dapps are deployed on this kind of cryptographic backed smart contract blockchain which are highly secure, fast and immutable. The best thing is the transaction of every blockchain are transparent, fast, secure and immutable which makes blockchain one of the best technology in 21t century.
Many blockchains can run the smart contract over it such as Ethereum, Binance smart chains, Algorand, Terra, Tron, Steem, Hive and Kadena. I have listed some of the best (by volume) Defi Dapps running on different blockchain platforms.
Over time, the adaption of the Defi has increased dramatically. People are using the Defi very easily for borrowing, lending and especially earning passive income by providing liquidity to the borrowers. If we check the total market cap of the Defi project, (as shown below), it is $154 B, more than the market cap of Sol and BNB combined. By this, you can imagine how people are crazy about getting passive income from Defi protocols and for borrowing as well. In future, Most probably, Defi will replace conventional finance where the corrupted people put the entire financial system at risk (remember 2008 Crash?).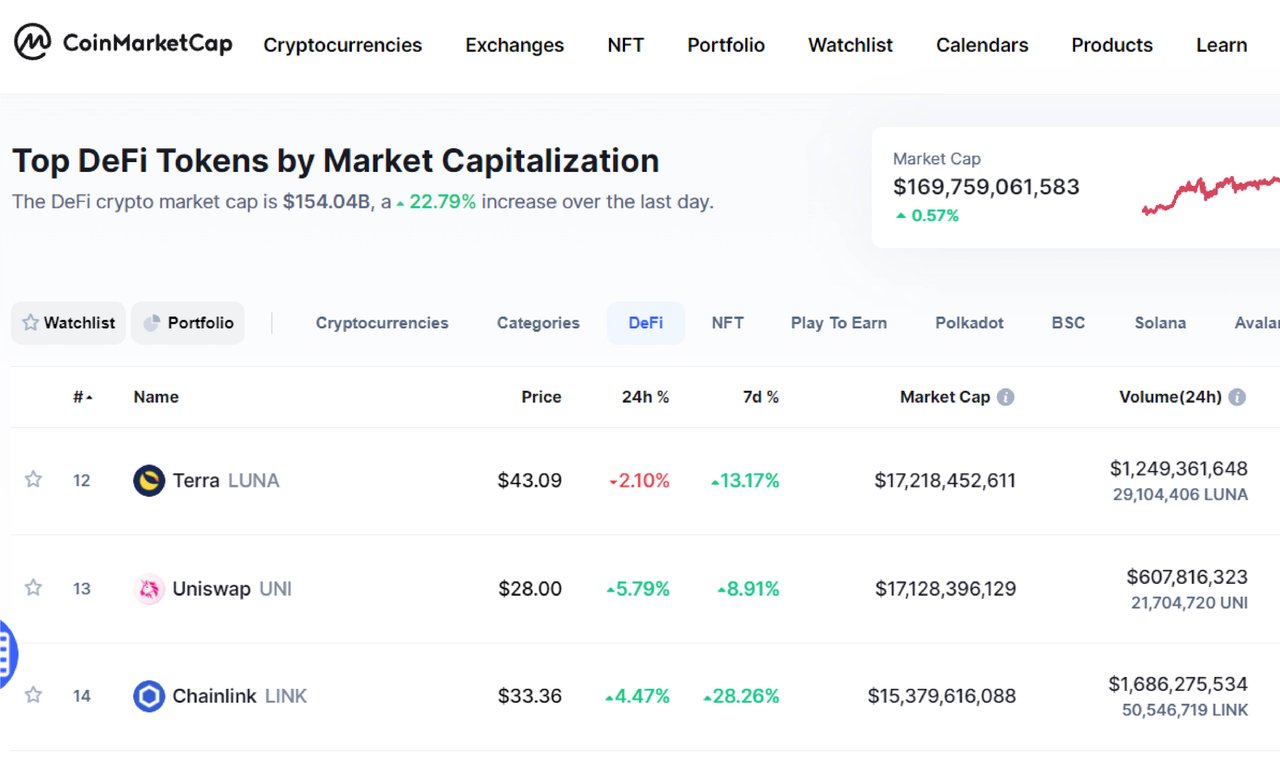 whopping $154 B market cap of DeFi protocols | Made with Canva
2. BENEFITS OF DEFI
There are numerous benefits of using Decentralized finance over centralized finance. I have listed some of the best benefits of using Decentralized finance below.
You have full control over your money
You can transfer your money globally without any extra charge.
You can borrow money by collateralizing other crypto assets you already have.
You can earn passive income (around 5-20%) by lending the cryptocurrency.
The transactions are transparent than Centralized finance, thus anyone can check a product's data and inspect how the protocol system works.
You can transact/buy/sell your crypto to someone else in minutes.
There is no time limit to use Defi, you can use it anytime, the markets are always open.
Now you also buy a synthetic stock (using oracle) from the Defi protocols (e.g Mirror protocol)
Moreover, you can take all the benefits listed above anonymously because Defi doesn't require any identity (KYC).
You can transact millions by just a single click using Defi whereas centralised banks require prior authorization while transacting a huge sum of money.


Many DEX are available on both the binance smart chain and Tron blockchain but very few are great in terms of speed and the facilities there are providing except only swapping. I have listed some of the well-known DEX made on BSC and Tron blockchain according to their Trade volume
In thems of volume, Pancakeswap and Zethyr Exchange are leading on BSc and Tron blockchain. In this blog, we are going to learn about Pancakeswap and Zethyr Exchange DEX.
1) BSC - Pancakeswap
Pancakewap is one of the best Decentralized exchanges ever existed for the Binance smart chain token (BEP20). It works on the (AMM) automated market maker model and is not like the conventional market model where there is seller and buyer. In this model, traders trade cryptocurrency by using permissionless liquidity pools.
You can swap almost any cryptocurrency from one another, but the point is you must have some BNB coin (gas fees) to approve any transaction you demand. Normally the transaction fee is around 0.5$ worth of BNB. You can swap or you can earn passive income by providing Liquidity or Farming.

Pancakeswap Homepage
The total value locked (TVL) on Pancackswap is $11 B which is huge and that's why it has a lot of liquidity while performing the transaction on pancakeswap. Pancakeswap has over 2.8 Million users which I consider a huge number.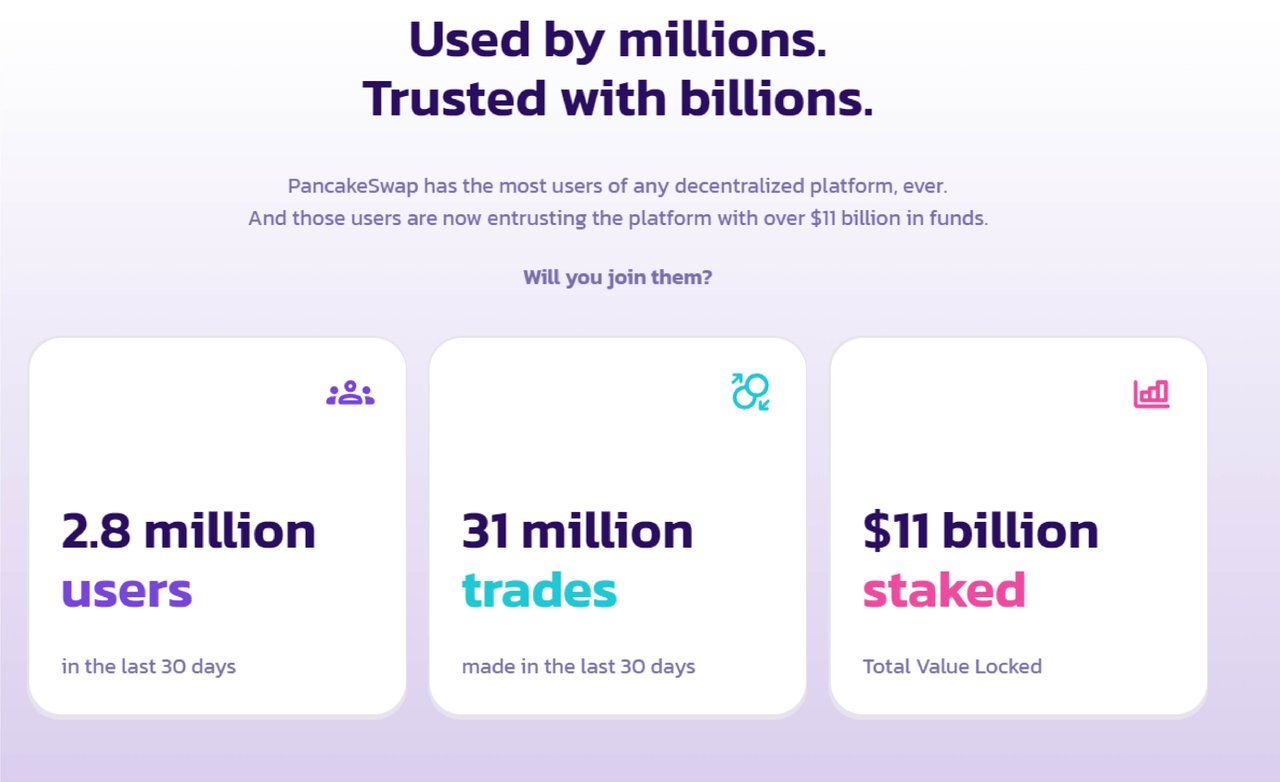 Most Active DEX Pancakeswap
Swapping Facility
The pancakeswap is mainly known for the swapping of the cryptocurrency that runs on the Binance smart chain blockchain. As the DEX itself runs atop of BSC. Make sure, you need a BNB token as a transaction fee to swap any currency from one another, however, the transaction fee is quite low as compared to the Ethereum blockchain. The detailed Transaction is explained in question 3.


Pancakeswap Exchange
Stacking Cake - Syrup pools
Stacking of the Cake coin in Syrup pools is one of the best options to get rewards in the form of Cake tokens moreover, there is a certain option for getting rewarded in form of some other BEP-20 tokens as well. Staking is quite similar to farming. In cryptocurrency staking, your asset is locked for a certain period and then you have harvested them once the time is up. In this way, one can earn a passive income, however, there is risk associated with it as well. In short, you stack coins and get rewarded either a Cake token ot another BEP-20 token depending on what syrup pool you have chosen.


Pancakeswap Stacking Cake only
Farming
When you provide liquidity to the liquidity pool (e.g BNB/cake), in return you get some LP tokens. Now you will receive transaction fees as rewards because you have provided liquidity making AMM. One more thing you can do with this received LP token is to farm it for a cake token.


Pancakeswap Farming/stacking LP tokens


In the above image, you can see that if you stake/farm cake/BNB, you will get 33.3% of the rewards in form of cake tokens which can later be sold for profit or reinvested by auto-compounding.

Lottery
The Pancakeswap runs four lotteries in a single day (1 lottery tuns 6 hrs). To participate in the lottery you have to buy a ticket worth 10 cake tokens (around 200$). It is a pure form of a gamble and thus, I would suggest you stay away from it. If you win, you receive a huge amount of cake and NFT as well sometimes.


Pancakeswap Lottery

ICO
Initial farm offering is the type of fundraising for the new project. I consider this is the best opportunity to grab some tokens of a new project by providing Cake-BNB LP tokens. To take part in the IFO, you have to get a cake-BNB LP token first by providing liquidity and then you have to activate your profile as well.


Pancakeswap IFO
All and above I have found Pancakeswap quite amazing because it is fast, secure and easy to use. It also offers numerous Options to earn passively and charges quite low transaction fees as well.
2. TRON - Zethyr Exchange
Zephyr DEX is a DEX Aggregator where you can find various offers about buying your crypto asset at a low price with minimum fees. There is various DEX available for the Tron blockchain but I feel that Zephyr DEX is one of the best DEX or finance Dapp available on Tron. You can also lend, borrow, or stack the TRC-20 token on Zephyr DEX as well.
Zephyr finance is new Defi app built on the Tron blockchain which also allows swapping of the TRC-20 tokens simultaneously with borrow and supply.
Swapping
Zephyr finance has an amazing tool available on the platform is Swapping the TRC-20 tokens known as Zephyr exchange. This is a decentralized exchange and so are secure, fast and quite user friendly. One can swap almost all the TRC-20 with each other with very low transaction fees (it use bandwidth & energy first).


Zethyr Exchange Homepage

Borrowing/Lending
Borrowing/Lending is one of the prime features of Zephyr Finance. One can earn passive income at a certain APY by supplying cryptocurrency. Moreover, one can borrow a cryptocurrency from Zephyr Finance at a specific interest rate by collateralizing the borrower's crypto assets.


Zethyr Exchange Borrow/lending Protocol
Cross-chain Stable token Transfer
One of the best feature a Zethyr finance has is a cross chain transfer of stable coins. Now one can transfer USDT (TRC-20) to USDT (ERC-20) easily using the Zethyr finance.


Zethyr Exchange Stable Coin Cross Chain Transfer
Overall I found Zephyr finance very useful as compared to using justswap and sun.io combined. It is a fairly new protocol but still getting lots of attention due to its ability to perform multiple tasks at a time.


---
1. Demo of Buying BEP-20 token from Pancakeswap DEX
Now as we have been assigned to perform a task regarding buying the BEP-20 token on Pancakeswap. I will show you a demo of buying the MONI token (BEP-20) token from the pancakeswap using BNB.
Step 1: Go to Pancakeswap Exchange and click on connect wallet.


Pancakewap Homepage

Step 2: Click on Metamask or a wallet you have - Pancakeswap will connect with your wallet.


Pancakewap Homepage

Step 3:. Once the wallet is connected, click on Trade followed by Exchange. it will directed to you t exchange page as shown below.


Step 4: Now select the coin you want to spend by dropdown menu and then select the coin you want to buy by dropdown menu. if you don't find the coin by name, you have to paste its contract address and then import it. For example, I want to buy moni using BNB.


Step 5:. Once you are done with it, click on the swap. sometimes, the shit coin needs more slippage charge, in such case you have to manually set the slippage charge by clicking on the setting button just over the top of the exchange. Hit Swap and then hit on confirm swap.

Step 6: Once you hit the confirm swap, a new popup from your wallet will appear to confirm the transaction. the pop up will give you information about gas fees and all. - Hit confirm


Step 7: Transaction submitted - you can see details of the transaction on bscscan


Step 8: Check you transaction detail on bscscan

---
2. Demo of Buying TRC-20 token from Zethyr DEX
Step 1: Go to zethyr.finance and click SWAP. It will redirect you to zethyr exchange. once you reach the exchange page, it will ask permission from your wallet to connect it. Hit connect


Step 2:Select the token you want to spend from the dropdown menu and then select the token you want to buy. e.g I want to swap 144 TRX into 13 USDT as shown below.


Step 3:Click on Swap now and confirm it

Step 4: A new window from your wallet will pop up asking to sign the transaction. Click on sign.


Step 5: Track your transaction on Tronscan. Check the balance of the TRX and USDT in your tronlink Wallet.
As you can see the Tron network is charging me 18 TRX for this transaction due to low energy for my wallet address. This kind of fee can be avoided if you have the proper bandwidth and energy to carry out transactions. I think the energy will be recovered by tomorrow, and i will complete the Transaction.


In the end, I would like to thank @reminiscence01 for writing such a nice informative lecture. I have learned a lot about defi and DEx that Pancakeswap and zethyr. exchange. Defi is an amazing tool to earn some passive income if you stack/farm your crypto assets to DeFi. Defi has solved many problems and will surely solve some more where the centralized system is dominating now such as banks, Insurances and many more. Have a Great Day