---
NFT (Non Fungible Token) Games
---
---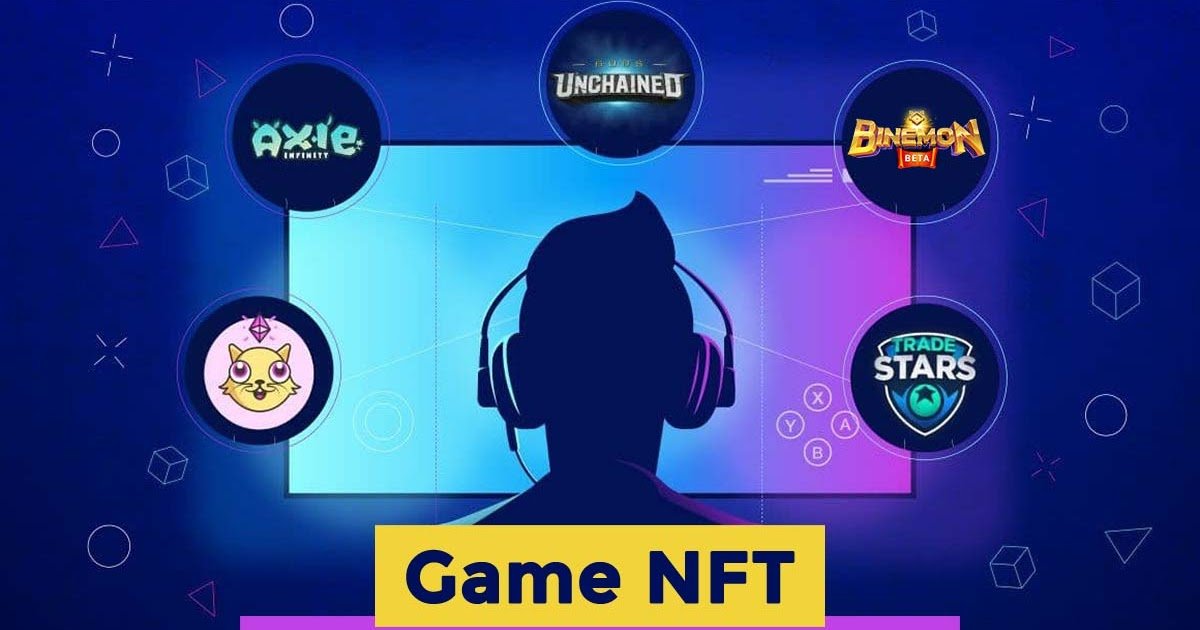 Source
Assalamualaikum and good night everyone, welcome to the Steemit Crypto Academy season 4. Tonight I will write a post about NFT Games as a homework post for professor @imagen and this is my first post in this season.
The professor has explained about the NFT Games in the learning post that has been distributed to this community and now it's time for the students to finish the homework that has been given, there are four main questions that must be answered in this homework and I will try to answer them in this post. I am very enthusiastic to start because this is a new knowledge for me.

---
Q1.) Describe in your own words the main Advantages and Disadvantages (Pros and Cons) of NFT Games about other types of games
---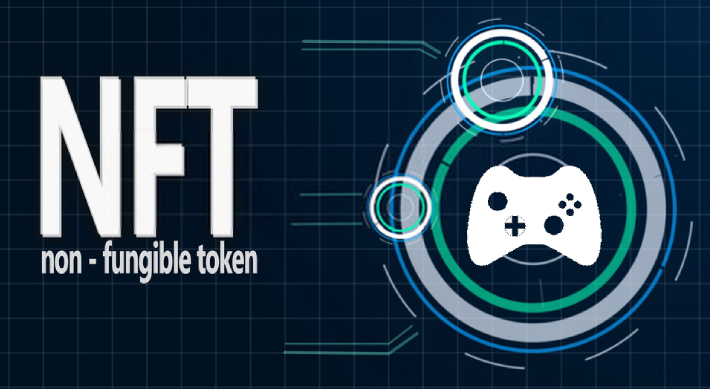 Source
Non Fungible Tokens (NFT) are unique tokens that contain a unique digital code that can represent a variety of unique items such as artwork, images, text, audio, video, and other unique items. Its unique nature with different identities makes NFT cannot be replicated or edited because everything is permanent on the blockchain network.
With technological advancements that continue to develop, NFT has succeeded in bringing the Games industry into the blockchain network and this is a great innovation of course because gamers can enjoy games and earn extra income. NFT Games provides an opportunity for gamers to get NFT prizes that can be exchanged into cryptocurrency or fiat. For consideration, here are six advantages and six disadvantages to consider.
---
Advantages
---
Immutability
Traditional games that are usually developed by a company may go bankrupt and the game will be discontinued so that users will lose all their assets, very detrimental. While NFT Games are immutability because everything is validated on the blockchain network and if the developer stops the game then the user still has full control over their assets.

Ownership and Control
The user has full control and ownership of the various items that are already owned and they can be stored, traded and sent to other users. This is very different from the case of possession of items in traditional games which are only temporary, cannot be traded, and cannot be sent to other users, even users can lose everything if the game goes bankrupt.

Value Appreciation
NFT Games uses NFT assets which are very valuable and users can earn additional income from this game – Play to Earn. In fact, this has become one of the most profitable investments to date and all of that cannot be found in the case of traditional games.

Interoperation and Security
NFT Games are decentralized on a blockchain network whereas traditional games usually only use a centralized server. That way, NFT Games has a higher level of security, of course. Items in traditional games can usually only be used in one game, while items in NFT Games are more flexible for various games built on the same blockchain network.

Data Record
All information contained in NFT Games is stored validly on a decentralized blockchain network and tends to be more secure whereas traditional games usually require a certain storage space and if the storage space is problematic, damaged or deleted then you will lose everything.

Transparancy and Scarcity
Each item is unique and always different so it cannot be duplicated or edited because everything has been validated on the blockchain network. Each item has a unique code which has been validated in the blockchain network and no one can manipulate it. This makes NFT items unique, rare, and non-fungible.
---
Disadvantages
---
Less Attractive
The main purpose of games is to please users, but most of the NFT Games have a less attractive appearance and are considered not very fun and boring for users so that most gamers are not very interested in playing them. Most NFT Games users also tend to play these games just to earn income.

Qualitative
The price of NFT is relative and is determined based on quality and not based on quantity so many people speculate that NFT looks a little less attractive. Maybe today someone buys a piece of NFT art for $2000, but not necessarily tomorrow it will be more expensive, and could even be much cheaper.

Liquidity
Due to its rare nature, NFT liquidity tends to be very low and this makes it difficult for a number of assets that have been owned or purchased to be resold or require a long waiting time.

Copyright
One of the abuses that usually occurs in this case is the plagiarism of an artist's artwork by a certain person and this should be intolerable.

Storage Problem
An NFT asset purchased in a particular market can only be stored in wallets contained in that market making it very difficult for new owners to move it and no one knows how long the market will last as new problems may arise here.

Environmental Concern
NFT is decentralized in the blockchain network and as we have seen the energy consumption in the blockchain network is very high. This case can cause an unfavorable impact on the environment, many activists have also started to seriously discuss this topic recently.

---
Q2.) Name five (5) recognized characters: writers, artists, athletes, or others, who have digitized their works (writings, publications, paintings, drawings, illustrations, etc.) to produce NFT. Please indicate the value of the NFT or the collection, show photos or images, and cite sources
---
Paris Hilton
---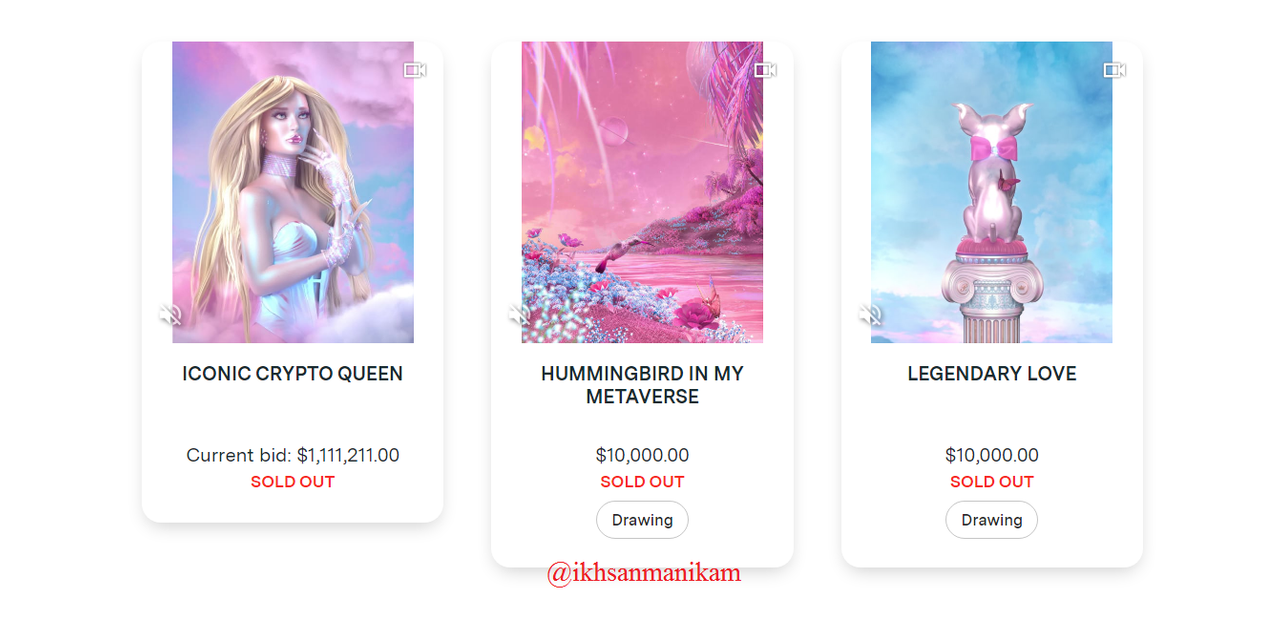 Source
In collaboration with a well-known NFT artist named Blake Kthryn, a well-known artist from the United States named Paris Hilton has succeeded in launching NFT artworks in the form of three unique cards, namely Legendary Love, Humming Bird in My Metaverse, and Iconic Crypto Queen. The three cards were auctioned through the site https://www.niftygateway.com/collections/parisblake with varying prices, the Iconic Crypto Queen card was auctioned for $1.11 million while the other two cards were auctioned for $10,000.
---
Blake Kthryn
---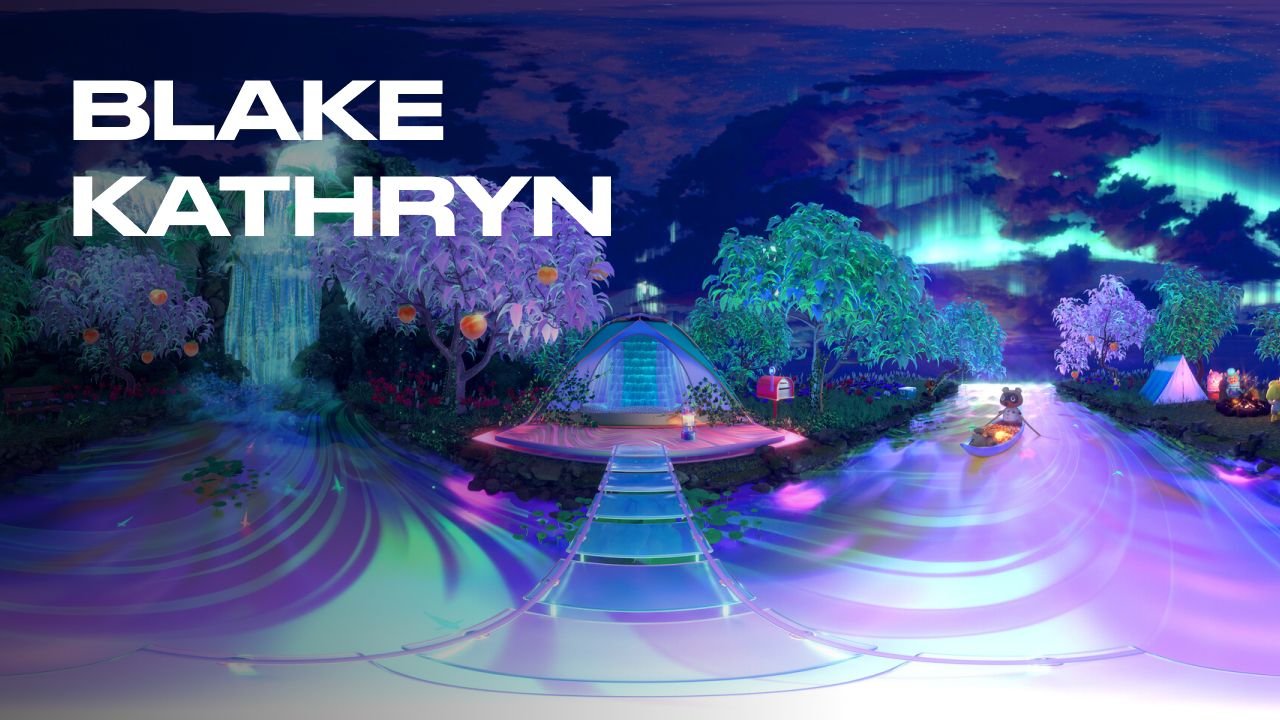 Source
Blake Kthryn has emerged as one of the most well-known NFT artists to date for creating incredible works of art and collaborating with great people & top personalities on various NFT artwork projects.
---
Justin Blau
---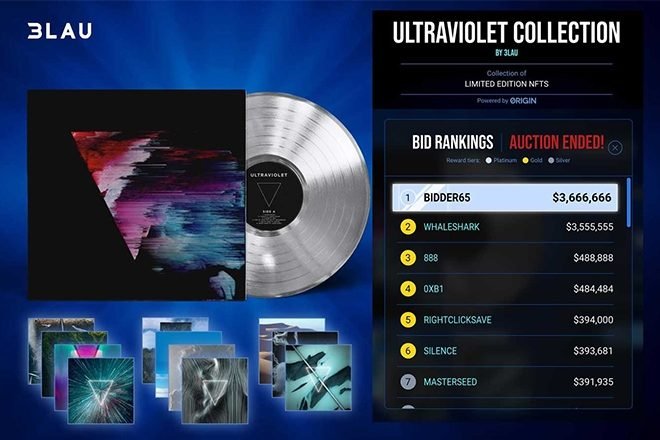 Source
An EDM (electronic dance music) musician named Justin Blau or better known as 3LAU has managed to sell his music in NFT form with the album name is Ultraviolet and within 48 hours the music album was sold for $11.3 million.
---
Justin Aversano
---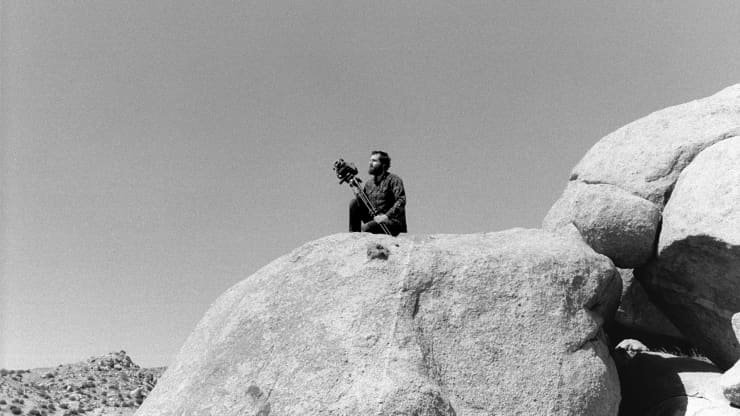 Source
A well-known artist and photographer named Justin Aversano managed to earn around $130,000 in five months and the income was derived from the sale of his NFT artwork in the form of a twin flame series containing one hundred unique images.
---
Beeple
---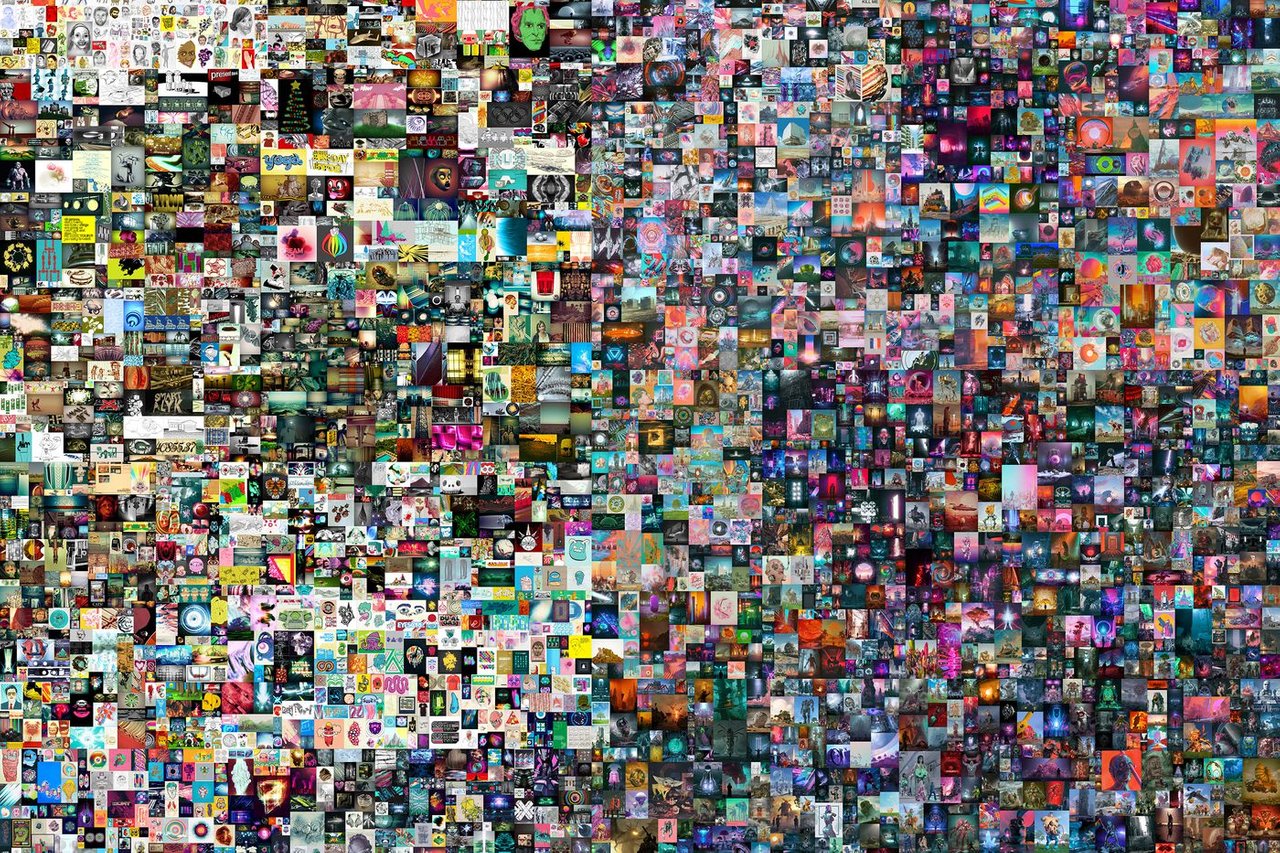 Source
A famous artist named Mike Winkleman or better known as Beeple has managed to create a very interesting work of art called The First 5000 Days which contains 5000 collections of works that have been made since the beginning of his career and this artwork has become one of the NFT artworks most expensive to date as it sold for $69.3 million via Christie's online auction site in March 2021.

---
Q3.) Choose one of: MyDefiPet, Mist, CryptoBlades, Dragonary, or WavesDuck. Describe in-depth the selected game: founders or developers, launch date, the objective of the game, operation, native token (price, market capitalization, position), availability in the various operating systems and any other relevant information
---
About Waves Duck
---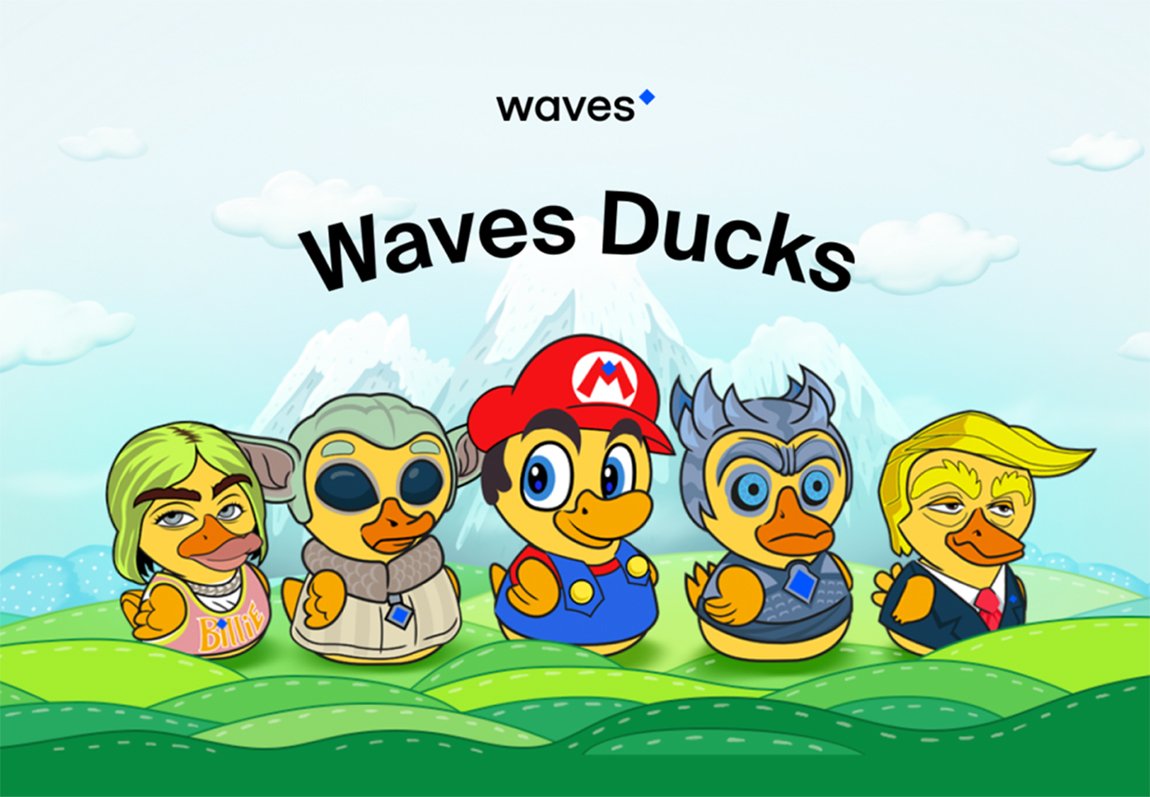 Source
Apart from being the founder of Waves, Shasha Ivanov from Russia is also an important figure behind the development of an NFT Game called Wave Duck which was launched in April 2021, which is a game about the kingdom of ducks that runs on the Waves platform's blockchain network and users of this game will try to build a duck kingdom by collecting various digital duck pictures in NFT format and these images can also be sold or sent to other users. In April 2021, the first Waves Duck named Perfection sold for $1 million.
There are two ways to get the ducks, the first way is to collect eggs for free through various activities in the community, while the second way is to buy eggs through the Waves platform. Then the eggs can be hatched and the ducklings can be cared for, each duck can be bred once to give birth to a unique & rare egg and after that the duck will become a barren duck.
---
Waves Duck Main Features
---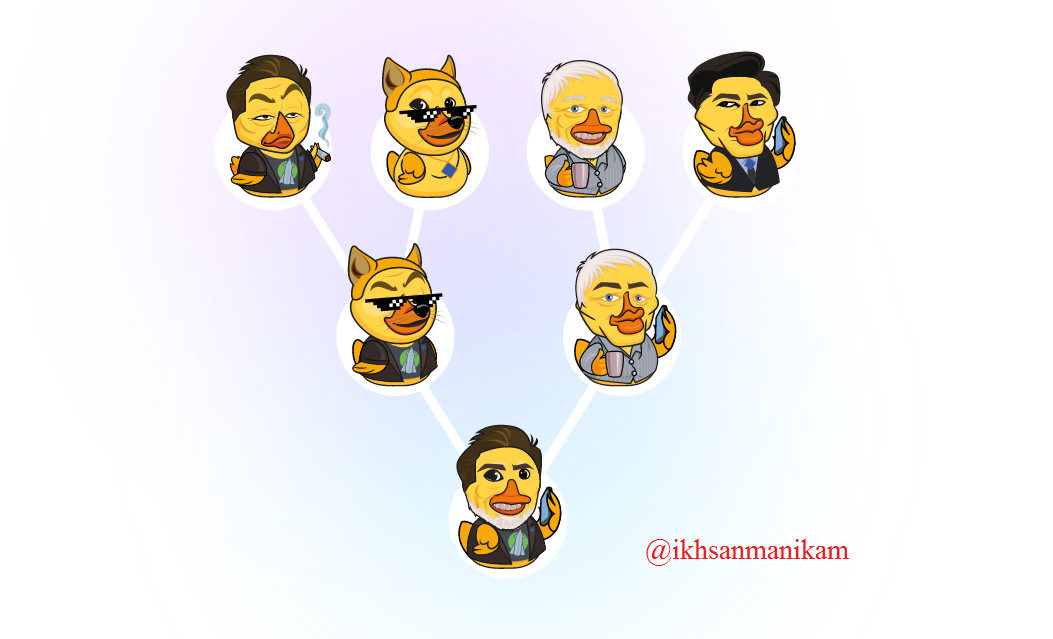 Source
This game has not many features and is classified as very simple and easy to understand because the main mission that users need to do is collect eggs, incubate them, and breed them.
Eggs that have been purchased through the Waves platform or collected for free through the community are the main items in this game because EGG is the main token, then there is a Genesis Duck item that can be used to help get eggs, then there is a Duck Second Generation item that comes from the marriage of ducks, and lastly is the Duck Jackpot item which is made as the rarest duck because the number of circulation is very very small.
---
Waves Duck Display Menus
---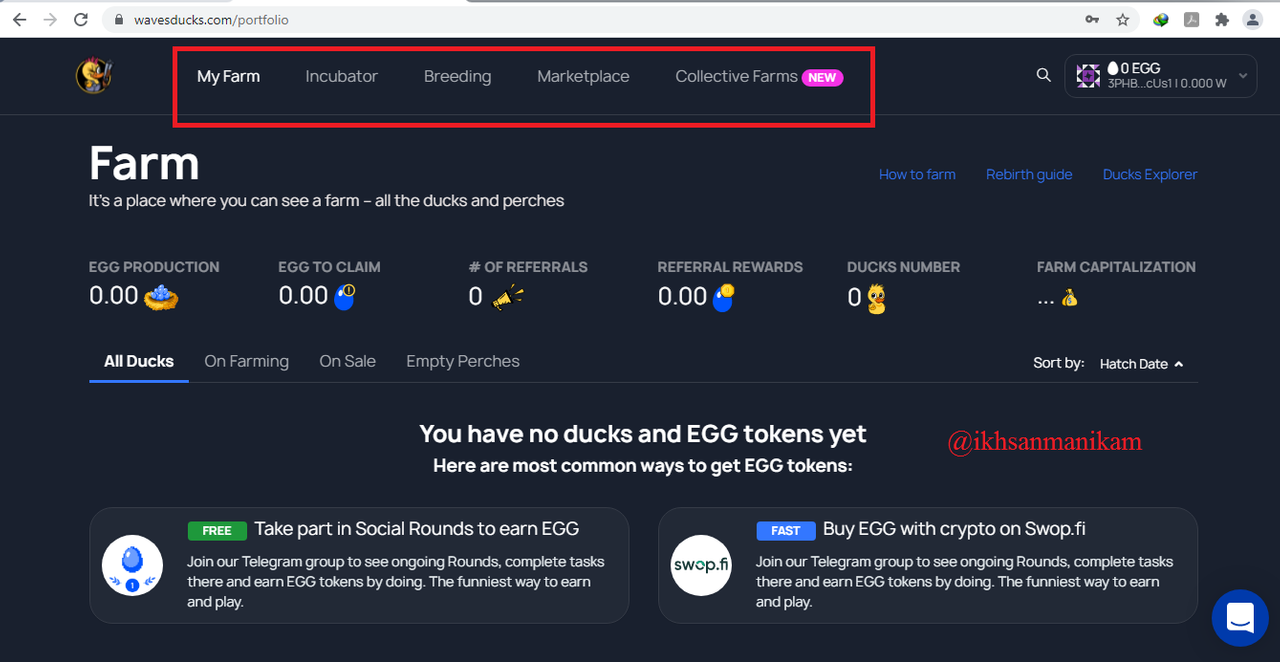 Source
With four main menus, this game also has a very easy to understand main page display, the main menus are My Farm, Incubator, Breeding, and Marketplace.
Users can see various detailed information about their accounts on the My Farm menu, then users can incubate genesis ducks by going to the Incubator menu, then users can also have unique & rare second generation ducks through the breeding process contained in the Breeding menu, there is also a Marketplace menu that can be used to buy ducks from various other users.
---
Waves Duck Mechanism
---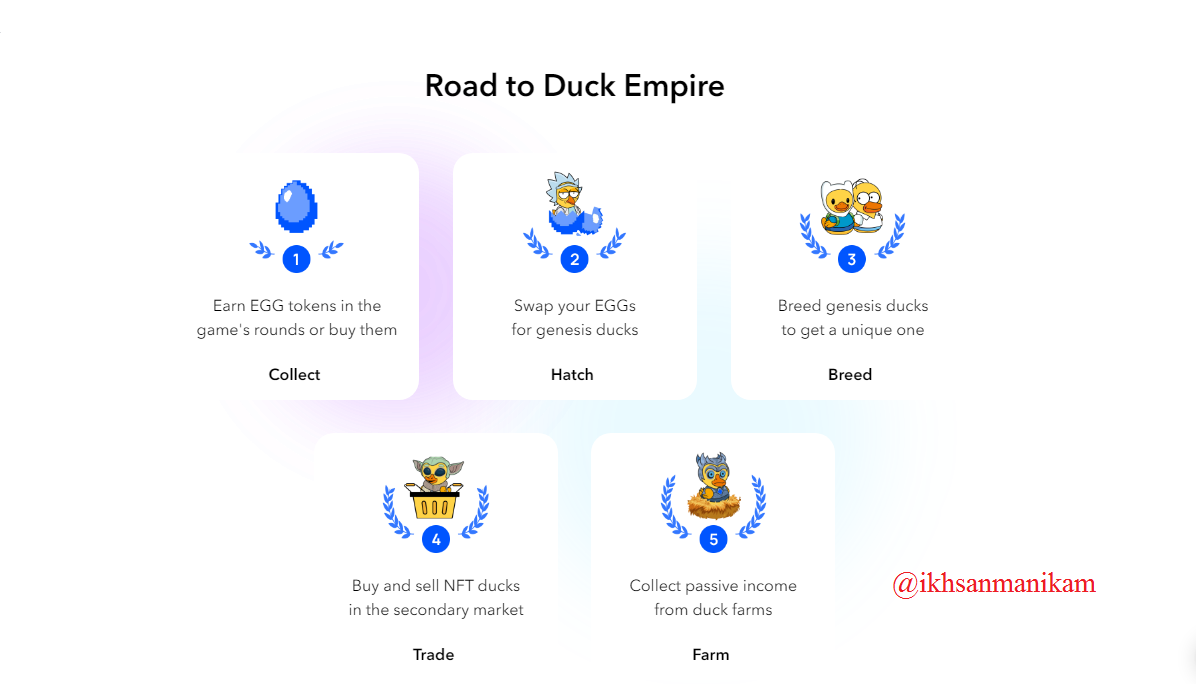 Source
It takes about two minutes to incubate the eggs through the Incubator menu and then the user will get one of the four types of duck genesis while to get a unique & rare second generation duck, the user must select two ducks to be bred through the Breeding menu and then the user can wait for it about two minutes until a new duck is born.
After successfully breeding them, the user can also get eggs if he sells the ducks he already owns and the price of the ducks is determined based on the level of uniqueness and rarity so the price varies greatly.
---
Waves Duck Token - EGG
---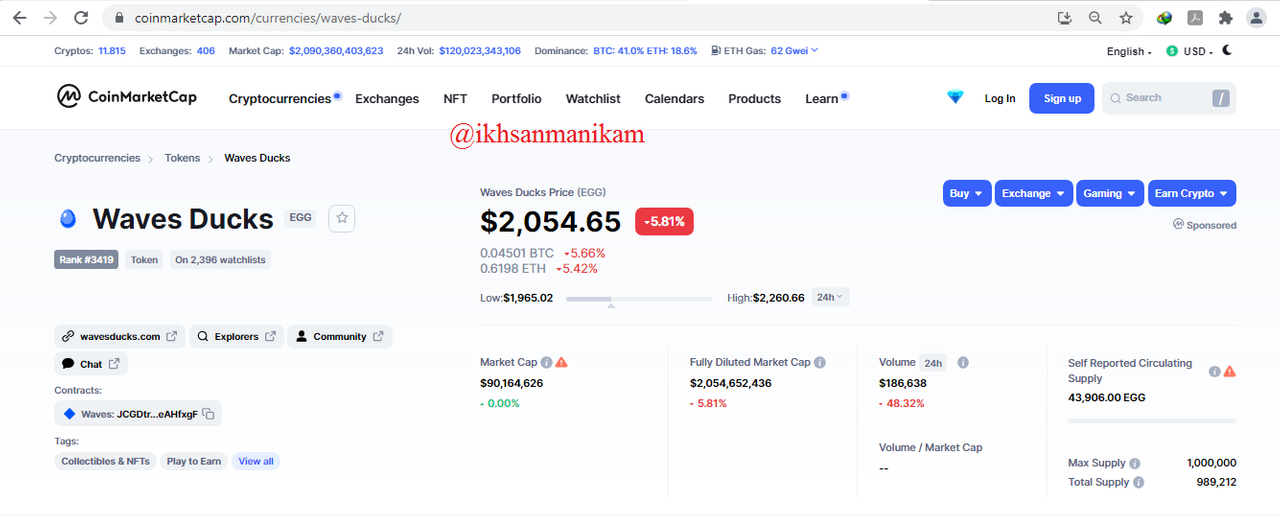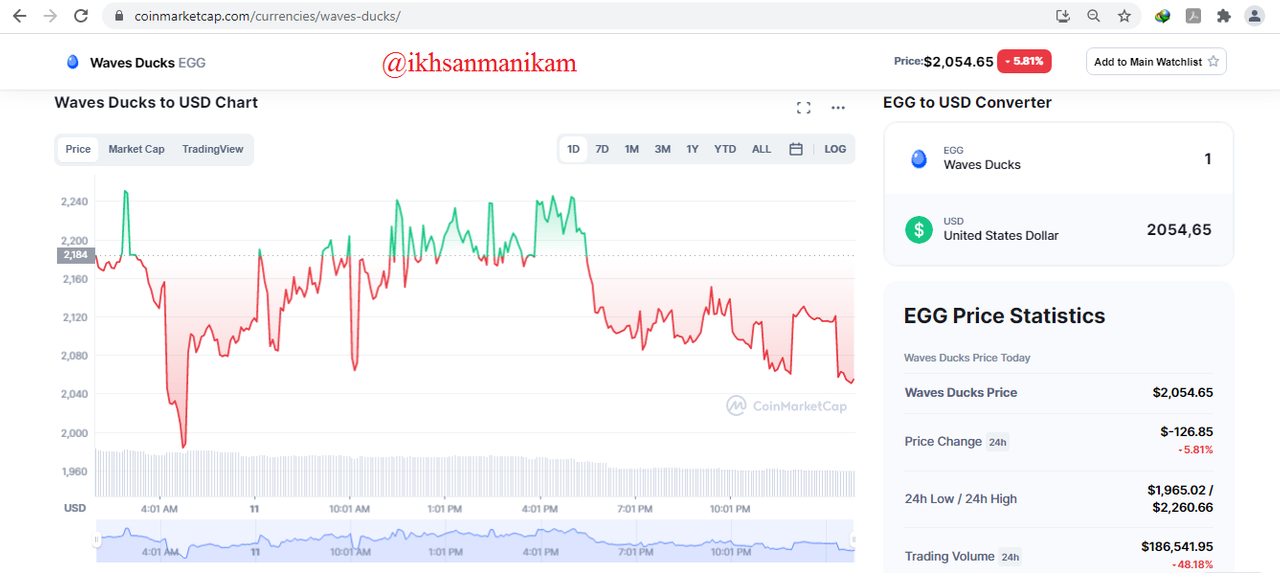 | Waves Duck Token | EGG |
| --- | --- |
| Market Rank | 3,419 |
| Price | $ 2,054.65 |
| Low –High in 24h | $ 1,965.02 - $ 2,260.66 |
| Volume in 24h | $ 186,638 |
| All Time High | $ 2,574.48 on Sept 03, 2021 |
| All Time Low | $ 694.21 on Aug 09, 2021 |
| Marketcap | $ 90,164,626 |
| Circulating Supply | 43,906 EGG |
| Total Supply | 989,212 EGG |
| Max Supply | 1,000,000 EGG |
| Website | https://wavesducks.com/ |
Source
Waves Duck as one of the NFT Games also has a native token named EGG and this token can be traded through two main platforms, namely waves.exchange and swop.fi.
EGG tokens are also the main item in the Waves Duck game and to participate in this game, users must first have EGG because EGG can be said to be the initial capital in building a duck kingdom and duck farm in the Waves Duck game. Based on the data, the EGG token also just reached the ATH point a few days ago and this is one proof that this game has managed to attract many users and increase its popularity.

---
Q4.) Show the complete process to acquire the tokens (it does not necessarily have to be the game selected in the previous question, as long as it is within the supplied list). Indicate the platforms (wallets or exchanges) where it is available; the process for downloading, installing and configuring wallets or networks. Show Screenshots
---
As a Waves Duck Token, EGG can be traded through two main platforms, namely waves.exchange and swop.fi. In this section, I will try to demonstrate some simple steps in trading EGG through the waves.exchange platform and I will access it through the official website.
Apart from the web page, users can also access it by downloading the wave.exchange application via smartphones based on iOS and Android. Here are the steps, lets go.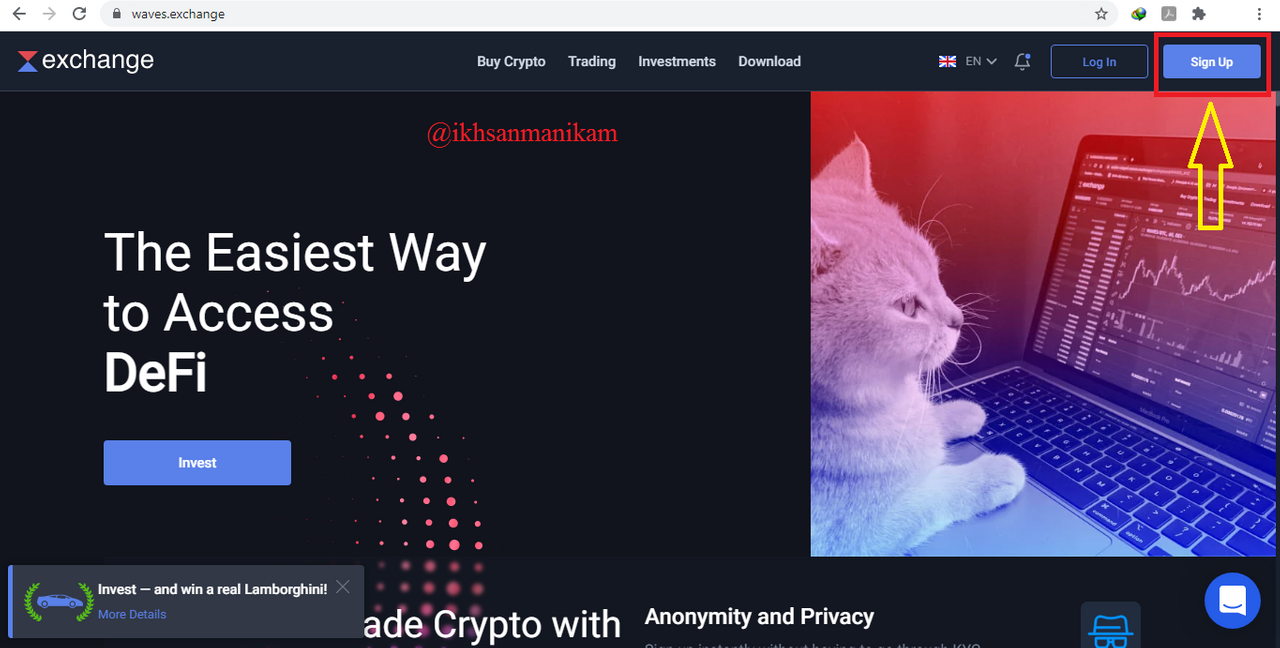 Source
Choose one of the three types of registration methods, and I'll choose Sign Up by Email because I think it's simpler.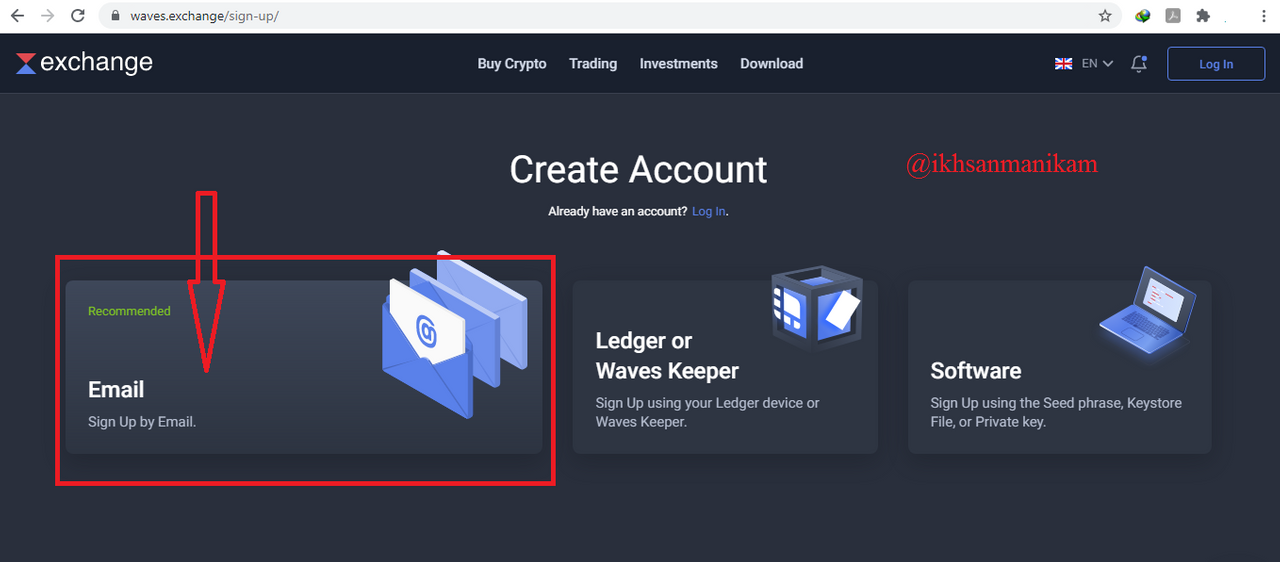 Source
Then a registration form will appear as follows, fill in all the required information and check the approval box. Click Create Account.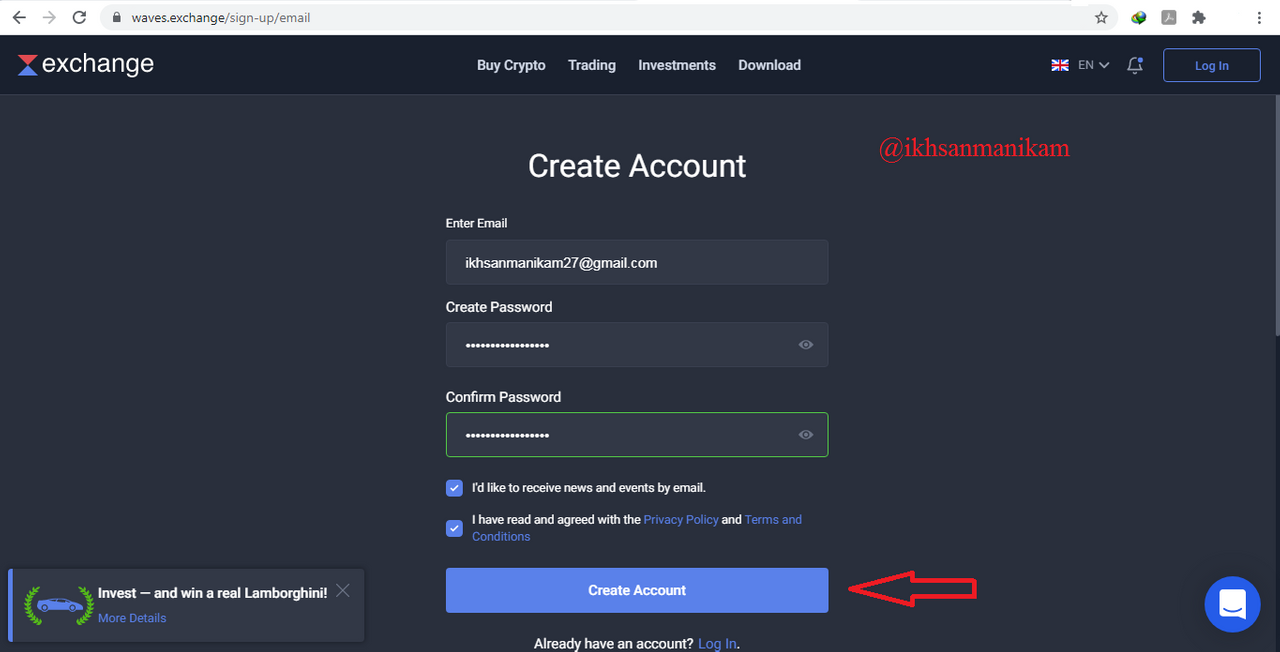 Source
Then confirm the code that has been sent to the email. Now the account is ready to use, then click Login to explore it.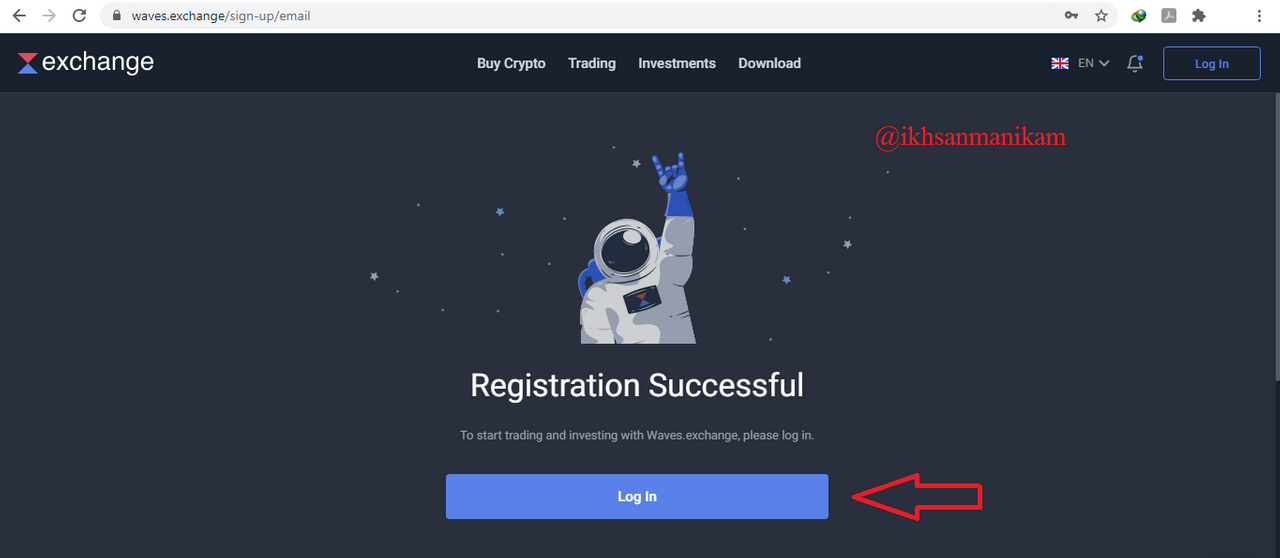 Source
Here is how the page looks after logging in.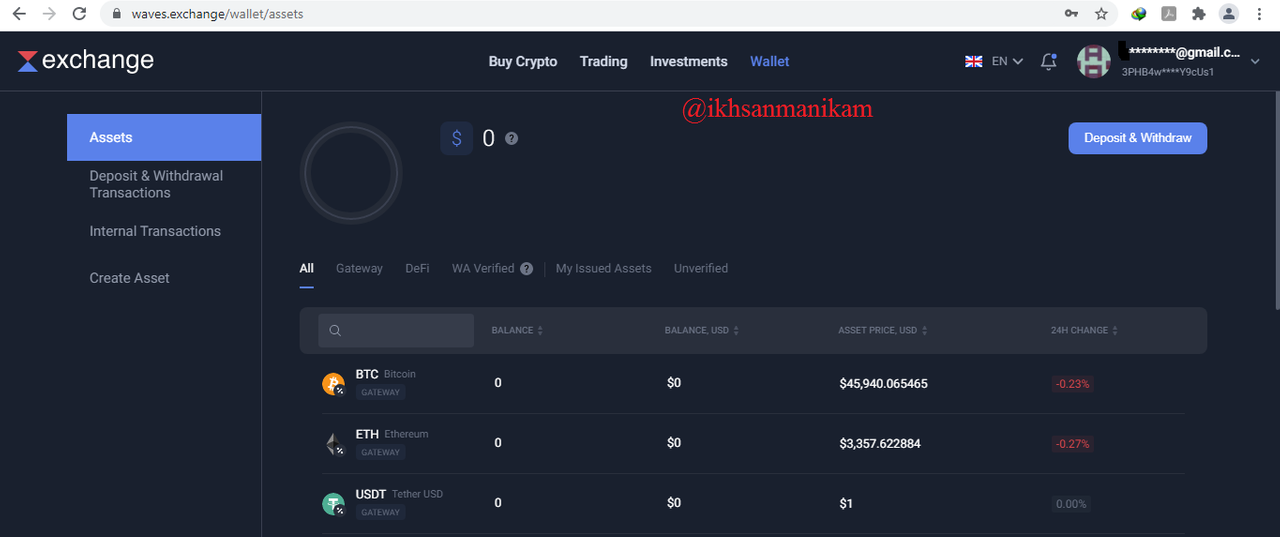 Source
Next is the stage to buy EGG. Type EGG in the search field and click on the EGG icon that appears.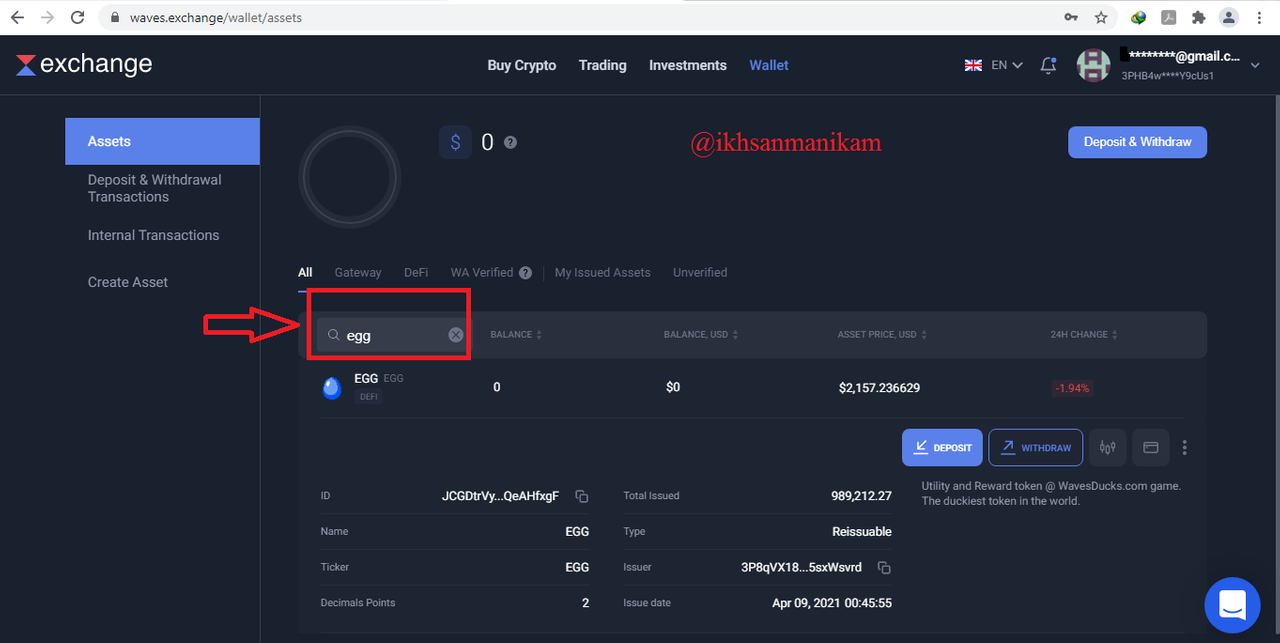 Source
There are two ways to buy EGG, namely using Cryptocurrency or a credit card. Using a credit card has a higher cost. Firstly, click Exchange to buy EGG using Cryptocurrency.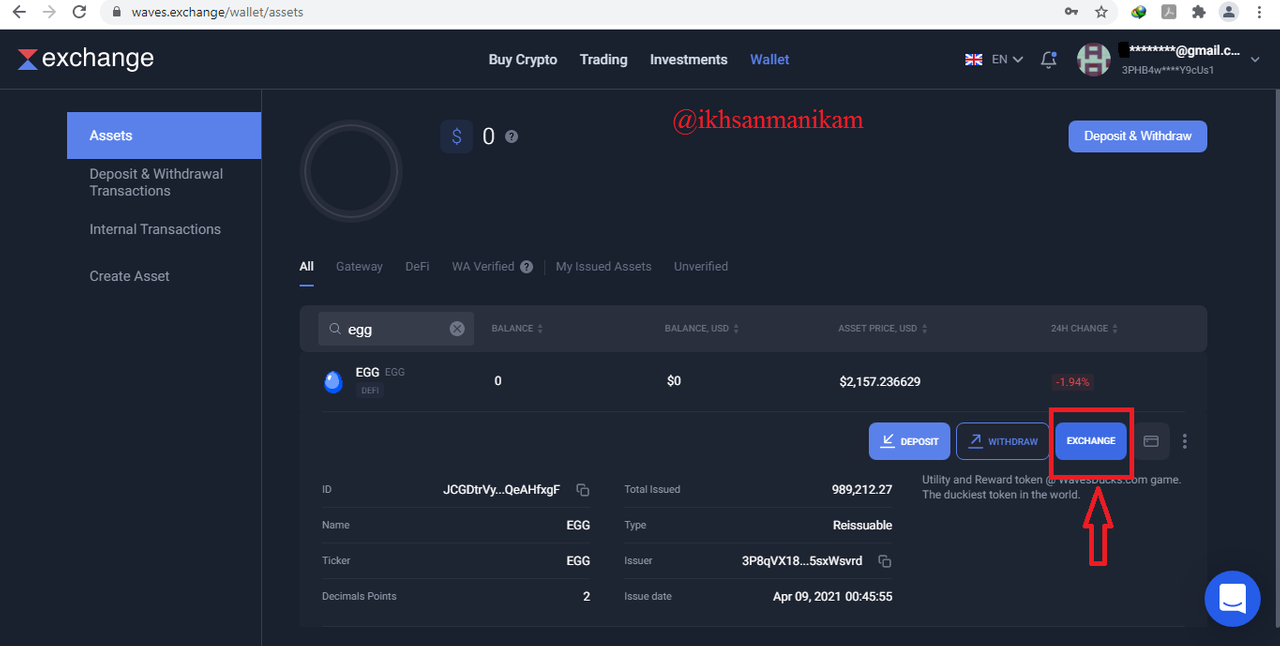 Source
Then the trade display will appear as follows and scroll the page down until you see the Buy & Sell menu.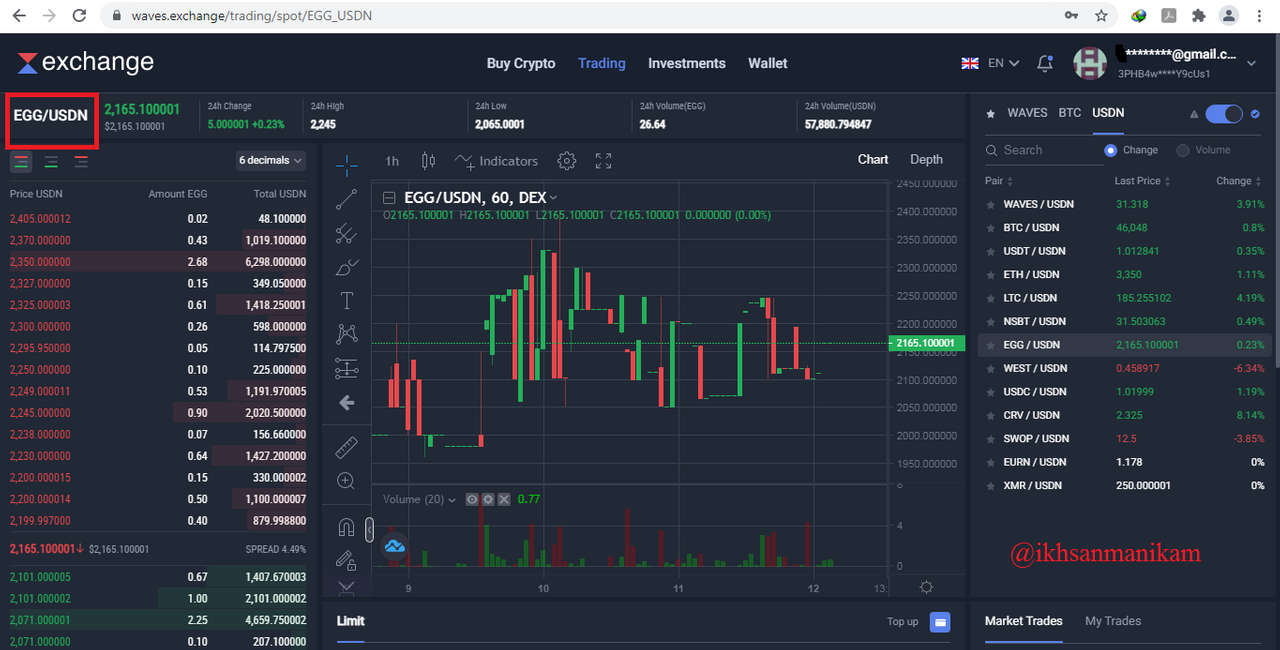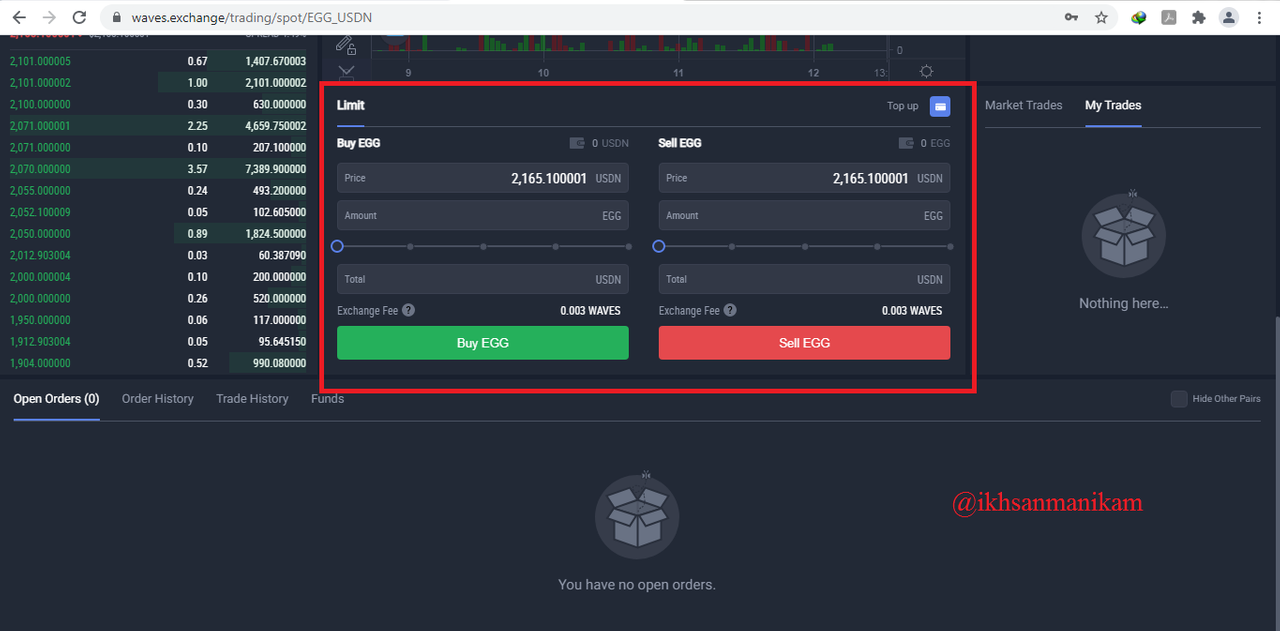 Source
Second, EGG can also be purchased using a credit card. Click Buy with Card.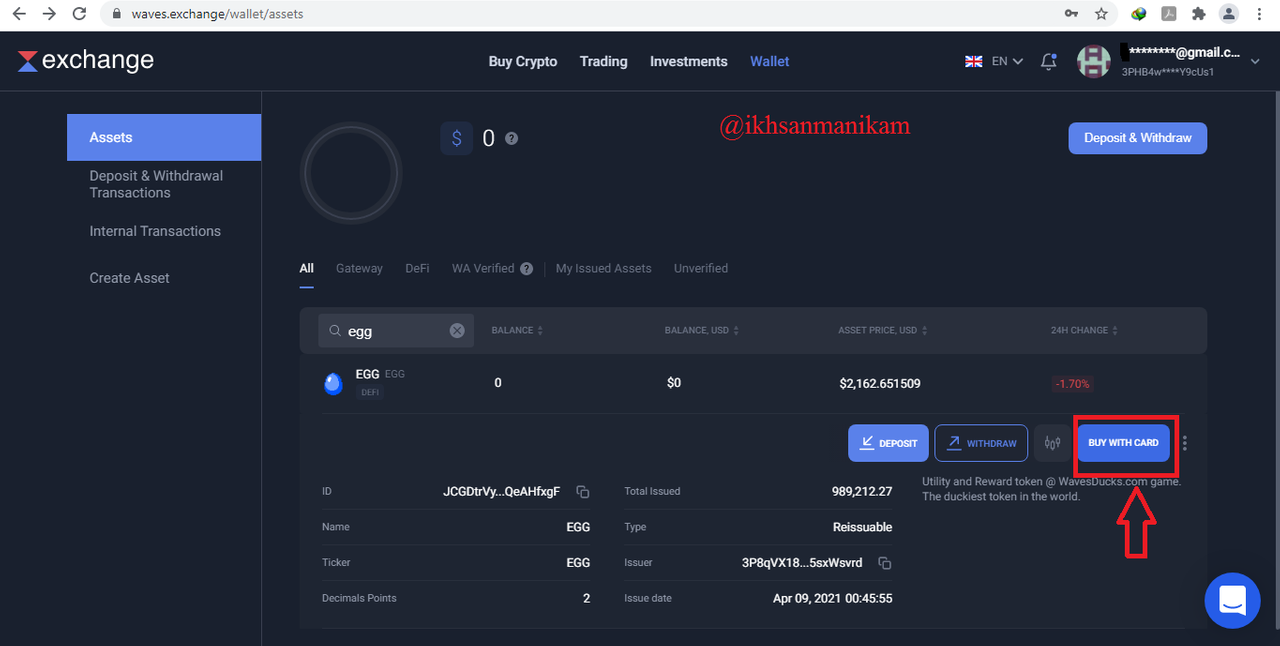 Source
Then a pop up menu will appear as follows and fill in the amount of money you will use to buy EGG using a credit card and click Buy.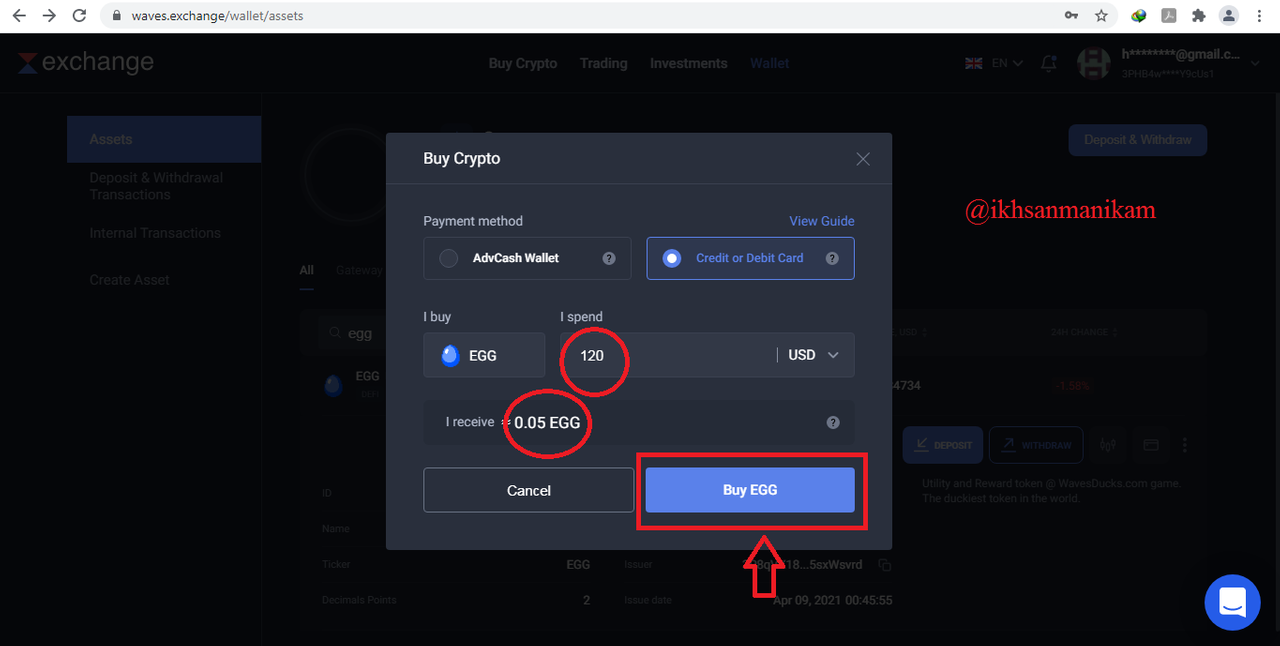 Source
With these few simple steps, now you can buy EGG easily through the waves.exchange platform and if you have purchased EGG then you are now eligible to become a user of the Waves Duck game because EGG is the main item in this game.

---
Conclusions
---
Many innovations have come along with the development of Blockchain and Cryptography technology, one of which is NFT Games. NFT Games has succeeded in bringing a great innovation into the Blockchain network because it can run various games based on Blockchain network so that the game industry can be collaborated with the Blockchain industry.
NFT Games has also succeeded in attracting various developers and investors to get involved here because NFT Games continues to grow with a growing number of users and an increasingly active market condition. But for those of you who want to be involved here, it is necessary for you to look at the various advantages and disadvantages contained in each NFT Games so that you can consider them in a better way.
In my opinion, NFT Games has a very bright future in this industry. Currently, there are various NFT Games that can be enjoyed and users can choose them according to their needs and desires by looking at various detailed specifications. Finally, thank you professor @imagen for the valuable knowledge that has been given in this week.