HOMEWORK TASK 3
---
INSTITUTION: STEEMIT CRYPTO ACADEMY
COURSE: Blockchain Wallet - Chapter-3
CRYPTO PROFESSOR: SAPWOOD
---
INTRODUCTION


Hello everyone. This is my homework task 3 entry for the above-stated course. This homework task centers around blockchain wallets and consists of information gathered from studying the above-stated course lectured by the above-stated crypto professor as well as personal experiences and research.
In this homework task, here's what to expect -
I'll be sharing my experiences in using blockchain wallets and also lending my voice on which kind of blockchain wallet is more secure.
I'll also enumerate the important points one needs to consider when using wallets especially decentralized wallets and wallets of centralized exchanges.
Then I'll be drawing the curtain on web 3.0 wallets, stating their uses as well as examples including the ones I've used.
I'll also like to have your comments so I can learn or explain more.
BLOCKCHAIN WALLETS


In simple language, a blockchain wallet is where crypto assets are kept. It's a crypto asset storage device or location depending on if it's a hardware or a software wallet respectively.
CLASSIFICATION OF BLOCKCHAIN WALLETS
Normally, blockchain wallets are classified as custodial and non-custodial.
Custodial wallets are wallets held in the custody of centralized exchanges on behalf of the original owners. These owners do not have control of the keys, the exchange does. These owners, however, can access and use their custodial wallets via login details and OTP respectively. It helps to consider a custodial wallet like a regular bank account where the funds are held in the custody of the bank for the owner who can access and use them using account details, pins/signatures/OTP.
Examples of custodial wallets include wallets of centralized exchanges like Binance, Huobi, Kraken, Poloniex, etc.
Non-custodial wallets, on the other hand, are wallets held in the custody of the owners themselves. This is why they are sometimes referred to as self-custody wallets. The owners here, are in control of their keys and can protect them however they deem safe. Also, only the owners know the keys, hence, only they can access and use the crypto assets.
Examples of non-custodial wallets include Guarda, Trust Wallet, TronLink, etc.
TYPES OF BLOCKCHAIN WALLETS
For blockchain wallet types, there are
Hardware wallets,
Software wallets, and
Multichain wallets.
While I'm yet to use a hardware wallet, I can confidently say, from knowledge obtained from the above-stated course lectured by the above-stated professor, that hardware wallets are physical devices (devices you can see and touch) that store crypto assets. They are accessed using the private and public keys associated with them and are non-custodial wallets.
Software wallets are unlike their hardware counterpart. They are not devices but computer programs that store users' crypto assets. They can be web wallets (like TronLink and Metamask), desktop clients, or mobile clients.
Multichain wallets are wallets (either hardware or software) that supports crypto assets native to different blockchains. It's apparently no surprise why they are so named. They meet the needs of regular crypto users who would want to acquire and use/keep crypto assets from different blockchains. One example of multichain chain wallets is Guarda.
MY EXPERIENCES WITH BLOCKCHAIN WALLETS


Personally, I've only used software wallets - custodial and non-custodial, and multichain wallets. I'll leave the multichain wallet for another discussion. For now, I'll just talk about my experiences with software wallets.
In general, software wallets offer the possibility of having your access keys or login details stored on a computer or maybe, written down and kept in an offline location.
For the custodial wallets, there's the disadvantage of a single point of failure. This is because your keys are kept in the custody of a centralized exchange. This wallet is created as you sign up on the exchange. Below is a screenshot of my Poloniex wallet.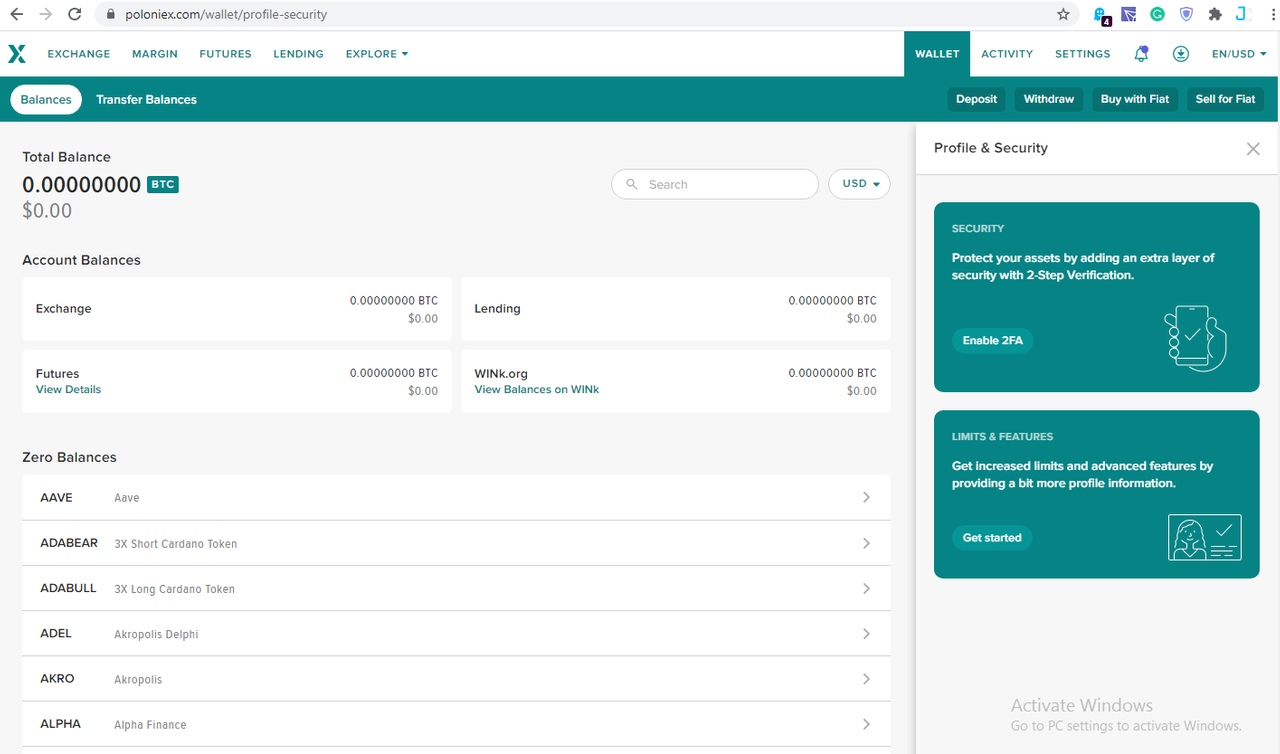 My experiences with custodial software wallets haven't been bad as I use them often. Barring some STEEM trapped in my Binance wallet which should be freed upon activation of 2FA, I recommend these exchange wallets for short-term purposes like spot trading (which I do a lot), margin trading, futures trading, liquidity providing, etc.
Non-custodial wallets offer more security as you're in control of your keys. The software non-custodial wallet I use is a web wallet - TronLink. To use the wallet, I need to provide a password which if lost, is irretrievable.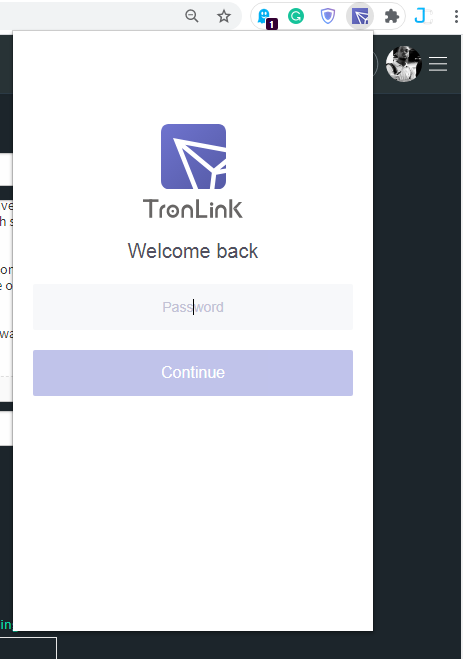 My experience with this type of wallet has not been problematic either. I use it to send and receive lots of TRX. I'm very comfortable with the fact that I have it as a chrome extension as most of my internet activities are carried out via pc. My TronLink is an alternative to my Steemit wallet, perhaps, even better as I can hold BTC, ETH, TRX, USDT, and more.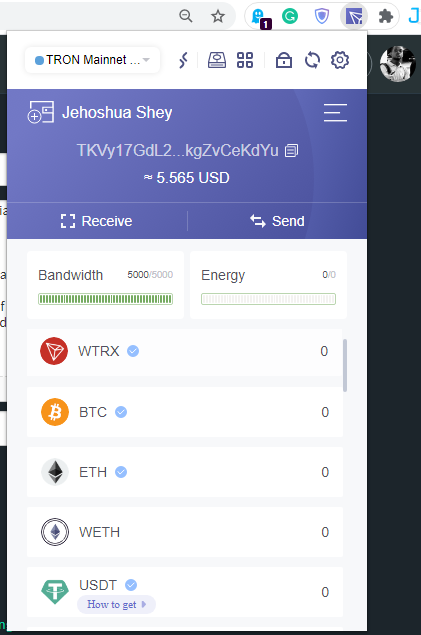 OPINION: HARDWARE VS SOFTWARE WALLETS, WHICH IS SAFER?


There's already a major security concern with custodial software wallets and the non-custodial ones are not without their own peculiar fears. For instance, with only a password, my TronLink wallet can be accessed and used. To think that, the transactions are not authenticated presents a major concern.
Take, for instance, I'm already logged into my TronLink and want to transfer TRX to another wallet. I simply click on 'send' (check the last image), then I am directed to a page where I input the details.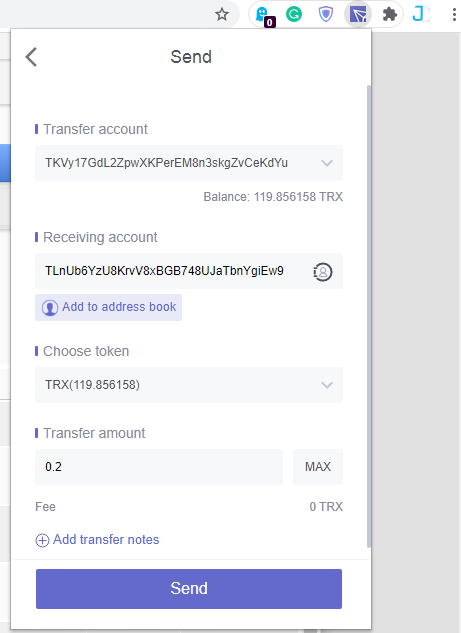 Upon entering the details, I click send, then I have to confirm the details.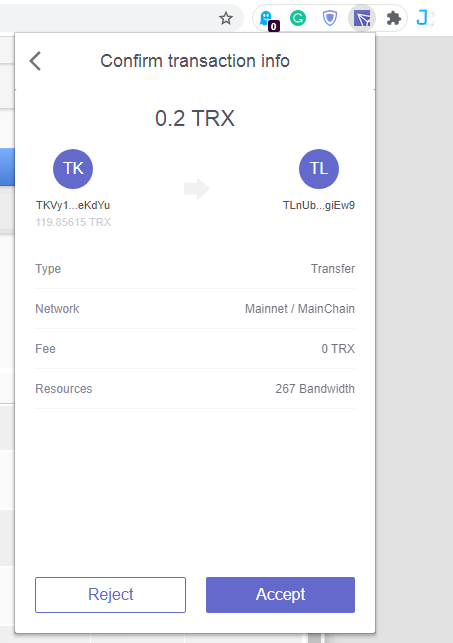 Once I click on accept, the transaction was submitted and went through, no authentication required.
This implies that if someone were to lay hands on my password alone, which isn't impossible, they can wipe out my account completely. The only way out is to use a very complicated password and to hide when inputting it.
Like I said before, I've never used a hardware wallet. Nonetheless, since with a hardware wallet, you need a private+public key pair to access the crypto assets in it and these keys are in your custody, the hardware wallet has to be the safer of the two.
MY VERDICT - HARDWARE WALLETS ARE SAFER
IMPORTANT POINTS TO CONSIDER WHEN USING CENTRALIZED AND DECENTRALIZED WALLETS


If you've ever had a cryptocurrency, either by acquisition or it was given to you, then you are most likely using a crypto wallet. Here are a few things you shouldn't overlook while using blockchain wallets, whether centralized or decentralized.
1. Custody
For centralized exchanges wallets, the keys are not in the user's custody but rather in the custody of the centralized exchange. If you want to be in the custody of your keys, opt for a decentralized wallet instead.
2. Security
If you are using a centralized exchange wallet, ensure that you linked it up to a valid email and mobile number that you have access to. It's also important that you set up 2FA for added security. If you're using a hardware wallet, ensure that you keep your keys safe, beyond the reach of any other person. One of the ways to do this is by storing your keys in an offline location.
3. Usage
It is important to make the right choice when choosing a wallet. In order to do this, you need to factor in what you'll be doing with the crypto asset you want to keep in the wallet. If it's for short-term activities like spot trading, trading futures, margins, p2p, providing liquidity, etc. it is better to use a centralized exchange wallet. If you have a long-term goal like holding the crypto asset for long periods of time, and you want reliable security and to be in total custody of your keys, then you should use a decentralized wallet.
SECURING/RESTORING BLOCKCHAIN WALLETS


Whether you're using centralized exchanges' wallets or you're using decentralized wallets, you need to secure your crypto asset. Also, in case if you misplaced your keys or password and are shut from the wallet, you'll need to know the steps to restoring your crypto wallets.
CENTRALIZED EXCHANGES' WALLETS
Securing
To secure wallets on centralized exchanges, you'll need a valid email and phone number. Ensure you use the ones you have access to. For added security, you can also activate 2FA. 2FA is very important if your thinking of securing your wallet as it gives your wallet valuable extra security. When using 2FA, make sure you back up the 2FA code in case your mobile device gets missing.
Restoring
You can contact the customer support of the centralized exchange whose wallet you are using. All they'll need to do is to verify your identity. If you use Binance, follow these steps if you forgot your password
On binance, click on login and click on forgot password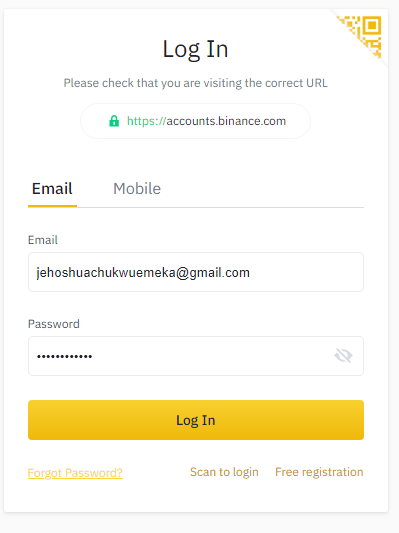 Next, you're required to provide the email or mobile number you used to sign up. Make sure you have access to whichever one you provide.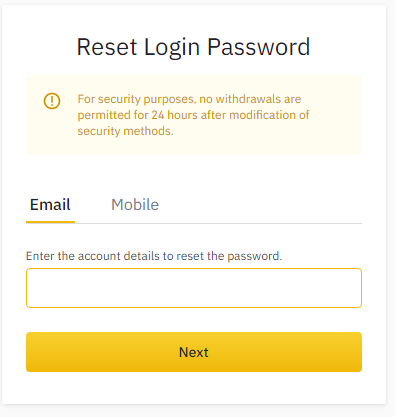 Next, you have to solve a random puzzle as part of security verification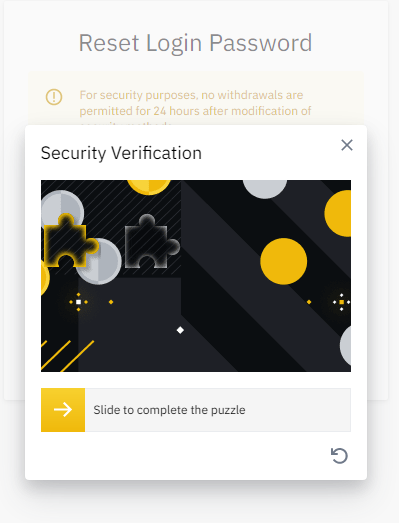 After that, you would be required to provided the verification code sent to the email or mobile number you provided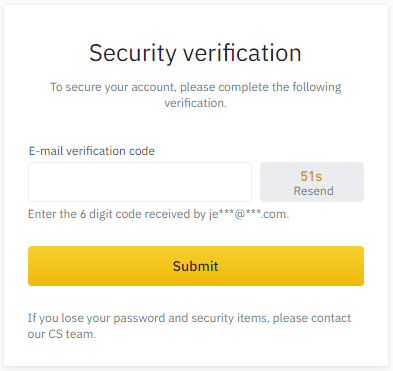 The email sent looks something like this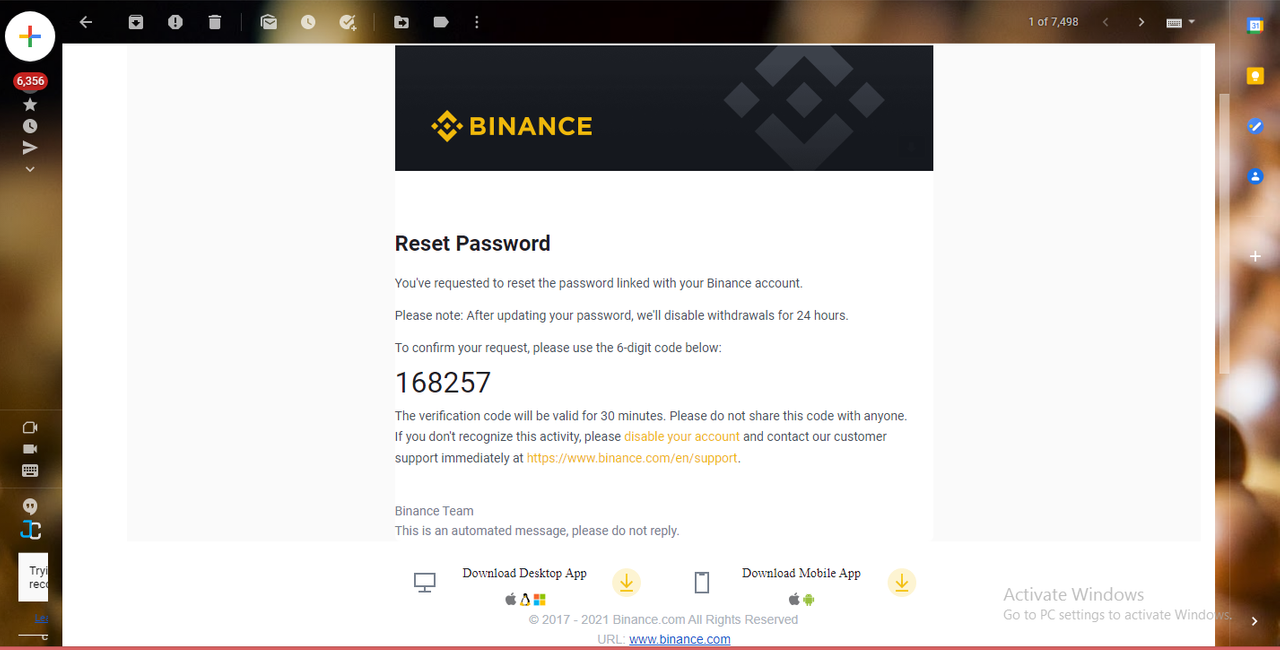 If you provided the correct code, then you would have successfully verified your ownership of the account and would be provided an opportunity to change the forgotten password.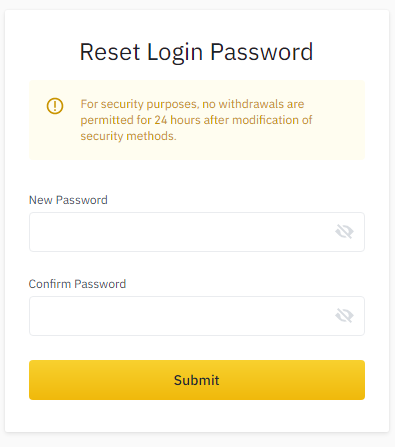 DECENTRALIZED WALLETS
There are different types of non-custodial or decentralized wallet. This implies different ways of restoring them should the passwords be forgotten. It is important that you guard your keys very careful and not misplace them as if you do, you maynot be able to access the funds again. In decentralized wallets, your keys are in your custody so, there is no retrieval of your keys from any other source incase they are lost.
Securing
Make copies of your keys and keep them in safe, secure, and accessible locations both online and offline. You can have them written down and saved in a bank.
Restoring (TronLink)
If your decentralized wallet is a hardware wallet, you maynot be able to restore you wallet if you forget the keys. For software wallets however, like the TronLink webwallet, if you forget your login password, you can still restore your wallet provided you still have your keys. I'll use TronLink wallet as a case study.
If you've lost your keys for your TronLink wallet but still have your password, simply open another wallet with new keys and transfer your funds there to avoide issues. This is possible as you don't require keys for authentication once you're logged in. Remember to guard the new keys appropriately.
If you've lost the password for your TronLink wallet but still have your keys, simply take the following steps (note that I'm using my TronLink wallet as a chrome extension)
Right-click on the extension in your chrome browser and select the first option on the dropdown - TronLink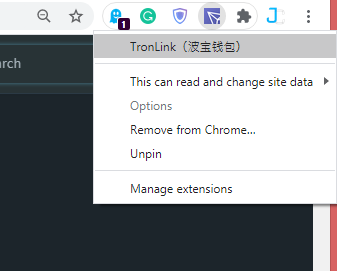 You'll be redirected to the TronLink wallet page on Chrome's web store. Here, simply removed TronLink from your chrome browser and then add it back.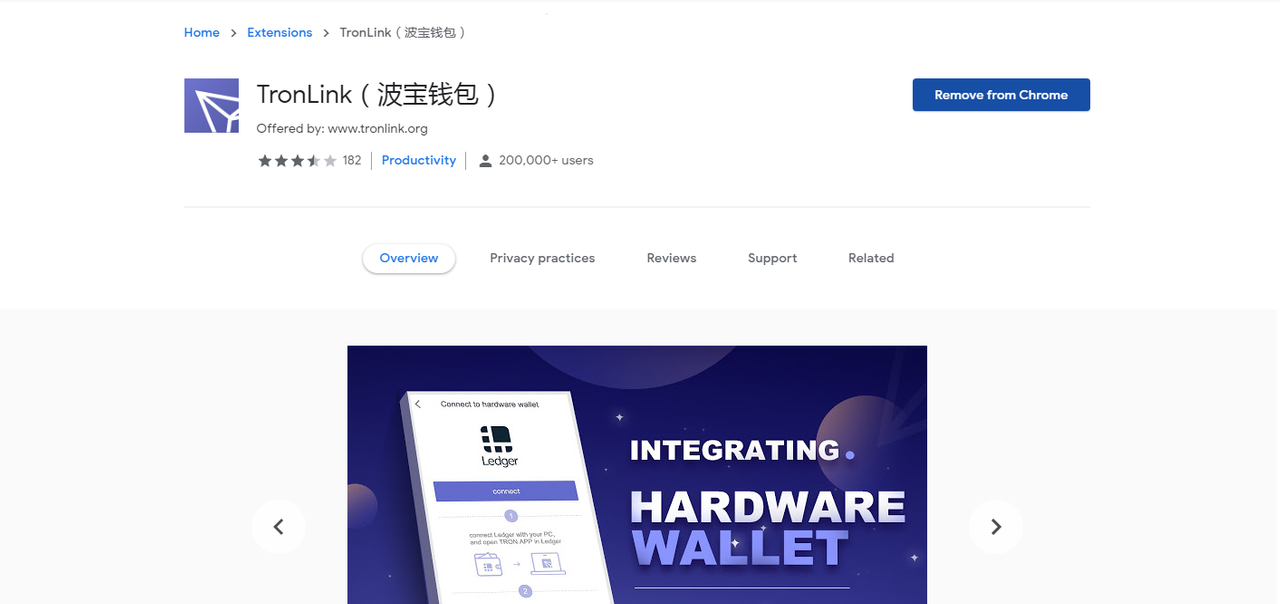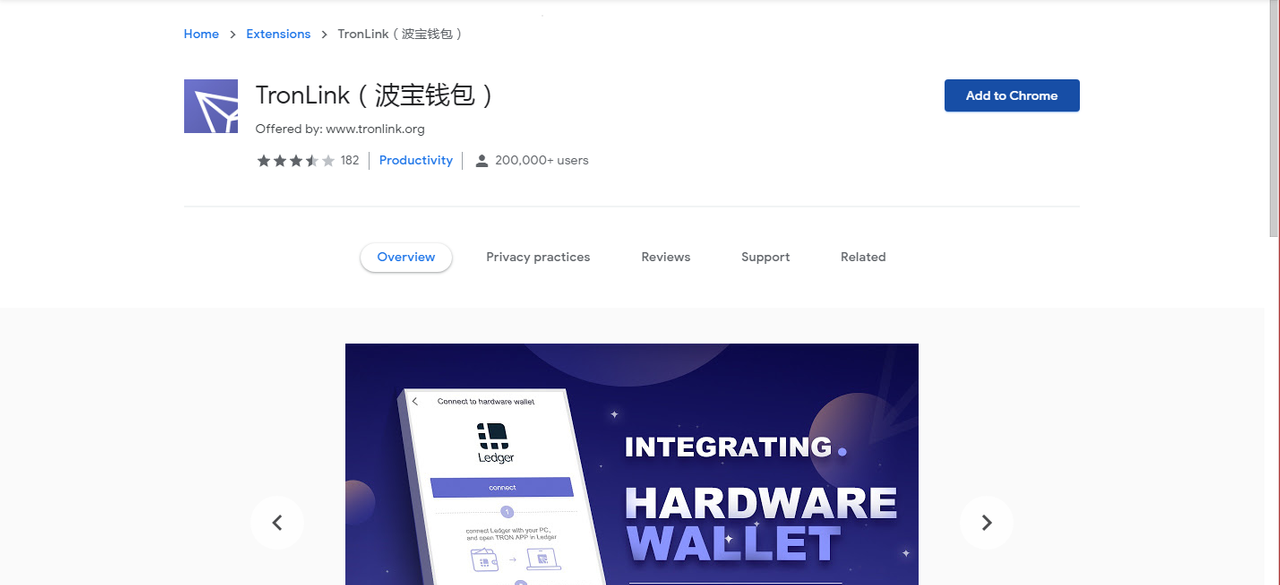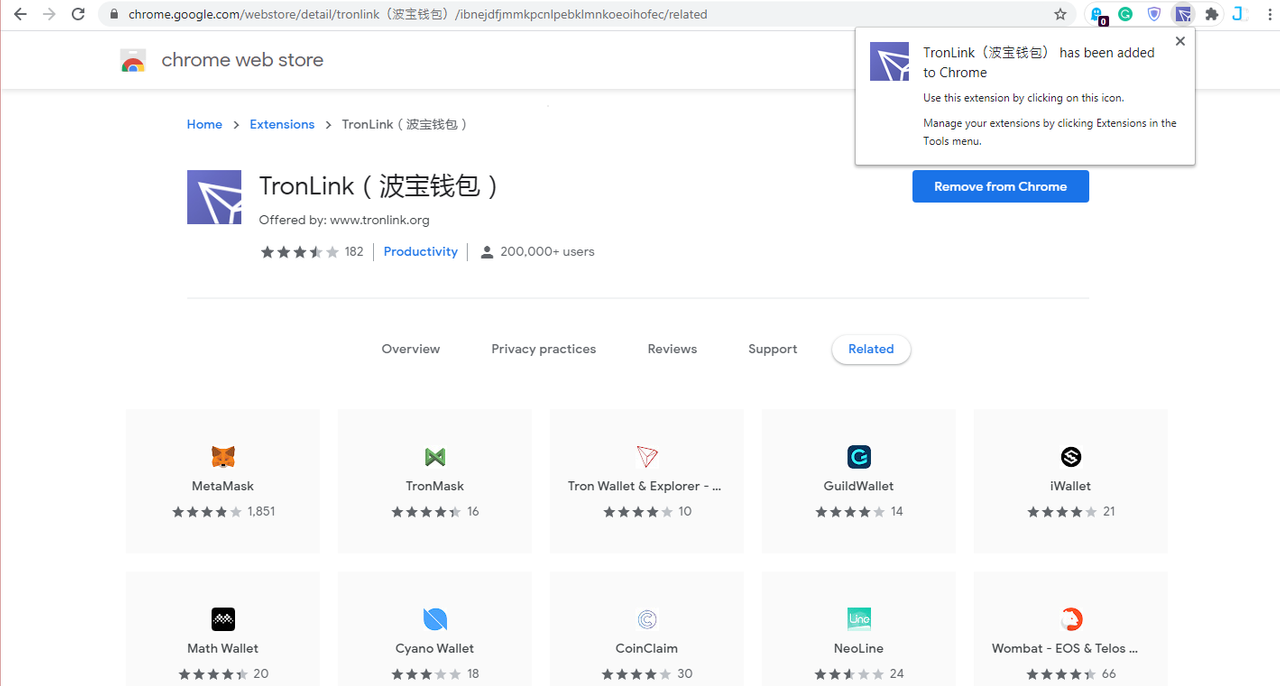 Usually, immediately you download TronLink wallet extension, it seems to hide. Well, to unhide it, you have to click on extensions (the jig-saw-puzzle like character at the topright corner of you pc chrome browser) and then pin TronLink so it can be displayed alongside other extensions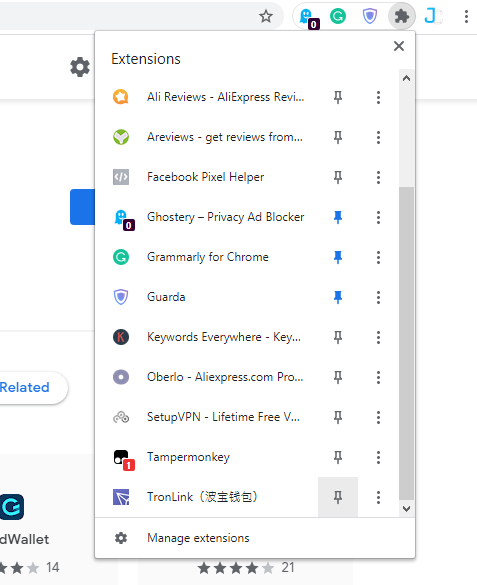 Once you open the newly added TronLink wallet, you will be required to set a new password.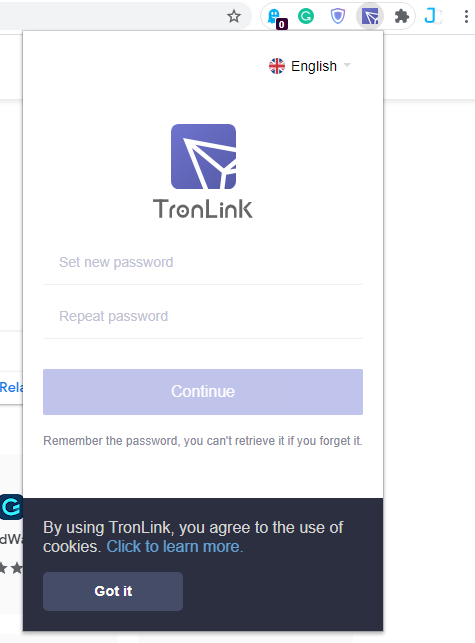 Once you're done, next, you will be provided with some account options. Click on 'Restore' as that's what we're trying to do.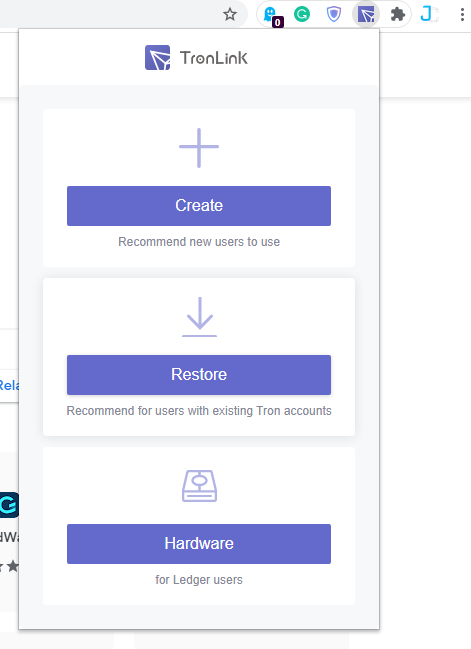 You will then be required to set a new account name, This name can be any name, just like your social media usernames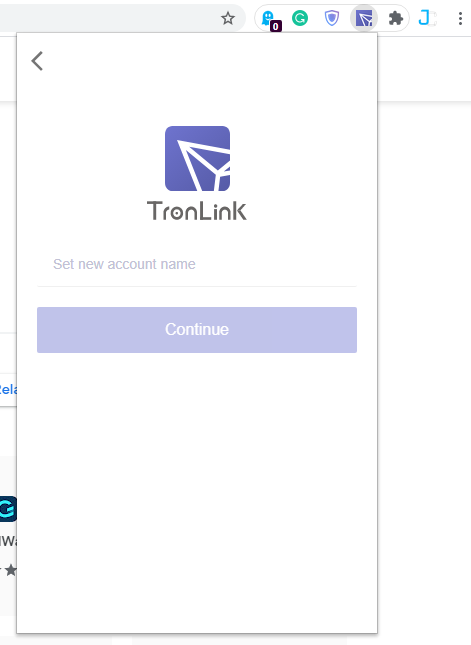 Next, you have to import your TRON wallet account which keys you have (remember, this restoring tutorial is for someone who has their keys but have forgotten their password). Select 'Private keys' as that is what we'll use to restore the wallet.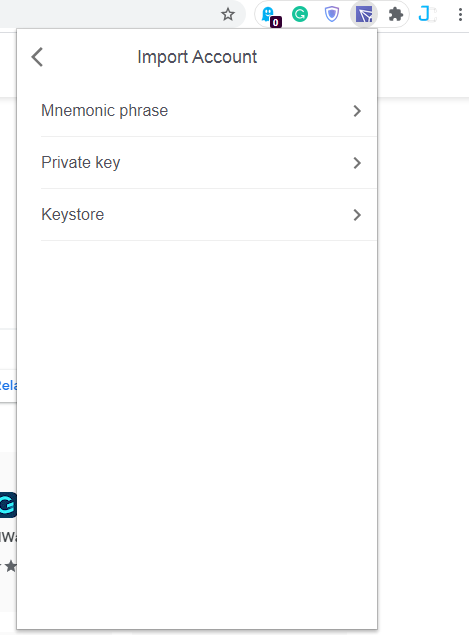 Of course, you'll have to input the private key at some point to restore your wallet and that's what happens next.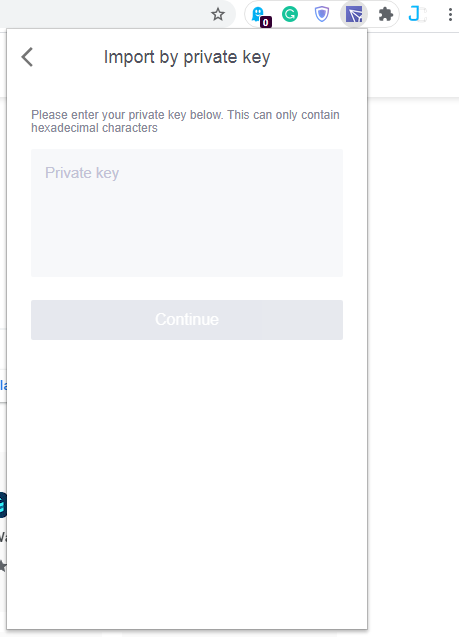 Once you retrieve your Private Key and input them in the required field, click continue and you will be back in your lost TronLink wallet.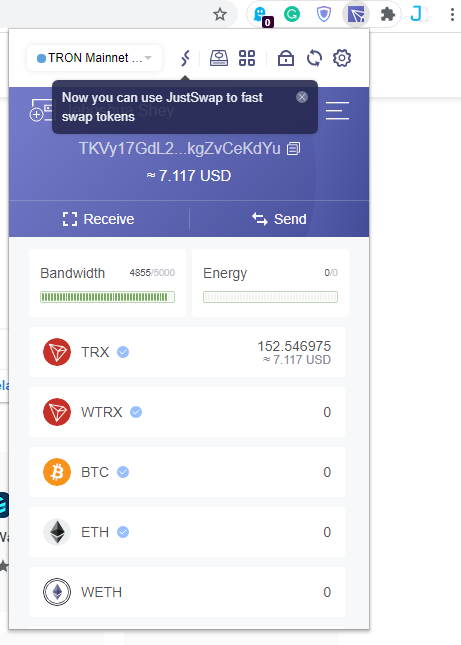 WEB 3.0 WALLETS: EXAMPLES, USES AND EXPERIENCES


A web 3.0 wallet is a non-custodial key-based wallet, operated through smart contract, that has the ability to integrate and interact seamlessly with dapps either of the same family or both the same and a different family.
EXAMPLES AND USES OF WEB 3.0 WALLETS
Examples a web 3.0 wallets include TronLink wallet, Metamask, Trust wallet, etc. I currently use one of these web 3.0 wallets, which is TronLink wallet. I use it to send and receive crypto assets, mainly TRX.
Other uses of a web 3.0 wallet include -
Used to interact with dApps (my TronLink wallet can interact with JustSwap)
Used to store crypto assets
Used to send and receive crypto assets.
MY EXPERIENCE WITH WEB 3.0 WALLETS (TRONLINK)
My experiences using Tron has been pleasant. I keep my keys safe, so even when I forget my password I can still restore my wallet just like I show in an earlier section of this homework task.
It's easy for me to send assets with my TronLink wallet. The fees are so cheap, I've not seen any wallet with cheaper fees. I prefer holding assets in my TronLink wallet than in anywhere else, except when I want to exchange, I transfer my assets to my exchange wallets.
The fact that TronLink wallet has a chrome extension is just suitable for me. It makes it easy for me to use the wallet as I always use my pc for internet activities. There is also a mobile version for me to flex with if I'm on the go.
Transactions using my TronLink wallet are also very fast. There is hardly any delay.
I can also transfer very small amounts. In an example I showed earlier in this homework task, I transferred just 0.2TRX. Not so many wallet allow me to do that.
Interacting with dApps is perhaps the most important feature of my TronLink wallet. With my TronLink wallet, I can easily interact with JustSwap if I wanted to exchange some assets. Aside from web 3.0 wallets like my TronLink wallet, I don't know of any wallet that can interact with other dApps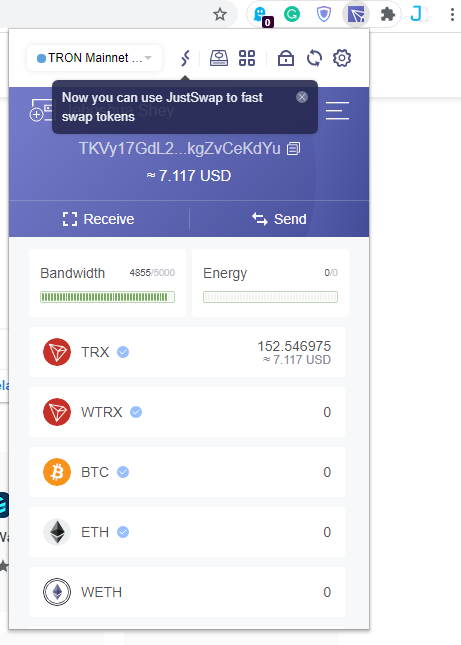 CONCLUSION


Blockchain wallets are a basic requirement for every crypto user. The types of wallets available are - hardware, software, and multichain wallets. These wallets are either custodial or non-custodial. They are custodial if they are in the custody of a centralized exchange while they are non custodial if the owner has full/absolute control of the keys.
Examples of custodial wallet include wallets of centralized exchanges like Binance, Huobi, Kraken, Poloniex, etc. Examples of non-custodial include hardware wallets, web 3.0 wallets etc.
Web 3.0 wallets are a latter generation of wallets. They are key-based and can interact with othe dApps as well as operate through smart contracts. They are also non-custodial as the offer absolute control over the keys. A good example of web 3.0 wallet is the TronLink wallet.
Thanks for reading.


Except otherwise stated, all images used in this post are screenshots of my Binance account, my Poloniex account, my TronLink wallet, my Gmail inbox, or my Chrome browser. These images are all mine, no citation required

Cc:
@steemcurator01
@steemcurator02
@steemcurator04
@steemitblog
@sapwood