HOMEWORK TASK 7
---
INSTITUTION: STEEMIT CRYPTO ACADEMY
COURSE: Stable coins - Part 2
CRYPTO PROFESSOR: YOHAN2ON
---
Homework task: Write about any one of the following Stable coins

USD Coin (USDC)
TrueUSD (TUSD)
Paxos Standard (PAX)
Digix (DGX)
INTRODUCTION


The issue of volatility has been a major inhibitor of the wide-spread mass-adoption of cryptocurrency in the world today. Investors and traders alike are always wary of the implications of a constant change in the prices of crypto assets. This issue of volatility has been the advantage of fiat over crypto.
In response to the problems posed by high volatility, some creative members of the crypto community came up with a different kind of coins with seemingly stable prices called stable coins. One example of these coins is Paxos Standard (PAX).
This type of stable coin is backed by a fiat currency. Such stable coins backed by fiat currencies are almost always centralized and Paxos Standard is no exception.
PAXOS STANDARD TOKEN (PAX)


PAX is an ERC-20 token built on the Ethereum blockchain and issued by Paxos - a privately owned fintech company founded in 2012 which is regulated by the New York State Department of Financial Services.
PAX was designed to leverage the trust of traditional finance and the exceptional innovations of crypto. It was also designed to have a value equivalent to $1.
In every sense, PAX can be referred to as tokenized dollar. This is because, every PAX token is backed by $1. Whenever a customer acquires PAX, they simply deposit the equivalent in dollars to Paxos Trust Company and in return, Paxos issues the equivalent in PAX to the customer. The PAX exists as long as the USD remains in custody. Once the USD leaves Paxos custody, the corresponding PAX token is destroyed.
Currently, PAX is ranked 92nd on Coinmarketcap, having a market cap of $856.04M
PAXOS STANDARD TOKEN (PAX) DESIGN


Paxos Standard token (PAX) was built to ERC-20 token standards, on the ethereum chain. It can be sent to and stored in an ethereum compatible wallet. PAX is a special kind of token, as it was design to be part traditional fiat, part crypto.
The creator of PAX, Paxos, is a company that has earned trustworthiness as a result of it quest for high regulation standards and transparency. It is the first company to be approved by the New York State Department of Financial Services to offer crypto products.
This trustworthiness due to high standards and transparency, coupled with the exceptional innovations of cryptocurrency were involved in the creation of PAX. Thus PAX was designed to be a centralized cryptocurrency conforming to high regulation standards and transparency.
PAX is created when customers deposit USD to Paxos. The ratio is 1 : 1. Paxos keeps this deposits in FDIC-insured banks in the United States, or in government treasuries. When customers deposit USD to Paxos, Paxos takes the USD into custody and in return issues PAX in a 1 : 1 ratio to the amount of USD deposited.
When a customer comes to redeem their PAX for USD at Paxos, the PAX returned is destroyed by Paxos because USD is taken away from their custody. PAX can only exist when the is a USD in Paxos custody backing it.
PAX tokens conform to ERC-20 tokens standard protocol. Being an ERC-20 token, PAX is simply a smart contract comprising of data and programmable logic. Ethereum, the underlying chain, ensures that both the data and the programs are of approved standards.
Also, ERC-20 tokens are smart contracts that declare at least the fundamental features of the token, keeps record of the number of tokens, keeps record of the amount of the tokens in each ehtereum address and allow the tokens to be transferred from one ethereum address to the other.
REGULATIONS


Unlike some other fiat-backed stable coins like Tether, PAX is both regulated by the government and audited by an independent body on a monthly basis. The importance of this is that it strengthens the peg of the coins as it is always confirmed that the amount of reserved USD is equivalent to the amount of PAX in circulation.
The creators of PAX - Paxos Trust Company, have been approved by the New York State Department of Financial Services to provide digital products. They also regulate Paxos' activities. PAX creators therefore are a good fit for issuing such a fiat-backed stable coin.
Paxos, unlike regular banks, is a trust company, they do not make use of customers' deposit, instead they keep it in custody pending on when it will be redeemed. The company, which was organized under New York State banking law, operates under regulations of the highest standards.
Due to these regulations, Paxos employed a high level of transparency in the creation and management of PAX. PAX smart contract is audited by a high profile smart contract editor known as Nomic labs. Their accounts are also audited on a monthly basis by an independent third party.
The dollars backing the PAX stable coin are securely stashed away in FDIC-insured banks in the United States and treasury bills. This reveals the high standards the creators of the token have employed in creating and maintaining the stability of this token.
The audit of PAX is just as visible and open to the public as the transactions over blockchains. The independent third part contracted to audit PAX is Withum. This company audits in compliance with AICPA established standards. The audit reports are also available on Paxos' website. There one can find all the reports of audits done since PAX was launched.
In addition, PAX transactions are monitored by an independent third party know as Chainalysis. This company monitors PAX transactions and conducts risk assessment to detect any instance of fraud and to protect the smart contract from same.
PAX combines regulated trust and ingenious blockchain technology to provide a modern settlement platform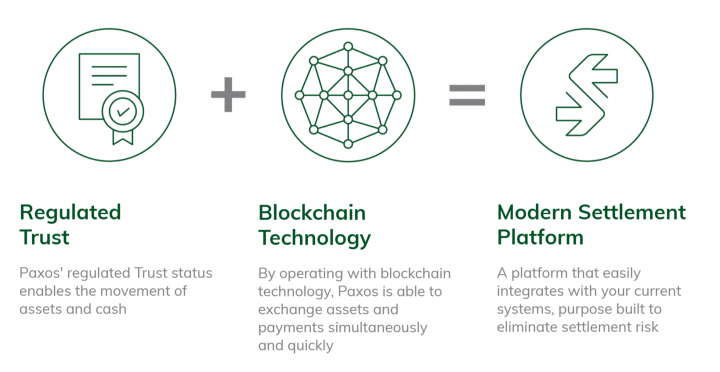 src
PAXOS STANDARD TOKEN (PAX) KEY FEATURES AND BENEFITS

1. ISSUANCE
Paxos Trust Company issues and redeems PAX tokens. Issuance and redemption is done without intermediaries which makes it faster more efficient and cost effective.
2. TRANSACTIONS
PAX is an ERC-20 token. ERC-20 tokens are smart contracts that permit transfer of the tokens from one Ethereum wallet to another. Being a smart contract, PAX transactions are void of human errors.
3. CASH SUBSTITUTE
People who have holdings on Paxos exchange have the options of withdrawing in PAX or in cash. It will also be traded over the counter on Paxos exchange.
4. LISTINGS
PAX is listed on exchanges around the world including binance, kraken, bitfinex, just to mention a few. It is also available for listing by more exchanges according to PAX's whitepaper
5. AVAILABILITY
Though it has the trustworthy nature of fiat and is even considered a fiat substitute, PAX, being an ERC-20 token, is a cryptocurrency. This implies that it can be transferred at any time and can be used to settle trades whenever the need arises. Simply put, PAX is available round the clock.
6. CRYPTO ASSET
Also, as an ERC-20 token, PAX is fully a crypto asset. It is accepted wherever tokens are. It can be traded with other cryptocurrencies on cryptoexchanges. It can be stored in Ethereum-compatible crypto wallets.
7. REGULATIONS
Away from other notable mentions in the stable coin community, PAX is highly regulated. It also independently audited and independently monitored to ensure a high level of transparency. On the grounds of legality and transparency, no other stable coin comes close or before.
PAXOS STANDARD TOKEN (PAX) USE CASES

PAX can be used for blockchain-based payments as it is trustworthy and highly regulated. It's suitable for time sensitive transactions.

PAX is a stable coin and as such, can be used to hedge funds in the wake of high volatility in the crypto market. This is one important use case of stable coins.

PAX eliminates most of the time and costs required to convert digital assets into fiat since Paxos, the creators, issuers, and redeemers of PAX, doesn't require any intermediary for redemption of PAX.
PAXOS STANDARD TOKEN (PAX) - ACQUISITION AND REDEMPTION


PAX can be acquired with dollars and redeemed for dollars on paxos.com. It can also be acquired on crypto exchanges in it's ecosystem. Redemption however is solely done by Paxos via their website.
PAXOS STANDARD TOKEN (PAX) - ECOSYSTEM

PAX has a growing ecosystem. It is currently listed in over 150 exchanges, wallets and OTC desks.
Exchanges in the PAX ecosystem include Binance, Huobi, Bittrex, Okex, and many more.
Wallets in the PAX ecosystem which support support PAX include Bitpay, Atomic Wallet, Trust Wallet, Coinomi, Free Wallet, etc.
PAX can also be traded over the counter o trading desks. These OTC desks include QCP Capital, Cumberland, LINQ, etc.
The PAX ecosystem also includes blockchains, lending platforms, payment providers and other financial service providers. These includes Ontology, Nexo, Ethlend, BlockFi, crypto.com, Spend, etc.
A full list of PAX ecosystem be gotten from
paxos website.
PAXOS STANDARD TOKEN (PAX) - MARKET STATISTICS


As at March 14, 2021,
The total PAX ever minted amounts to -
$4,005,083,909.15.
Of this amount, a total of $3,288,137,339.04 have been redeemed at Paxos.
Back and forth, PAX have been transacted up to a volume of $255,211,834,431.48.
This implies that as at March 14, 2021, the total PAX in print was
$4,005,083,909.15 - $3,288,137,339.04 = $716,946,510.11
Thus the market cap as at March 14, 2021 was
$716.9M
All statistics were gotten from paxos website, accessed on March 27, 2021.
On coinmarketcap, this is what the all time price graph of PAX looks like in USD
Here, we see a great degree of stability in price for a cryptocurrency.
The market cap has also risen over the last two years, precisely since its inception. There was a huge rise in 2021, obviously due to a high increase in demand. It is also currently above $800M, higher than what it was on March 14, 2021.
PAX's market cap as at today stands at $855,488,546.30.
From the image above, we can see that PAX's market cap is exactly the same with its fully diluted market cap. This is because PAX is not issued until USD is deposited. The current amount issued is the maximum amount that will ever be produced. That, however, changes if more USD is deposited.
So, at every point in time, since PAX is only issued when USD is deposited, and there is no plan to issue any more PAX except there's a USD deposit, the market cap is always exactly equal to the fully diluted market cap.
CONCLUSION


PAX is an ERC-20 token that runs on the Ethereum chain. It can be stored in Ethereum-compatible wallets. It is a stable coin backed by fiat money. Its value is pegged to the price of $1. It can also be redeemed for its dollar equivalent.
PAX stands out among other stable coins on the grounds of legality. It is highly regulated and conforms to highest standards. It removes the friction between digital asset to fiat conversion, eliminating downtime and exorbitant costs. The price has been relatively stable, compared to the dollar.
PAX is only issued when a USD deposit is made. It is issued in a 1 : 1 ratio. It is issued and redeemed by Paxos. It's transactions are monitored by a third party, just like its audit. It is trustworthy, highly regulated, and transparent.
Thanks for reading.


REFERENCES:

Cc:
@steemcurator01
@steemcurator02
@steemcurator04
@yohan2on
Special mention:
To the attention of some notable steem promoters who keep inspiring me on my crypto journey which began here on steemit.
@stephenkendal
@trafalgar
@crypto.piotr
@steemchiller
@justyy