Greetings everyone
Today I will be presenting my homework task for prof @nane15 , Which he lectured about genesis blockchain. Without wasting much time I would like to start my work immediately.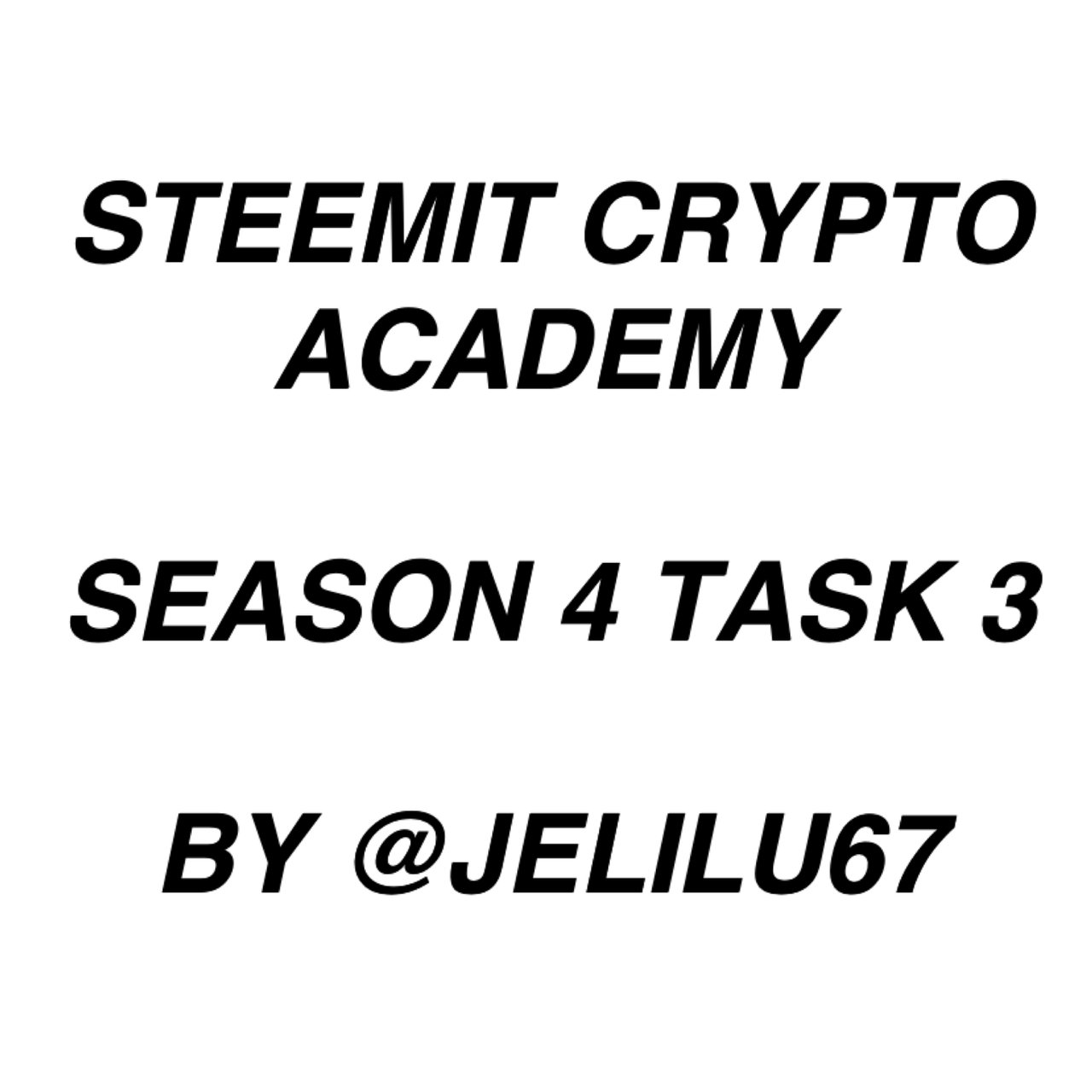 1) What is a Cryptocurrency?
2) What is Cryptography and how does it make cryptocurrencies secure?
3) Explore the Steem Genesis Block and Sign in as proof of completion.
---
What is a cryptocurrency?
---
Crypto active can also be used as the second name of cryptocurrency. We apparently have the cryptocurrency to be virtual currency which utilize the cryptography in other to guide it users from fraudsters and also guides certain details of the users. The cryptocurrency also happens to be a digitally currency and it is not In bodily form to users, Unlike the other fiat currency which can be felt anytime. The cryptocurrency is always used in form of transactions that is sending and receiving by users, This can only be done by the user in their digital wallet. Cryptocurrency is a fully decentralized so it do not have control of the administrative agency, Since cryptocurrency was specially built on a cryptographic ledger this always makes users to have a fully control of their cryptocurrency so they can operate anytime. Usually all cryptocurrency are always a possessor of a blockchain. It also a record book which also list all transactions details made by the users and also all this transactions activities are always transparent to it users.
Now let talk about our normal banks, Anytime a users deposit into his or her all the transactions details listed in their balance sheet can't be seen by the users only workers in charge of the banks, This type of bank users are unable to make transactions without the engagement of the mediators, Unlike the cryptocurrency users are always free to make transactions anytime without approval of any mediators and this makes it decentralized. Feature of cryptocurrency are a lot which we have some to be cryptocurrency can be exchangeable, Cryptocurrency can be transferable from one user to another user, cryptocurrency can't be separated by any user and user can either make enough profit or make lose in cryptocurrency trading, As we speak we have more than 6000 cryptocurrencies on market due to the successful development of Bitcoin which happens to be the mother of all cryptocurrencies this has really helped pave way to develop all these types of cryptocurrency, From my research it seems new cryptocurrency are always developed not more than every three days on the market. Which you can purchase any and make enough profit, Before one purchase cryptocurrency he or she must make a good analysis to prevent them from losing their profit.

---
What is Cryptography and how does it make Cryptocurrencies safe?

---
The cryptography is a technique usually utilized to keeps information of all users in a way that they make uses of codes and this code can only be decoded by users who are only permitted, That is a transaction between the originator and acceptor . Also the encryption is specially built to be in form of numerical breakthrough which is very hard to hackers to break so it is having a high security to it users when it comes to transactions activities between the originator and the acceptor. The encryption is usually including letter, symbols and numbers joined together for the users to be utilizing as an entry to the users information and it can also be classified as a key. We have two types of cryptography that is single , private and public cryptography key. I will be explaining each of these keys.
---
A SINGLE CRYPTOGRAPHY KEY.
---
This is also a type of key which always permit a fast entry , Because this type of key is a single key it usually make users to enter and lock all their memo, details and many between users all the time. This type of key is also very distinctive from all other types of keys because it is used between two or more users which it serves as an entry to hackers so it make users to be a victim to these fraudsters.
---
PRIVATE AND PUBLIC CRYPTOGRAPHY KEY
---
This is a type of key where users follow some steps to make an entry. From researches it is know that this type of keys is very protected than the single cryptography key, This key is made of two different keys that is public and private key with dissimilar functions.The public key is also a type of key which can be used by two or more users in other to enter the memo, While private key is a type of key which must be well protected and must not be used by two or more users to decode and have an entry to the memo, Only the owner of the account is eligible to this type of key.
The cryptography which we utilized in the blockchain is always lacking correspondence, With a reason that it is absolutely convinced which always give users a great protection from all hackers.
In the cryptography each time the users want to make transactions we usually use the public-key cryptography, Before the user will be able to conduct a transaction he or she must take the private key of the vendor before the transaction can be conducted. Each time the user that is the donor wants to have an entry to this cryptocurrency the private key must be utilized, This is also one of the best ways why transactions are always clear and protected in cryptocurrency. Usually the users public key and private key are always in connection, Each time a user tries to send cryptocurrency to a different users public key that was given to him or her , The users private key can be use as an entry to the cryptocurrency transferred to the user. This makes it very hard to different users to get an entry to the cryptocurrency since users can only have an entry to this cryptocurrency utilizing their private key which is usually connected to the public key, So it must not be shared.

---
Explore the Steem genesis block and log in as proof of completion.
---
This is a type of block which happens to be the first block, Because it is the first block it has been named block 0 or genesis block, This block is also the first ever block that was created and it is also the fundamental of beginning of this cryptocurrency, After a successful block they were able to bring out the steem dollar and steem in the blockchain.
You first need to clicked on the link to launch your block and choose block explorer.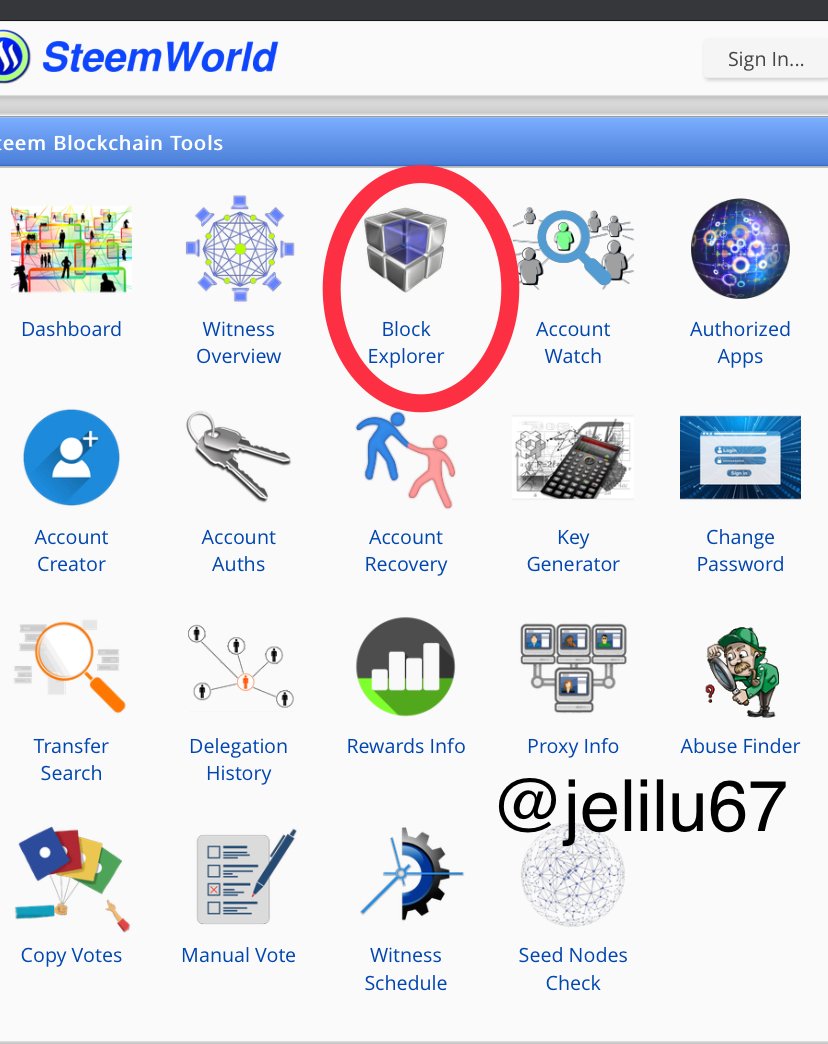 After it successfully opened, In my search box I will be having 1 in it I then clicked on ok.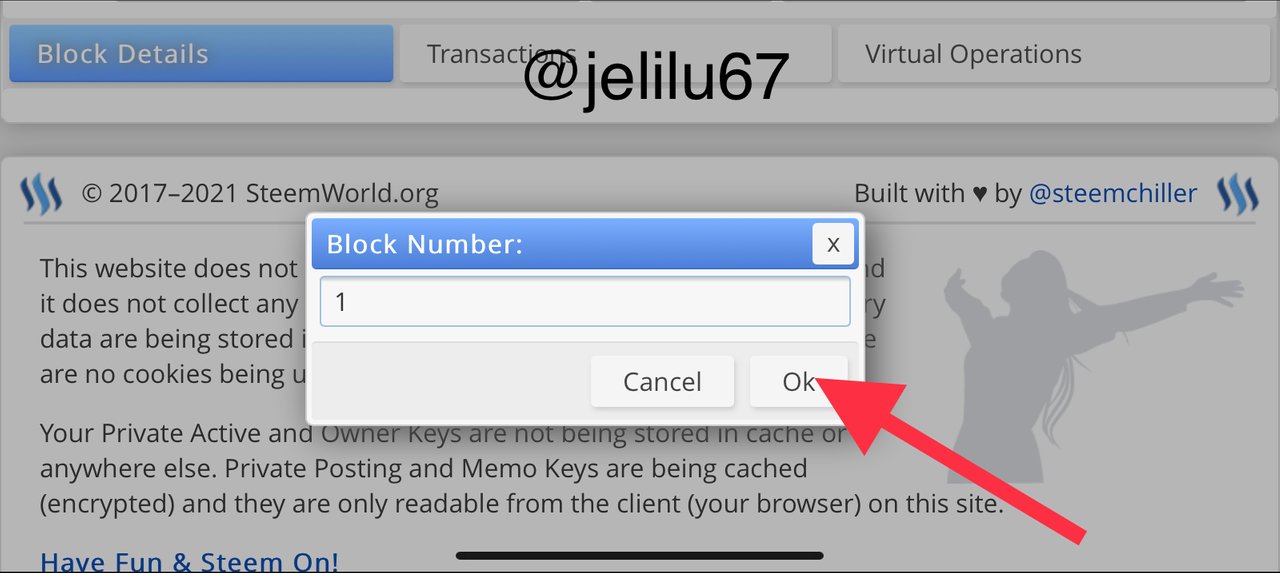 After clicking on ok, A new page will appear containing all the information of the block, Such as the witness, signing key, block Id, timestamp etc.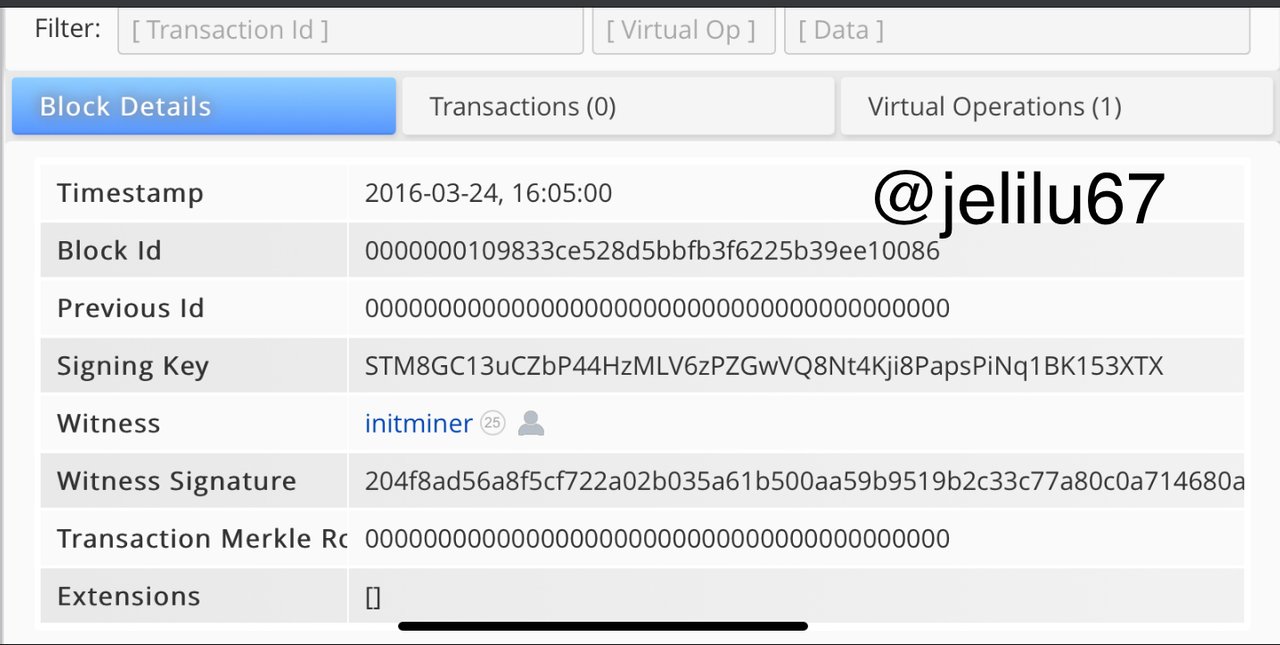 From my screenshot above the
Time stamp
Showed us that the the genesis blockchain was built on 24th March 2016
Witness: Intiminer
Block Id
0000000109833ce528d5bbfb3f6225b39ee10086
Transaction merkle:
0000000000000000000000000000000000000000
Signing key
STM8GC13uCZbP44HzMLV6zPZGwVQ8Nt4Kji8PapsPiNq1BK153XTX
Logging in my account I first locate the sign in at top right corner of the block, After selecting I was asked to put my username and private key.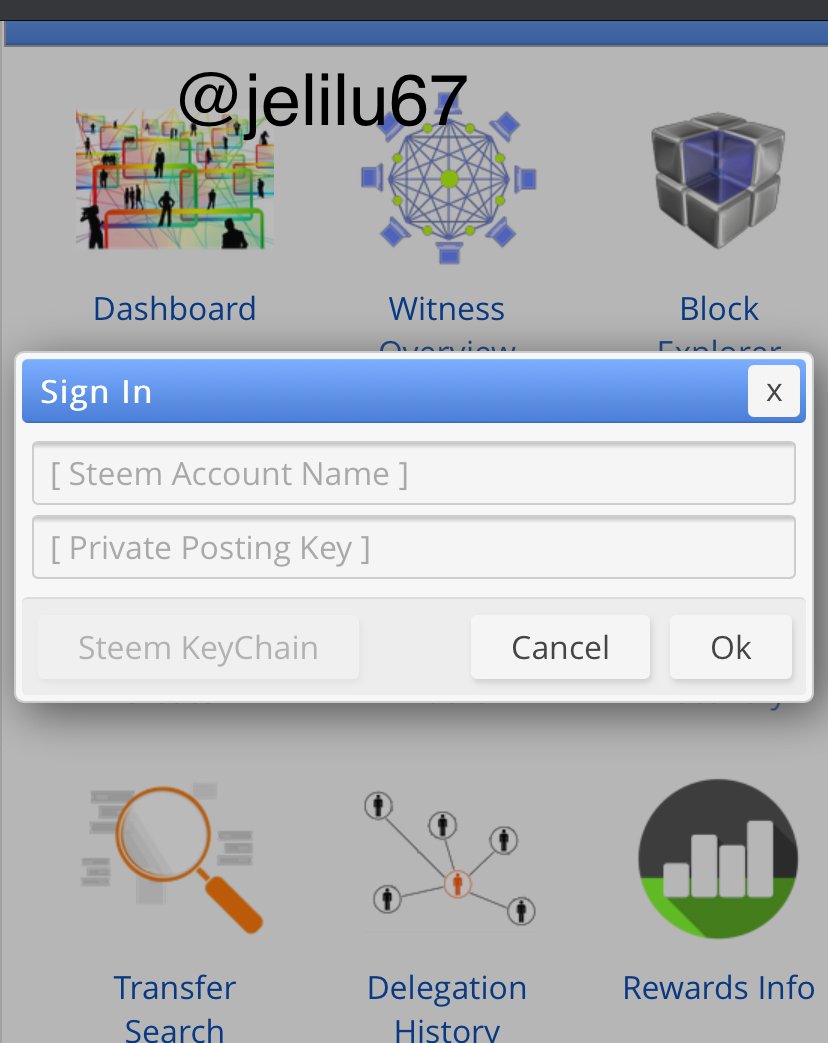 After putting my username and private key I clicked on ok.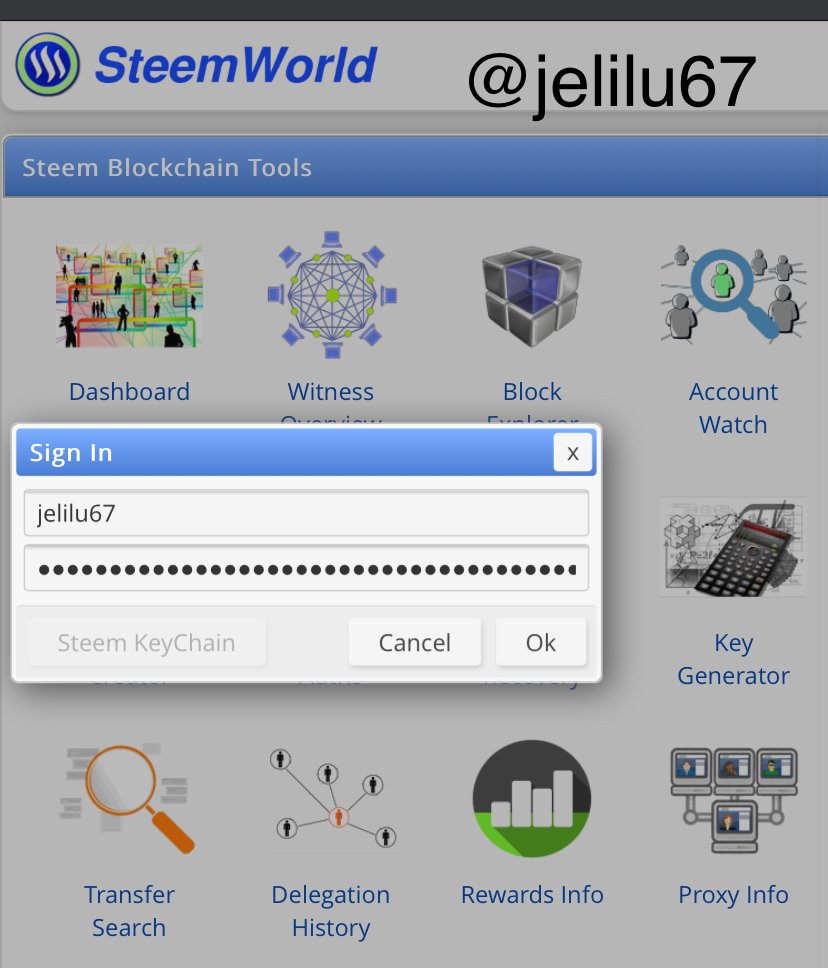 My account has successfully logged in.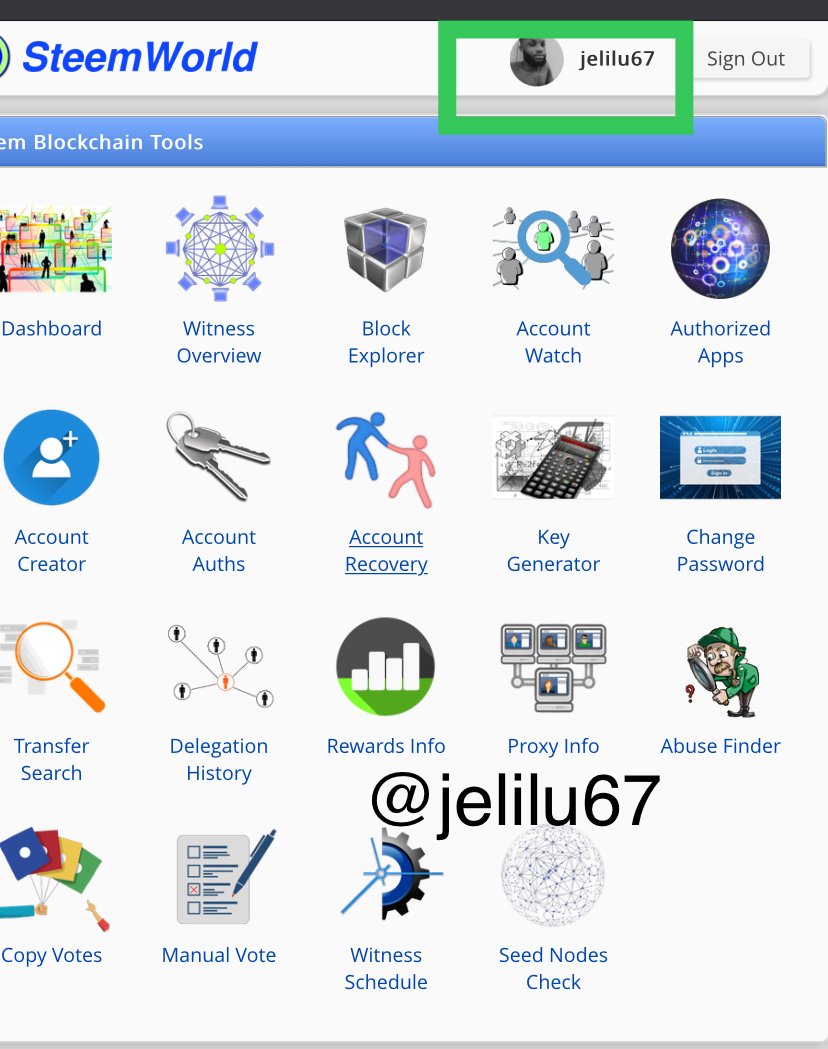 All screenshot were gotten from here link
---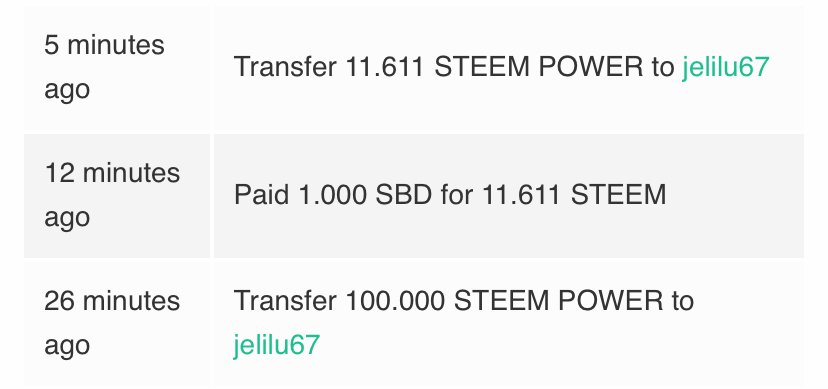 ---