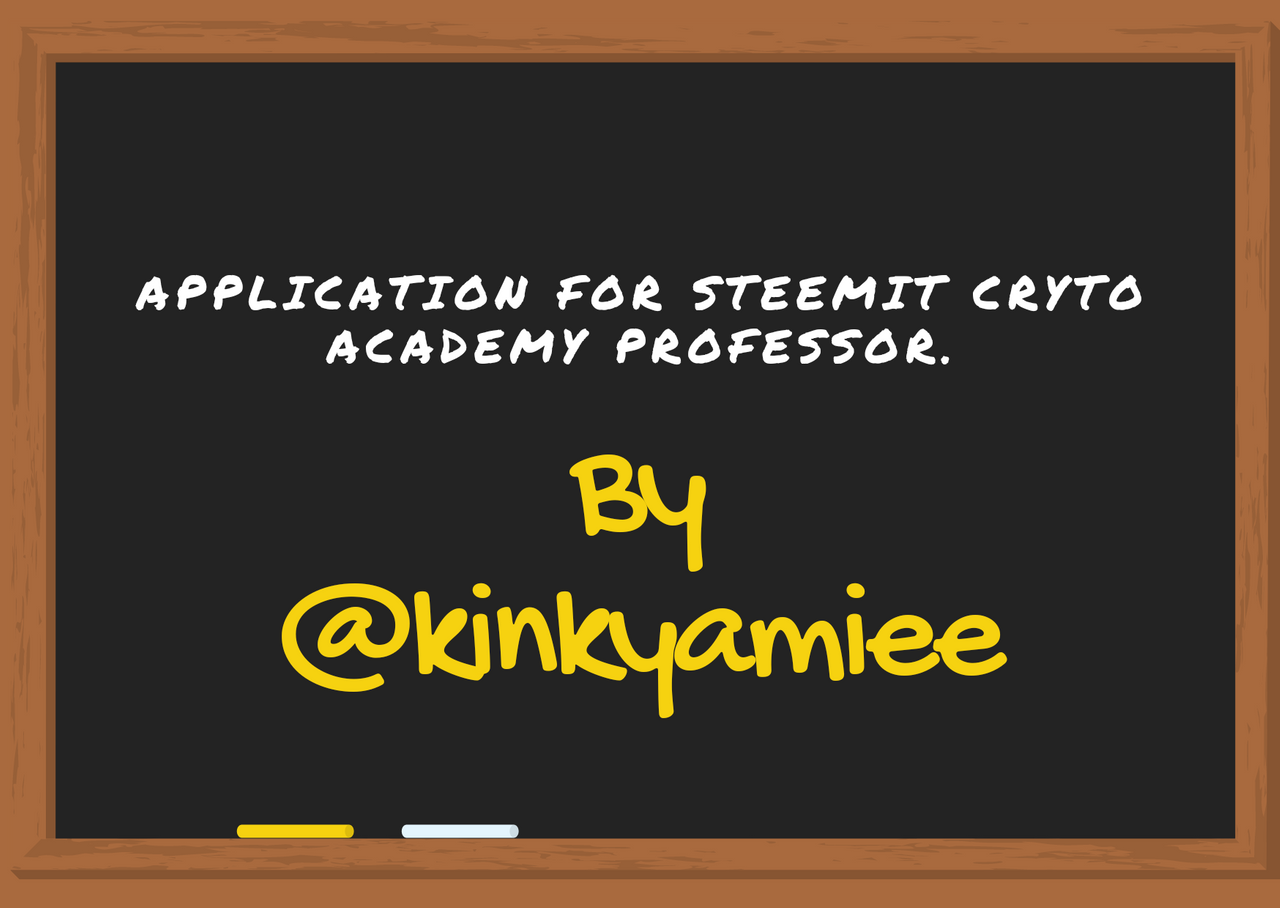 Hello everyone, before i go ahead with my application, i would like to thank the Steemit team for this great initiative of encouraging us to participate and learn about the blockchain. I would also like to thank the professors from the previous seasons, for the hard work and effort they put in bringing new courses to us everyday, review and score the homework posts too. They have done well.
My Experience With Crypto.
I joined the Steemit Platform December 2020, this is my 6th month on the platform, i know it has not been too long but before i joined this platform, i had experience in Forex trade where i had to learn everything about trading. I read books on it and also attended webinar for it. I had my own share of profits and losses too. After that, i began to pick interest in Bitcoin but then it was quite expensive to venture in to. I spoke to experts about it, and i learnt the basics of the blockchain network. This really helped me get acquinted with the blockchain even though it seems completely strange to me then.
I am a statistician by profession and joining the Steemit platform has really helped me use my statistical skill. I have been able to understudy technical analysis and chart pattern of the blockchain network. I have been able to compare coins, analyze and predict coins that have great potentials in the market too with my knowledge in probabilty. Also i have more experience in the crypto industry when it comes to the economic part, with my knowledge in Econometrics.
Why I Want To Join The Crypto-Academy.
First of all, i am very passionate about impacting knowledge so i am running an MSC program in Statistics to become a Lecturer in Statistics. Joining the Steemit Crypto Academy as a professor will really be that easy for me because teaching is what i enjoy doing. I really want to see my fellow steemians especially the newcomers understand the Cryptocurrency basics. I have part took in so many of the homework task and i have gained more knowledge and also grown in the crypto world.
I would really like to assist the newbies balance properly in to cryptocurrency industry because as a regular visitor to the newcomers community and Steemit Nursery Community, i have seen a lot of newbies lost in the Crypto world. I feel i can really help this newcomers with the basics of Cryptocurrency, however, they need this foundation. I would really like to teach them the basics of buying, selling, trading and investing on the blockchain.
My Propose 5 Weeks Course.
These are my proposed 5 weeks courses:
1 . Fundamentals of Cryptocurrency.
What is a Cryptocurrency.
What determines the value of a cryptocurrency.
How to secure your cryptocurrencies
What are blockchains.
Where and How to buy Cryptocurrency.
Benefits of Cryptocurrency.
2 . Wallets, Investing and Trading of Cryptocurrency.
Crypto wallets and How to set them up.
Cryptocurrency Terminology.
investing Strategy and Tips.
Technical analysis and Chart Pattern.
3 . Fiat Management Basics.
Protect your capital
Using Stop Losses.
How to set a Take Profit.
4 . ICOs.
Everything we need to know about ICOs
ICO Vs IPO - Which should companies and shareholders have.
5 . Introduction to Cryptocurrency Mining.
What is Mining.
How mining works.
Mining Vs Trading - Which should is more lucrative.
Over the period i have participated in the Crypto Academy homework task, these are some of my best posts.
Thank you so much for reading and i look forward to the announcement day.