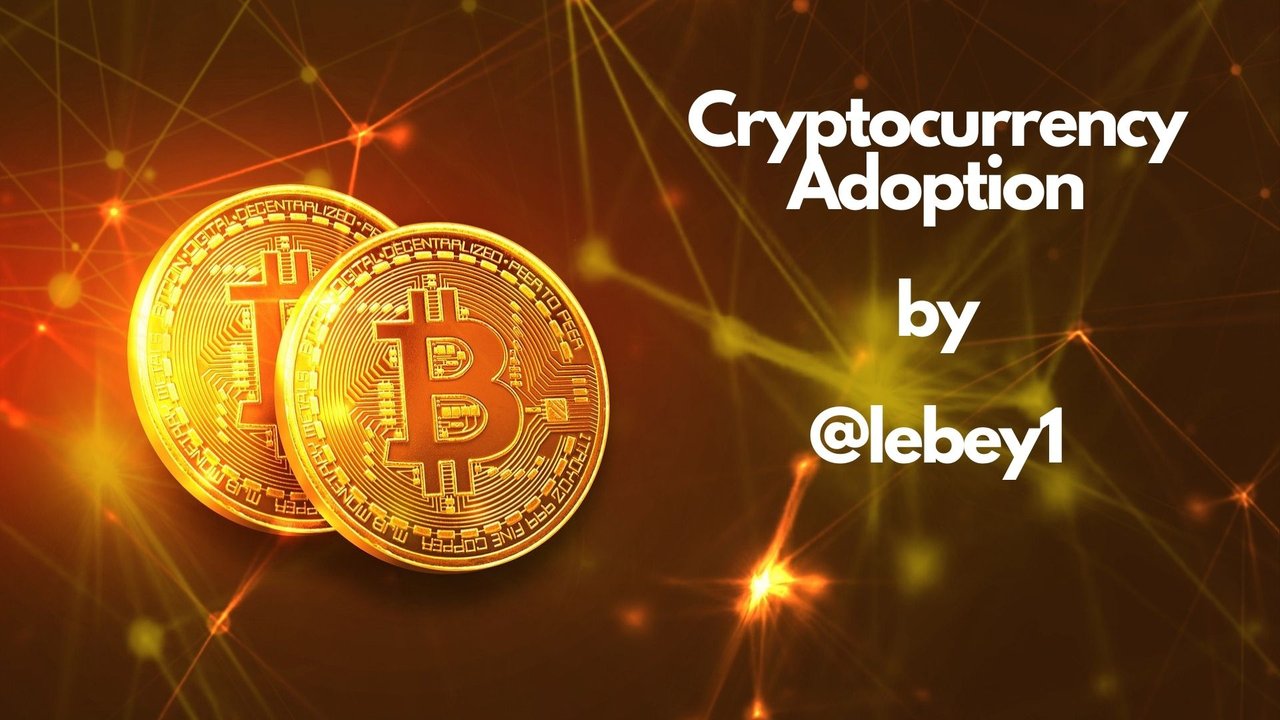 Created with Canva
Introduction
Cryptocurrency might be a very hard product to sell to someone new at the moment as the event of months past has made it discouraging and difficult to onboard someone new. Nevertheless, it will be wrong to say that technology has not opened the world to a whole lot of limitless possibilities. While at the moment, the adoption of cryptocurrency might have slowed down due to the events of the market and not-so-good news surrounding the technology (Luna Crash), the technology remains one for the future and it is bound to rebound after the inflation and the bull run eclipse.
In that regard, I will be detailing my opinion on cryptocurrency adoption by business owners and how it can affect businesses either positively or negatively by discussing extensively based on the title of the header that follows.
The adoption of cryptocurrency in the financial market and how businesses can be boosted through cryptocurrency transactions
The world has changed and it is only wise that the financial market and businesses adopt what is in trend in other to stay ahead of their competition. The adoption of cryptocurrency in the financial market will automatically make the dealings of the market much more transparent and more trustworthy. This is because every transaction that happens on the blockchain is trackable and visible to all. To that effect, the concept of check and balance, accountability, and responsibility will be achieved in a financial market.
Also, for the business part, transactions made through cryptocurrency will help further grow and develop the operations of a business. A business could receive payment through crypto within a short period unlike other means of payment available and it also helps cut out some avoidable costs. With cryptocurrency, Businesses can easily receive payment transactions for a product or services they render/ offer to an individual or other business that doesn't share the same country with them. It means that with cryptocurrency, making payment to someone in another country who does not use the same Fiat (Local paper money) is as easy as ever before.
in summary, cryptocurrency transactions will skyrocket transparency in the financial market while also breaking down the barrier that comes to trading with others in another country.
What my opinion is on cryptocurrency being accepted globally for our day-to-day transactions.
Without any iota of doubt, cryptocurrency being accepted globally for our day-to-day transactions will help facilitate and solve lots of issues ranging from payment to security and transparency and also being in control. One of the reasons being the formulation of crypto is that people want absolute control of their funds and with cryptocurrency, that is achievable at a glance. The concept of being able to do whatever one wishes with his or her money continues to look more enticing than ever and with crypto, this is achieved at glance.
Cryptocurrency being fully and globally accepted for daily transactions will in one way make the world one small global village as everyone is likely to spend just one money. This will also lead to an increase in transactions made individually and as an entity as a currency barrier is eliminated. cryptocurrency makes it easier for a safe transaction as funds could be properly monitored by the parties involved. the adoption of cryptocurrency also eliminated the payment of taxes and extra charges.
What my opinion is on the high volatile nature of the crypto market to business owners
Cryptocurrency has some amazing features and despite this, some of these characteristics sometimes cause hindrance, An example is the volatile nature of crypto. This feature makes it hard for businesses to fully incorporate crypto as these business owners are more concerned about the short term value than the long term value like the crypto investors. The key reason for this is that business owners already have a product they sell and they are only interested in exchanging their products for something of value like paper money. This is because paper money is quite stable unlike coins such as Bitcoin, Eth, and Bnb.
But stable coins solve this issue but their adoption and popularity are quite low. this further means that the use and function of stable coins should be more marketed and popularised. This will be quite hard as holding stable coins isn't an investment. It is just like holding paper money and I am sure that lots of people will be unwilling to pay for a product or service with a stable coin.
Regardless of the fact that cryptocurrency is highly volatile, the use of stable coins eliminates the problem of high volatility always attached to cryptocurrency.
Other factors currently limiting the adoption of cryptocurrency and it could be solved
Problems I believe that cryptocurrency is a technology for the future but In my opinion, I believe that some loopholes still exist now but over time they will be perfected. Just like real-life situations, scams and hacker has made adoption quite slow. People tend to lose their money a lot from investing in scam projects and also due to hackers hacking into unsuspecting audience wallets to steal all funds in their wallets. These issues as made it a bit harder to convince a newbie to invest in crypto and that in turn further limits the adoption of cryptocurrency in the world and in businesses as of today.
Solution: The simple solution to these two issues spoken about earlier is just the re-education of the investors. It is time that more awareness is done on what investors have to look out for before buying into a project. More awareness should be done on how investors could check the liquidity of a project, and what investors should look out for before they invest. Things like how to check the liquidity of a project should be explained in detail and made much simpler. Also, proper education should be given to coin holders on how to protect their wallets against attacks and ways to make their funds much more secure on the blockchain. This stuff might look like a trick to a lot of people yet they are easy to learn. So my simple solution is just re-education of the world at large on easy security things to do to make their fund and investment safe.
Discuss the Pros and Cons of cryptocurrency adoption by business owners
To summarize the Pros and Cons of what cryptocurrency adoption could mean to business owners, the table below was used.
| Pros | Cons |
| --- | --- |
| Faster Transaction | Volatility Issues |
| Payment Barrier is eliminated as anyone can pay with USDT from any country and continent as against the currency of their country | Lack of technical Know-how: Business owners might find it hard navigating through the use of Cryptocurrency |
| Wider audience | loss when the bull run arrives |
| Increase in sales | Increase in attackers to target the business crypto wallets |
| Tax Avoidance | cryptocurrency transactions are transparent and this may easily make hackers target the business |
| Freedom to do business without worrying about government policies | Loss of financial privacy as anyone could know much the business has in its crypto wallet. |