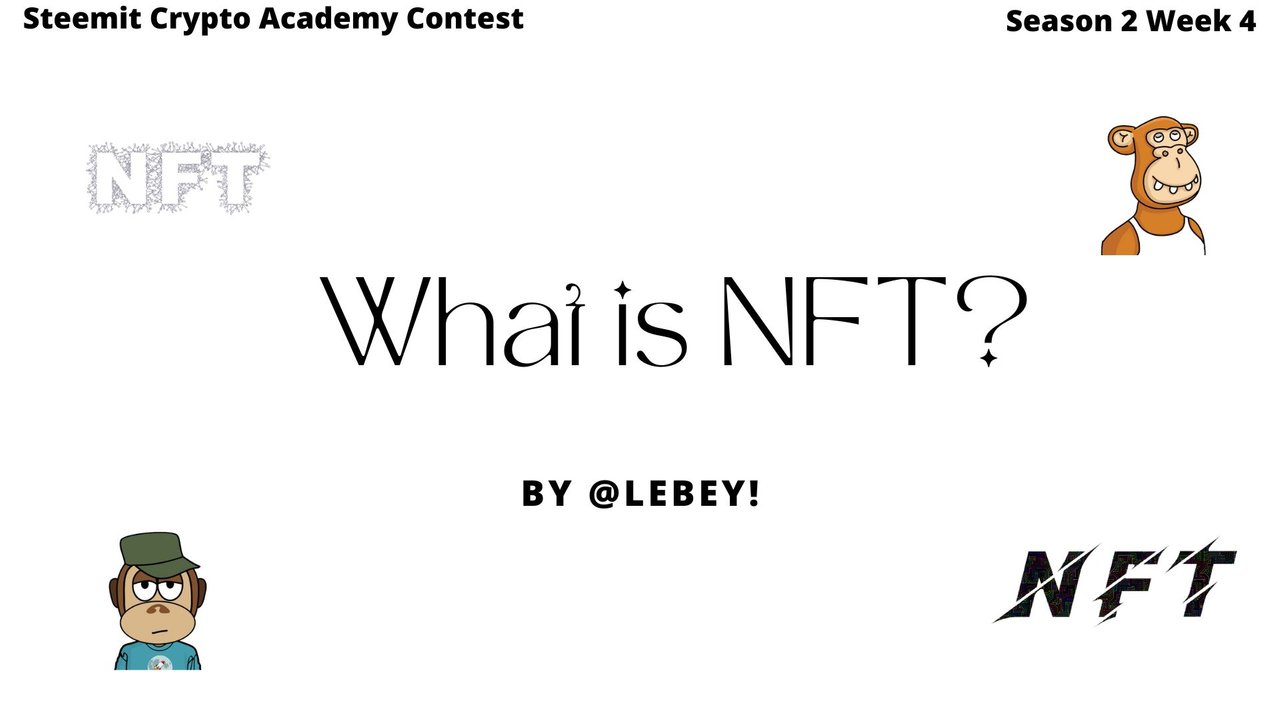 Created with Canva
Introduction
This article will explore Nonfungible Tokens (NFTs) technology and applications. NFTs, or nonfungible tokens, are unique kinds of digital assets that can be transferred from one person to another. They're similar to regular cryptocurrencies like Bitcoin and Ethereum because they're a form of exchangeable value. But unlike traditional cryptocurrency assets, NFTs are unique in their own way: they can be owned by multiple people at once while maintaining different values for each owner.
The benefit of using NFTs is that it gives us more options than just knowing that something exists on the blockchain; we can also see what it looks like and where it came from (if we want). To understand why this matters, let's take a look at how this would work with physical objects instead. In that regard, a quick history of how NFT came into place will be discussed next.
History
The first NFT was a digital art piece by artist, and programmer Eric Smith called "This is a Drill." He released it on the Ethereum blockchain in 2014. It was a series of images that could be purchased using cryptocurrencies, with each image featuring an individual pixel in an image. The sale of these pixels raised $1 million for charity. It showcased how blockchain technology could be used to create unique digital assets that were not only scarce but also transferable across different platforms.
Following Smith's work came CryptoKitties; a collectible game where players buy and raise virtual cats with unique attributes, which they can trade and breed with other players online. This game went viral shortly after its launch in December 2017 due to its popularity among millennials who grew up playing Pokemon or Tamagotchi (another popular 1990s collectible). The popularity of CryptoKitties proved how much people enjoy collecting rare items and acquiring new experiences through gaming platforms; it also showed how quickly NFTs could become profitable businesses.
Difference between fungible and non-fungible tokens
NFTs are unique, meaning that each one is different. This is in contrast to fungible tokens, which are interchangeable and equivalent to one another. Unlike fungible tokens, NFTs have a unique identifier and URL.
| Non-Fungible Tokens (NFTs) | Fungible Tokens |
| --- | --- |
| NFT tokens are built using the ERC721 Standard | Fungible tokens are built using the ERC 20 Standard |
| In NFTs, each token has a unique ID and value proposition | Tokens that are Fungible are in uniformity unlike NFTs |
| NFT are distinct assets that cannot be traded for another NFT of the same sort and are not fungible | Tokens that may be traded for other assets of a similar type or another asset of equal or more excellent value are said to be fungible. |
| NFT are assets that cannot be split into smaller pieces; they represent a whole company | Tokens that are fungible are assets that may be divided into any number of pieces while maintaining the same value. |
The article will further look to answer all the questions asked by the @ in the contest announcement post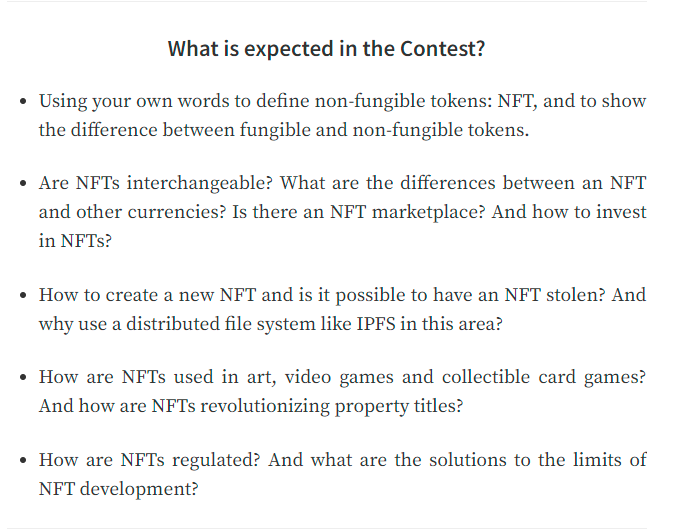 source
Are NFTs interchangeable? What are the differences between an NFT and other currencies? Is there an NFT marketplace? And how to invest in NFTs?
This section will further explain the following topics from the header.
NFTs are interchangeable. It is one of their unique features that makes them different from Fungible Tokens. NFT can be changed to cryptocurrencies such as Ethereum, USDT, Polygon, BNB, and a whole host of other coins on which the NFT is been built on their blockchain.
Also, NFT is quite different from other currencies. The differences are highlighted below:
NFTs can be used to represent digital assets or even physical objects.
They are unique and cannot be duplicated.
A central authority doesn't control NFTs.
NFTs aren't fungible; in other words, each one is different from the others. For instance, you can own one token of an NFT called "Lion Mane" and another person might own another token of the same NFT called "Lion Mane 2". These two tokens are not interchangeable with each other because they do not share the same characteristics (i.e., they don't look exactly alike). This makes NFTs similar to traditional collectibles like baseball cards or baseball jerseys in this way: each item has its own history and value associated with it that can change over time depending on how much people want it!
NFTs may not necessarily be digital (they could also exist as something physical like an art piece). However, they still have value because they're rarer than most things out there right now, which means fewer people have access to them, so demand tends to stay high for more extended periods before supply catches up again."
With the growth and popularity of NFTs among crypto enthusiasts, a lot of market NFTs market places have sprung up within the space of a year since NFT's popularity in 2021. Some of the NFTs Market place popular used are itemized below:
OpenSea
Rarible
Axie Marketplace
Binance NFT marketplace
Nifty Gateway
Decentraland
Crypto.com
SuperRare
Investing in NFT is quite a risky game just like crypto itself. Investing is easy as it requires one to buy an NFT from a marketplace with an acceptable cryptocurrency. Once an NFT is bought from the Marketplace and it will be kept in a private wallet and to be sold at a later date. NFTs can be sold either through Bids or by placing a value on the NFTs
How to create a new NFT and is it possible to have an NFT stolen? And why use a distributed file system like IPFS in this area?
How to create a new NFT
The advancement in the NFT sector has made it resulted in lots of platforms helping out to create an NFT. They are lots of ways in which NFTs could be created however the basis as to which NFT is to be created follows the itemized list below:
Picking an item to convert to an NFT. It could be a painting, picture, art, tweet, meme, or even video collectibles. The keynote to this is that the NFT creator must have the intellectual right to these items before choosing to turn them into an NFT.

Pick a blockchain in which you want to set up this NFT and after that, create a digital wallet with some funds to be used as a gas fee

Select an NFT Market place you want to sell your NFT and upload your file. PS: Most NFT markets have their guilds on how to convert the digital file of your pictures, arts, and painting into a Marketable NFT.

Lastly, the NFT creator should set up how they want to sell their NFT in the NFT marketplace.
is it possible to have an NFT stolen?
Sure, it is very possible for an NFT to be stolen if a hacker gets access to the digital wallet where the NFT is stored. Unfortunately, there is no way to back up your digital asset since it's stored on another person's computer. If they lose their device or delete the software, your pet will be lost forever!
And why use a distributed file system like IPFS in this area?
Let's start with knowing what an IPFS is, IPFS in full means InterPlanetary File System. It is a protocol that many NFTs (or non-fungible tokens) point to as their underlying asset. It's part of the backbone of this new digital economy. The IPFS are important as they make NFTs built on the blockchain stay that way.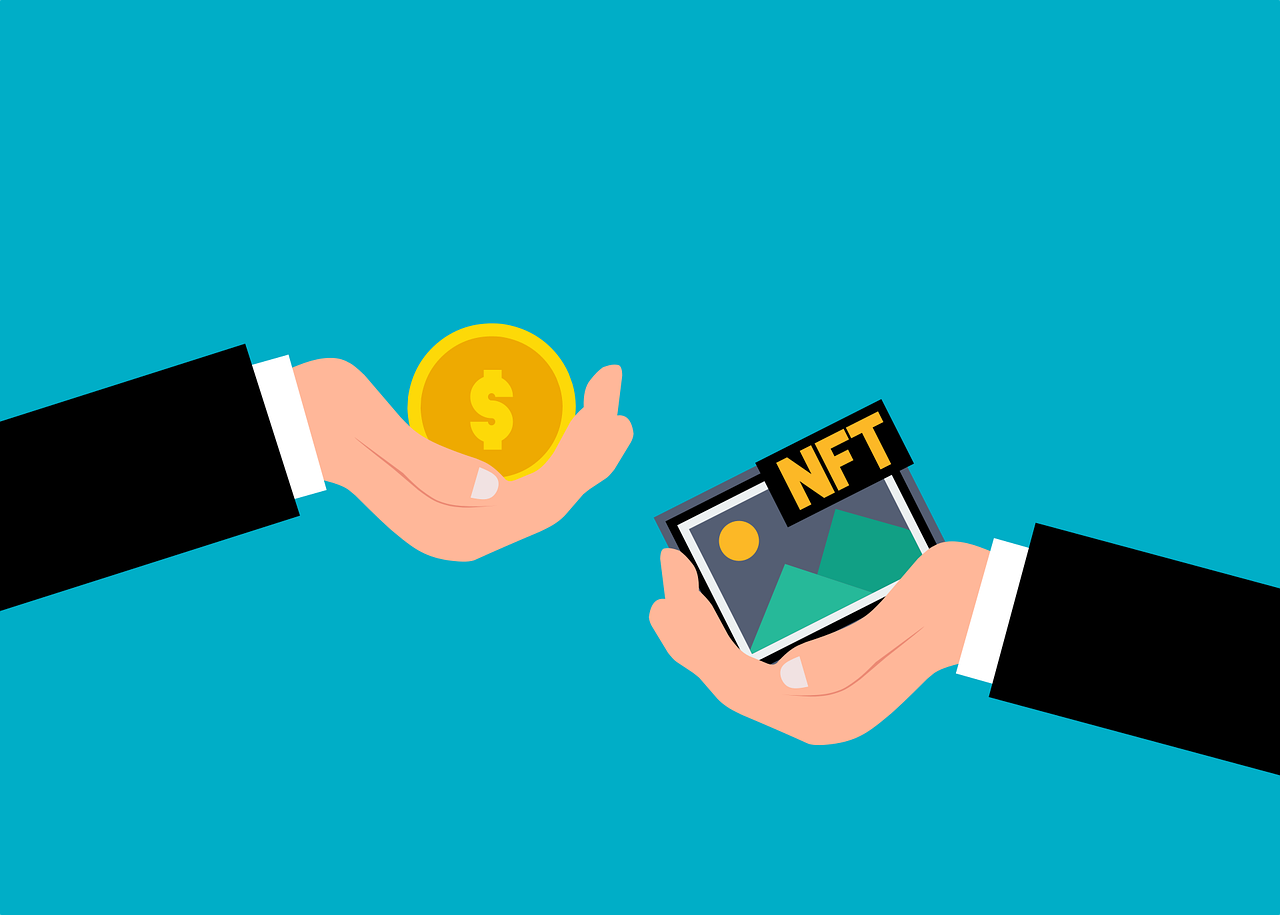 source
How are NFTs used in art, video games and collectible card games? And how are NFTs revolutionizing property titles?
How are NFTs used in art, video games, and collectible card games?
We all know that NFTs are digital arts for short and despite this, the gaming sector has really incorporated its use greatly. NFTs are basically used to reward users or players of a Video game. To explain further, They are Video games that reward the users who play the game of a particular project, it is popularly called play to earn. You play a game and after each mission, you earn an NFT.
Another way in which NFTs is been used is that while playing a video game, the collectibles in which a player can acquire as been programmed to be NFTs. This way, players can earn NFT for their activities within the game.
And how are NFTs revolutionizing property titles?
NFTs can also be used to represent ownership of real-world property. For example, NFTs could represent ownership of a piece of art or a license for a song. To do this, an artist or songwriter would need to create an NFT by creating a smart contract on the blockchain that contains information about their work and what rights they're offering.
We're already seeing this being done with music rights management; artists are selling digital licenses for their songs through platforms like Ujo Music, which allow users to purchase licenses directly from the artist and avoid middlemen like Spotify or Apple Music; and receive royalties every time someone listens to their songs online.
By transferring ownership via these tokenized assets instead of just sending money back and forth between buyers and sellers, we can reduce friction in the market while allowing creators more control over how their work is monetized.
How are NFTs regulated? And what are the solutions to the limits of NFT development?
How are NFTs regulated?
We all know that cryptocurrency is unregulated and NFTs fall into that same category also. As of the time of writing, there is no regulatory body overseeing NFTs. Also, NFTs are not regulated by the SEC, CFTC, IRS, or any Government or agencies
What are the solutions to the limits of NFT development?
There are several ways to address these limits.
To increase the number of NFTs: You can do this by creating new games that support NFTs, or by using existing games as platforms for developing new games. For example, if you create a game such as a casino game that lets people buy NFT in-game and then sell them on the market, then your users will be able to generate revenue from their in-game profits. This means that they won't necessarily have to sell anything on the marketplace but can instead keep everything for themselves!
Also, NFTs require the use of gas fees to place an NFT in a marketplace. Ethereum remains the biggest blockchain where NFT is been created and this means that listing your NFT, will require the use of eth as a gas fee. The high cost of using eth as a gas fee makes it quite hard for people to list their art.
Conclusion
We hope this article has given you a good introduction to nonfungible tokens. The subject is complex, but we think it's one that deserves greater attention and understanding. As the technology behind NFTs continues to evolve with the support of many talented developers and innovators, it surely will. We can only wait and see how things change for the better in the world of finance. In the meantime, consider your own needs for asset management and whether or not NFTs might be able to make your life easier too! All in all, though, there's an exciting future ahead for everyone involved in this area