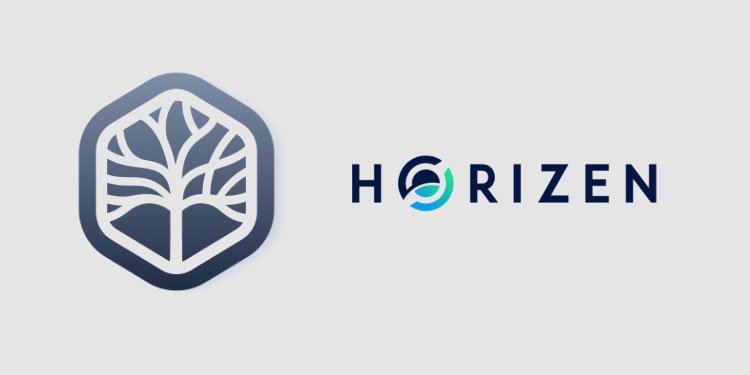 Hello guys, how are you, this week we will be touching on the topic of proprietary currencies, which provide anonymity to all their users and we will talk about their advantages and disadvantages, such as the assignment of the task of the professor
@levycore
in the cryptocurrency academy.
Choose a privacy coin and perform a fundamental analysis of the coin in detail.
Horizen
Horizen is a privacy coin, very similar to zcash, since it is a folk of this, horizen like zcash has two types of addresses: T addresses that are transparent and public addresses, and Z addresses, which is where Horizen puts It has put all its potential in terms of privacy, since these addresses are the most used within the platform since they provide total anonymity in the transactions carried out and operations that you can execute with this wallet address.
Horizen shares similarities with BTC and one of them is the amount of coins that were offered, which was 21 million, another of its similarities is that the rewards of miners are reduced by half every 4 years.
The main objective of Horizen is to provide security and privacy to users as a law of its protocol and that each user can decide what to do with that privacy whether to make it public or simply maintain anonymity throughout the network.
Details of the nodes.
As happens in zcash, Horizen works with nodes with liquidity, which means that it must have a minimum investment for its correct operation, if a node does not have 42.05 zen, it cannot work apart from the one that mounts a node of These on a server must make constant checks that it is working and validating the transactions correctly.
basic functions of nodes.
These nodes maintain all the logic of the system at a level in which the central code, and is not within a separate database, if not all together
Applies a node tracking system throughout the system which can detect whether they are connected or disconnected and transmits the information through the rest of the nodes and all this within a de-centralized system.
It reviews and keeps running all the messages that are sent on the network.
It makes the chain of blocks work constantly and that the system is secure and always available.
Like zcash, Horizen has one super nodes where they contain complete blockchains in order to be independent and have all the information in case any node should fail, apart from the fact that these super nodes are part of the governance of Horizen since they regulate the services and controls the entire infrastructure.
Technical Characteristics Of Horizen
| | |
| --- | --- |
| Block Reward: | 12.5 |
| Block creation | 2.5 |
| Block size | 2MB |
| Coin supply | 21 MILLION |
| Algorithm | Equihash |
Price and value of the currency.
CoinMarketCap es #72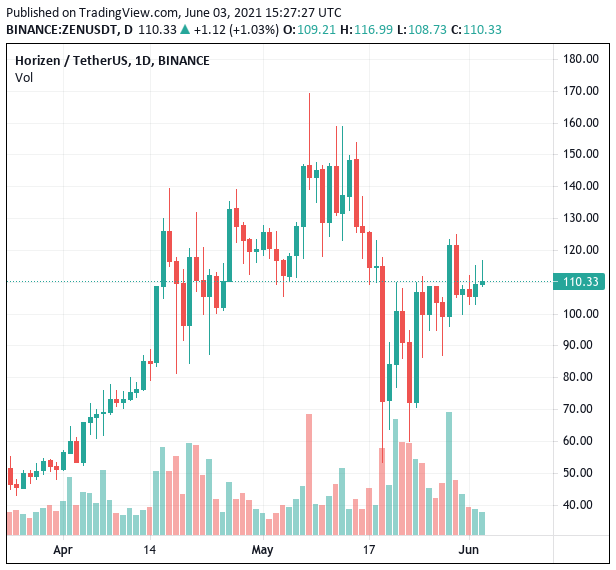 The current price is $ 110.67 USD.

The trading volume is $ 80,417,975 USD.

Horizen fell 0.62% in the last 24 hours.

The market capitalization is $ 1,234,084,599 USD.
Characteristics
ZenDao has its own organization where its governance is transparent, a Zen mine which is the consensus algorithm most widely known as PoW, its Zen Nodes which is a system of nodes that will act at various levels and a Zen Chat which is a system of messages on the network that works independently of the wallet or together with it depending on your requirements.
THE token used.
The token used is Zen, which is the currency of this project, this gives privacy and gives the possibility of controlling the anonymity in your transactions, it has two independent addresses, T and Z, each with their respective Characteristics
T transactions: These are normal transactions like any other currency, where we can observe everything that happened in the block network, the addresses are also visible and the amount of coins sent and received.
Z transactions: These are proprietary addresses, since they are completely anonymous in them, we will not be able to see the addresses that send or receive coins, nor will we be able to observe the amount of coins that have been sent.
As happens in Z cash if a transfer is made from an address Z to a T the transaction will be completely open to public observation as if it were a common and current transaction, remember that Horizen is a fork of Zcash
How to acquire this coin
The most advisable thing is to buy it in a known exchange such as:
Etoro
Binance
Kraken
Bitpanda,
. Any other exchanger that has this currency listed.
Describe the steps to create a wallet for the privacy currency of your choice.
First things first, we download the Wallet for our phone from Google play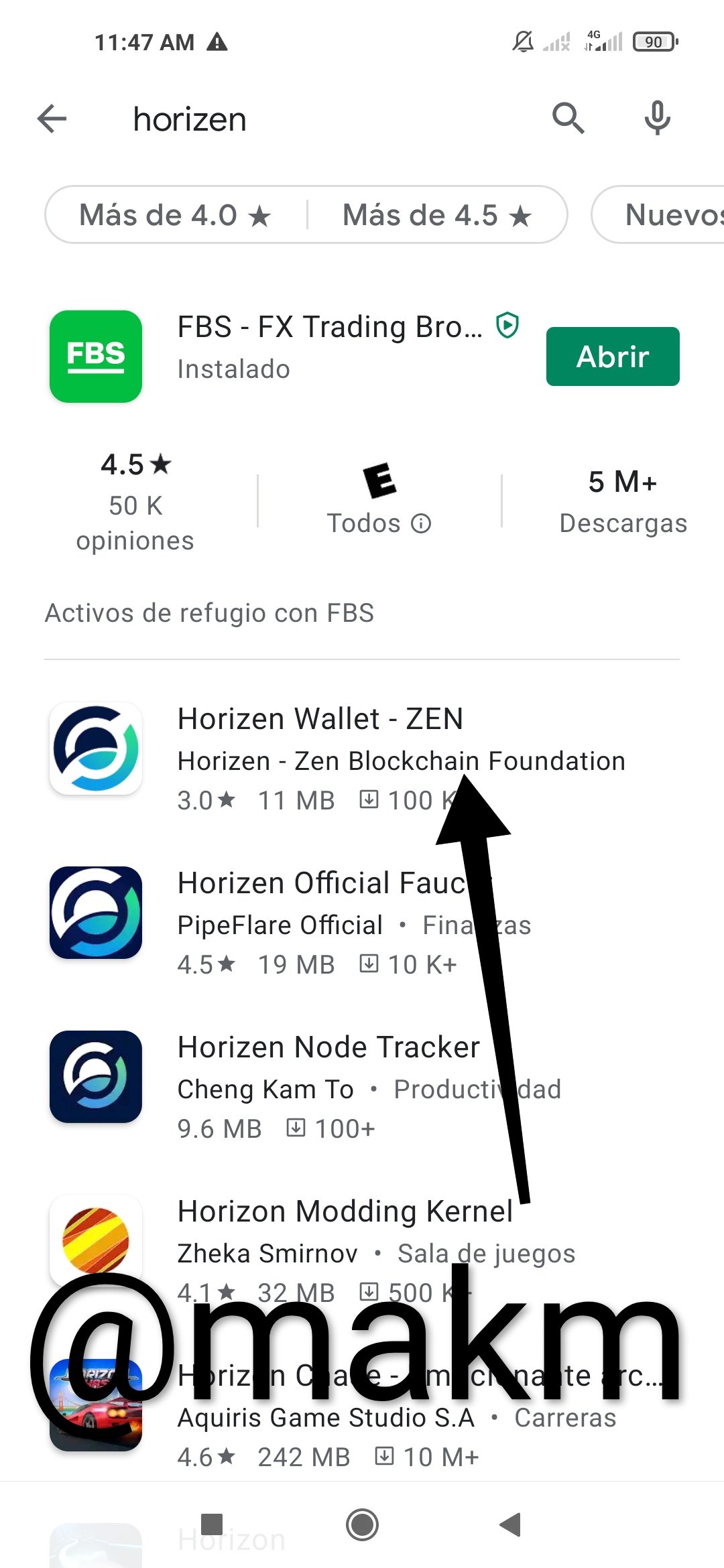 We are going to give you clip on install.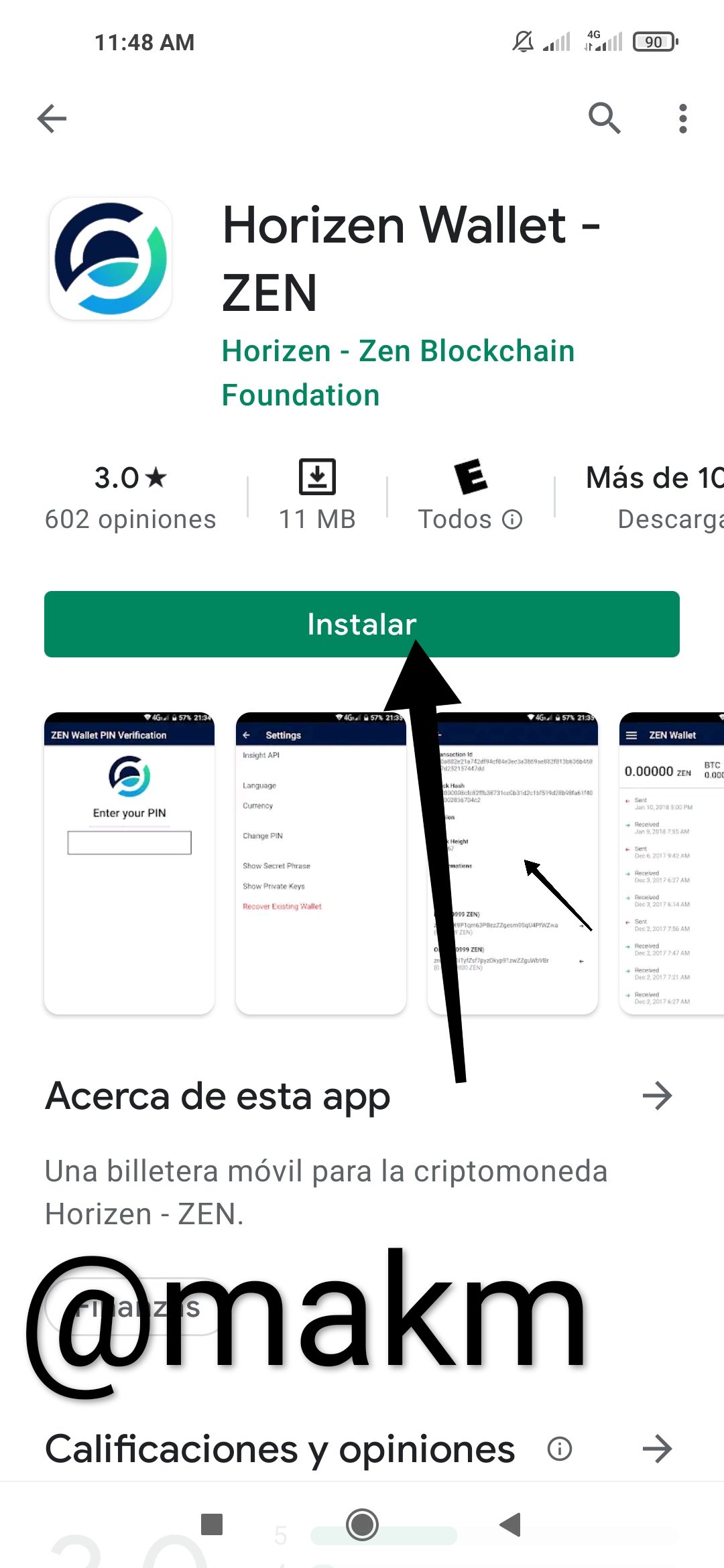 As soon as the application is installed and opened, it will ask us for a 4-digit pin.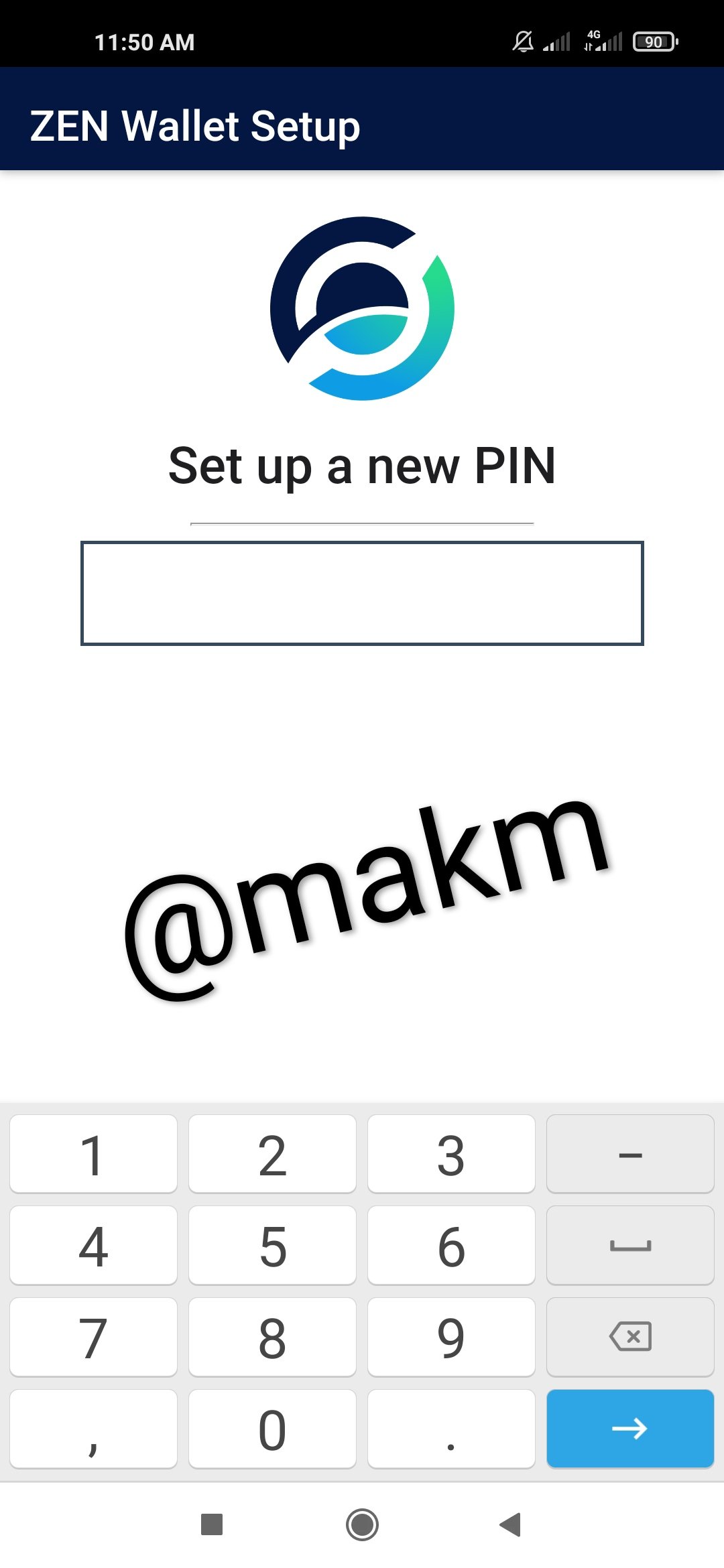 After inserting the pin we must enter it again to confirm it.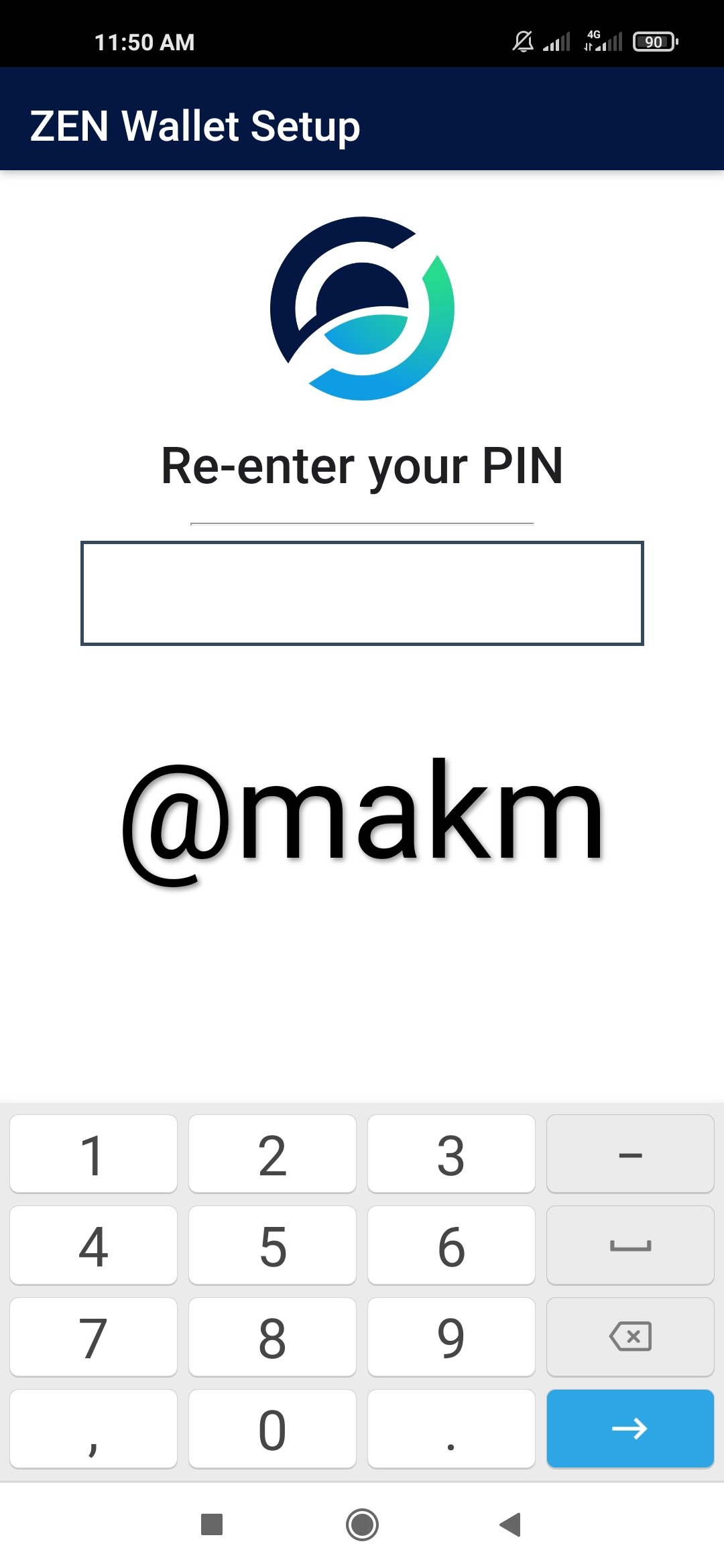 Then we are going to create the wallet by giving a clip to a new wallet to create a wallet from scratch or we introduce the recovery phrases to reactivate an existing wallet in my case I am going to create a new wallet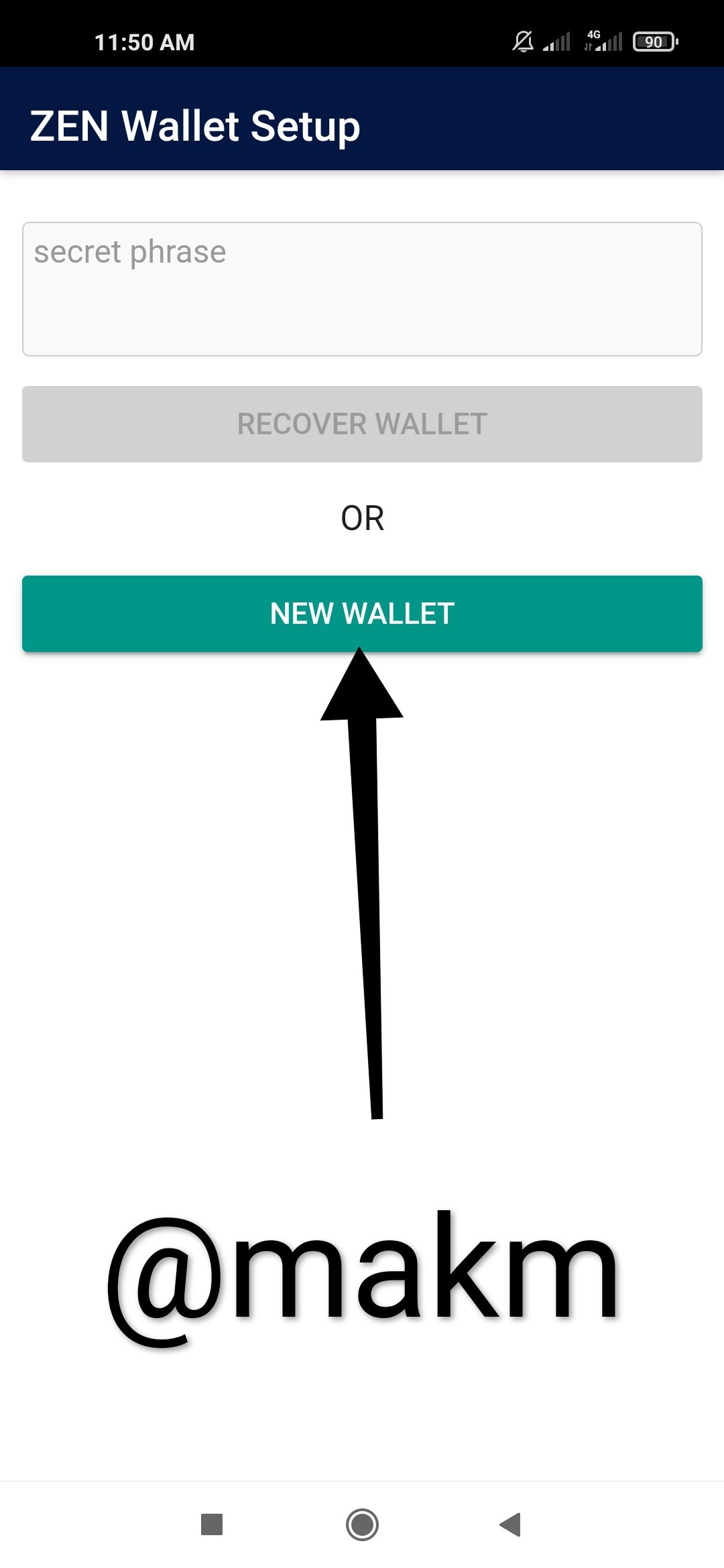 and voila, the wallet is created.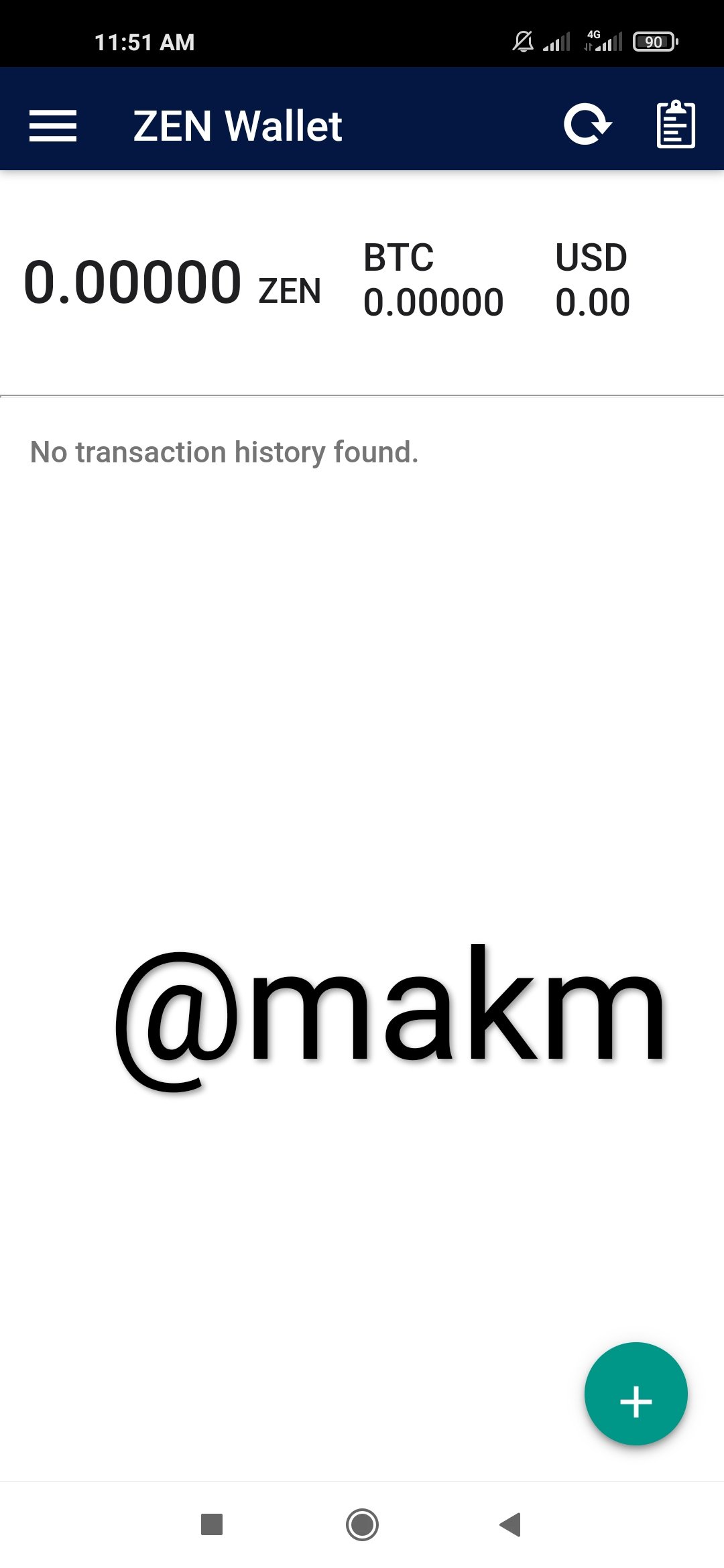 To see the different addresses we have we must give a clip in this notebook.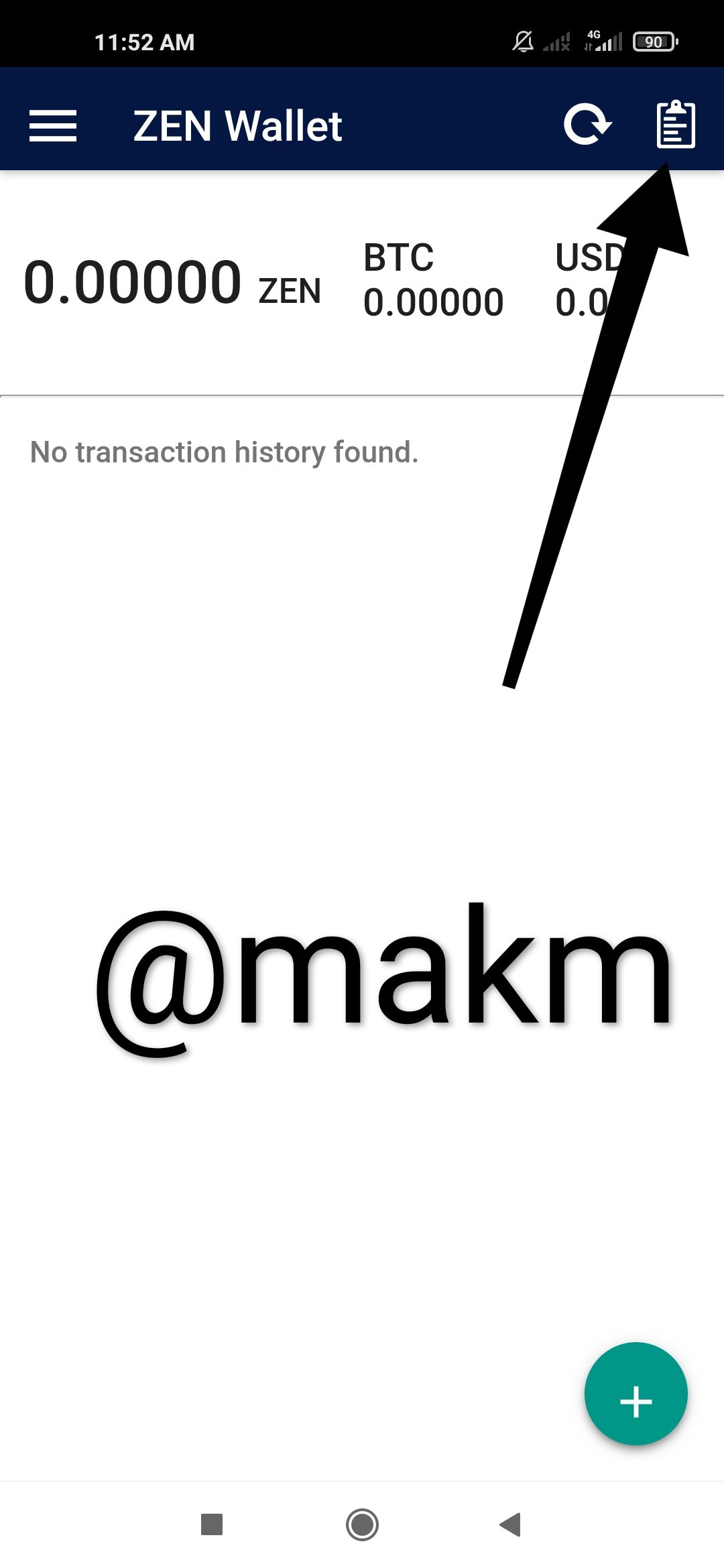 Here we can see our wallet addresses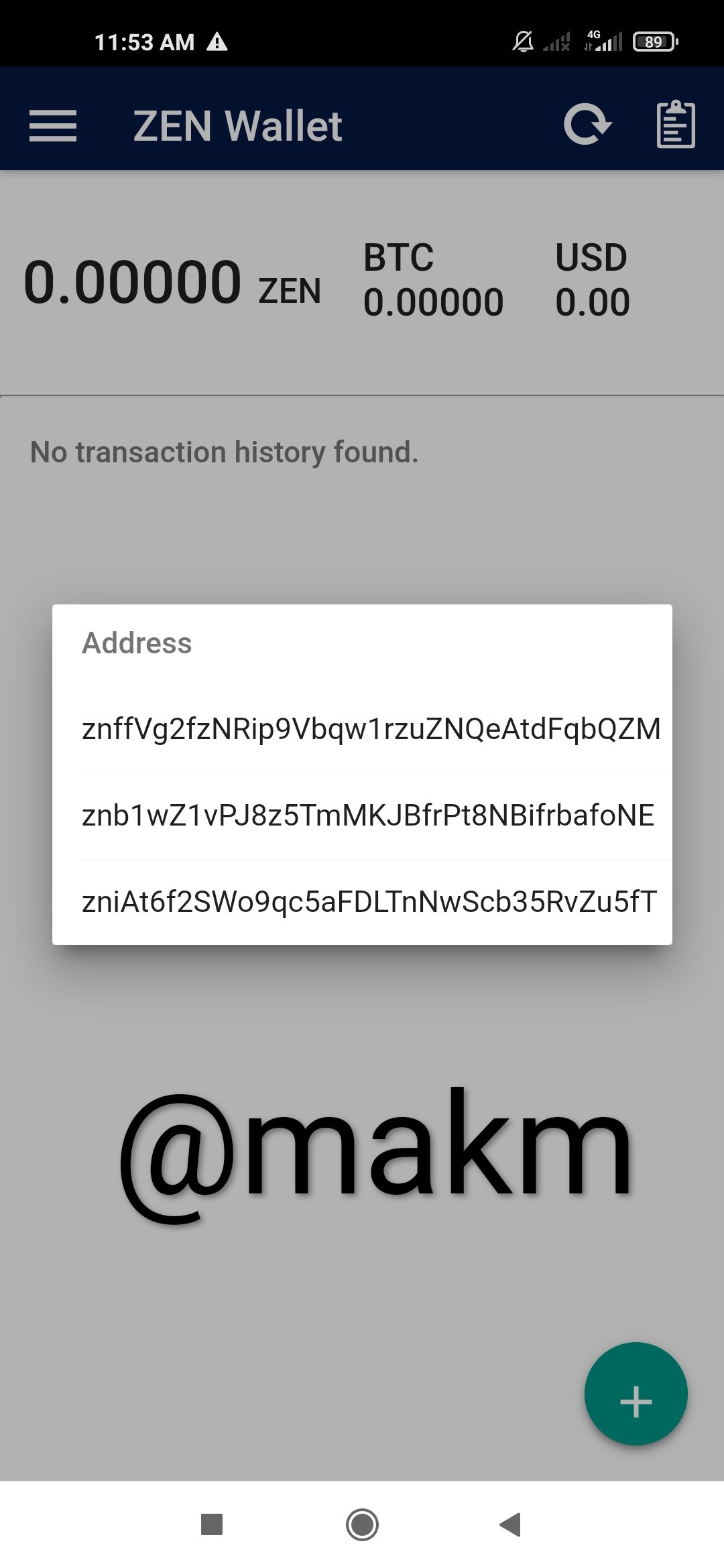 In this area we give you a clip if we want to make a transaction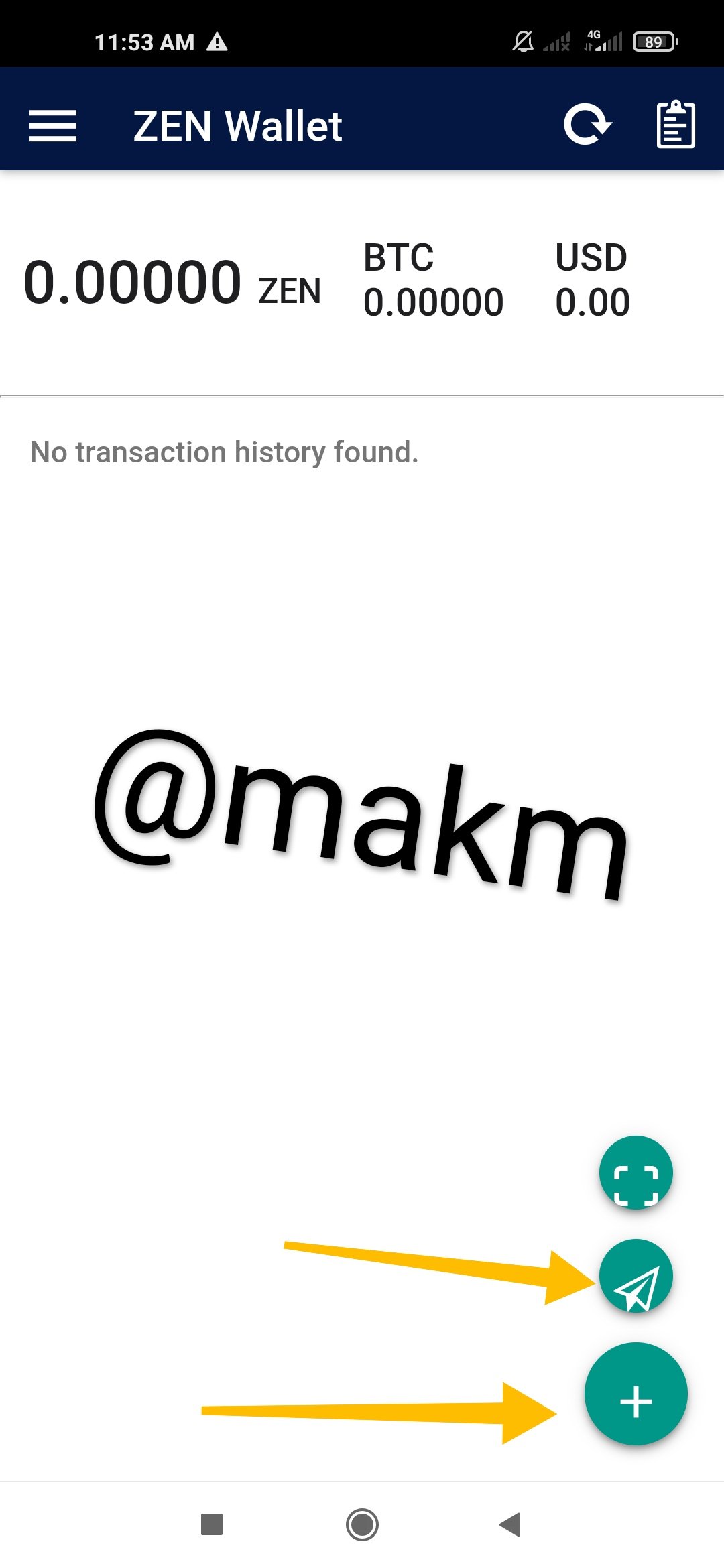 Explain why you chose the privacy currency. (Indicate the advantages and disadvantages)
This is a coin with great scalability, and a stable price despite the low btc, this coin remained firm although as all the currencies fell, it did so too, but not as precipitously as other currencies, another thing that caught my attention. is that this particular coin is a fork of another great privacy coin such as zcash and it seeks to improve and be faster than its predecessor.
Advantage
It has a decentralized architecture which provides a governance power based on votes from the users themselves, something that is perfect since many decisions are made in conjunction with the community that gives it life.

Its security is tremendous since it is the first cryptocurrency that offers end-to-end encryption, something totally new in the world of cryptocurrencies.

It is highly resistant, since it has a large number of nodes, although maintaining these nodes and super nodes requires a significant investment, today many people set up their own node to receive juicier rewards from this network.

It is very manageable and scalable so it will accept other programming languages. and it can be used in multitudes of applications thanks to its ease of programming.
Disadvantages.
Being a project with few updates, it has few new features to offer since there are other large security currencies that have a constant update of their protocols and applications.

As all privacy currency is in the eye of the hurricane since these coins are lent for illegal transactions thanks to the anonymity that it provides.

At the time of creating your account or official wallet, it does not give you the option to create a T address directly, but on the contrary, an account with Z addresses is given by default

Your community is somewhat small, and therefore does not allow you to create more as it happens with other currencies that are in the same branch.
Conclution.
It is important to say that these security currencies have great potential, in terms of future transactions, since many people seek this anonymity that they provide, although like all security currencies it has its levels of anonymity, one of the drawbacks it has. It is the use of multiple addresses, something that should encompass it in a single address and that's it, but hopefully it will have prompt updates and they said to unify these addresses and depending on the transaction it is visible to the public or not. And so I conclude the task of this last week in the crypto academy.