Hi everyone, this is my homework post for Professor @levycore. I have learned many new things from this lecture about buying and selling NFTs. I am going to share how to buy and sell on https://rarible.com/.
Rarible, NFT marketplace.
Rarible is a marketplace for selling and buying NFT's. It is a decenterlized marketplace where NFTs can easily be created and placed for selling in few steps.
PARI is the governance token of Rarible that is used to reward the active users and also it has voting power to influence the decision making in governance of the protocol. 75000 PARI token are being given to buyers and sellers on the basis of their holdings and trading volume. Rarible claims to have more than 60k visitors every month.
How to Buy NFT on Rarible.
To buy NFT on this platform is easy. Go to their website address https://rarible.com/, and it will open like given below screenshot.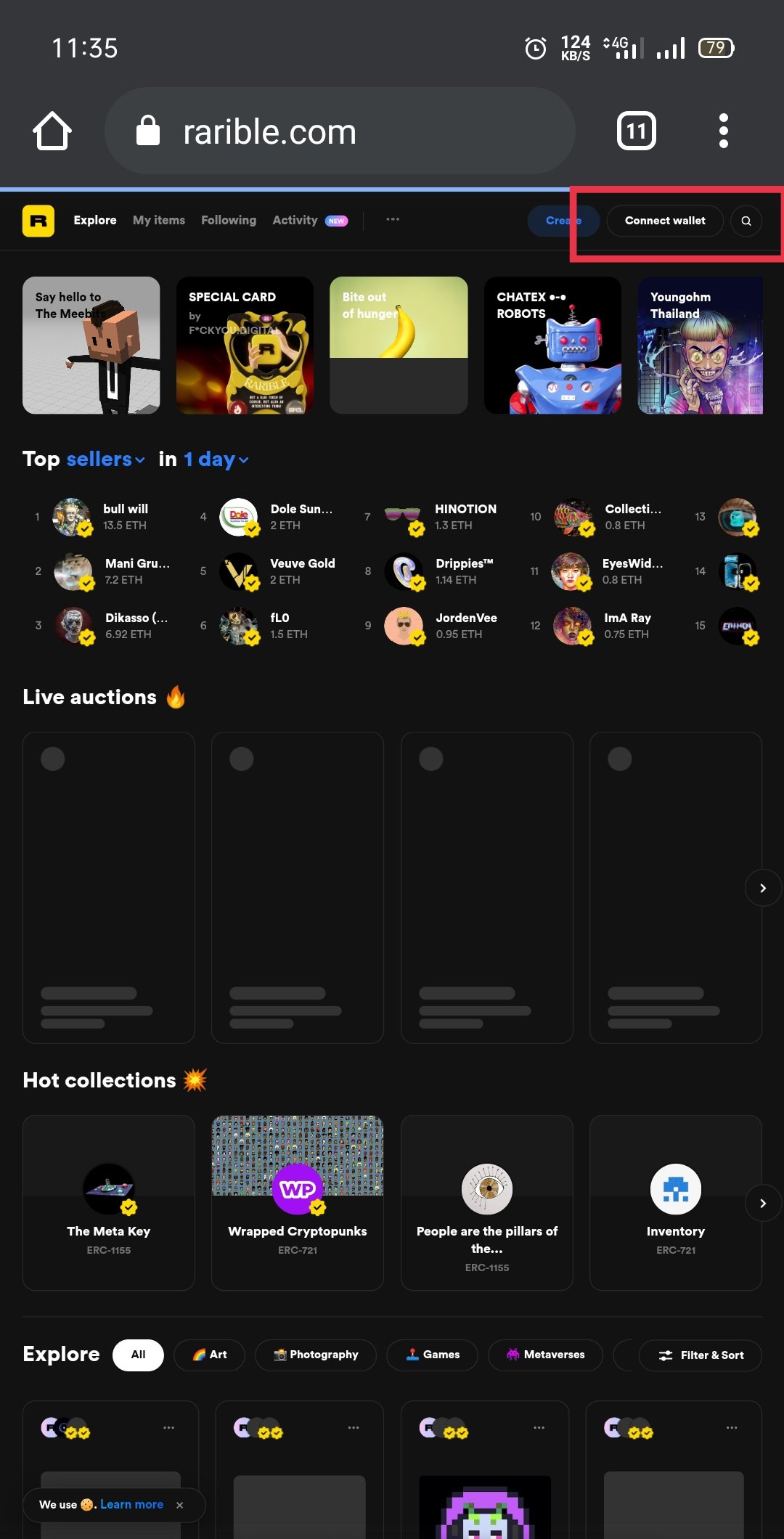 First of all, to buy NFT, a wallet has to be connected and there is an option on the right top corner that I have highlighted in tha above screenshot. Click on it and connect the wallet.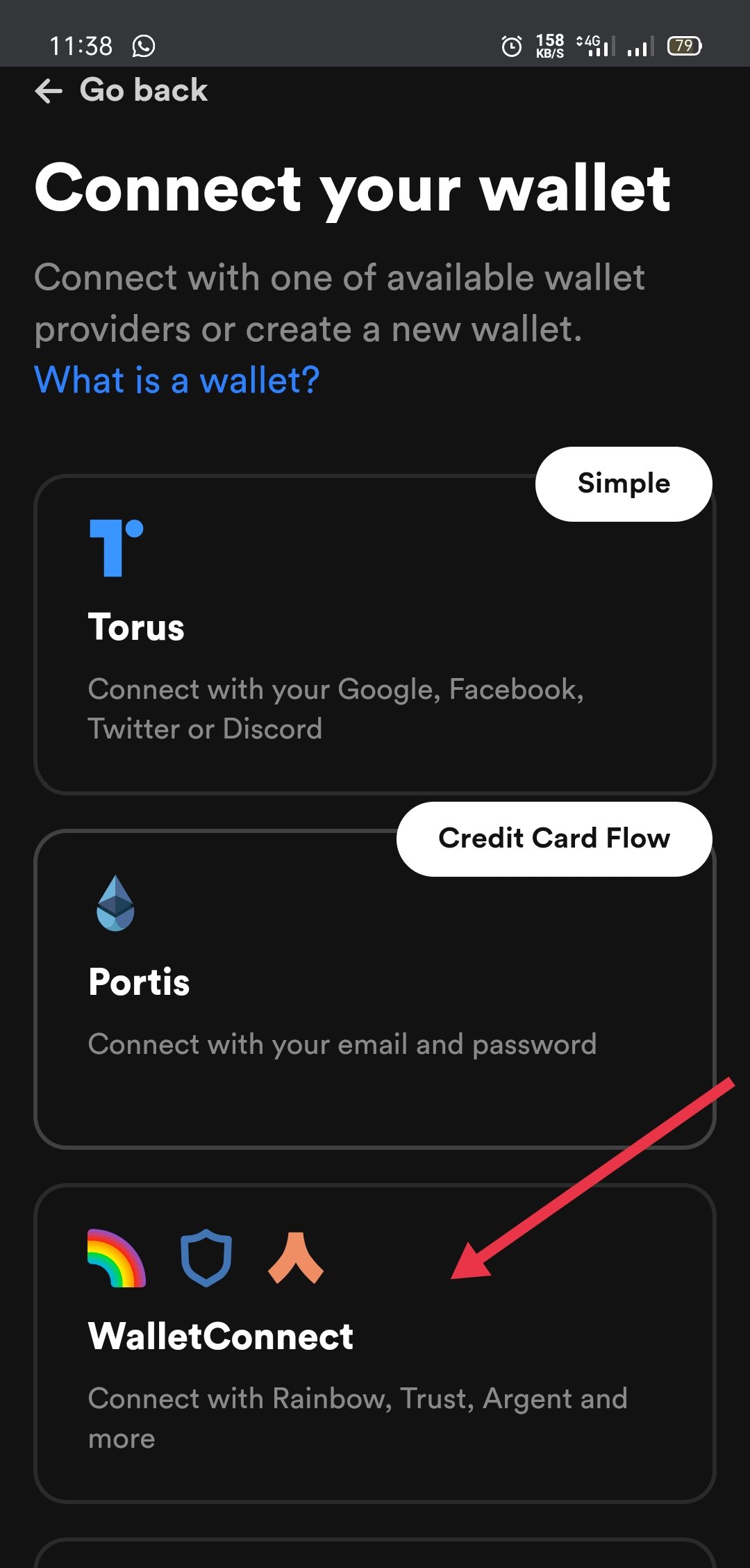 On this page, I selected to connect to a wallet and the next screenshot appears as given below.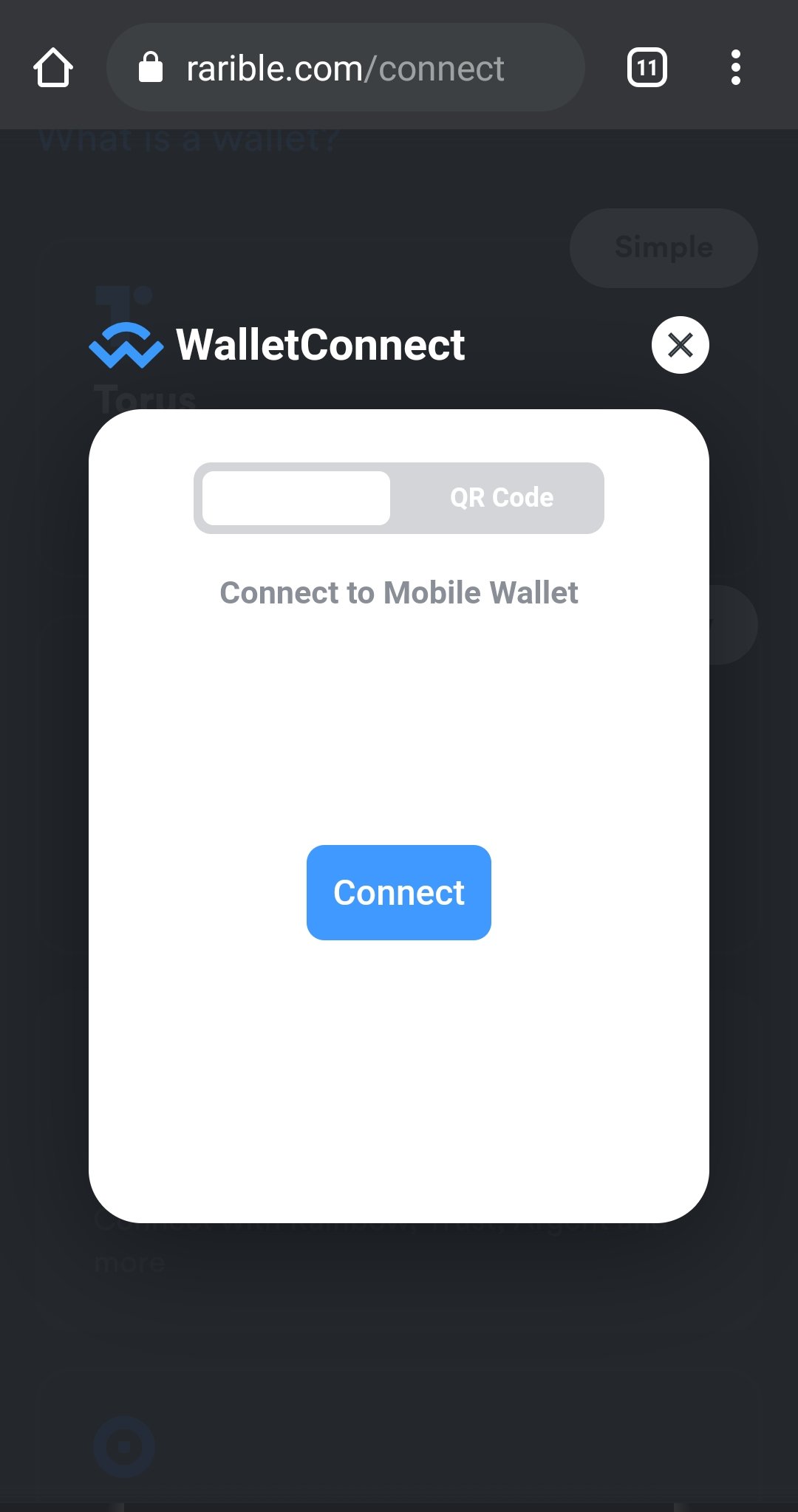 By clicking on Connect, a pop-up message appears that asks the which wallet may be connected.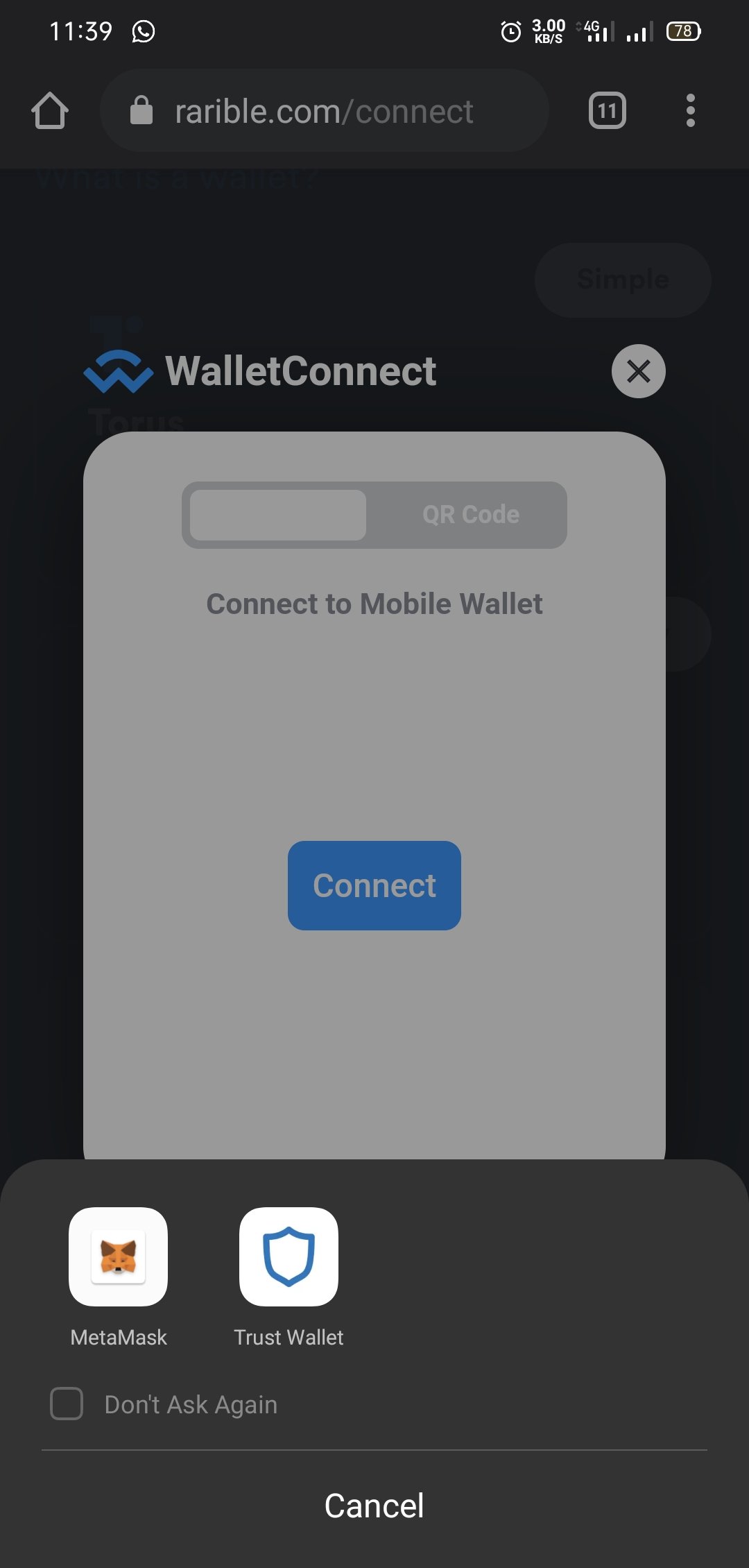 I choose Metamask for this purpose and clicked to connect this wallet and the next interface will appear as given below.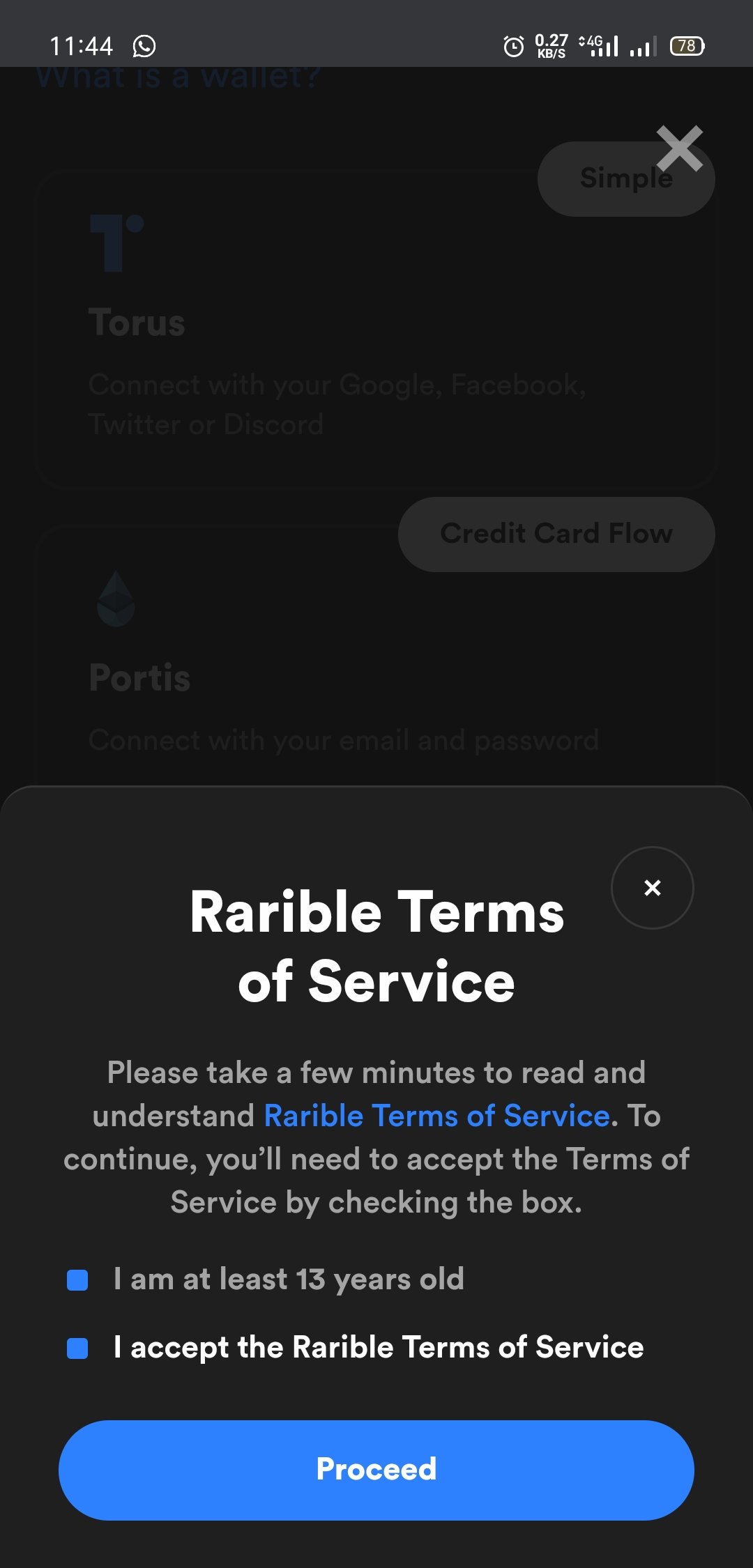 After agreeing to the terms and conditions, click on proceed and the wallet will be connected to the Rarible website. So, now the account is opened and buying and selling can be made on this protocol website.
To buy any NFT, explore the item you are interested in and click on it.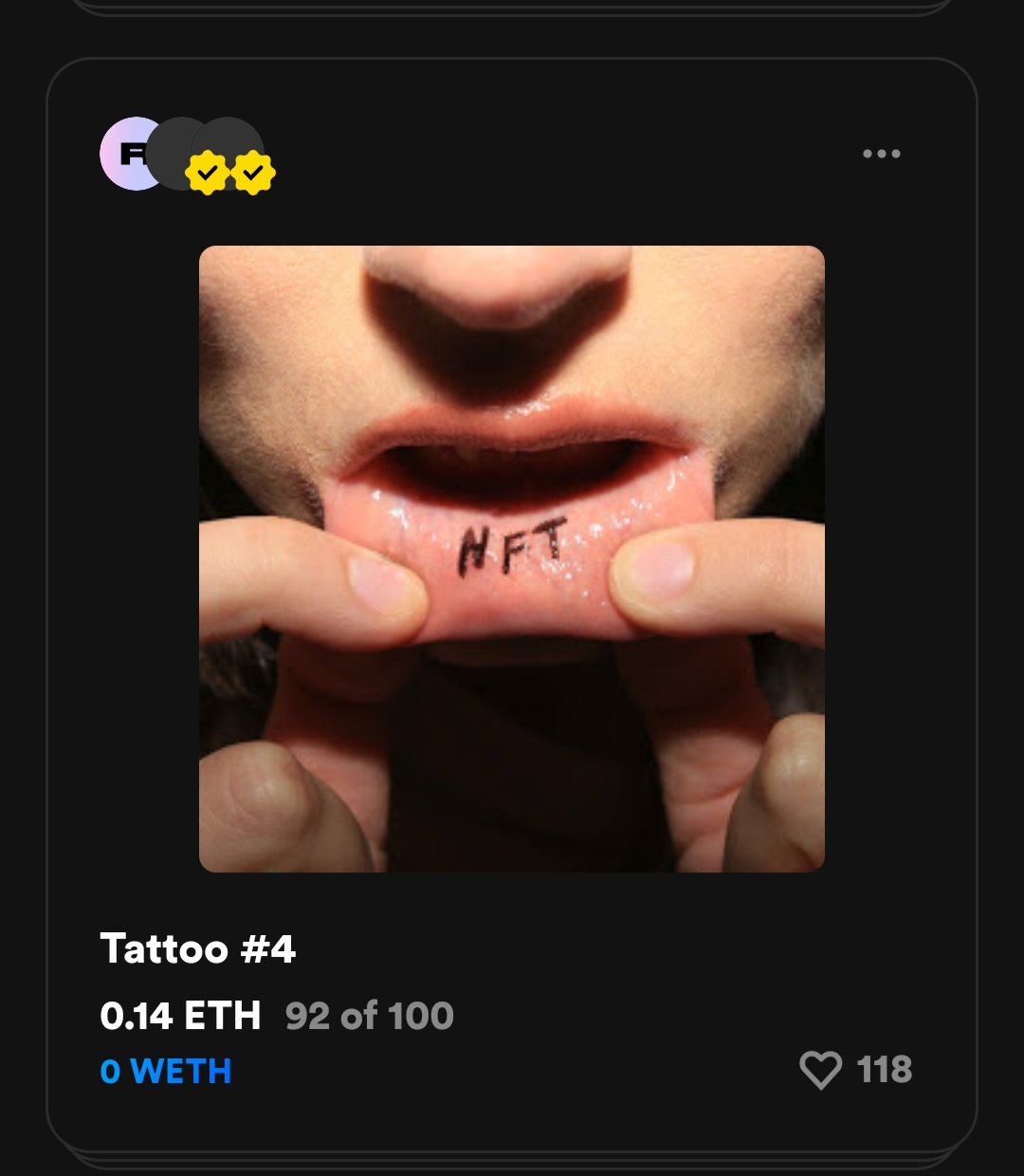 As in this case, I am going to buy this above given tattoo picture, so I clicked on it and the next interface will appear as given in the next screenshot.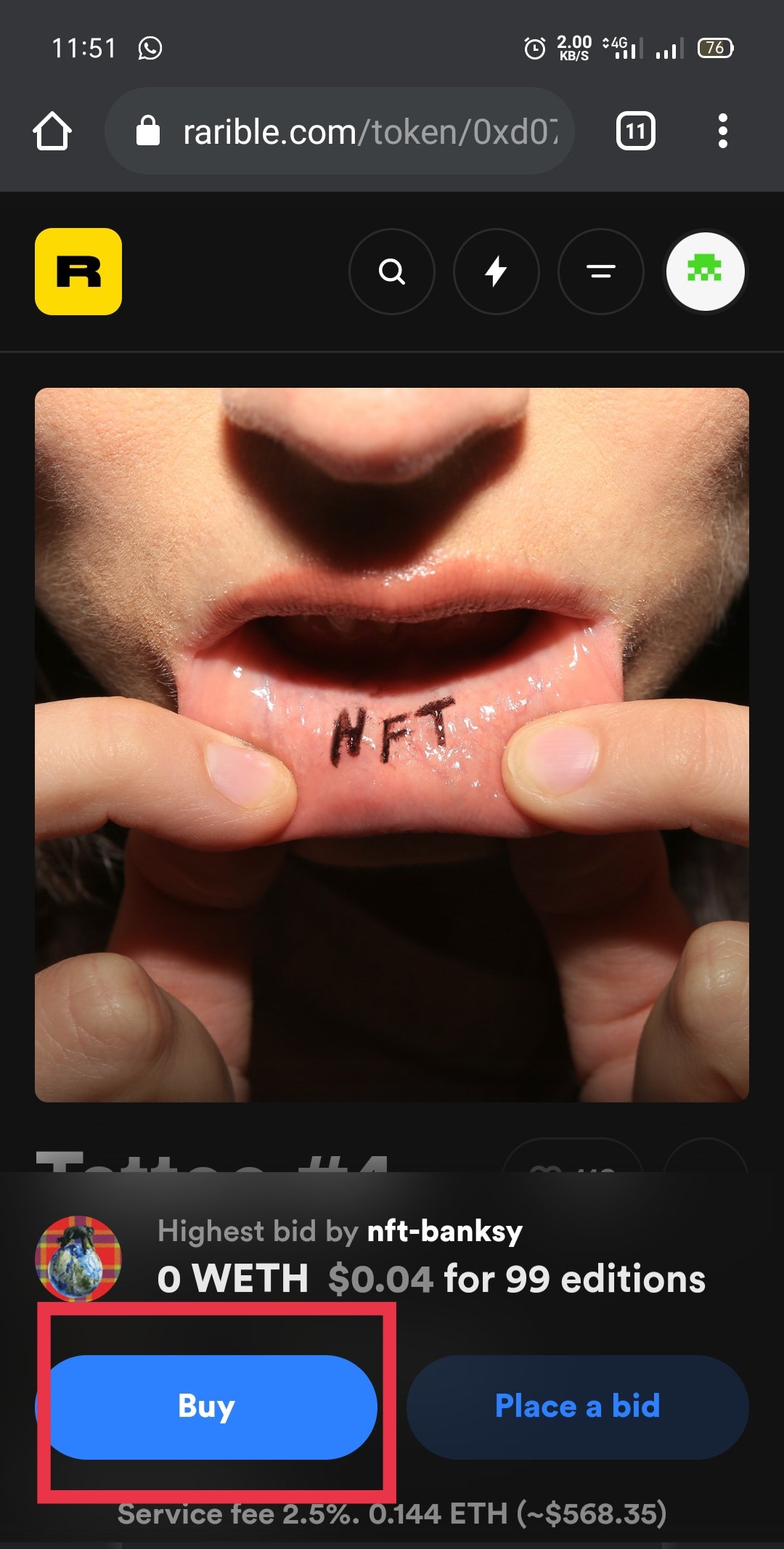 Now there are 2 options but I will click on buy to complete this homework task. Then the next will appear as given below in the next screenshot.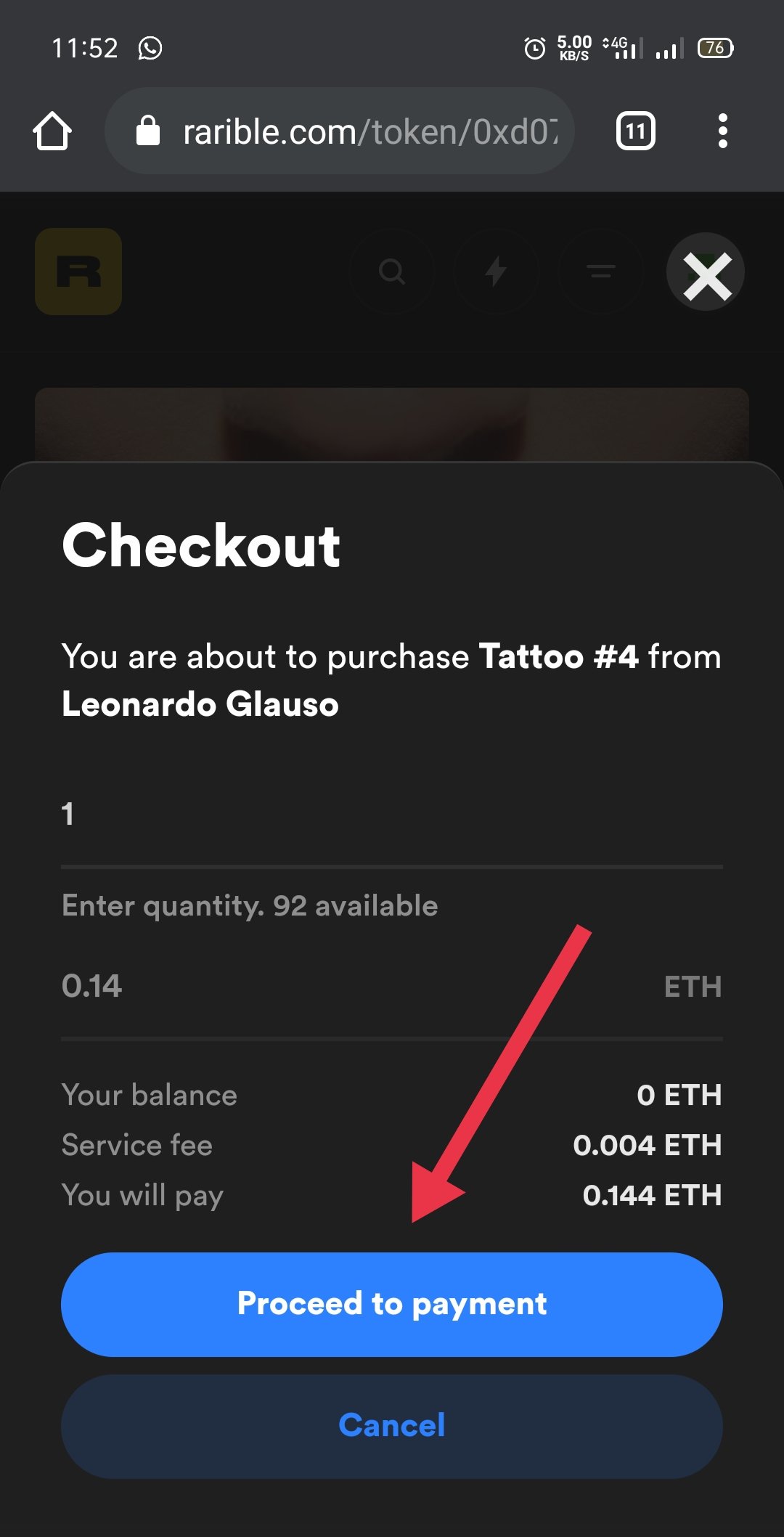 Now a "Checkout" message will appear for confirmation and then after confirmation, you need to click on "Proceed to Payment".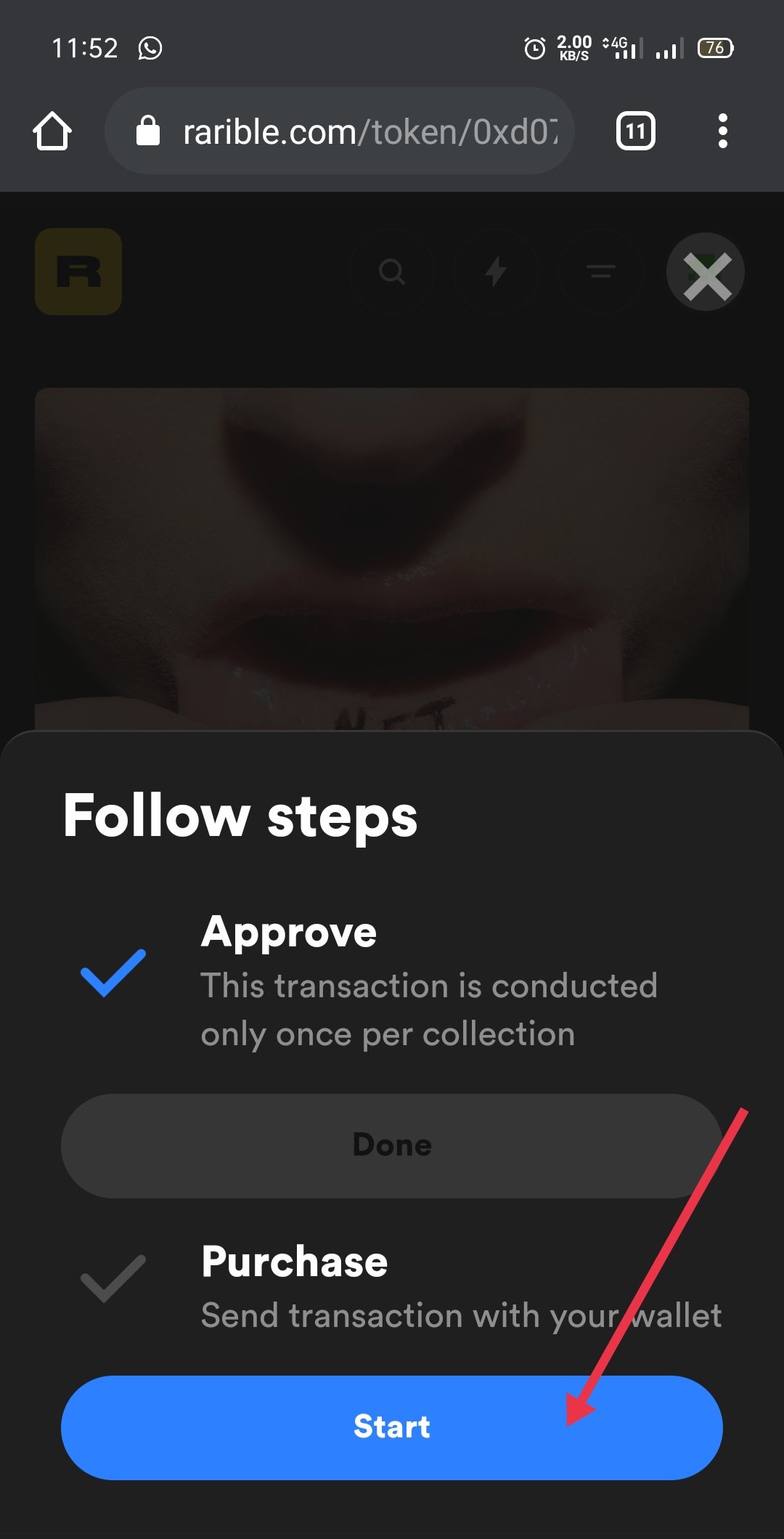 Now follow the steps to make payment and you will be directed to your wallet for payment.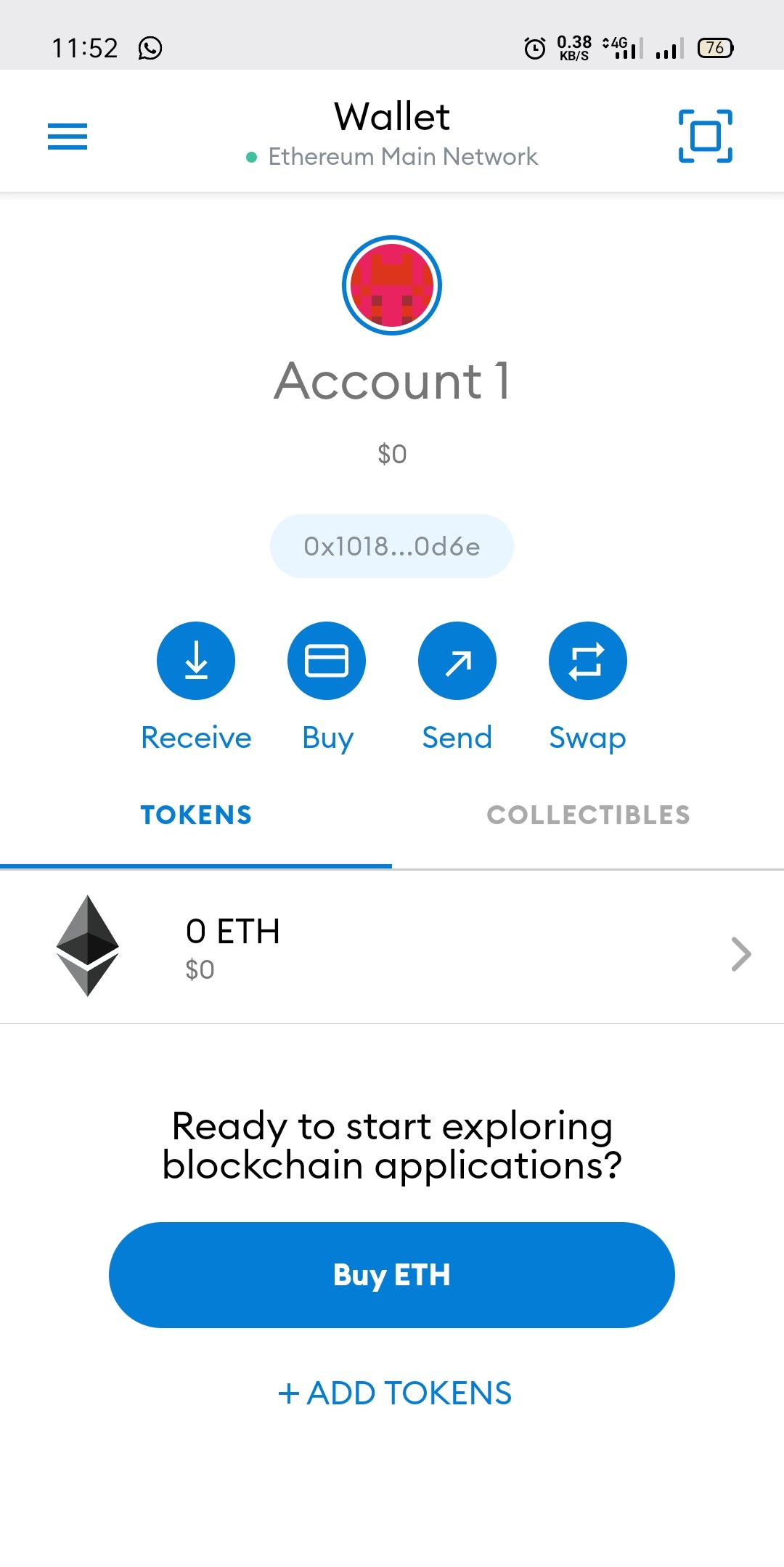 As I have no balance in the wallet, I am being asked to add funds by buying ETH. If I have balance, it would have been done by making payment and I would have purchased NFT. So, in this way, an NFT can be purchased on Rarible.
How to Sell NFT.
Now, I will explain how to sell NFT on this website. First of all, wallet should be connected and I have already connected. So I went to homepage and clicked on Create.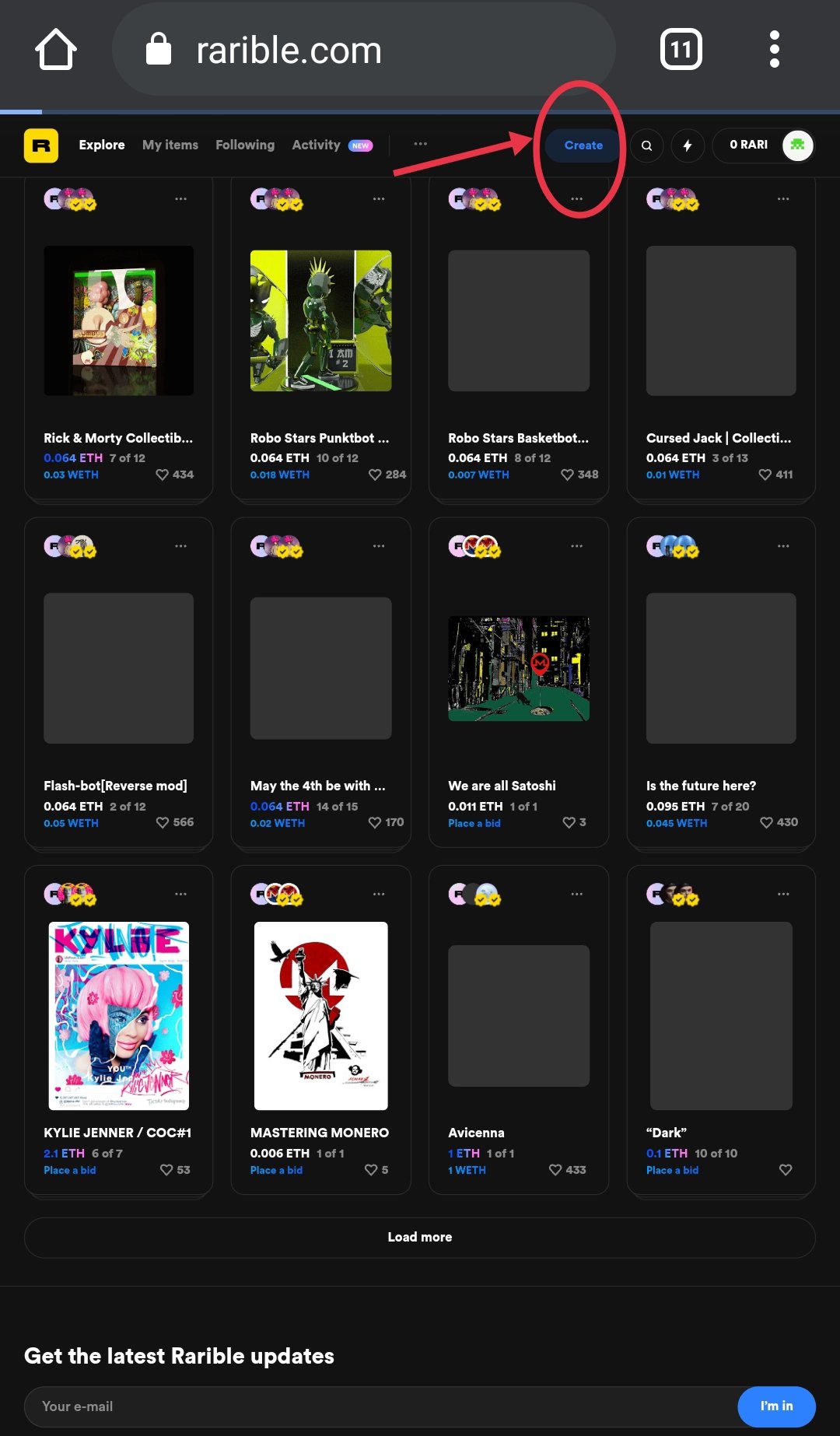 Now the next interface will appear as given below.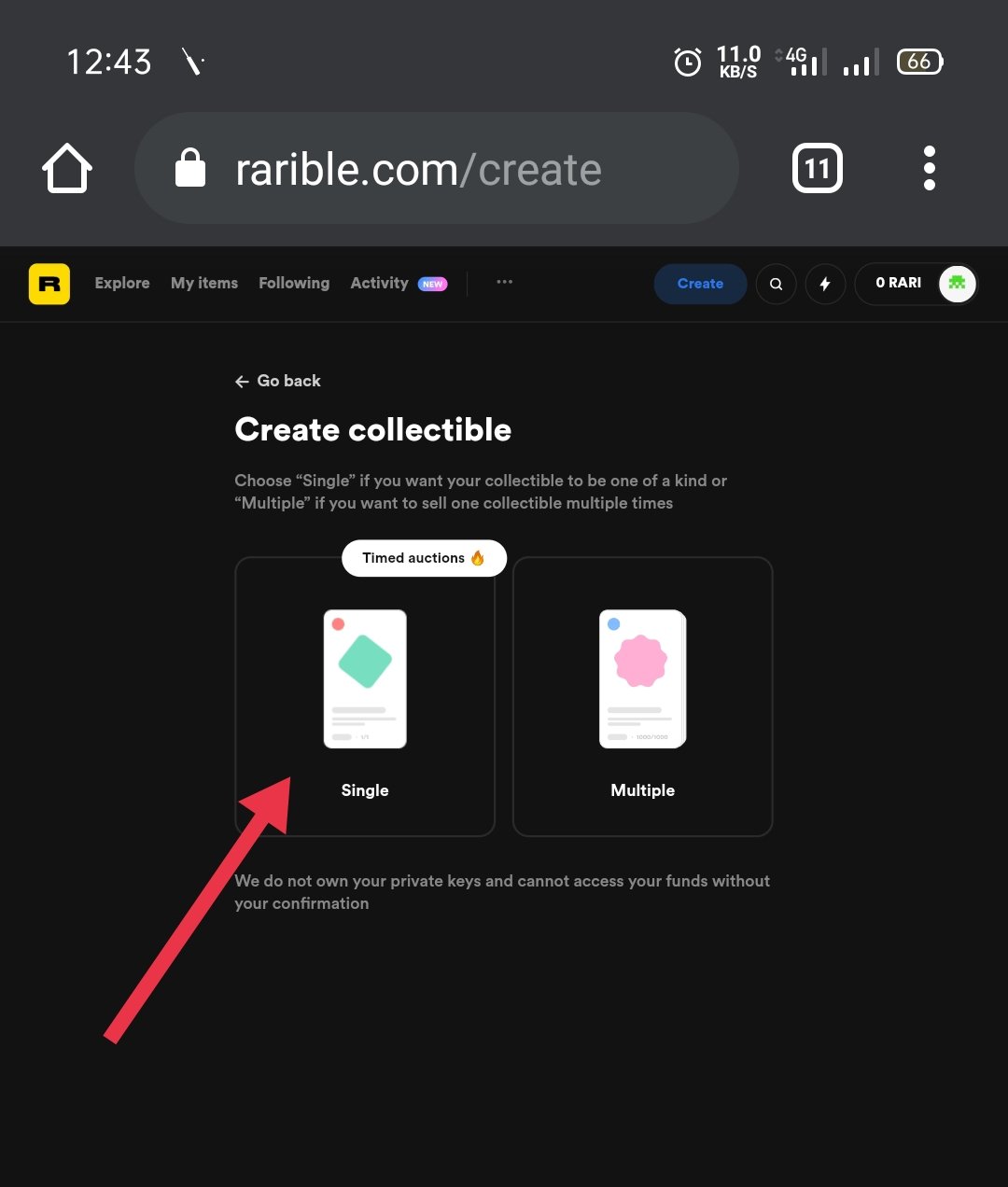 One can choose Single or Multiple. I have chosen Single for this purpose. By clicking on Single, the next interface will appear to upload file.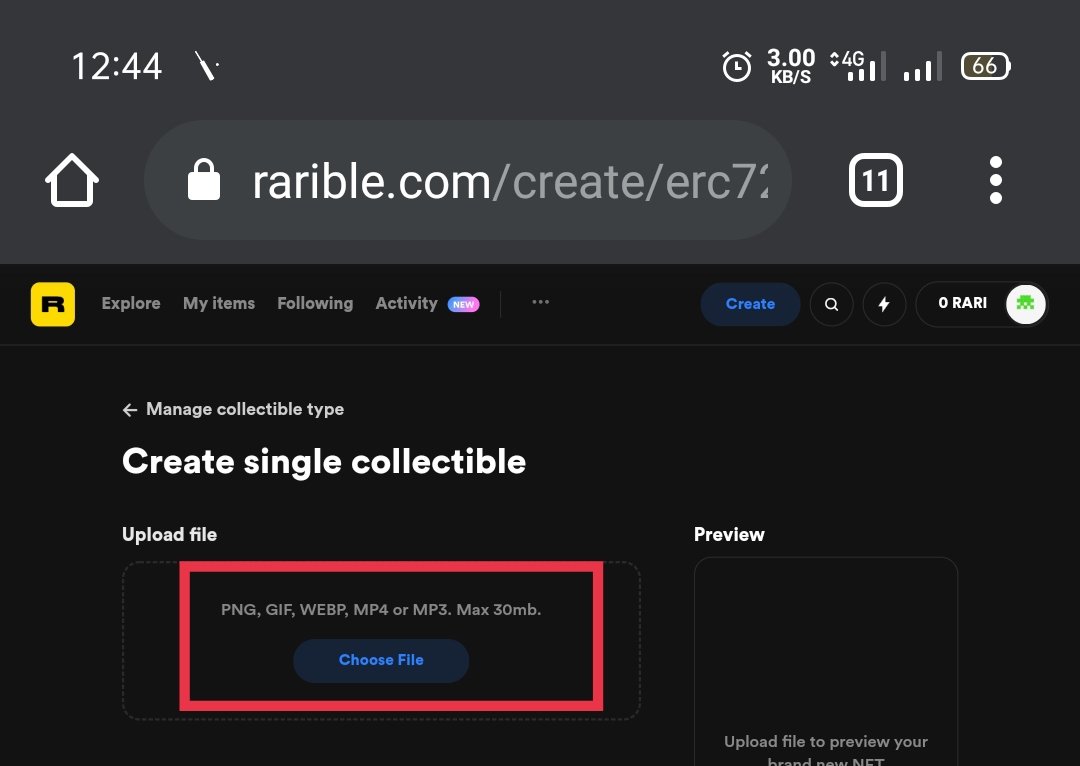 Click on "Choose file" and you can upload your file on to it. It accepts PNG, GIF, WEBP, MP4 or MP3 files upto 30mb. Once uploaded then some other information has to be added on the same page and it is given below.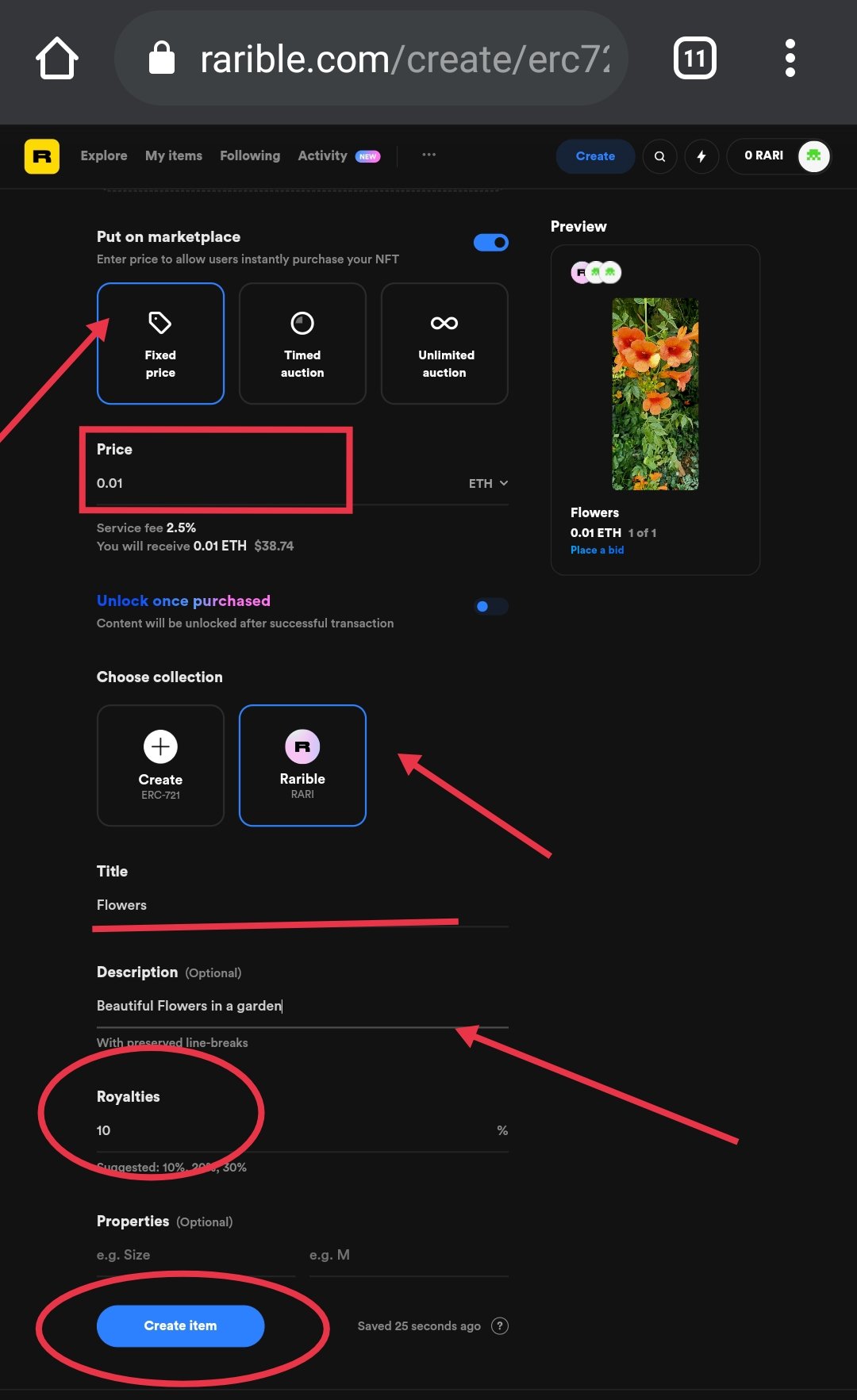 Choose the price, I have chosen Fixed Price and then Add Price in the given space.
Next choose kind of your item and I have chosen "Rarible" a default option.
Then add "Title" and "Description" of your item.
Next select percentage of " Royalties". Whenever any person will sell copy of your item, you will be given Royalties at this percentage from that sale.
Now finally, Click on "Create item" and next interface will appear as given below.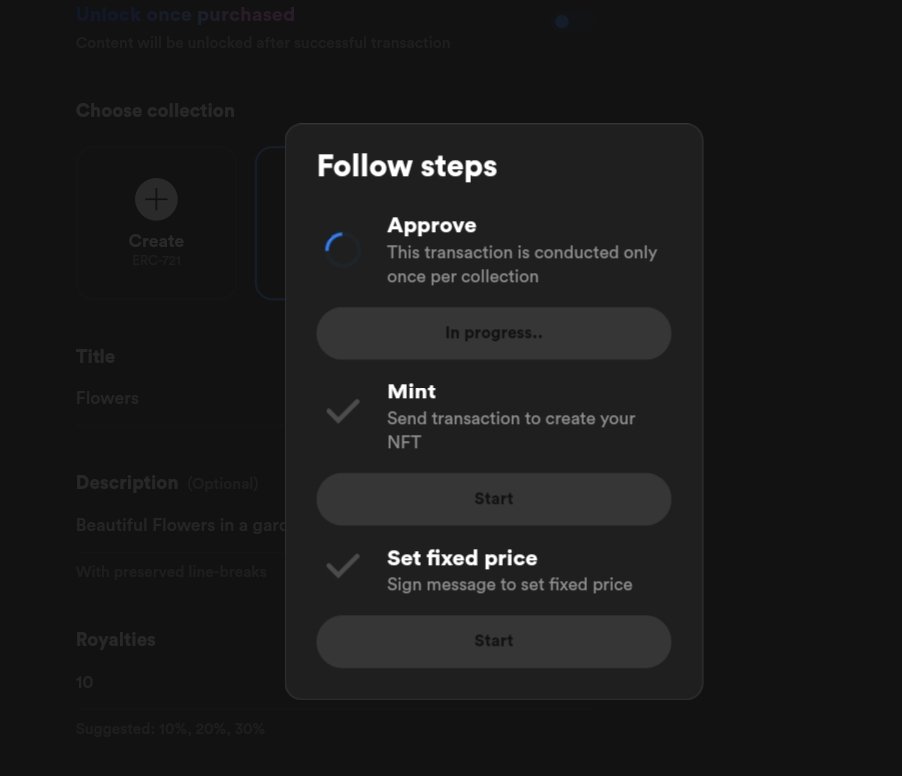 This is the final step to be followed to Approve, Mint and set fixed price. It will be done through connected wallet, if there is balance in it. As I have no balance, ot will not be approved.
In this way, NFT can be sold at this website. I have tried to explain everything and I hope it will help in understanding all the steps to follow.
Advantages of Rarible.
Rarible website is an open source blockchain based protocol. Anyone can create account and make purchase or sale on it.

Number of visitors is increasing day by day, it means more visitors, more chances of items to be sold on it.

Rarible is a protocol that has been built on Ethereum blockchain, and it is a very trusted NFT marketplace.

Verification process makes it a trusted platform where trusted parties are present to buy and sell items.

Rarible is also rewarding users for holding PARI token and also it gives voting rights to its holders.
Disadvantages of Rarible.
Rarible is new at this stage and sometimes users faces difficulty in browsing as it is slow in speed.

There are too few categories and one can face difficulty in finding desired item. It takes time to reach the desired item.

Due to running on Ethereum blockchain, gas fees can be high, as it has been witnessed previously. So fees can be an issue on this website.
Conclusion.
It is a digital era and new things are coming to be seen. Likewise NFT is still in its early days but it is growing fastly. NFT buying and selling will gain more popularity in the next coming days and people will surely head towards such marketplaces.
Thanks in anticipation.
Regards,