Hi everyone, this is my homework post after a prolonged illness of about 8 days, but I am still not 100%. Anyhow, I am not willing to miss this wonderful week of learning and submitting my homework for Respected Professor @stream4u.
What is Crypto Margin Trading?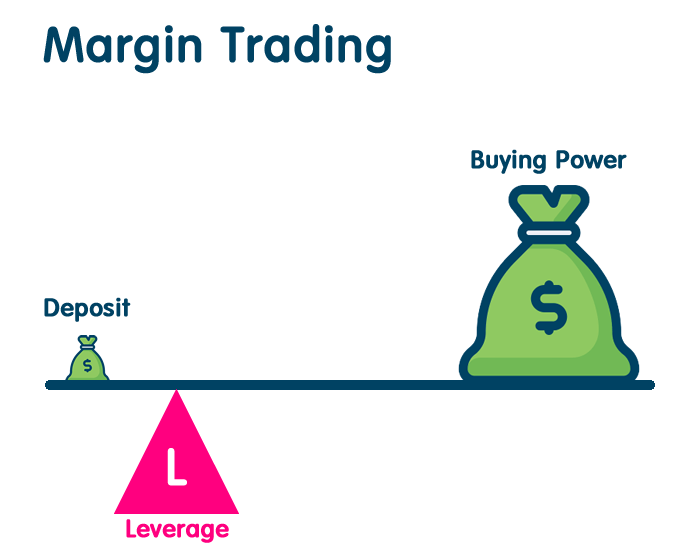 Margin Trading
Image Source
Margin Trading is a kind of trading where an investor is given the opportunity to trade on any crypto asset with the help of borrowed money. This borrowed sum is offered by mostly the brokers and exchanges, whose platform is being used for trading purpose.
In margin trading, an investor buys an asset while paying a percentage of the total value and the rest of the asset is purchased with the borrowed sum given by broker or bank.
Margin ratio is different that is given by the exchanges and brokers. It can be 3x, 5x or more on different exchanges. It means, a trader can earn or lose with the same ratio of margin. For example, a broker provides 3x to a trader, so in this way, a trader can earn or lose by the ratio of 3x. So, margin trading can be very profitable as well as loss. Due to this property, margin trading can not be hold for longer periods and it is referred to do in short term. Profit and loss will be calculated by multiplying with 3x, hence it can be very dangerous if market goes opposite to the expectations of a trader. Moreover, a trader is charged with fee or commission in Margin Trading.
How to plan for Margin Trading.?
Before entering world of trading, proper planning is required. So we will discuss some points that are very essential before conducting Crypto Margin Trading.
Always use Risk Capital for trading. Never invest the capital that you cannot afford to lose.

Price forecasting is necessary for trading. Always try to know about the asset you want to invest. Both Fundamental and Technical Analysis should be carried out to know the trend of the market.

Entry point and Exit point should always be in mind and always try to avoid greed. Greed leads to the loss almost all the times

Short term trading is suitable for Crypto Margin Trading. Use smaller time frames like 5 mins, 10 mins, 30 mins, and 1 hour. Intraday trading is very suitable for such trading.

Proper Take Profit and Stoploss levels should be identified and applied in the trade.
Crypto Exchanges providing Margin Trading.
Here is a list of Crypto Exchanges that are providing Crypto Margin Trading at their platforms.
Binance. Binance is the leading exchange and it is also providing crypto margin trading. It is offering leverage of about 1 -125x to traders with low fees of trading.

Bybit. Bybit is another crypto margin trading exchange. Its leverage is 100x for its traders with very low fess.

BitMex. It is also providing facility of crypto margin trading with leverage of 100x with low fees.

Huobi. This exchange is also providing crypto margin trading to its users with leverage of 3x with comparatively low fee.

Poloniex. Poloniex is providing leverage of 5x for crypto margin trading.

Kraken. Kraken is another exchange that facilitate its users with crypto margin trading with leverage of 5x and low fees.
What is Leveraged Tokens Trading?
These are ERC-20 tokens that are issued by the exchange and these tokens can only be used for trading purpose on the respective exchange. These token cannot be hold or saved in wallet. This tokens are purely used for trading purpose. These tokens are termed as best solution and the easiest way to do leverage trading.
These tokens are given different names on different exchanges like UP OR BULL and DOWN OR BEAR. There are tokens available for different crypto assets like Bitcoin, Ethereum, Litecoin etc. These tokens maintain fixed or variable leverage and most of them are rebalanced at 2.00 am and on the other hand, when spot market price changes by 10%.
UP or BULL token are traded in the same way as crypto spot trading is done. It means that increase in the price of the asset will be the same as in case of Up or Bull token. It will be shown in the same way on chart pattern. When a trader predicts the market to go up, he can buy Up or Bull tokens and he will earn profit in the same margin as provided by the exchange. While Down or Bear tokens will be traded differently. Chart pattern will look different in this case. If a trader has traded on Down or Bear token, he will expect the market to go down. The trader will buy Down or Bear token in this case, and the price does fall, but the chart pattern will show upward trend, as we have been told in the lecture.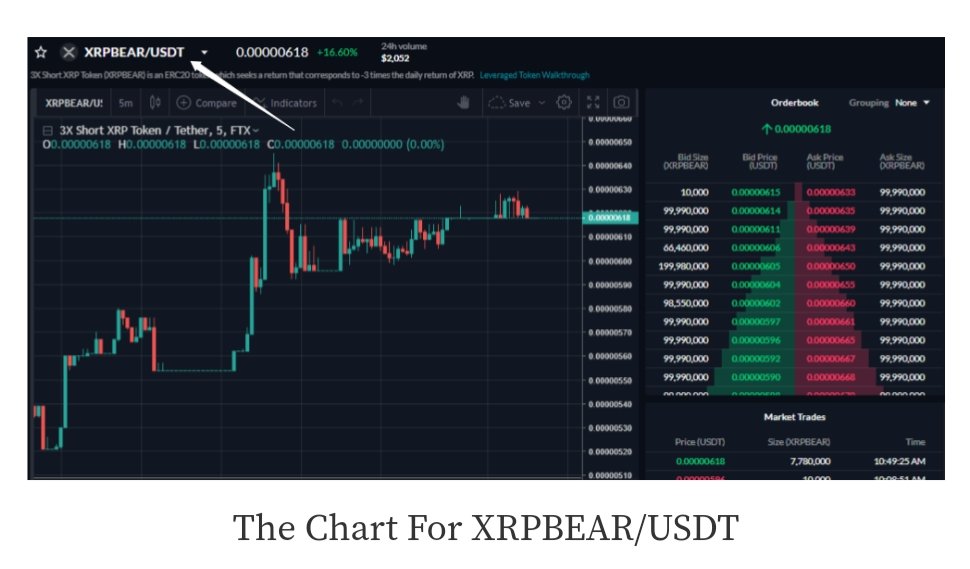 Image Source
While the price of asset has fallen but Bear or Down token will go upwards, it can be seen in the above picture that I have taken from the lecture post.
How To Plan For Trading In Leveraged Tokens?
Before trading Leveraged Tokens, some points should be kept in mind and these are mostly common points that are to be considered by trader.
My first point is that the trading should always be done with Risk Capital. Don't go beyond your limit.

Always analyze the market first and then go for trading. It gives lot of confidence to the trader.

Always stick to a plan of entering and exiting the market. Don't let your emotions come into play. Exit in time when target is achieved.

Trade in small entries and exits. Don't Hold trades for too long rather go for small and short term trading.

Proper Take Profit and Stoploss levels should be mentioned and be applied in the trade.
Crypto Exchanges Name That Provide Leveraged Tokens Service.
Below is the list of exchanges that provide services for trading Leveraged Tokens.
Pionex. Pionex is an exchange that provides facility of Leveraged Tokens Trading with upto 3x margin.

Binance. Binance is a world leading exchange and it is also offering Leveraged Tokens Trading in the shape of BLVT with a margin upto 3x.

FTX. FTX was the first exchange to introduce Leveraged Tokens. It is offering upto 3x margin on its Token trading.
Price Forecasting of Steem.
In this part of the post, I will try to do price forecasting for Steem.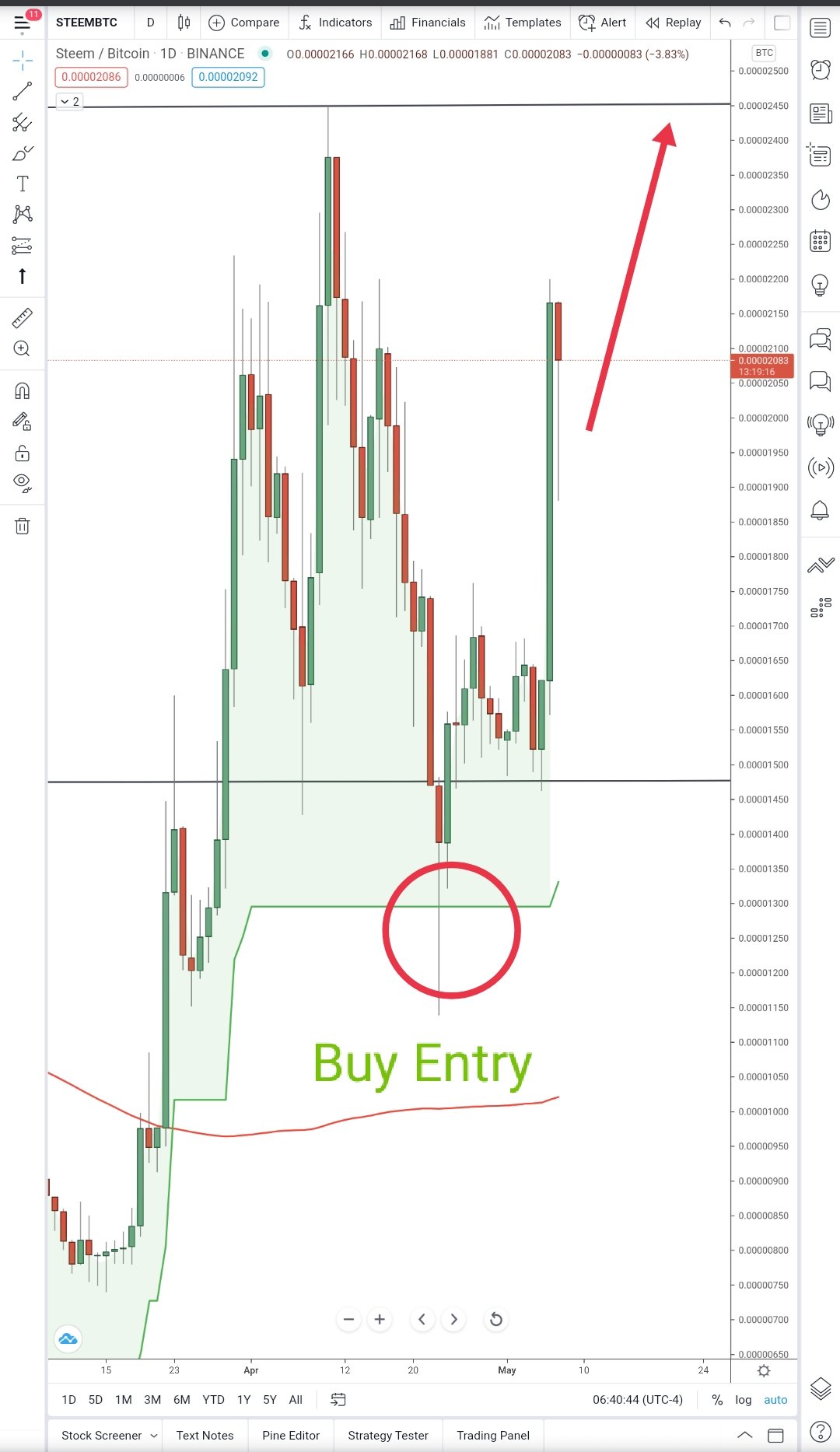 Steem Price Forecasting
I have drawn Support and Resistance Levels on this chart pattern. I have also applied SuperTrend Indicator on it and it is also signaling to Buy steem. I have used Daily time frame. I have indicated the entry price, where a trader should have bought Steem. Now it is moving up nicely and, in my opinion, it will touch the Resistance Level, I have indicated with arrow. The market can also break this resistance level but, a trader should exit on this level and then again enter the market, whenever there is such price action signal appears on the chart.
Thanks in anticipation,
Regards,
@mawattoo8