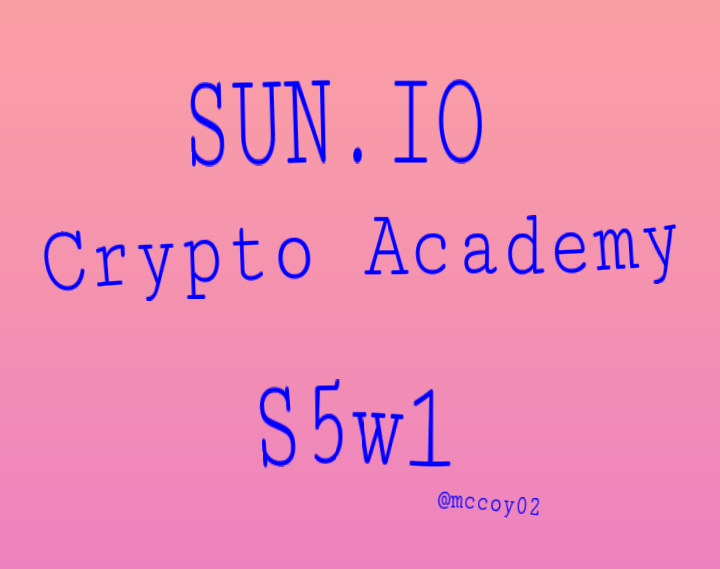 Decentralized finance has been a game-changer it has changed user interest and made banking systems obsolete in terms of interest mechanism, with DeFi most investors would prefer to lock up their funds in a liquidity pool and generate a considerable amount of income on a yearly to a daily basis, it also allows users to take charge of their financial portfolio by having access to quick and reliable income-generating streams.
Sun.io present a typical DeFi system for users globally to connect their Tron-based wallet in other to leverage general income-generating opportunity enclosed in the platform.
---
Discuss the various features of Sun.io, a comprehensive DeFi facility of the Tron family?
---
In other to explore the Sun.io platform I will be completing all necessary tasks using my installed TronLink wallet.
To navigate the Sun.io using TronLink wallet from Discover shown below, I will have access to popular DeFi apps used in the Tron blockchain by clicking on Sun I will have access to the Sun.io platform.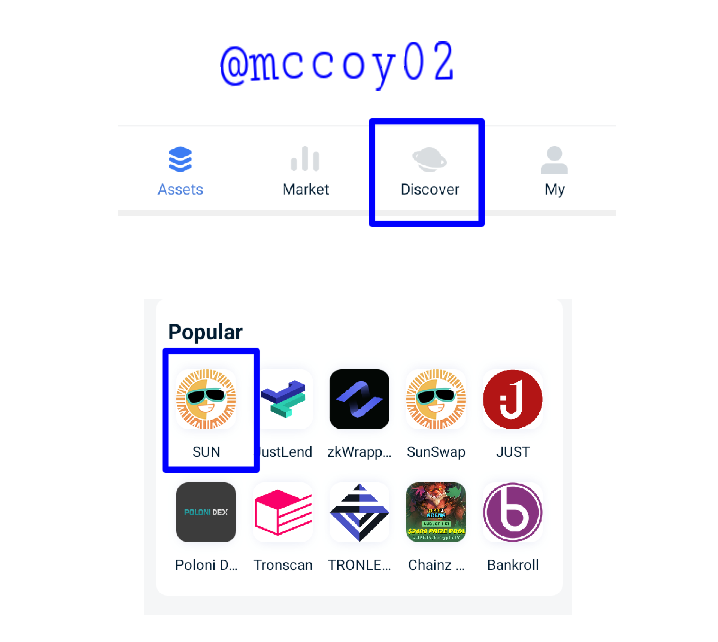 An important observation made once I have access to the sun platform was the notification/announcement page shown below, it can be used for sharing important information and current updates currently ongoing on the platform, by the right hand the features menu is located here users can have access to various services/features listed on the platform.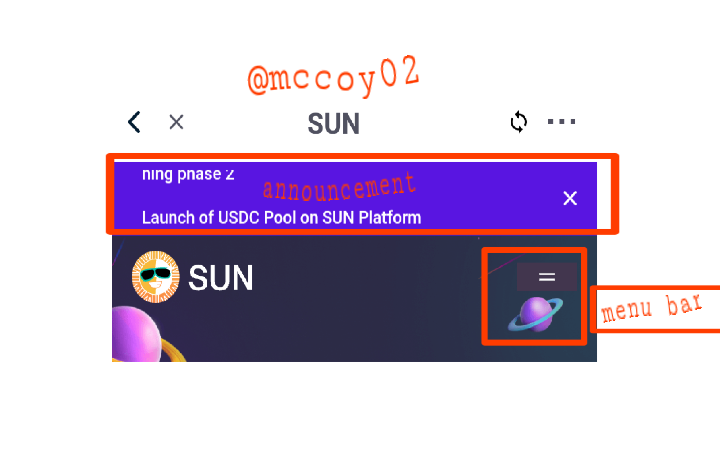 From the menu list, the following features can be found.
---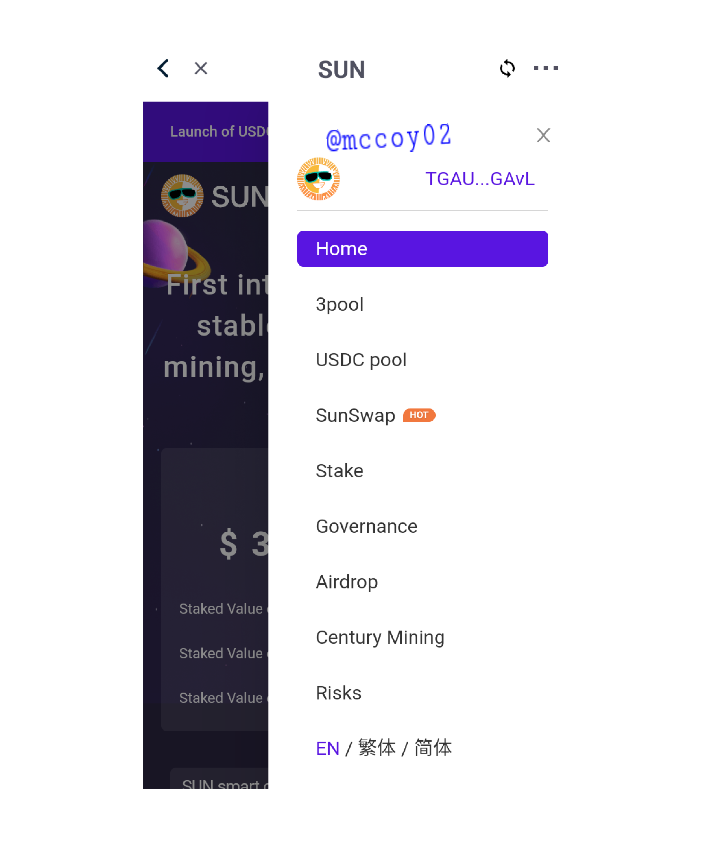 Above are some of the features that can be explored on the Sun.io platform.
---
3pool
---
3pool features 3 tokens these tokens are swappable the 3 tokens are USDJ, TUSD, and,
USDT a user having any of the aforementioned tokens can be able to swap between any of the tokens with lower spillage also as shown a user can be able to make deposits and withdraw any of the tokens once they have full access to any of the tokens.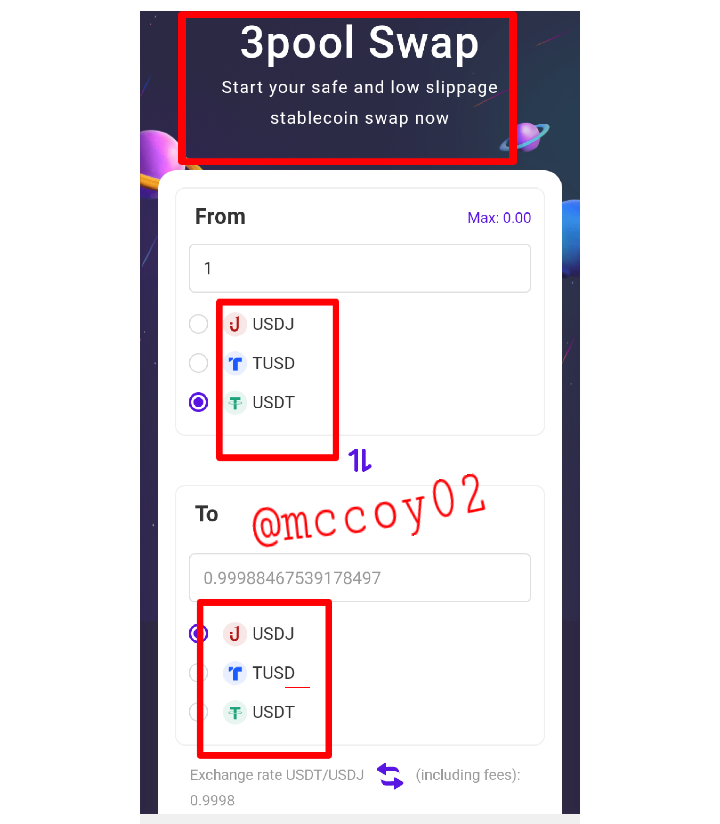 For investors seeking to make a good profit, they can take advantage of the 3pool swapping feature to buy/sell any of the 3 stable coins at a very fast rate with a 0.5% spillage rate.
Users can also follow up with the social platform links to stay updated with current events happening on the platform.
---
USDC pool swap
---
The USDC feature pool has a total of 4 stable coins USDC, USDJ, TUSD, and, USDT here interested users can as well swap any of the above mentioned stable tokens at a lower spillage rate it also allows users to stake, make a deposit and withdraw from the pool conveniently.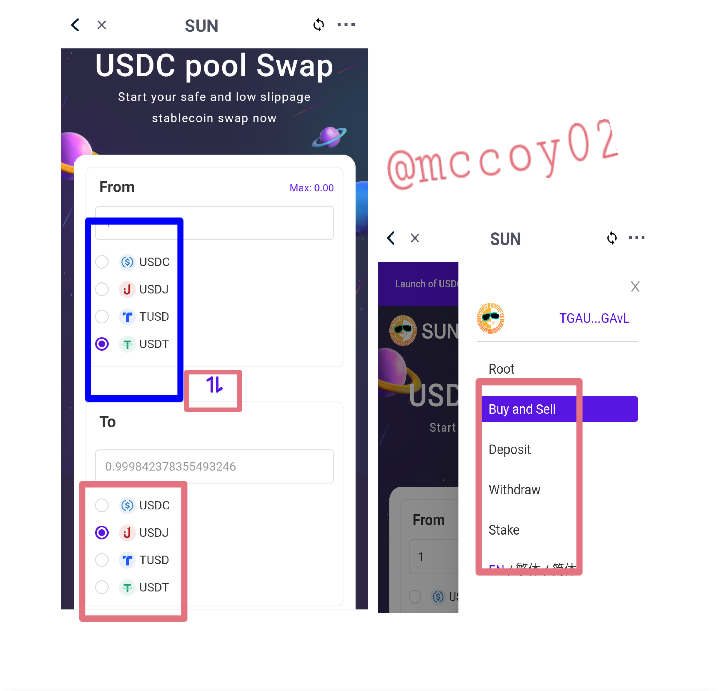 Sunswap
---
The Sunswap consists of two important features the Swap and pool from the swap section a user can be able to swap all kinds of TRC20/TRC10 tokens instantly by holding let's say a TRX token a user can be able to swap and get either BTT, WIN or and NFT token all in one place the swap section works as an exchange known as DEX a decentralized exchange that requires no book order to complete the transaction.
---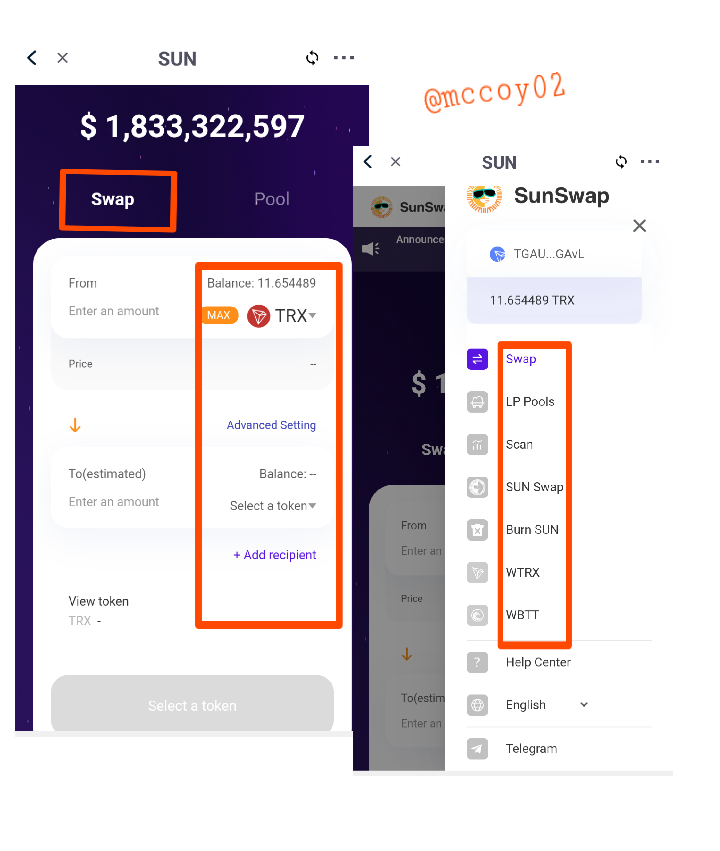 On the other hand, the pool is a profit-generating section here a user provide liquidity with an equal ratio of 1: 1 let's say TRX-NFT to provide liquidity I will have an equivalent of 50TRX and 50NFT token I get rewarded when other users make transaction like making swap the fee incurred on each transaction will be distributed to pool holders as profit.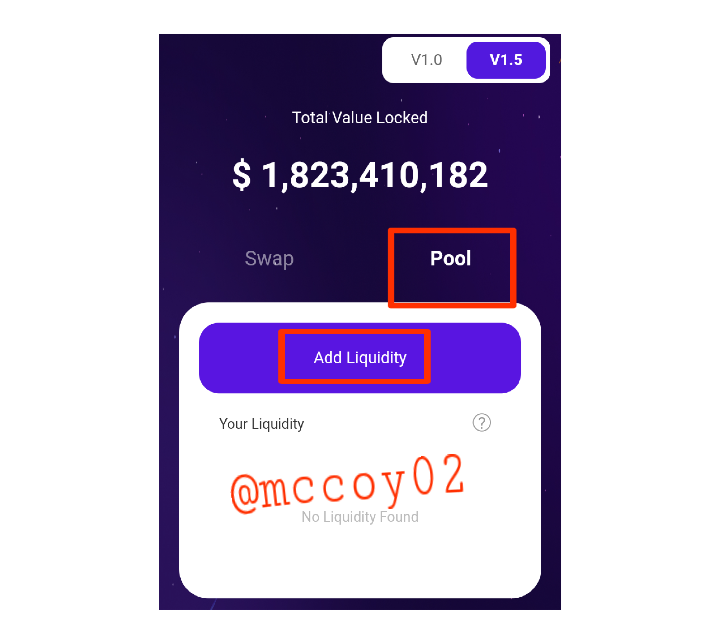 Staking
---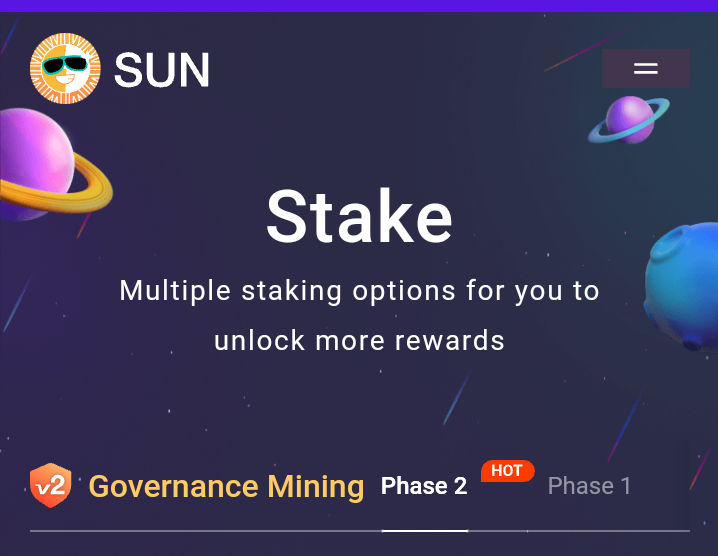 Staking requires a user to lock up some certain amount of token for a specified period and in return get rewarded based on platform APR/APY.
On Sun.io a user can lock SUN token and get an APY of 9.52% for staking SUN a user will be rewarded with a TUSD token, also a user can get rewarded on veSUN for staking SUN token.
By staking a get to participate in the platform decision making such as making votes.
---
Governance
---
In other to fully participate in voting and making decisions on the Sun.io platform a user need to first stake/lock up SUN token which will yield veSUN token the veSUN token will be used for making decisions on the platform such as voting for which pool will have the highest weight.
As shown below the SUN-TRX pool has the highest number of votes making it have a high weight in percentage, this shows that more users voted in favor of the SUN-TRX liquidity pool.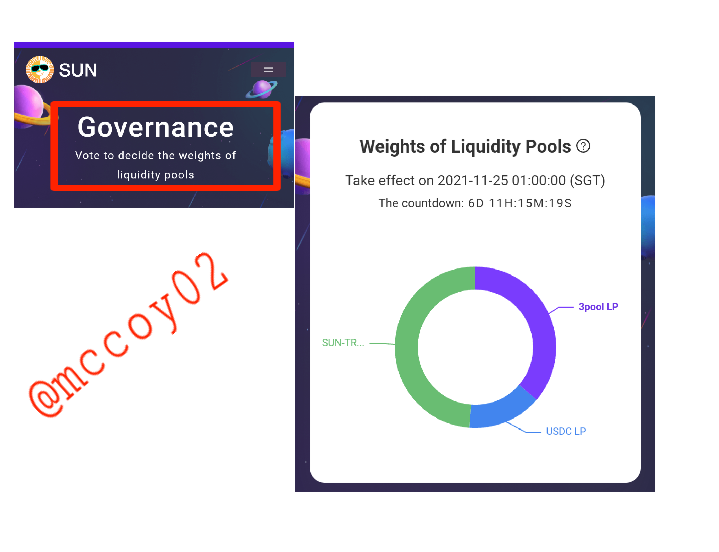 Visit Sunswap and scan the different LP pools? How many different LP tokens are available in Sunswap? Based on the available data in Sun scan, how much fee did it generate in the last 24 hrs? What percentage of that fee is being utilized to buy back and burn SUN?
---
From TronLink wallet I will be completing this task as well, by navigating Sunswap from discover I will click on the menu bar and access the scan section.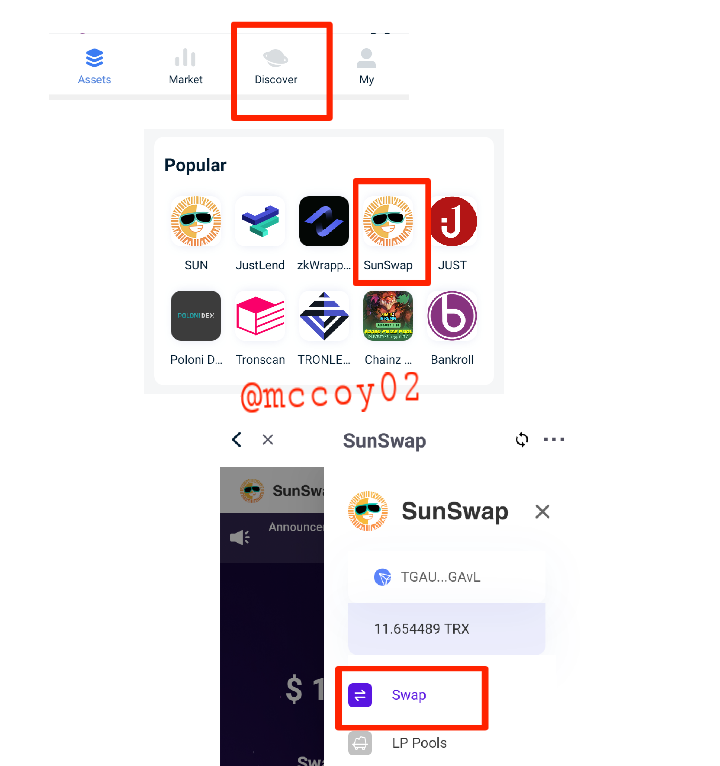 Visit Sunswap and scan the different LP pools?
Currently, there are 9 different liquidity pools available on Sunswap these includes;
USDT-TRX LP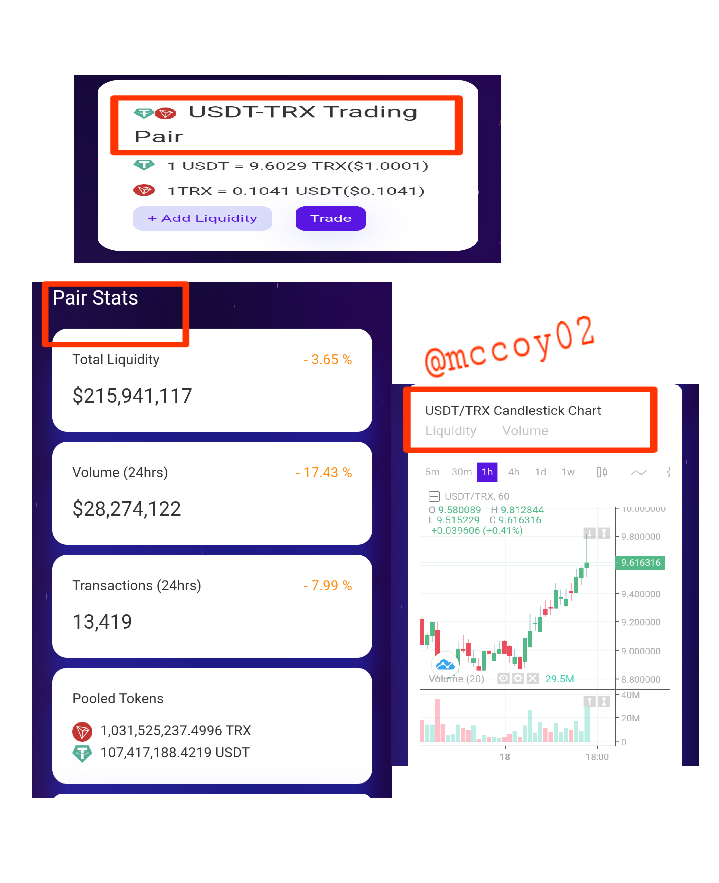 The screenshot above gives detailed statistics of USDT-TRX LP total liquidity of in paired token is $215,356,396 volume of transactions in 24hr $28,693,526 and, 13,462 transactions have been completed from the liquidity pool from traders either buying/selling USDT-TRX based token.
---
WBTT-TRX LP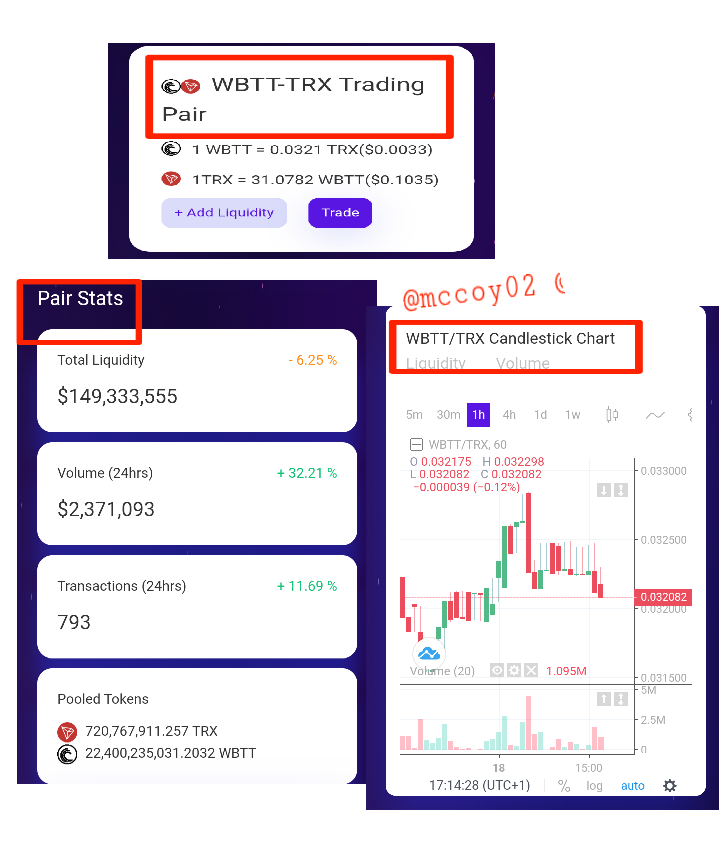 ***
NFT-TRX LP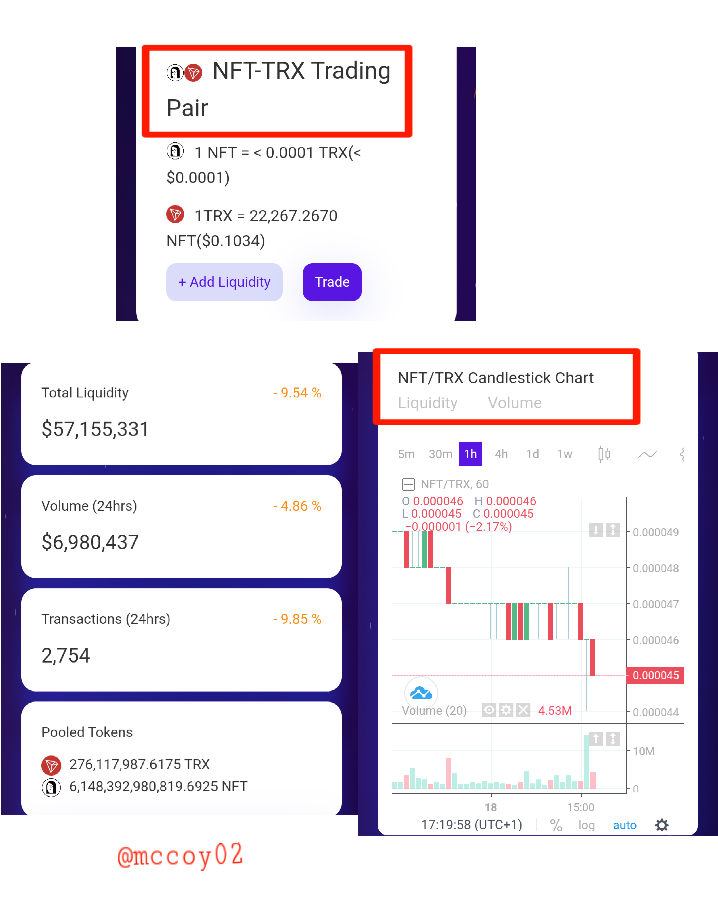 USDJ-TRX LP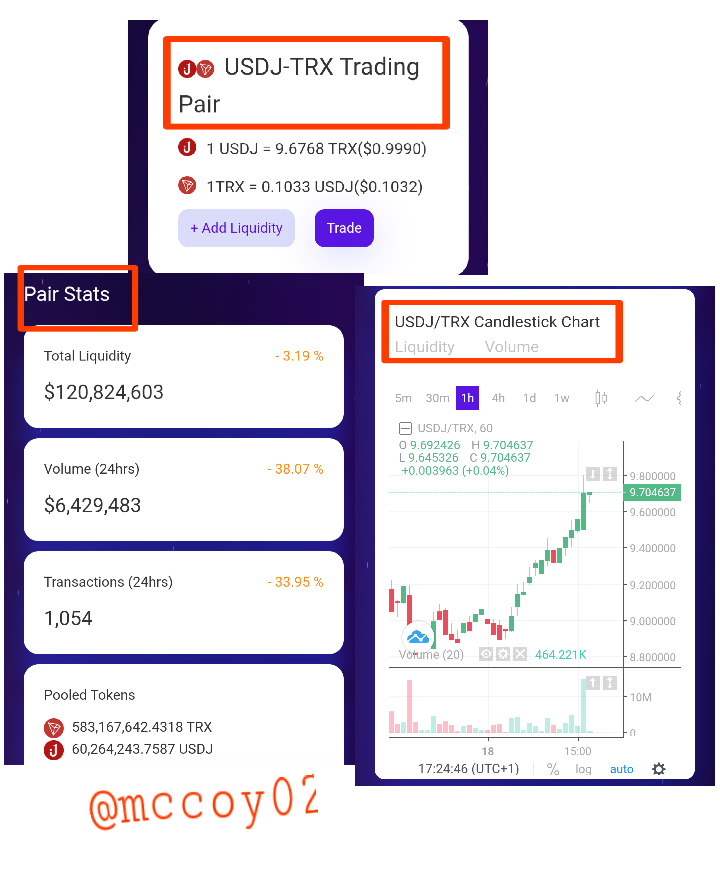 TUSD-TRX LP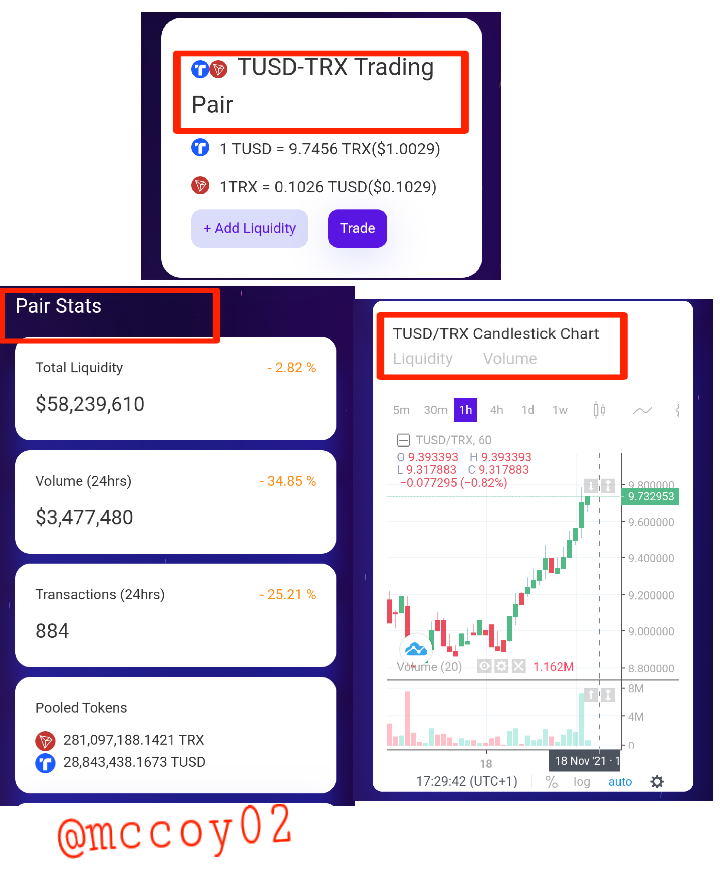 USDC-TRX LP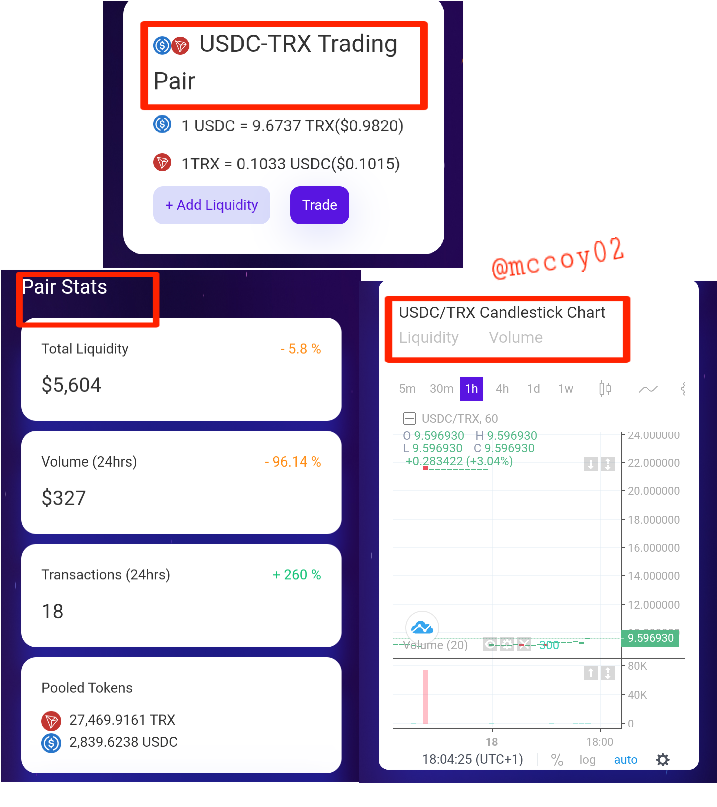 BTC-TRX LP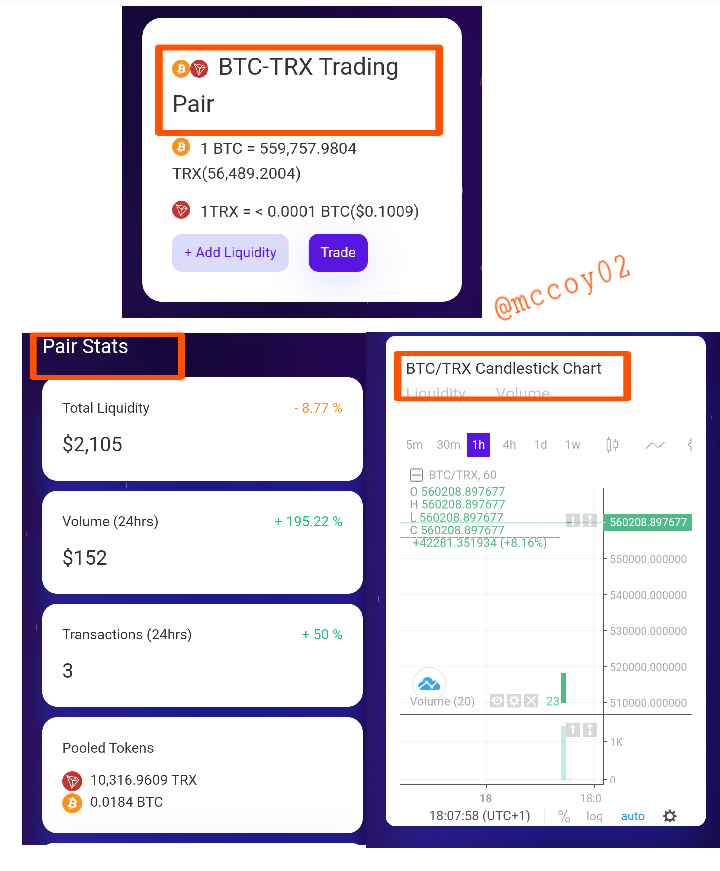 ETH-TRX LP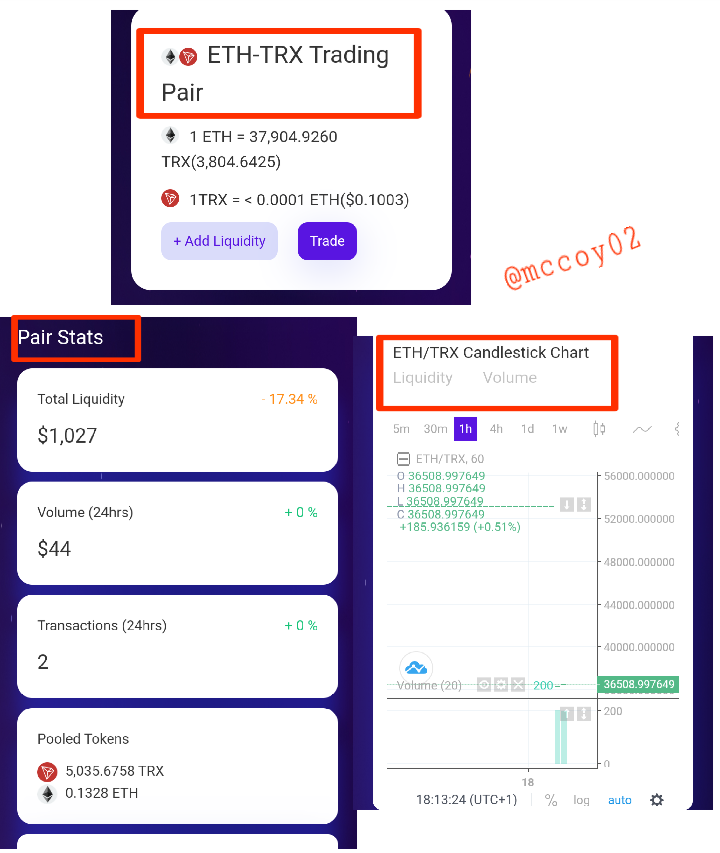 WIN-TRX LP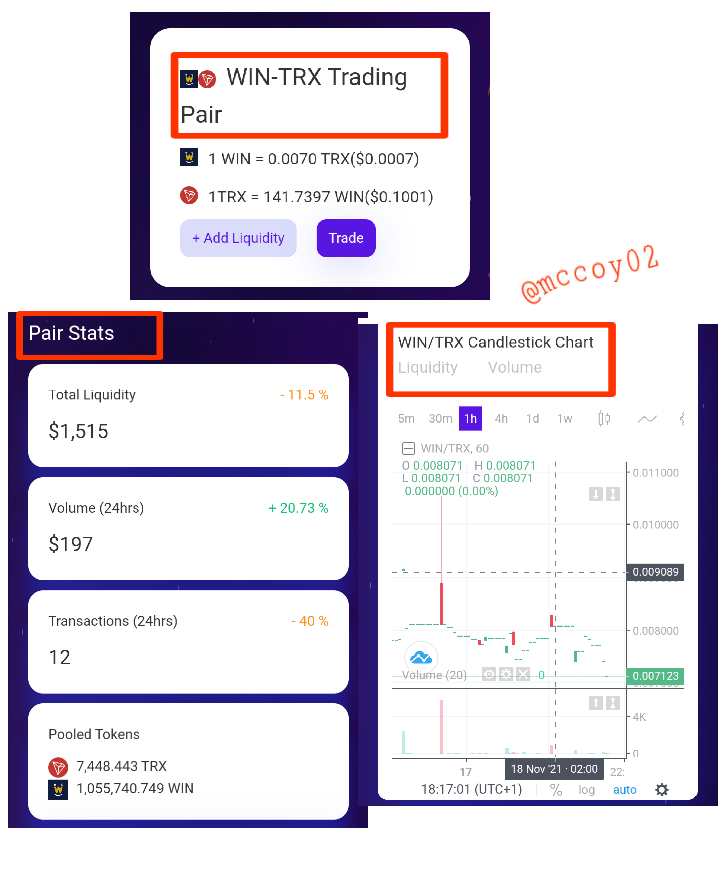 From the screenshots above number of transactions for each liquidity pair token is represented with a chart and their statistical value based on 24hr transactions, these represent the 9 popular liquidity pools on Sunswap.io
How many different LP tokens are available in Sunswap?
From the scan section, I will be redirected to the liquidity pool where a user can see the total number of liquidity pool tokens locked in the platform and view new pairs recently added to the pool.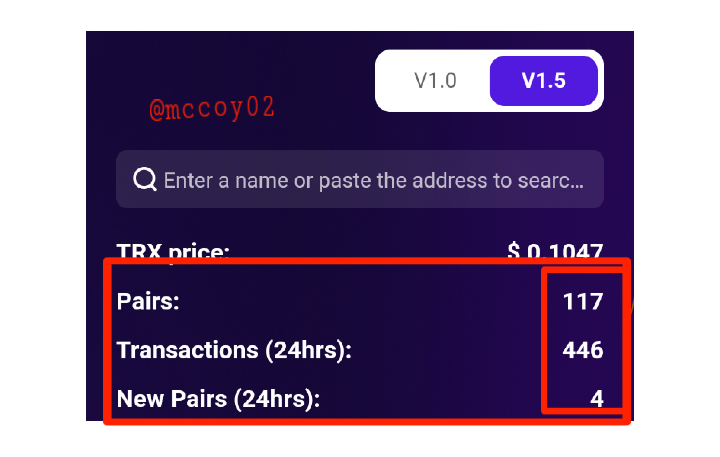 The screenshots shown above gives the total number of liquidity pair on the pool summing to 117 as at the time of writing this post, there are 4 new added pairs with a total transaction of 446 within 24hr.
Based on the available data in Sun scan, how much fee did it generate in the last 24 hrs? What percentage of that fee is being utilized to buy back and burn SUN?
Here I will be summing up the total transaction fee used in the 9 liquidity pools in the last 24hr and use the 1/6( multiple by the total 24hr fee of the 9 pools )
Note that the data above were taken from Sunswap.
A total of $65.081 was generated as a trading fee in the last 24hr from the above 9 LP token pair.
Therefore to get the total amount used for buying back Sun tokens by using 1/6 ( $65.081 ) = $10.8468
$10.8468 is used to buy back and burn SUN token using the above 9 LP token.
Stake SUN to obtain veSUN. Demonstrate the entire process with a real transaction? (Screenshot required)? Include the resource consumption statement, take the help of Block Explorer?
---
In other to stake SUN and obtain the veSUN token I will need to lock up some SUN tokens in the phase 2 governance mining section, from the Sun.io homepage I will navigate the stake section to skate SUN token.
From sun.io navigate the stake section where I will be redirected to a section where I can lock my SUN token.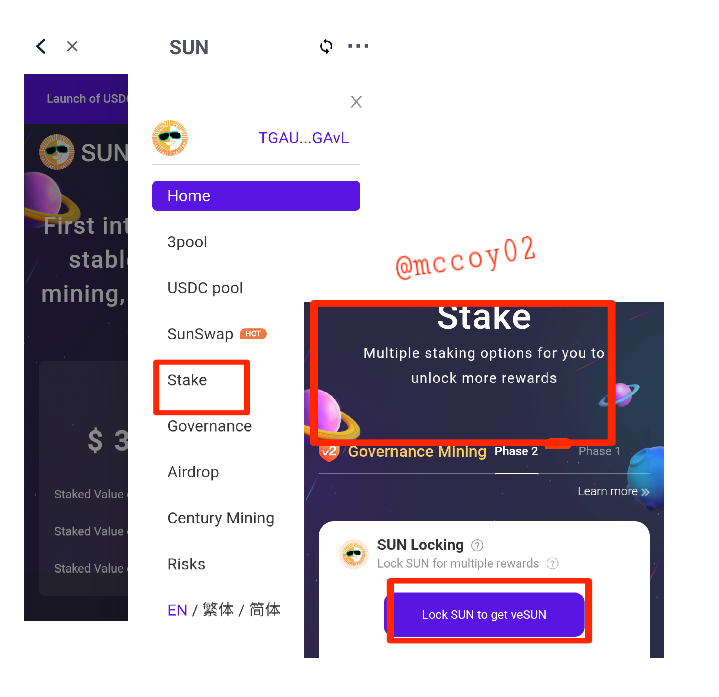 By clicking on lock SUN to get veSUN I will be directed to this section where I will input the number of SUN tokens I would be staking from the screenshot I have a total of 91SUN tokens.
Below I would input the value to SUN I will be staking and proceed with the transaction.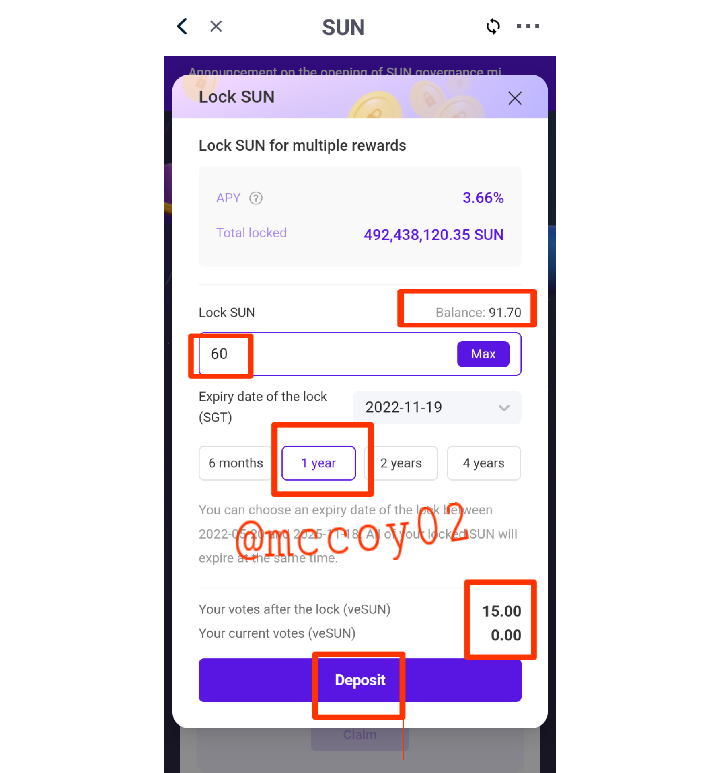 60 SUN token was staked yielding veSUN value of 15 veSUN which can be used for voting on the platform.
Below it can be seen after completing the transaction processing 14.88 veSUN tokens were assigned to me for staking 60 SUN tokens.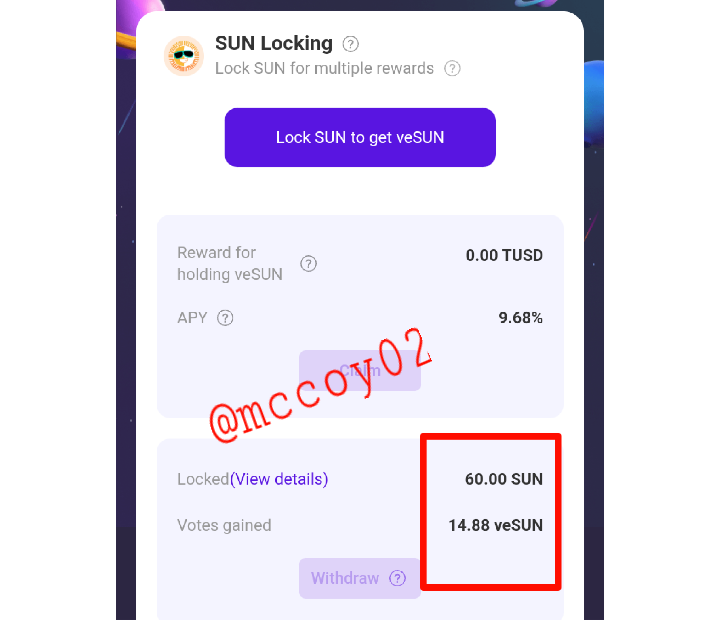 A total of 132 trx was burned to complete the transaction process.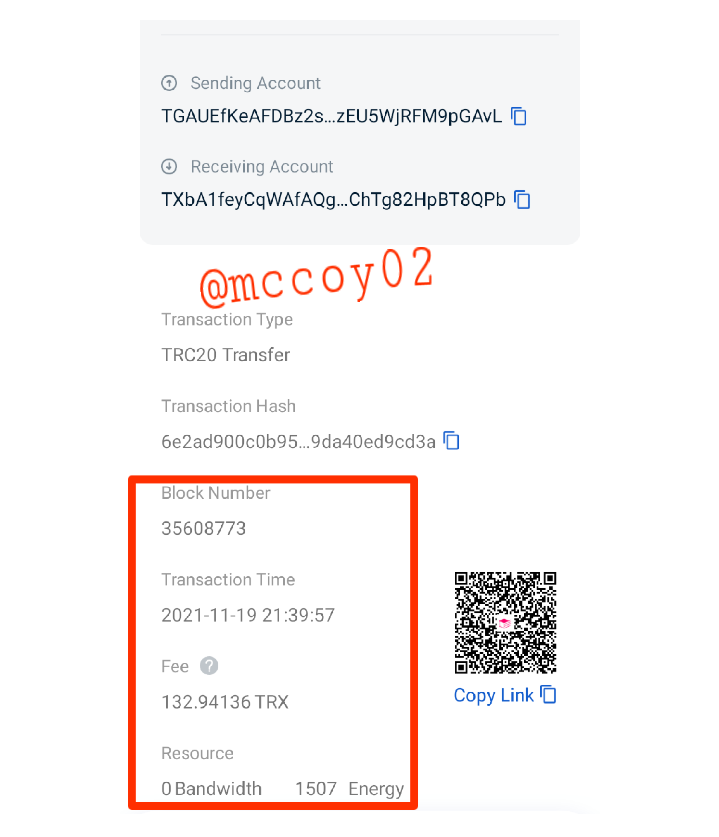 Here is the transaction link from TronScan
What is veSUN? What is the 3-in-1 benefit of holding veSUN tokens?
---
The voting system in any blockchain platform increases transparency and trust among users in the Tron blockchain Sun.io has a voting system for users to choose and make special voting on the platform veSun which stands for Vote Escrowed SUN gives users on SUN.io platform voting right for any user to perform the voting task on the platform such user need to lock up a certain amount of SUN token which will be a criterion for participating in the voting pool, on the platform locking period range from 6months to 4 years the higher the number of Sun locked up and duration will determine the number of veSUN a user will entitle to when locking up their sun token.
The 3 in 1 benefit
Earning TUSD stable coin; for holding veSUN token a user gets 50% fee reward distribution from a weekly pool shared reward in stable coin pool, the distributed reward will be determined by the number of veSUN a user is holding.

With veSUN token a user can increase a liquidity pool mining speed by 2.5×

Holding veSUN also gives a user right to vote on which pool will carry a higher weight.
Overall holding veSUN comes with an advantage as it gives users a level of confidence and self-esteem by allowing users to make special decisions on the platform it also comes with the advantage of increasing pool profitability.
What is the stable coin swap facility in Sun.io? How many different stable coins are supported in the SUN platform? What is its use in the context of staking & mining?
---
Stable coins are cryptocurrencies with little volatility that can be used by traders to leverage market crashes in the SUN.io platform there are four available stable coins which are as follows USDT, USDC, USDJ, and, TUSD these stable coins are swappable with easy from the Swap stable section with low fee.
The stable coins are used for providing liquidity on pools with an APY of 7.26%.
From the USDC swap pool, a user can also have access to the above 4 stable coins and make the quick swap.
Stable coins can also be stake on the 3pool section here users can provide USDT, USDJ, and TUSD as liquidity tokens, and on the USDC pool where users can mine USDC to earn 3SUN tokens.
Conclusion
---
The decentralized platforms on the Tron blockchain are very good and attractive for making a profit although I've been having problems with completing transactions I've used approximately 300 TRX for making transactions which i very unattractive, not profitable in the previous class I encountered the same problem with transaction these are as a result of having failed transaction and my unsuccessful transaction fee are not normally refunded.
All other features in the Sun.io DeFi system are awesome providing liquidity on various pools easy swapping of tokens and staking having the right to make votes on the platform using the veSUN is an awesome feature as well.